This article originally appeared on VICE Australia.
There's a dream a lot of us have. It's sourced, mainly, from Instagram. A light-filled, white-walled studio apartment, full of books and bright green monsteras. And art—walls and walls of it, canvases even leaning against the walls because you haven't got around to hanging all of them yet.
But to own art you need a house to put it in, a substantial income to pay for it. Time to spend wandering galleries and art fairs, networking with gallerists and meeting artists. Art is for the rich, the middle aged, and the upper class.
Or is it? In a lot of ways, the art world is more accessible than it has ever been. Small galleries and artist run initiatives are popping up all over the country, and social media is allowing emerging artists to bypass the representation process altogether and interact directly with buyers.
VICE asked some experts how young people can navigate all this, and start building up their art collection on a shoestring.
OWNING ART
Why spend your money on art? It's ostensibly a luxury item in a world where many people can barely afford to pay for life's necessities. On the other hand, you deserve to own something beautiful. And artists deserve to earn money for making something beautiful.
Barry Keldoulis, the director of Australia's largest art fair Sydney Contemporary, says that buying art is more community-minded than you think. "Having a lot of art in the house, I always draw pleasure from it. But also I'm supporting the growth and development of our culture in the direction that I find personally rewarding," he explains.
Sure, you can buy a black and white print of the New York City skyline from IKEA and pop it up in your lounge room for $20. But who benefits from that transaction? Definitely not you, for starters. That shit is ugly. Also, paying a bit more money to support a local artist makes a difference—and not just to your interior decor scheme.
"Although artists can get grants from the government or win prizes, that is a very small percentage of them, and it's not a sustainable income. The best way that an artist can be supported is through the sale of their work—and it's not just the money side of it, there is a validation in selling work where the artist knows that what they spend their time doing is appreciated by someone else enough for them to spend their hard earned dollars on it," Keldoulis says.
"Really it's a way of supporting our culture. And perhaps the best and most rewarding way of supporting it."
PAYING FOR ART
Okay, that's all well and good. But contemporary art can be expensive, to compensate for the hours and hours of work it has required. And for young people, money is the biggest barrier to entering the art world. How can we get around that?
One solution is Art Money. It's an instant, interest-free loan specifically for contemporary art. You can borrow between $675 and $50,000 then pay the money off in ten installments. Art Money loans are available at pretty much every commercial gallery and art fair you can think of, and they're designed with young, first-time buyers in mind.
"It was founded from a belief that people really do want to engage with art but don't know where to start—the art world can be intimidating," Art Money founder and CEO Paul Becker explains. "30 percent of our buyers are purchasing their first artwork."
Keldoulis encourages visitors at Sydney Contemporary to check out Art Money before they go to the fair. "You can actually get a pre-approved amount and go into it knowing how much you can spend," he explains. "It's such a wonderful recent invention, and you can even use it to buy something from an international artist. In the past with international galleries, to get something on lay-by was very difficult… But with Art Money you can buy the work and take it away immediately."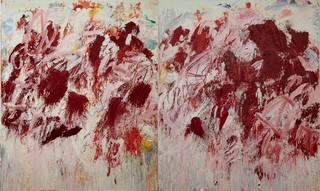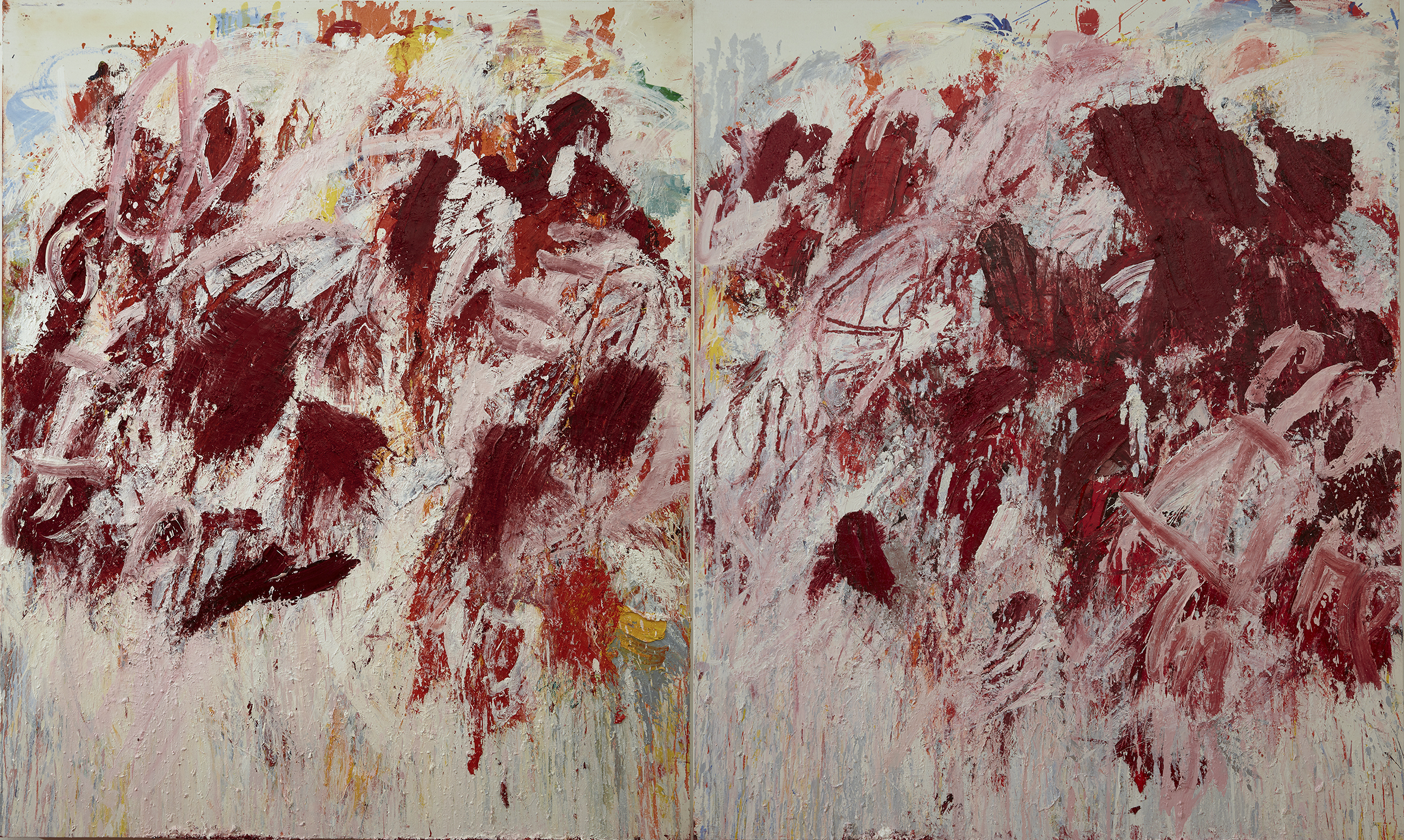 WHAT TO BUY
Look at art as an investment, but don't just buy something with the idea that it will gain monetary value over time. Mainly because doing that would require vast expertise, but also because buying art should be, above all, about personal taste. Just buy something you like!
"You should always buy with a combination of your heart and head, so I recommend going around and having a look at everything before you make a decision," says Keldoulis. "Find what really sticks in your mind. The work that you can't forget. I say that because good work and contemporary art, really, is a marriage of ideas and aesthetics. And something can be very pretty and capture your eye initially, but when you go to live with a work, you really want something that stimulates you over a period of time.
"Something that challenges you, that perhaps changes your way of seeing. And it's those things that stick in your mind [that] are the best things to go back to."
If you're not confident enough to let our your inner John Berger, there are some more practical ways to go about things. "Another way of looking at is to find the artist whose work you like and want to support." Keldoulis continues. Often for young people that's a generational thing—you want to support young artists that are just starting out, or like-minded or with a similar aesthetic to you. One way to find them is to go to the future section of the gallery [and] find gallerists under five years old. They will be showing younger artists."
BUYING ABORIGINAL ART
In the market to buy contemporary Australian art? Know that most of the most dynamic and interesting work is coming from our Indigenous artists, both regionally and in capital cities. But in a country that has an incredibly problematic history of appropriating Indigenous iconography—shout out to all those souvenir shop boomerangs—it's important to shop ethically.
The best way to do this is to buy work through established, credible contemporary gallerists.
"I think particularly with more traditional Indigenous work, from communities out in Western Australia, the Northern Territory, Northern Queensland and other remote areas, it is very important to buy ethically," Keldoulis says. "You can do that through galleries that have a good relationship with the art centres. At Sydney Contemporary, any Indigenous work you can be comfortable with.
"And indeed that is also true of urban Indigenous work too—although the artists don't work through arts centres, the galleries all maintain the highest standards in dealing with artists and with clients as well."

If you're serious about investing in contemporary Aboriginal art, particularly regional art, check out the resources available through organisations like the Association of Northern, Kimberley and Arnhem Aboriginal Artists and Desart.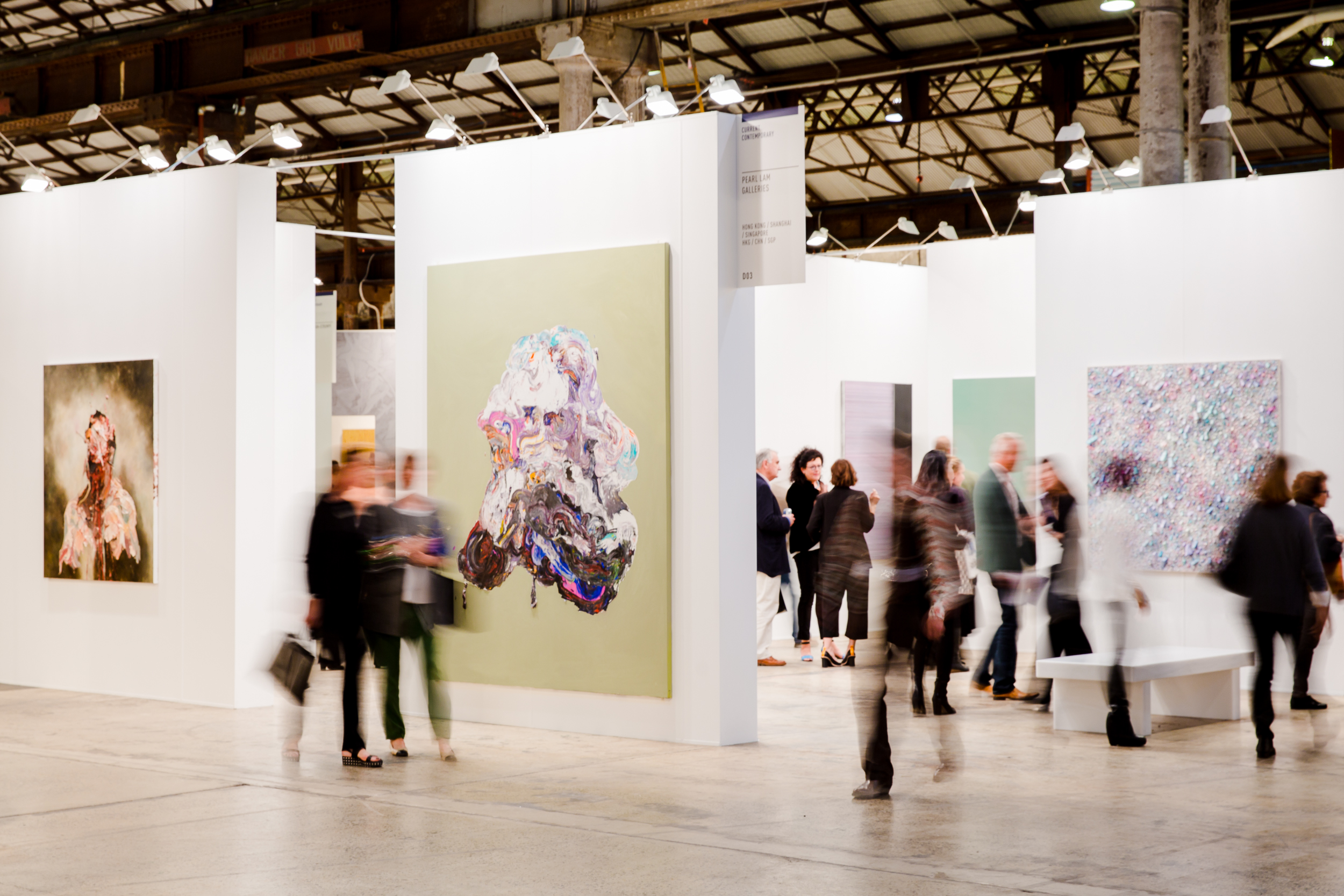 WHERE TO GO
These days, you don't have to visit a gallery to visit a gallery—you can just head to Instagram. But if you're serious about buying art, go see it in person. An art fair that gathers a bunch of gallerists together is the best way to go.
"A fair is almost a physical manifestation of the internet. With the click of a mouse you can see work from around your city, your country, and the world—but most good art really needs to be seen in the flesh to be really appreciated. An art fair gives you that opportunity to see local as well as interstate and international work, under the one roof, and to compare and contrast," says Keldoulis.
You can also enjoy art without buying it, and that's the best part. Go to your local gallery opening, or plan a weekend around an art fair, and make sure you catch some performance pieces while you're at it.

"Buying an artwork that you can take home and look at over time is wonderful, but it's also wonderful to experience how artists engage with the here and the now and the ephemeral," Keldoulis says.
Sydney Contemporary is on 7-10 September at Carriageworks. Email aucomps@vice.com to win a double pass to the opening night. VICE and Creators will curate a screening room, plus catch performances by Marcus Whale, Ginger and the Ghost and Mossy (DJ set).
Follow Kat on Twitter