This story is part of VICE NZ's ongoing series on how Māoritanga is being adapted to thrive in 2018. To read more stories about young Māori breaking new ground and creating a world that is both unconventional and drawing on traditional values, go here.
When I asked Kassie Hartendorp (Ngāti Raukawa, Ngāti Pareraukawa) to be involved in this piece, I didn't know much about her. I saw a photo of her with a rainbow flag on one shoulder and a tino rangatiratanga flag on the other. There are a lot of issues for discussion in Te Ao Māori, but queerness is rarely prioritised.
We were both late to our hui, and ended up running into each other on our way to catch a bus into town. I was late because I'd just finished my shift at work. She was late because she had just come from a talk about the New Zealand Declaration of Independence.
Kassie wasn't raised by her iwi—she was adopted into a Pākehā family from the Netherlands. Her adoptive parents raised her with a Pākehā worldview, and it wasn't until she was a teenager that she found out she was Māori.
"Their basic thing was the British idea of adoption," says Kassie. "You just erase everything about where someones come from and they're now your baby. Which is obviously very different to what we understand of whāngai because it never takes away from where you come from, right?"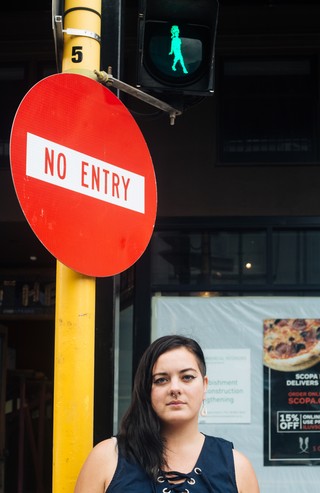 Kassie is an activist. Currently she's working on publishing a book called Aunties' It's a collective how-to guide by women who have experience with political organising. She left university when her friend was expelled for burning a New Zealand flag. She is someone who has clearly drawn a lot of her strength and values from her immersion in Te Ao Māori. For Kassie, she wasn't going to feel whole until she was able to connect these gaps in the history of who she was.
"Colonisation has taken so much away from us and what it would've wanted was to spread everyone around and disconnect everyone from their roots. So they never find [their Māoritanga] again. I didn't want to be another lost person."
At university in 2011, she began volunteering for an LGBTQ+ youth group. She was working with teenagers, and it was during a time that where was a lot of 'gay bashings' in Wellington. During this time, the city organised a visibility walk called Queer the Night. It was intended to make safe space for the Wellington queer community. There was a lot of energy at the time for talking having critical conversations about what it means to be queer; for Kassie this conversation was all about takatāpuitanga.
The word takatāpui is not a new word. It has been found in very old Māori dictionaries. It originally meant: "An intimate friend, or a intimate partner of the same sex"
In the last 30 years, that word has been reclaimed by queer Māori communities to encompass anyone who might fit somewhere on the LGBTQ+ spectrum. People such as Ngahuia Te Awekōtuku and Elizabeth Kerekere have been crucial in its spread. It is a word for anyone who is sex, sexuality, or gender diverse. It is an umbrella term that acknowledges that queerness and Māoriness may exist within the same body.
Some other Māori terms for queerness include whakawahine, ira tangata, and ira tāne. But that's pretty much as far as labelling goes in Te Ao Māori. Kassie and I talked about why that is. The Pākehā queer community has such an extensive list of terms available for use. If takatāpuitanga has a history, why aren't there many labels?
"I think that it's really important to call yourself into being by naming yourself and owning that. At the same time, some stories that I've heard about people who had same sex relationship within Te Ao Māori, or people who were born with a different wairua to the one their body matches. They have been common occurrences but there didn't necessarily need to be a special name for it."
"Even thinking about the fact that 'okay, my primary way of identifying myself is as sexuality', you dont encounter in being Māori. Most Māori are: I am Māori before anything else."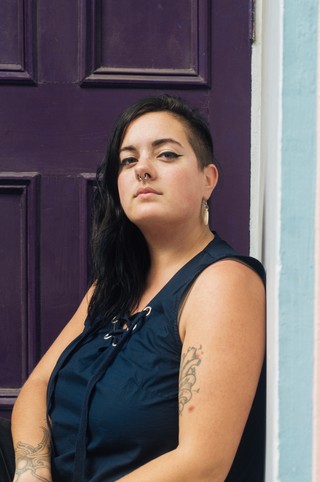 Even if unlabelled, queerness has always been present in Māori spaces. Whether on the marae, or in wānanga, in our schools and organisations. But it isn't always comfortable in a culture that puts such a strong evidence on a gender binary. Blood and whakapapa are so important to us. How does that work when you can't biologically have a child with your partner, or when you're expected to perform a traditional gender role that you don't embody during kapa haka? While a lot of takatāpui are welcomed by their whānau, many of the older generation have had to feel as though they need to leave their whānau to be the person they are. What this means for Kassie is that "disconnection has been this really common thread that runs among us."
Kassie is one of the architects of a space called Tīwhanawhana. Its a safe space for takatāpui to kōrero, share kai, and participate in kapa haka and waiata.
"I personally think it's really important that we have our own narratives on what it means to be Pacific or Māori and to be queer or takatapui because we're here, we exist," says Kassie.
"I've been to events and there are people there who are LGBTQ hard, but it's like, they've never had to think about any other form of oppression or struggle beyond that, and so they have these really kind of single faceted, single issue understandings of what struggle resistance and change looks like.
I wonder, where would we be if we had been able to have our whole narrative the whole time along."
Follow Kahu Kutia on Twitter and see more photos by Chev Hassett here.
Read more in this series:
Building an Urban Marae for Gang Members, Wanderers and the Displaced
Artist Kauri Hawkins is Bitingly Honest About Māori and Pākehā Today