JessB is tall. The kind of tall that is real handy when you are a pro-netballer—her previous career—and affords you respect as soon as you walk in a room. But that's not just it. The Auckland rapper has a loose-limbed magnetism that goes with her unapologetic, upbeat hip hop. JessB has been getting used to increasing attention with the release of her EP Bloom and constant gigging through summer festivals. That ease in herself isn't something that has come naturally. Born in New Zealand to a Kenyan father and Pākehā mother, JessB was adopted by her white aunt and uncle. Growing up she says she never saw girls of African heritage in the public eye. "It meant that my own journey in discovering who I was—and loving who I was—was really hard," she says. Through hip hop she is determinedly creating an inclusive space, for herself and for others. This Friday she's putting on the JessB Block Party, with an all female lineup, live art and food stalls. "It gives everyone a place to belong and feel safe to be them," she says.
VICE NZ met up with Jess beforehand to go op-shopping, and get to know her a little better.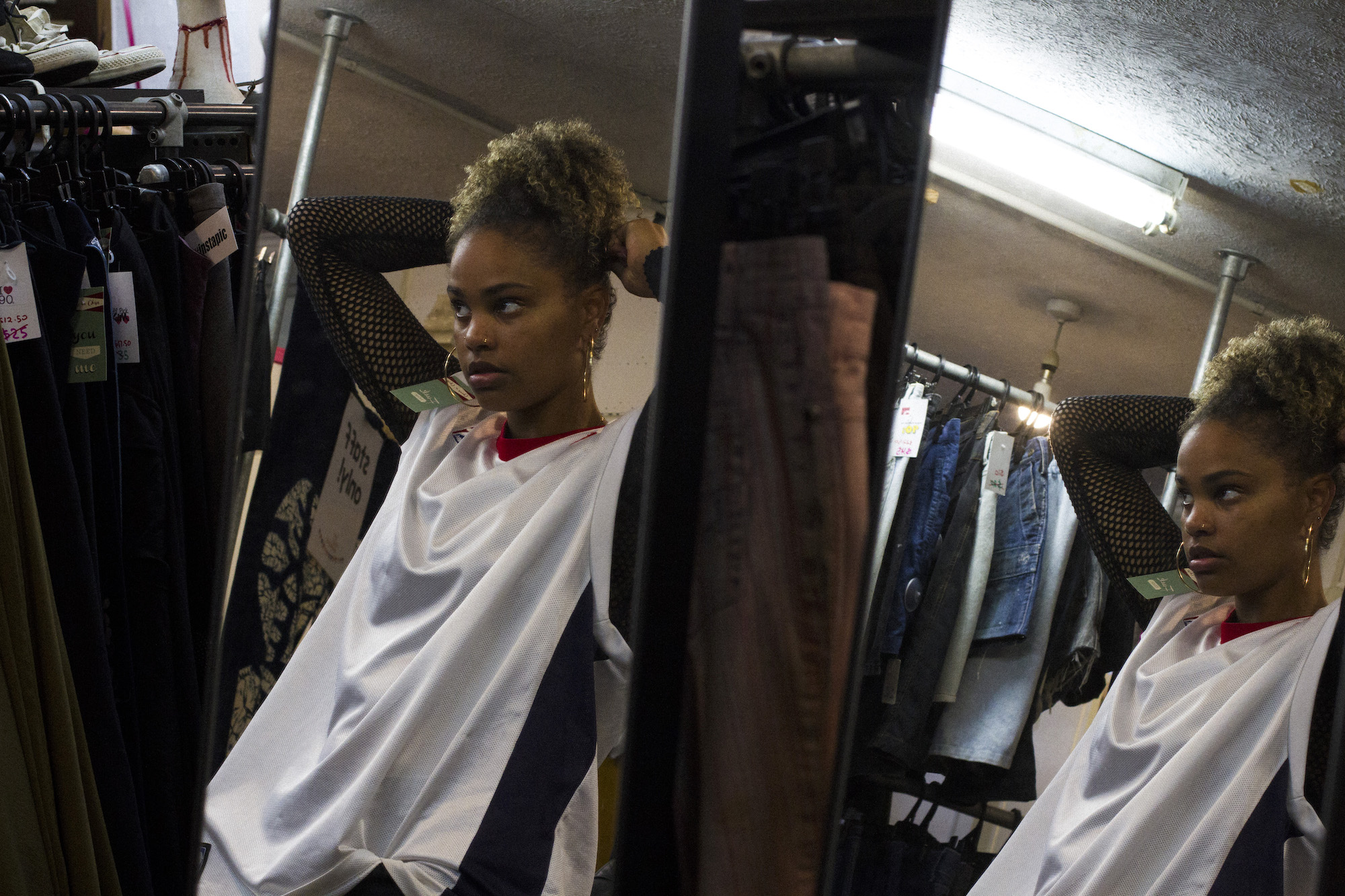 What's your favourite op-shop find to date?
Favourite op-shop find to date was probably not my find but my friend Steph. She found some vintage Gucci track pants up north somewhere for $2.
Who is your fav person to op shop with and why?
Probably my flatmates. They would rather go somewhere and search through racks and racks rather than go where it's reclaimed vintage and easy to find. I've always op-shopped. It's just been a cheap way to get stuff, I guess.
How much is too much to pay at an op-shop?
I haven't bought anything really expensive in ages to be honest, but I bought a bomber jacket from Magic Hollow and it was like $60. It's just a Nike windbreaker but it's got Kenya on the back. It's a Team Kenya one which is where I'm from so I was like, 'I can't not buy this?!' I haven't worn it yet because it's been summer. I'm saving it up.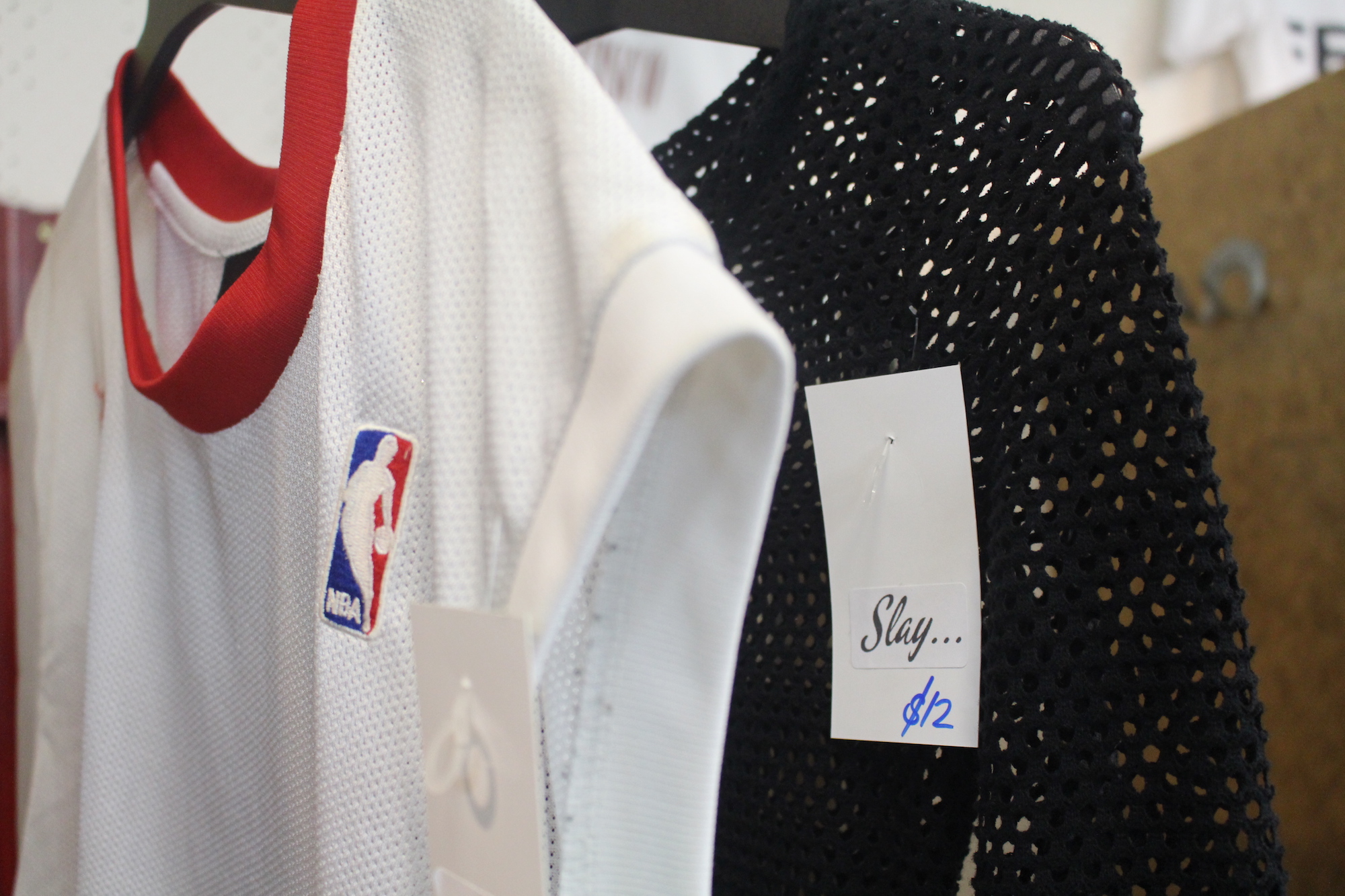 What's your default style?
Probably just a big tee and some sweatpants or track pants. It's easy. I wear a lot of boys' clothes anyway. It's just my own style that I've developed over the years. Also, I like hoodies.
How would you describe what 'pushing space' is, which is also the title of a song on your EP?
It's about pushing space to allow yourself to shine somewhere that might not necessarily be inviting. And it's about being able to push the limits of the culture in hip hop, in lots of different ways. I wrote it from the perspective of myself and how I've experienced different social circles and people, but I write it with other people in mind.
It's about being unapologetic about being yourself in that space and as a result you allow people to be inspired by you. It creates this kind of flow-on effect where you're effectively pushing space with people who are like-minded or in a similar situation to you. All together, you lift each other up and you allow each other to shine.
Would you say that's a movement that's happening?
I can't speak for everyone but I think at the moment there's definitely some amazing people doing some amazing things that haven't necessarily been done here in Auckland before and haven't been so freely or widely appreciated. I think in brown and queer scenes there's some amazing artists that are shining and being themselves at the same time, which is really exciting and then it inspires me. It's like this constant circle and you're all feeding off each other and it's really cool.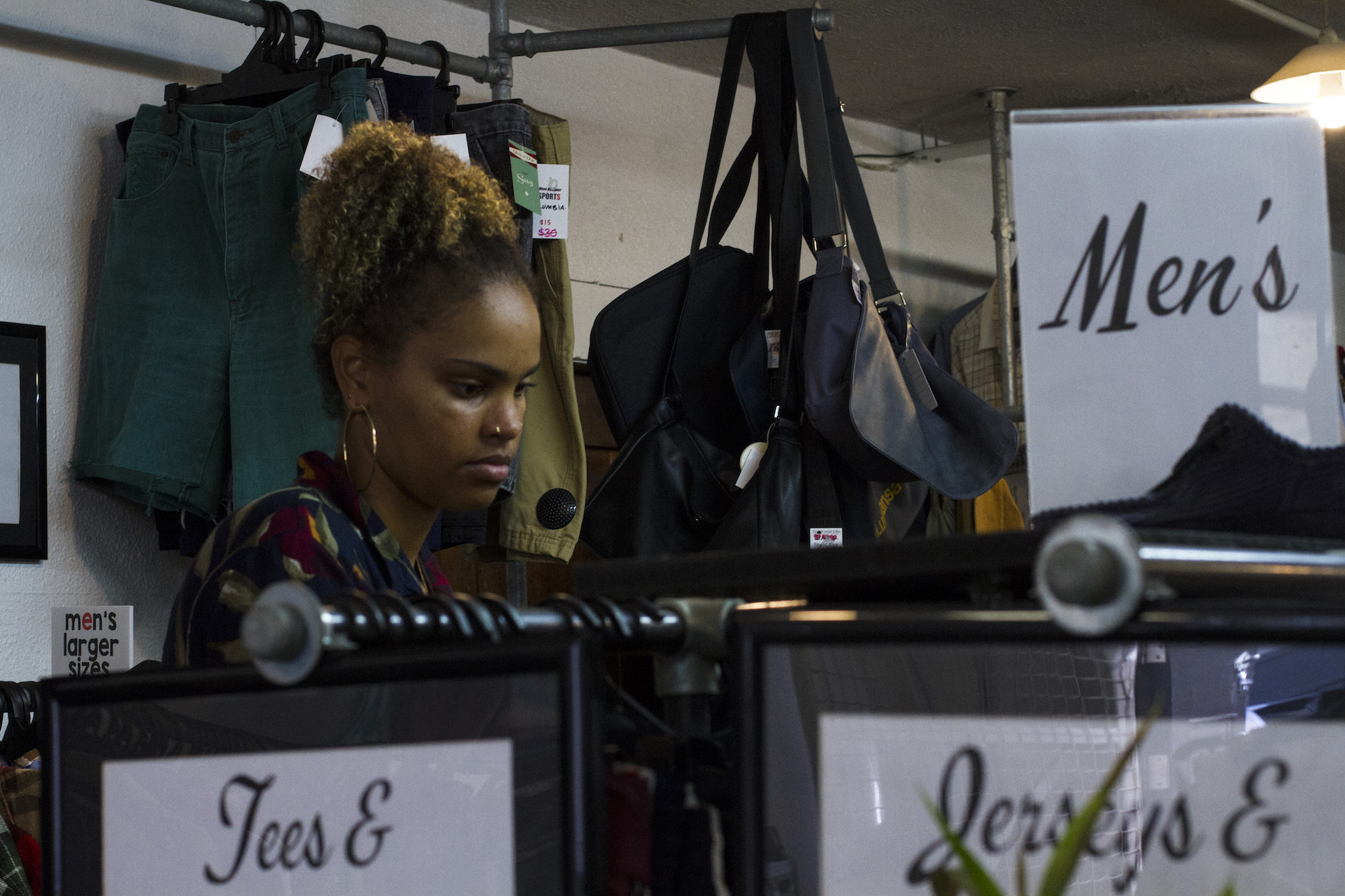 Why is it important to keep pushing for brown space?
I think that for so long we haven't really had representation of a wide range of people in arts and culture here. I guess there have been areas where brownness is accepted in tiny little sectors, but for me growing up as an African New Zealander—and my perspective as a brown person is different to a Polynesian perspective or a Māori perspective so I can only speak for my own experience—but for me I had no representation at all. Growing up in New Zealand there were no African girls doing anything that I ever saw. It just meant that my journey with my own identity in discovering who I was—and loving who I was—was really hard and really lonely at times. Not only as an African New Zealander but as a person of colour, and woman, and a queer woman—all of those different things I think are so important to represent.
Who are your inspirations on style and music?
I've been inspired by different people's looks through the years, like Janet Jackson, but currently there's an Instagram account called The Tomboyish and it's basically a curated Instagram of different looks that mix street style and high fashion with more masculine or tomboy styles which I'm totally into.
Music inspo—females who have done hip hop have all been inspo even if I haven't taken any for my own music, they've all paved the way in some way. But sound-wise, there's Lauryn Hill, Missy, Lil Kim, they're probably my most listened-to female artists. There are also a tonne of new wave female artists that I'm really inspired by too.
In terms of cultural identity, there are a lot of mixed kids in New Zealand who could probably relate to your experience in the way you explained it?
Yeah definitely. There are way more mixed kids growing up here than there was when I was a kid. It feels cool that there's something that they might be able to relate to [in what I'm doing]. But at the same time I feel just as passionately about Polynesian or Māori struggles as I would for African New Zealanders. A lot of the fight here is for all of us. That's why I'm not trying to fight for space for African New Zealanders. I want this space to be for people who can identify with what's happening in the way that we live our lives. I just think that we're all still minorities, but together it's like a collective kind of thing going on. The more space you create the more space that's created.
This International Women's Day we asked New Zealand women 'what's your most important issue for 2018'. What would be yours?
Space, but not just space for me me. That's the whole point of the Block Party. The reason why I wanted to stack it up so much is I want a space where everybody can have a turn. I wanted to be able to create something where all of the brown women who are doing great things get a chance to do that and we get to do it together. It's just my idea of community, and community to me is very important because it gives me a place to belong, gives everyone a place to belong and feel safe to be themselves and express and be applauded for that.
Growing up in New Zealand did you feel you had a community?
No, not so much. Obviously I had a great family growing up, I was whangai-ed and even though my family was Pākeha growing up. I still had a great childhood but I think I found community in the sport that I was playing. But at an identity level, being a sport player isn't you. There's more to it than that so I think since embarking on the music journey it's allowed me to find a community where I feel supported in a way that I couldn't have in any other way.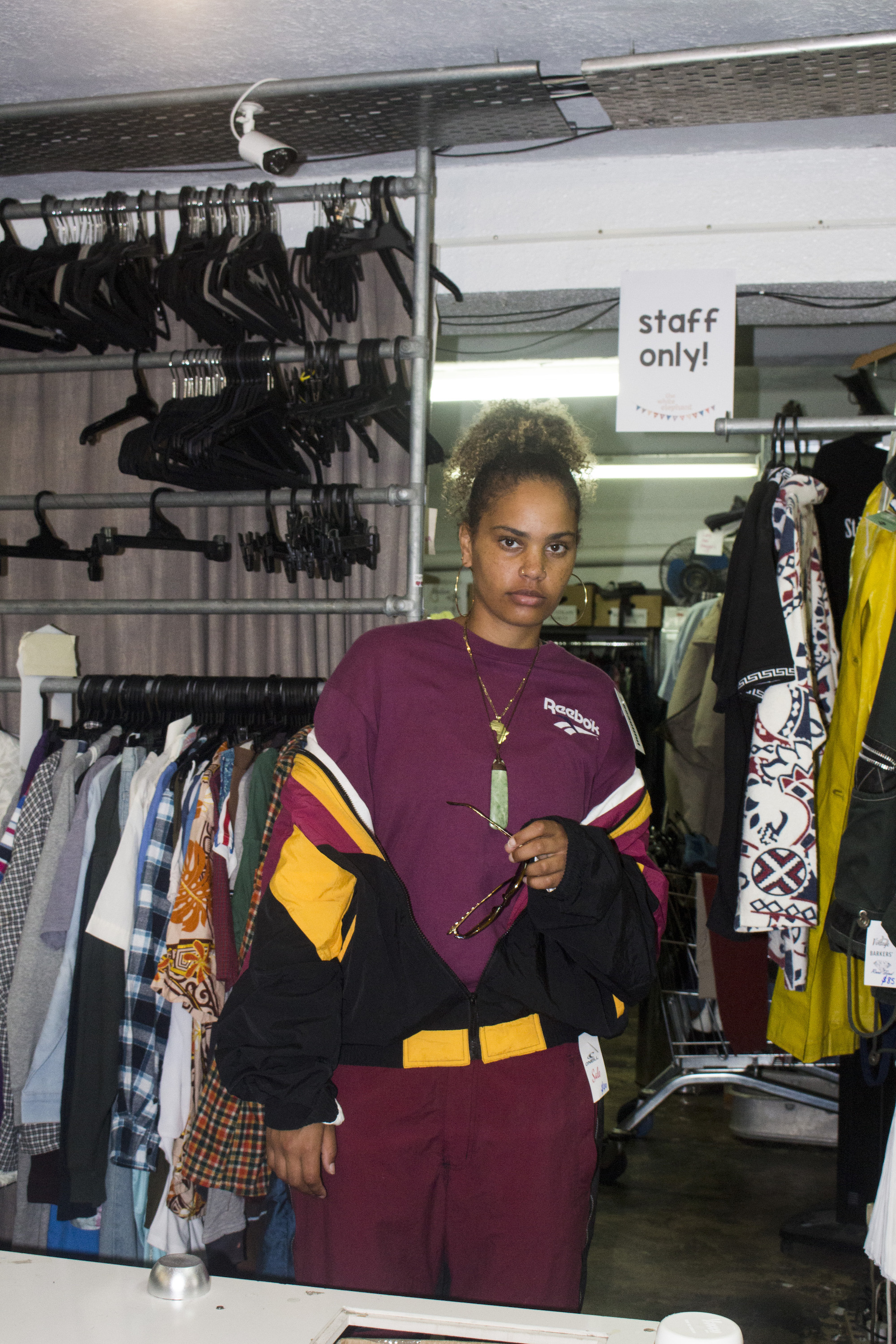 RSVP to JessB's Block Party here.
Follow Aleyna on Instagram.