In the latest season of our VICELAND show STATES OF UNDRESS, Hailey Gates explores global fashion and the issues the industry often ignores, showing us what the world wears, and why. Watch it Wednesdays, 7.30 PM on VICELAND Sky Channel 13 from September 6.

Last night as I sat eating my birthday dinner, I realised I had just turned 18 and the election for New Zealand's next Prime Minister was happening in 23 days. This is the first time my opinion will be counted and contribute towards deciding the leader of our nation. The dinner conversation quickly turned into a discussion about international politics—as it should. With an election being less than a month away, we should embrace the fact that politics seeps its way into our everyday lives.
However, there is one place where the voice of world politics has been more of a whisper—on the runway at New Zealand Fashion Week. Jerome Taylor in the Graduate Show is one of the few designers whose showing tackled political issues. Models of his Not For You collection each held up a cardboard sign at the end of the runway. Together they formed the statement, "1 in 100 New Zealanders are homeless, which means one percent of New Zealand's population are homeless, that equals to around 42,000 people without adequate housing. We don't need coins we need change."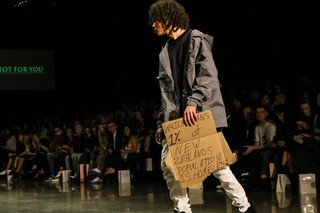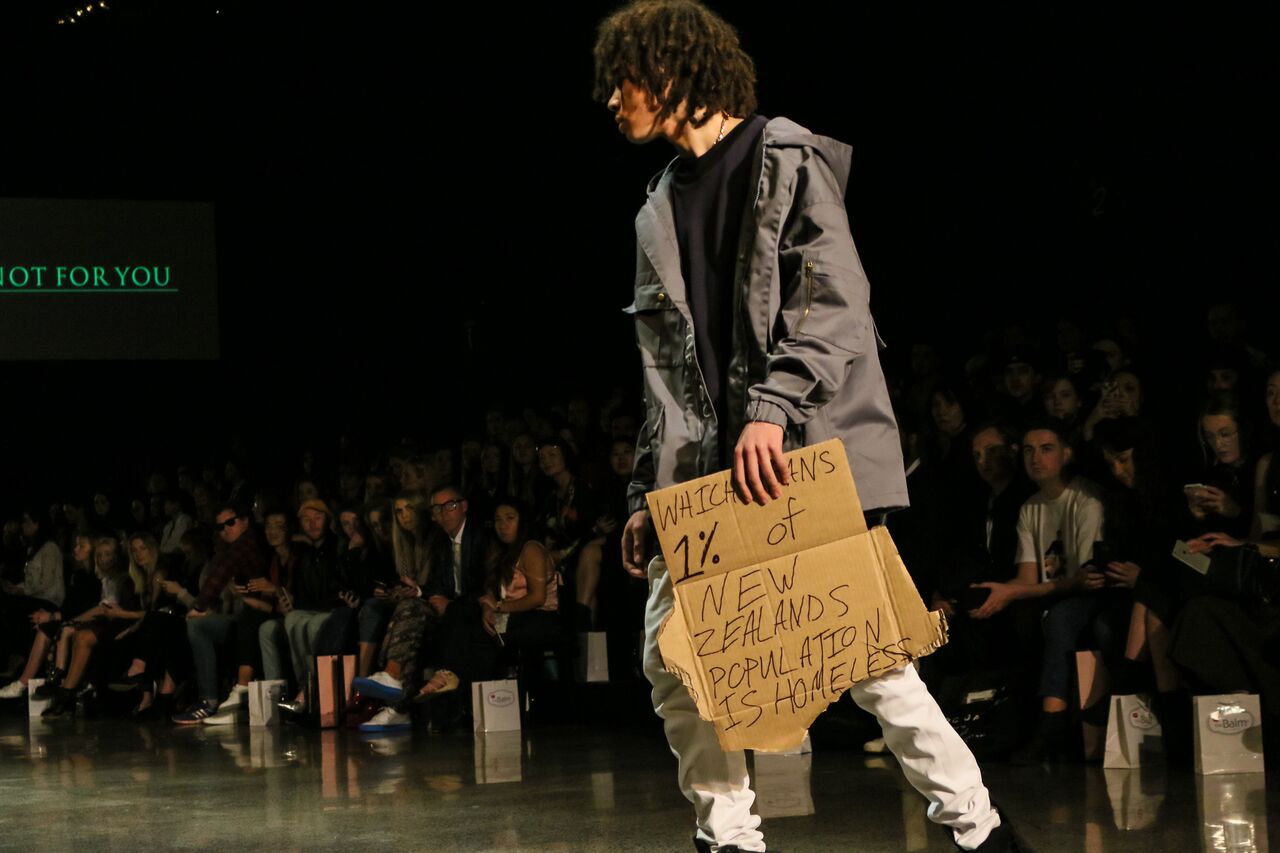 It felt like Jerome Taylor's message was largely forgotten as people exited the runway. I watched a few people line up to purchase another glass of champagne and I wondered if anyone here really desired social change or if they just wanted another coin to put towards buying that Givenchy handbag they've had their eye on.
It didn't seem like politics had a place at New Zealand Fashion Week, like it has had in other fashion weeks throughout the world in this past year. At New York Fashion Week, Tome featured jackets emblazoned with the initials 'GG.' inspired by the Guerrilla Girls, a group of anonymous activists dedicating themselves to exposing corruption in politics, art, film and pop culture. At London Fashion Week designer Ashish Gupta's collection responded to Trump's America, creating slogan t-shirts which said, "More Glitter, Less Twitter".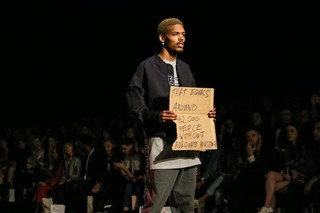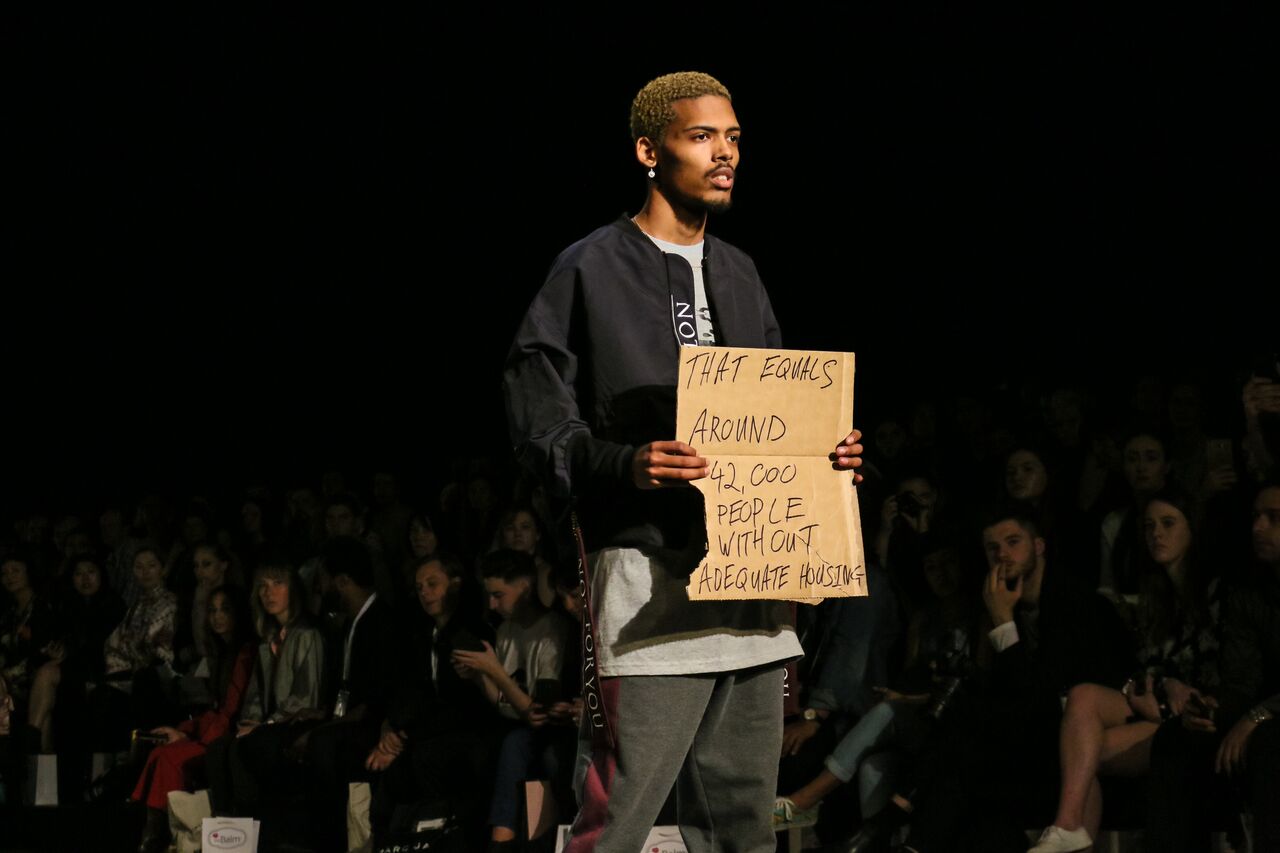 Internationally fashion weeks have recently become a place for political commentary. A catalyst for this has certainly been Trump's America. Designers are utilising their runways to provide commentary and respond to this crisis, but politics on the runway does not begin and end with America's political state, Paris is also following suit. Comme des Garçons' designer, Rei Kawakubo challenged body politics with her Fall 2017 collection, featuring forms that confronted social norms about body image and shape.
Many designers across Paris, New York and London are choosing to get political, turning their runways into tent cities, scouting models at rallies and inviting the organisers of the Women's March to open their show. This political movement has been a powerful time for international fashion, but it has been dismissed by most of New Zealand Fashion Week's designers.
Why?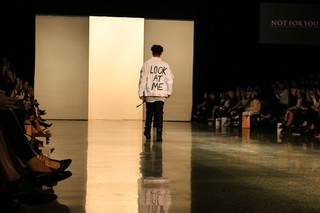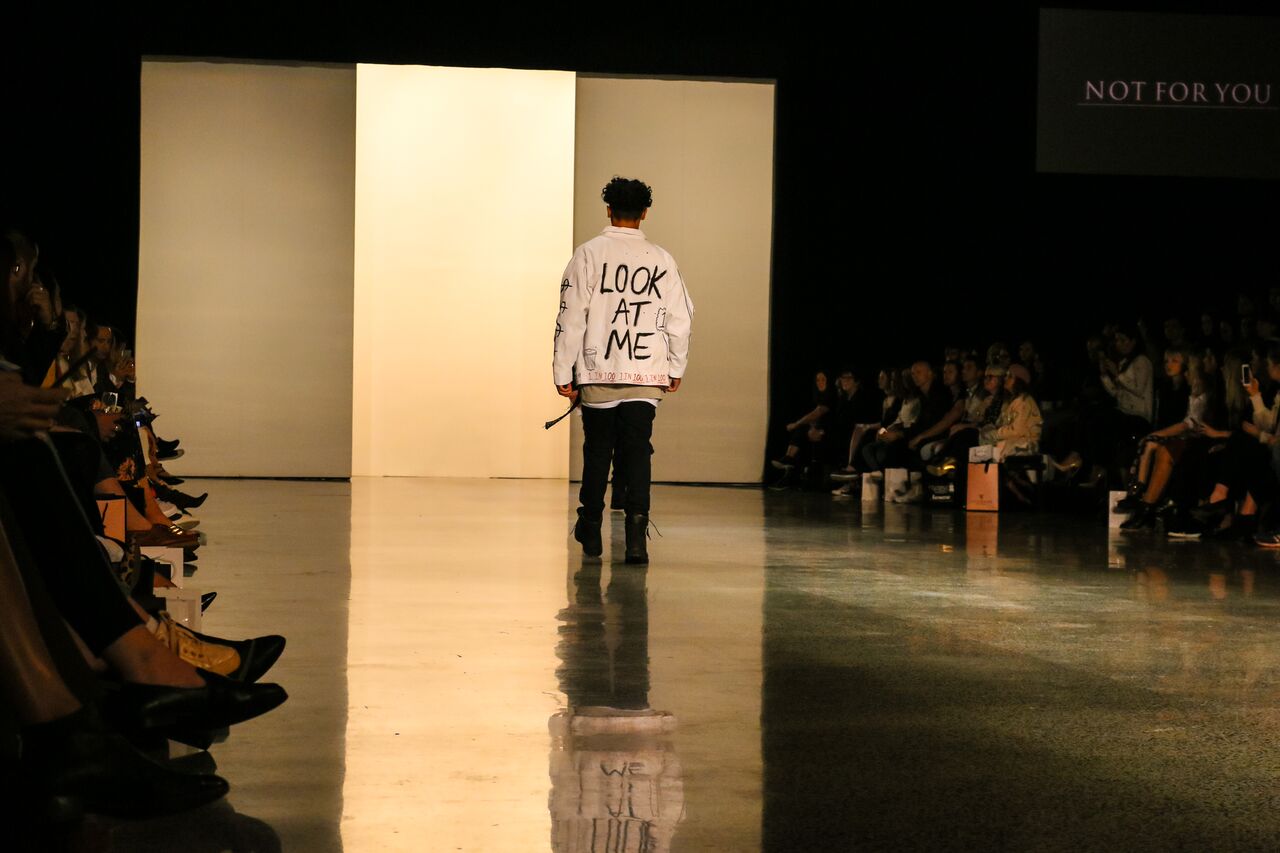 Are they scared of losing a customer if they rock the boat too much? Is it considered safer to leave the politics to the politicians and keep Fashion Week a place for Dom Pérignon and ignore homelessness, poverty or unrest? This silence is dangerous and in New Zealand, a country that is characterised for its protest against injustices and progress for equal rights, it is disappointing.
It wasn't until today's Miromoda show—a showcase for indigenous designers—that any political commentary reared up again. Lah Laufiso sent her models out wearing mouth coverings and carrying signs with statements like "we are not all dole bludging alcoholics."
Overall, political presence on the Fashion Week runway has been severely lacking. It has instead been a few attendees who have raised their fist in the name of politics. One women I saw wore a jacket saying "UNFUCK THE WORLD". The woman in this jacket knew what New Zealand Fashion week has mostly ignored; the runway and fashion are places for politics, and 23 days out from an election—we need to talk politics, everywhere we can, because if the world is fucked our question as citizens should be, who is going to fix it?
Grace Stratton blogs at Grace Georgia. Follow her on Instagram and Twitter.
See more from Gathum here.