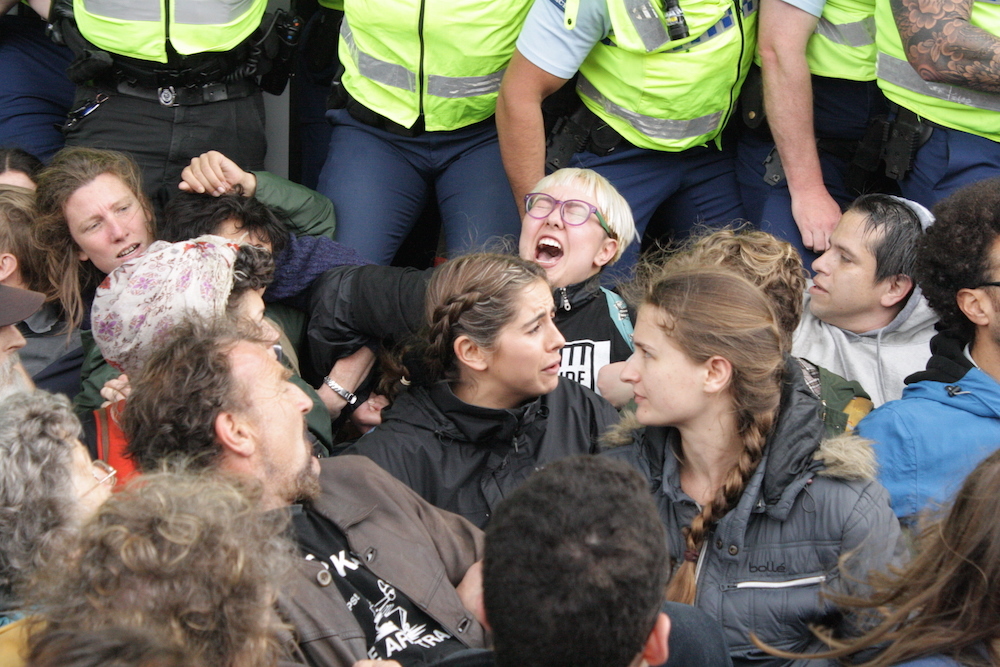 New Zealanders aren't the anarchist type. Progressivity and acceptance is ingrained in our culture. Apologising is our default position. It's our nature to respect the law and those that enforce it, of course that is until it counts, then history has shown we can bite back with the best of them.
Taking place at the Viaduct Events centre in Auckland today is the annual New Zealand Defence Industry Association Forum. Traditionally the conference has been held in Wellington, where it has been met with protests in the past. The forum brings some of the world's top arms dealers and manufacturers to discuss, view and sell arms and—considering our nuclear-free status and traditionally averse attitude towards weapons—many here are still not happy about it.
Roughly 100 activists formed a human blockade outside the Events Centre to prevent anyone entering. An hour into the protest, protesters trampled the temporary fencing that was put up to allow conference attendees access to the building. Police retaliated, knocking over activists rushing to block the entrance. Several of those attending the conference sipped coffee and took photos on their phones through centre's glass windows, enjoying the show.
One 21-year-old protester, who didn't want to be named, believes holding a conference like this is "bizarre," especially considering New Zealand's reputation for prioritising peace.
"We pride ourselves on being peaceful. We look around the world today at the terrible wars going on and these are the people that profit from them. If New Zealand thinks world peace is achievable and all the suffering that's caused by war is disgusting, then we should not have an arms conference in this city or in this country. We should not let this happen here."