Over this past weekend, Noisey had the honour of being involved with something truly special—the first-everNew York By Norse event, an exhibition of Norwegian culture and history with a serious emphasis on the arts (and an even more serious metal focus!). Given that Norway's artistic presence on a global scale has been heavily shaped by extreme metal in the past thirty years, it makes perfect sense that the founders of By Norse include Enslaved's founding guitarist, Ivar Bjørnson, and Einar Selvik, the mastermind of the mighty folk act Wardruna, alongside CEO Simon Füllemann. Between the two nights, By Norse presented two unique sides of the same concept, a balance in contrasts, yet anything but opposites. With performances, lectures, and general advocacy, seemingly disparate strands of art and culture were shown in the same light: with an equal appreciation for heritage and a promise for an artistically rich future.
On Friday night, By Norse presented a more pensive, introspective side by spotlighting the connection between modern art and the country's Bronze Age roots. The evening began in the Norwegian Consulate, a tastefully upscale penthouse suite in Manhattan just a short walk from the Scandinavia House where the night's official performance was to be held. Metal industry folk nibbled cocktail weenies alongside well-dressed government officials while introductions and conversations were made throughout the room. The juxtaposition of heavy metal and high society proved to be a recurring theme throughout, and served as a healthy dose of validation for a genre still often written off or cast aside on the North American continent.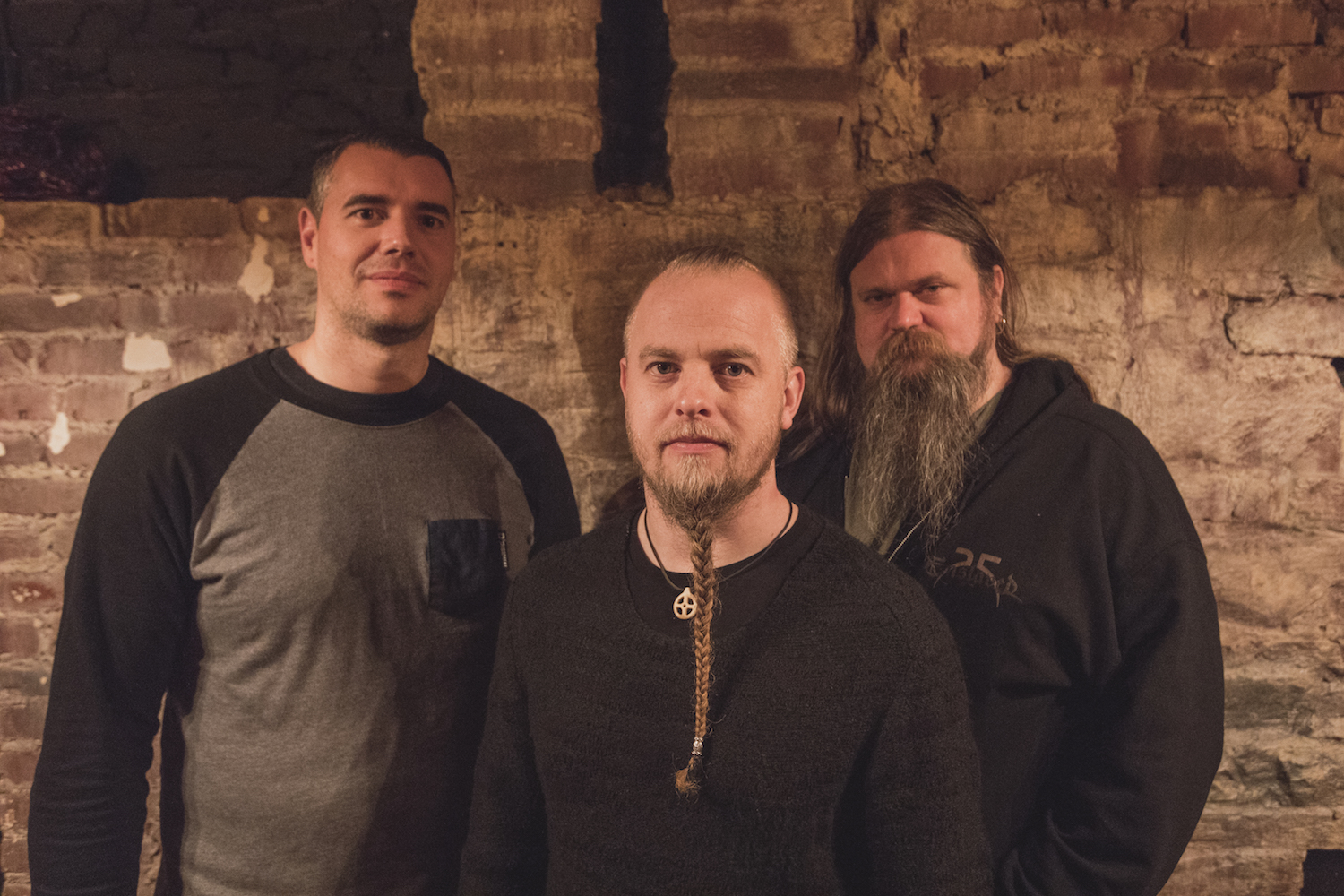 After all in attendance had the opportunity to enjoy a drink or two, By Norse hosts Selvik and Füllemann caught the attention of the gathering to share their thoughts on the event. Selvik especially came on strong in both humanity and charisma, making up for the absence of co-founder Bjørnson (whose flight to New York had been greatly delayed) by sharing his enthusiasm and grace. Many seeking to gain good favour may play at humility, but there was almost a hint of shyness in this intimate setting that Selvik would never display onstage, as he made it clear how he felt he was no more important than anybody working with or for him.
The glimpse into the thoughtful and educated mind of the man behind such massive, ambitious music made it clear that he truly was dedicating himself to something greater than his own goals. After a short chat and a discussion of By Norse's exciting top secret projects spanning beyond the realms of music, we made our way to Scandinavia House for the evening's official By Norse showcase.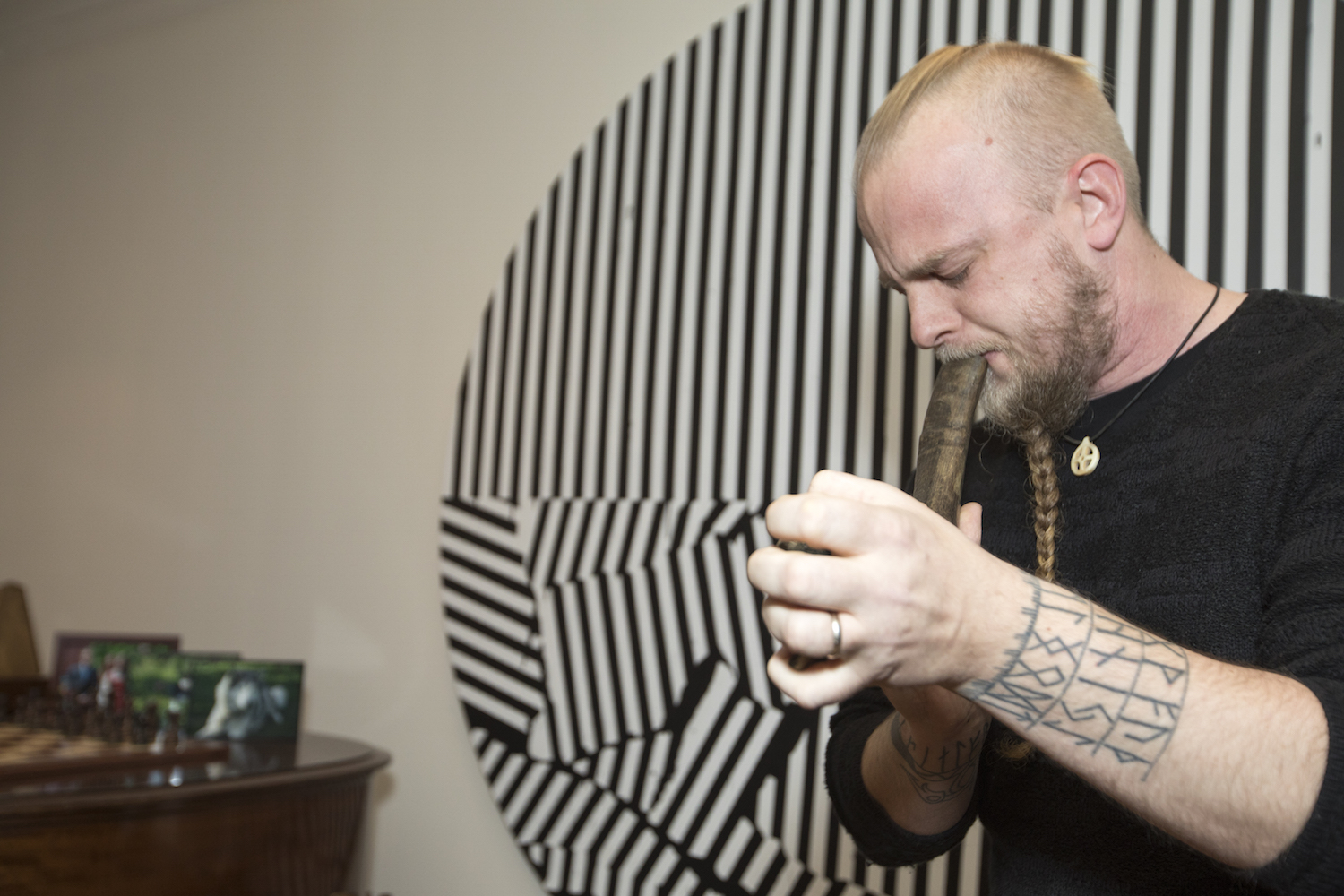 As a means of allowing the Enslaved crew sufficient time to arrive for the night's performance, Einar Selvik's planned talk on Scandinavian culture and musical history turned into an extended demonstration, with a seamless and natural fusion of performance and lecture. In many ways, the recurring theme of Selvik's talk, his art, and the weekend as a whole was the concept of building new things with old materials. As Selvik pulled out replicas of the earliest found Scandinavian instruments, he explained his relationship to them not in purely historical terms, but in context of personal connection to the history and the instrument itself.
As we touched upon in an interview earlier this year, his relationship with space and objects is an integral part of art that defines the experience, whether or not the listener is able to discern the effects. As he played recreations of early stringed instruments and a goat horn, a sense of timelessness and awe swept through the crowd. Not to be dismayed by a late flight or exhaustion, Ivar Bjørnson took the stage later in the evening to share a rare performance of his experimental project, Bardspec. With guest aid from Brooklyn-based musical mastermind Kevin Hufnagel (of Gorguts, Dysrhythmia, Vaura, and countless others) Bjørnson added a sense of otherworldliness, transcending reality for a short while.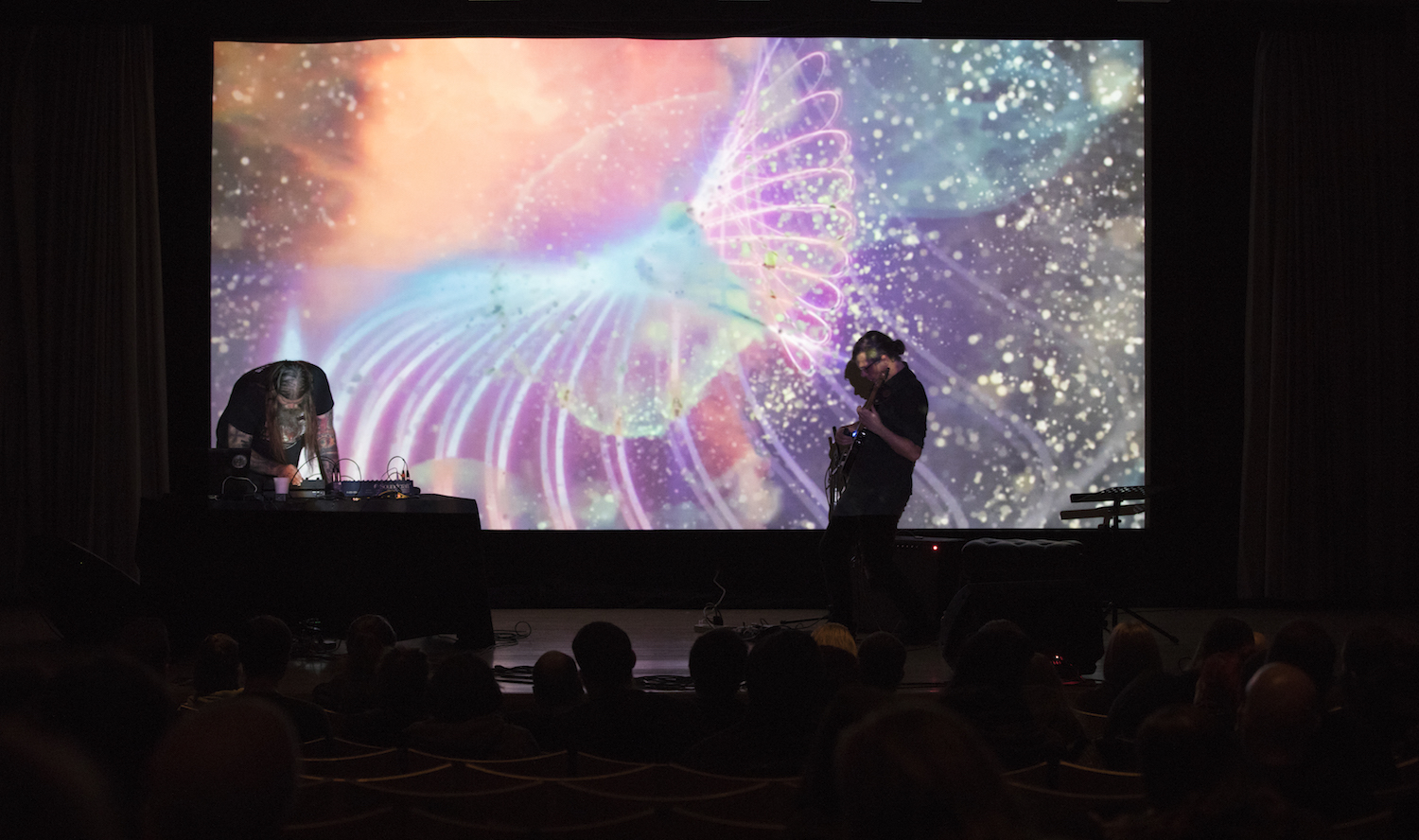 For the second night, the delicate thought and introspection was left aside as crowds flocked to Gramercy Theatre to share in a celebration of Enslaved's 25th anniversary. The multimedia aspect of By Norse's mission statement was never far from sight, subtle as it may have been. While artist Kim Holm took residence for the night, painting the band's performance and displaying other works in the merch area below the main stage, attendees were treated to a teaser of Grimposium and Uneasy Sleeper's Enslaved biopic, with interviews and early live clips aplenty. Despite the visuals, little could keep the crowd from containing its restlessness and excitement as Enslaved took the stage to begin its two sets, simply titled "Then and Now" to commemorate the two distinct eras of their career.
"Then" consisted heavily of material from Enslaved's legendary 1994 release, Frost, with the title track, "Loke," and "Fenriz" all delighting the crowd, while a rare treat from the Hordanes Land EP, "Allfadr Odinn" caught many off guard. Even while acknowledging their own past, Enslaved kept an eye on the present, inviting Einar Selvik to help perform one of the highlights from Monumension, "Convoys of Nothingness" and more recent collaborator Iver Sandøy to join all involved parties in a surprisingly true to form rendition of "Havenless" from Below the Lights, complete with frantic Moog static cutting across the song's black metal riffing.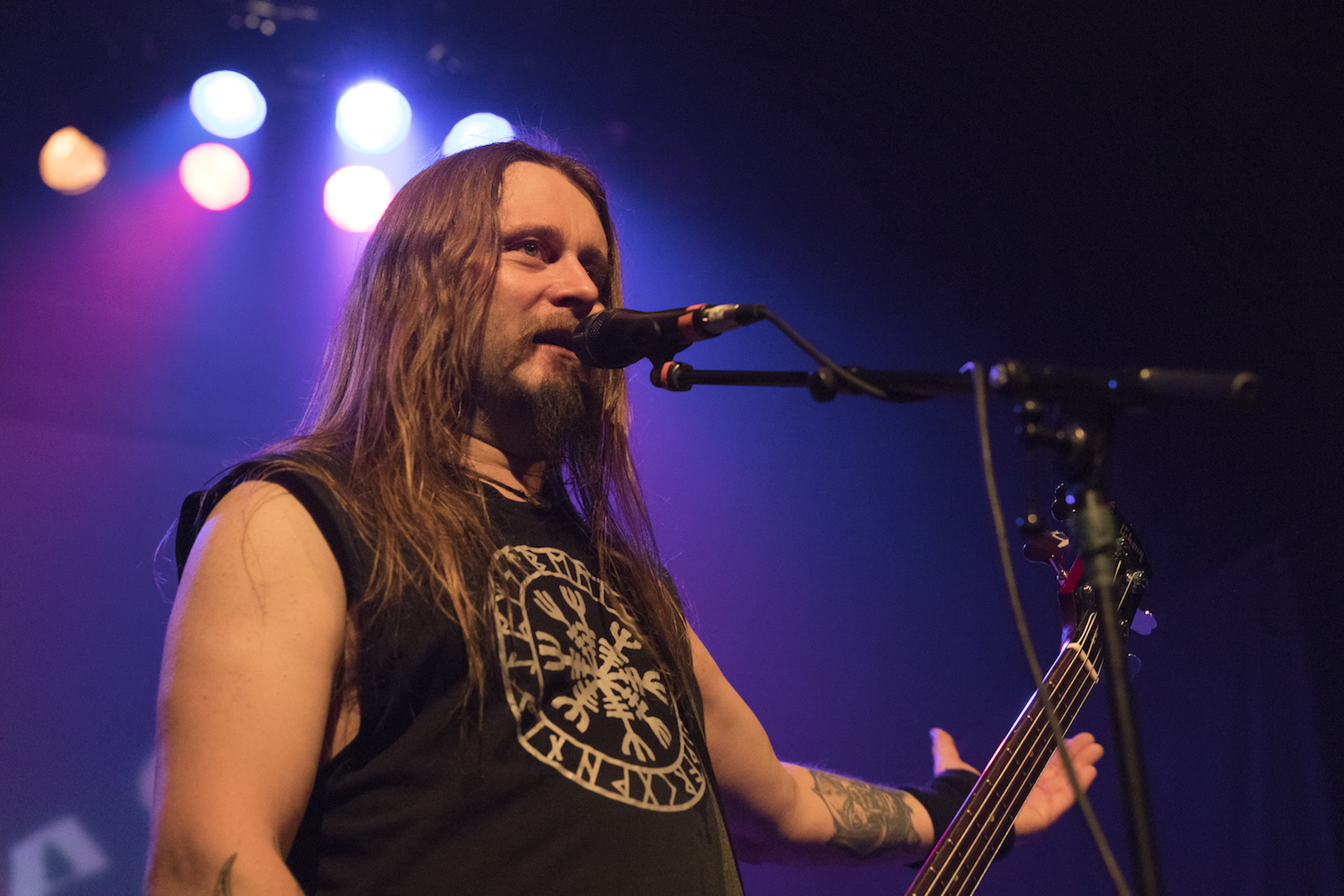 While the "Then" set alone would've been enough, rich with nostalgia as it was, the "Now" set proved Enslaved's transition towards more broad-reaching progressive metal to be a fruitful decision. Starting off with the undeniable modern classic "Roots of the Mountain" from 2012's Riitiir, the band was in fine form, delivering a balance of urgent aggression and skilful melody and depth. The immediate strength presented in more prominent keys and clean vocals showed even more clearly live than on recording, especially on cuts like "Ethica Odini" and the slower, but no less potent inclusion of the title track from Ruun.
Before leaving the stage, Enslaved invited their guests up once more to perform a song from Skuggsja, a project created by Ivar Bjørnson and Einar Selvik that had yet to share its music on American soil in any context. With this humbling blend of Selvik's folk influence and the members of Enslaved adding heavy metal weight, we were once again placed in a musical world that existed without borders or boundaries save for those of the imagination.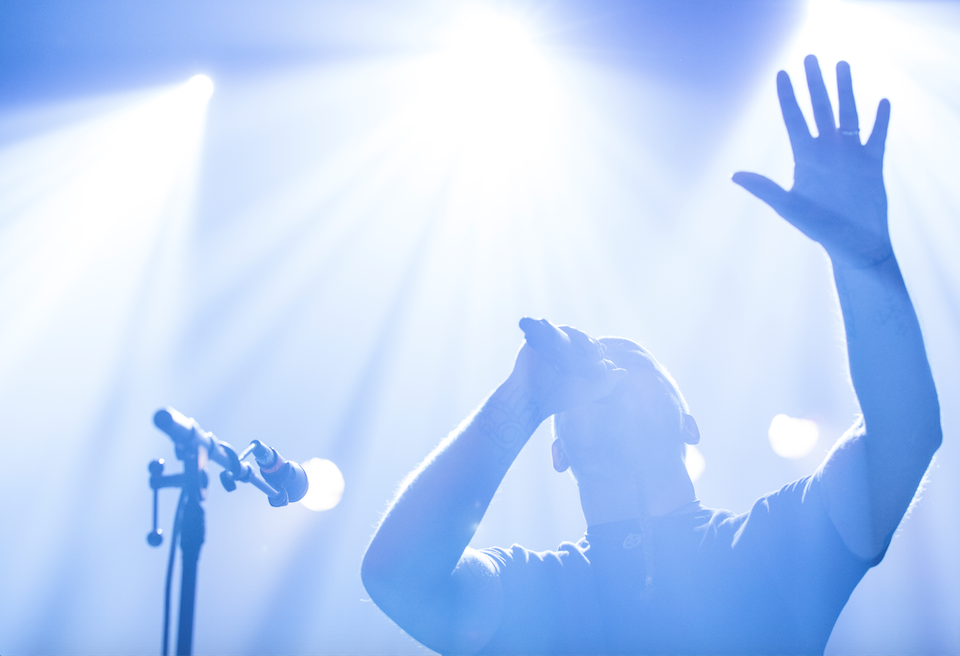 Never one to disappoint, the band's encore delivered the most appropriate and concise synthesis of past and present of the whole weekend. Leading in with "As Fire Swept Clean the Earth," the triumphant opening track from Enslaved's transitional album, Below the Lights, they set things up for the perfect close in "One Thousand Years of Rain" from last year's In Times. Two songs separated by over a decade closed a set of displaced time and connecting lines unseen by many but felt by all in a way that was strangely poetic.
Watching young fans mouth every line as they moshed while the band offered a devastating end to a night rich with history, it was clear that Enslaved will have little trouble leading their fans into any unexplored territory that they may seek in the future: the passion and potency are the one true constant in a career that has only ever been predictable in its utter unpredictability.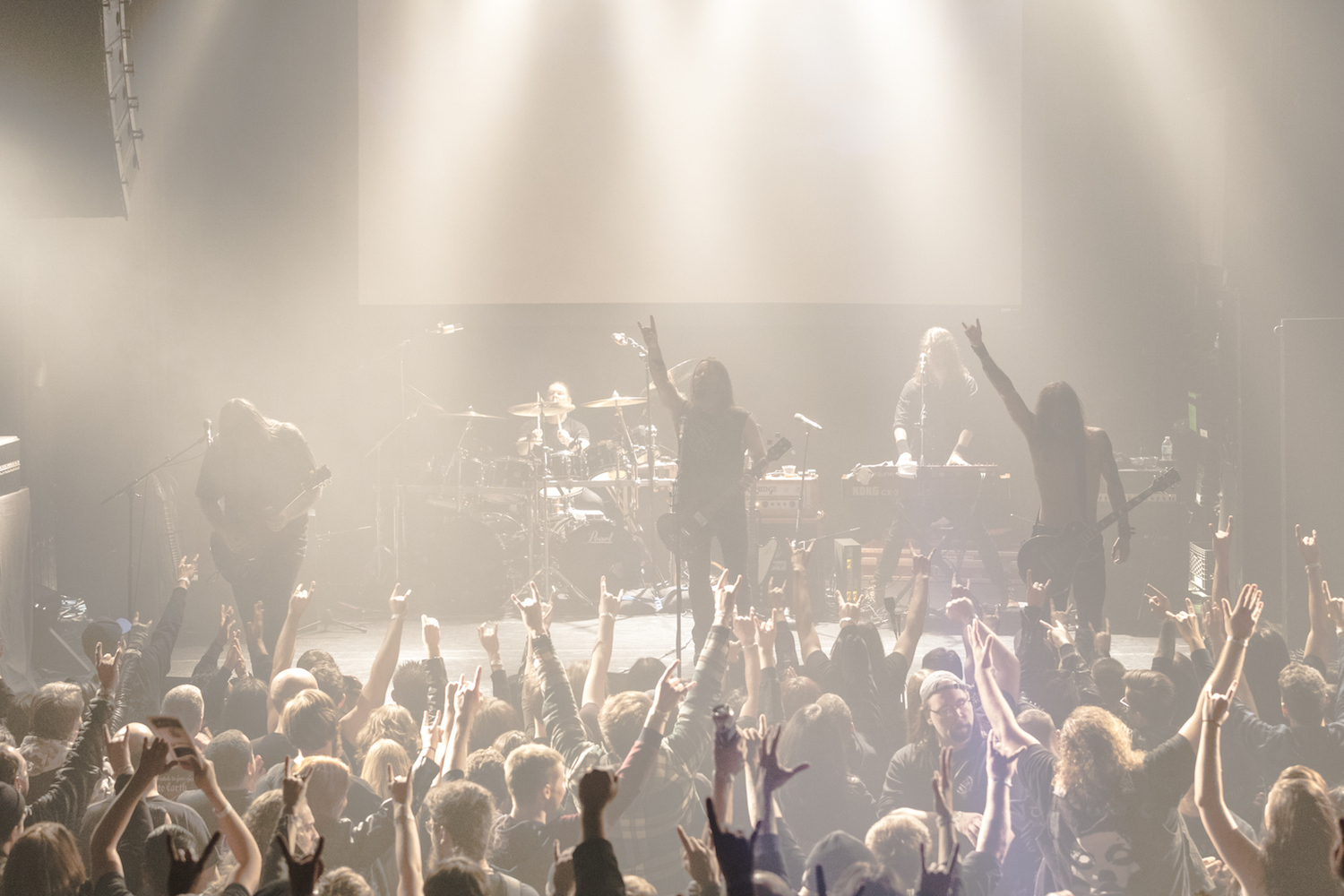 All photos by Nicole Abbett
Ben Handelman is looking north on Twitter.