This article is part of our New Neighbours series, in which young refugees from across Europe guest edit VICE.com. Click here to read the introduction.
–––
For over a year now, the Austrian organisation Vita Nova has been looking after 16 Afghan refugees between the ages of 14 and 18, who came to Austria by themselves. These unaccompanied children live together in a building in the 8th District of Vienna on 340 square meters, in two-bed and three-bed rooms. They are supervised and cared for by adults, around the clock.

I was curious to see what these teenagers, who have been through so much, think of Austria. That's why I contacted Vita Nova to see if I could speak to some of them. I was soon invited over. "All of our adolescents here have been deeply traumatised by experiences they've had in their home country and during their time as refugees. They all need individual therapy," Ruth-Maria Schwind, the head of Vita Nova explains to me in a bright office in the building.
She introduces me to Walid, 16, and Jamal – who is already 18, but allowed to stay on as an exception. Both came to Austria from Afghanistan about a year ago, on their own, without friends or family. Neither had necessarily planned to come to Austria. "I wasn't aiming for Austria," Walid tells me. "I just wanted a safe country for myself, I was looking for security. Somewhere to live. But not Austria in particular."
Walid and Jamal both go to the same school, the Youth College of Vienna, along with most of the other boys from the home. The school was founded specifically for refugees in need of schooling. "It's great there. We've been going for almost six months now, learning maths, German and English," Jamal says. The boys spend four hours a day, five days a week there. "There is a lot too learn," they say.
"So what I don't understand and have been thinking about a lot recently is – how come if someone from abroad does something stupid here in Austria, all foreigners are blamed for it?"
Walid first went to a normal high school. "The focus there was on a structured daily life and social contacts," Ruth-Maria Schwind explains. But at that time, he couldn't speak any German yet. "Everything I can say in German now, I've learnt over the last year," Walid tells me. Which is a lot. Apart from Walid, Jamal and myself, Ramazan is sitting with us at the table. He fled to Austria from Afghanistan seven years ago and now works for Vita Nova as a translator. But he hardly has to translate anything throughout the interview.
Jamal and Walid tell me stories about their first year in Austria. They're interested in some of my questions, less in others. Some of their answers are very brief, while for others, they take their time. Jamal likes to play football and on the weekends, he often goes to see a friend in Melk, a town in the west of Vienna. "Melk is a nice town," he says, and is slightly surprised I've never been there myself. Another thing he's managed to do in his time in Austria that I have never gotten round to in my lifetime here, is attend Christmas mass in the St. Stephen's Cathedral in Vienna. "We were there until 3AM. It was beautiful," he recalls.
Walid goes to volleyball training four times a week. "I want to become a geologist one day and examine the earth. I want to learn what it's made of and what you can build on," he tells me. "And if that doesn't work out, I want to become a professional volleyball player."
Jamal has less of an idea of what he wants with his future. "I don't really know what I want to do for a living. Maybe be a car mechanic or a mobile phone technician. All I wish for is a peaceful and comfortable life. A life with security, somewhere where there is no war."
Ruth-Maria Schwind can't understand how some politicians in Austria still believe that Afghanistan is a safe country for people to live in. "We have one boy living here at the moment, who was just walking alongside the road with his five-year-old brother in Afghanistan, when suddenly a man came up to them and shot his little brother in the head. Just like that." The man wasn't arrested or charged. All that was left was a deeply traumatised teenager.
From my conversation with Jamal and Walid, it's clear that they've seen some awful things in their life. Still, both of them get very excited about things Austrian kids the same age can't really be bothered with. "For Easter we went to look for eggs – I found all my eggs! And Ruth gave us a present. It's a great tradition," Walid says. He has also learnt how to cook schnitzel, which along with Marillenknödel (sweet apricot dumplings) has become his favourite food.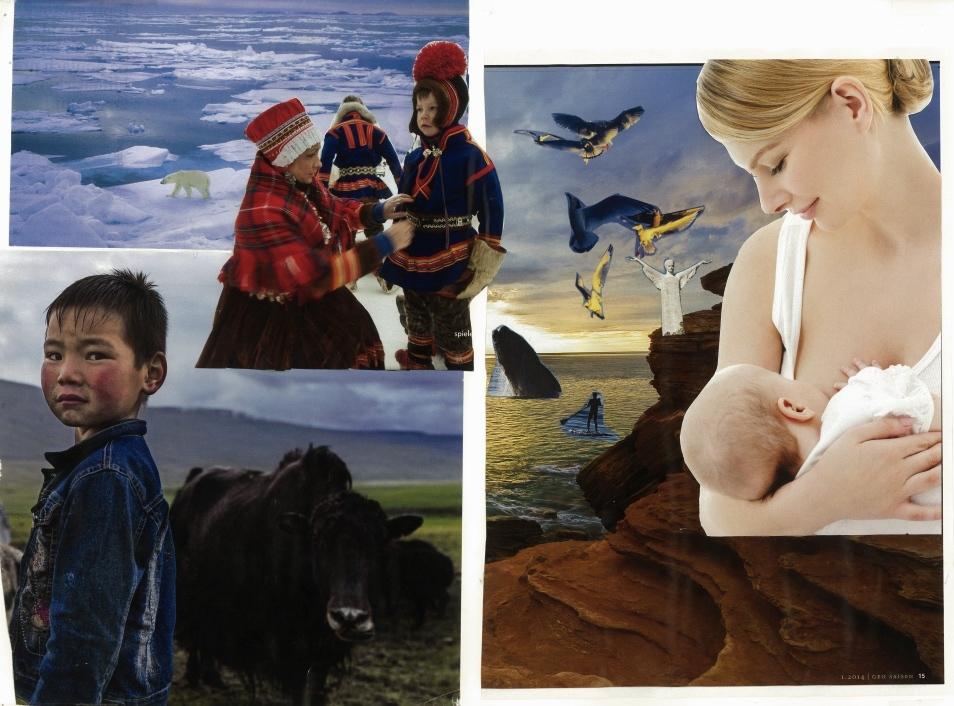 Jamal tells me that the first German expression he picked up was "shit" and the second was "How are you?". I say that he's lucky it wasn't the other way around. Then suddenly the mood in the room becomes much more serious. Walid asks if I have any other questions – if not, then he would like to ask something.

"Did you ever have anything to do with foreigners, when you were in school?" he asks. I think about it quickly. Do colleagues or classmates whose parents or grandparents aren't from Austria count? No, Walid means something else. Did I ever have someone in my classes at school who hadn't gone to primary school in Austria or Germany? I don't think so. "But I have friends in Vienna who fled to Austria," I tell him. "And last year I spent Christmas together with my family and a young Syrian refugee, a friend of my family."
"And what's your opinion on those people from abroad? Are they good or bad people?" I answer saying that it doesn't matter where someone is from, that there are good and bad people everywhere.
"That's true of course," Walid says. "So what I don't understand and have been thinking about a lot recently is – how come if someone from abroad does something stupid here in Austria, all foreigners are blamed for it? Why is that?" The sudden change in direction of the conversation takes me off guard. How do I talk about institutional racism in Austria to a 16-year-old refugee who has gone through so much more than I have?
Walid tells me about something that happened in the park recently. He and a few friends wanted to play volleyball, so they waited until the volleyball court was free. "When we wanted to start playing, some other people came over and started to insult us. They shouted 'fucking foreigners' and 'get out'. We just wanted to play some volleyball," Walid explains. He's not speaking German now, so the only thing I understand – before Ramazan translates – is "fucking foreigners".
After the interview, I tell Ruth-Maria Schwind about it. She isn't surprised that Walid brought up the subject of racism. "Many of these boys spend the majority of their free time in the home. They often say that life out there is totally different from life in here."
Before the interview is over though, Walid and Jamal ask me for one more thing. Walid takes a deep breath and says: "I want to ask people to differentiate between good and bad people, not between foreigners and Austrians. And to people who don't understand me or don't want to understand me, I'd like to say that I want to live a peaceful life just like you do – a life without war. I just want to enjoy my life, like you do. I am not here for your money. We are all different and have different lives, and we each carry a different set of problems around with us. I didn't leave behind my old life, my friends, family and things just for a bit of money. I have experienced war and now I need a quiet life. Please don't judge me because of that."
Sign the UNHCR petition urging governments to ensure a safe future for all refugees here.
Go here to donate to Vita Nova.