You can't hold back change forever. Until now, Manchester's mecca of alternative culture, Islington Mill, has stood strong while the previously progressive Northern Quarter across town crumbled beneath the weight of gentrification. Established in 2000, the former cotton mill has seen the likes of Björk, Peaches and Lydia Lunch, and currently has 50 artist studios across six floors. It hosts a variety of events, from Manchester Vegan Beer Festival to Sounds from the Other City, and is usually heaving with people – but therein lies the problem. On Monday the 6th of February, the Mill faces possible closure thanks to a licensing review brought about by a single noise complaint.
The hearing will not take place in court, but representatives from Islington Mill are to attend with their solicitors. The review is likely to be a tense affair, as each party presents their case, and reads out letters of support for both sides, in front of three councillors. Once they've heard from all parties and discussed the case, a verdict is due to be read out in front of an audience comprised of the 250 people who sent in letters of representation. Although it seems odd that one complaint from a resident in a neighbouring block could cause this domino effect, Islington Mill was in a similar situation back in 2014, which culminated in much tighter controls to keep the peace. But financially and artistically, that was only sustainable for so long, and as the venue returned to more flexible opening times, strife with neighbours returned.
As well as the Mill, Manchester is home to several independent venues, from Rusholme's Antwerp Mansion to Salford's Hidden and the White Hotel and Piccadilly's Star and Garter, but nowhere feels quite as interesting or multifaceted as this particular space. Perhaps owing to its independent ethos and arts grants, the Mill has been able to nurture musicians in a way other, more profit-driven venues can't. And for the past two years, under the programming of Verity Gardner and Emma Thompson of Fat Out Till You Pass Out, it's become a haven for female and queer audiences and artists alike.
With sound artist Helmut Lemke's sparse line drawings adorning the walls, it resembles an art gallery inside, while the well-worn sofas and plant-heavy courtyard gives the place a cushy after-party feel. As far as clubbing goes, there's a relaxed, anything-goes atmosphere at the Mill. Dancing is wildly expressive, and the bar staff often party alongside you, but if you want to sit down all night clutching at the armrests, no one will bat an eyelid. In a way, it's Manchester's swan song to a more hedonistic past, and if it closes, it will feel like the final goodbye to this facet of the city's culture.
As I walk across town to meet Verity one Saturday afternoon, it's obvious just how much the area has changed and will continue to do so. Cranes now pepper the sky, and towering new blocks of flats make the previously sparse area feel claustrophobic, even clinical. But as the neighbourhood has become increasingly commercial, the Mill has grown more radical. "I think the thing me and Emma have done differently is that we come from a DIY punk background, so we've continued that throughout our residency," Verity says, once we arrive at the venue. "Even though it sucks up a lot of finance, and these DIY shows don't always bring in huge crowds, we always wanted to continue with that ethos of putting on touring bands that are really good but aren't well known and don't have any financial backing from labels."

This spirit of supporting those without means has allowed an underground scene of experimental musicians to thrive. "Islington Mill's been part of this electro-acoustic free jazz movement in Manchester," Verity tells me. "There are a lot of musicians who are cellists or saxophonists, and they combine that with synths and electronic devices." Two bands which sprung from this scene are the all-female Womb, and Water, whose founding member performance artist Louise Woodcock tells me both bands were formed at the Mill. "We came together because we all had studios there, and then with Water we've been rehearsing there too," she says over the phone. "Because the Mill is a queer space it's not as male-orientated. Other venues have that 'boys in bands' thing. When I used to rehearse in other places you'd have cocks drawn on the wall. You don't get that at the Mill."
The opportunities Verity and Emma have created by leveraging more experimental events with guaranteed money-makers also means working class musicians are benefitting. For Louise, conditions like these are a make-or-break issue when it comes to performing. "I suppose money's not something I usually dwell on, but not getting paid is a big hurdle because there's not much funding in this country for music and people want to keep the door prices low," she continues. "If you're not headlining and you're doing smaller gigs, you end up paying for taxis, paying for drinks. In Europe, people actually get paid properly, but here, if you're skint it's very difficult – and everything is still London-centric. If you want to further your career that's still where you need to go."
For cities such as Manchester, then, to retain some of their most talented musicians, spaces such as Islington Mill are vital. Whitney Bluzma, of local Manchester punk band Ill, agrees: "It's vibrant, but it's pretty small, which means you can't play every weekend because everyone already saw you last week. You also have to avoid clashing with your mates' gigs." Fellow band member Harri Shanahan feels the same way: "I mean, there are people that are very open to things such as Aatma [formerly Kraak] in the Northern Quarter, but the difference with the Mill is that it's actively encouraging people to make it an artist-led kind of space."
"Because it has artist studios as well as a gig venue, you get great video installations, quirky sculptures and unusual concepts," Whitney adds. "That's what happens when artists and musicians come together, and Islington Mill hosts residencies for both. There's an atmosphere of collaboration and experimentation which is unique."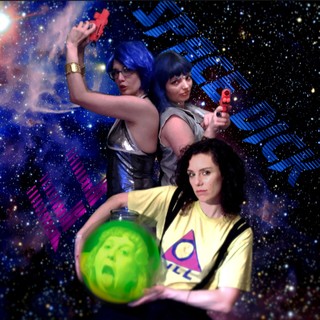 I ask Verity what happened after 2014's hearing, and how the situation has come to repeat itself. "Obviously we understand that the residents have jobs and lives and we don't want to upset them, so I spent about a year trying to find out what the problems were, and what we could do together," she says. "I put on a community festival in 2015 with Salford Lads Club and local businesses along Chapel Street. But I'm not trained in community outreach work, and we didn't have official backup. All the contacts I had at the council were having their budgets slashed so they weren't coming to meetings and eventually it wasn't enough. The current complaint was lodged by one of the residents in the neighbouring buildings back in October."
Since the announcement of this year's review, support for the Mill has included local MP Rebecca Long-Bailey and Tim Burgess of The Charlatans. After sending in a representation letter myself, I receive an invitation to the hearing from Licensing Enforcement Officer Jim Fairfield, though when I press him for more information about the state of the case over email, he declines to comment. What he does say is that "as far as I am aware there is no public record online concerning reviews". With no obviously similar cases to compare it to, I ask Verity what she thinks the Mill's chances are this time. "Since the last review we have put limitations on how many people can go in the courtyard to smoke, we employ extra security staff to order taxis for patrons leaving so they can wait indoors and we have signs saying 'please respect your environment'. But obviously, people can leave when they want to, and if they start shouting at the bottom of the street there's not much we can do about it."

As I return to the Northern Quarter, where bars are now indistinguishable from the trashy footballers' haunts of Deansgate, I cast my mind back to all the times I spent 24 hours straight at the Mill, and how more than being one never-ending party, it's a place where subversive thoughts are allowed to not only exist, but linger and germinate. It's where art is celebrated for art's sake, and where women and LGBTQ+ groups can relax without fear of being subjugated or harassed. Over the past 17 years, it's fostered something that is increasingly rare and vital in our current times – a real community. Like Brian Eno's widely repeated theory of the "scenius" illustrates, great ideas are not the products of individuality, but of people co-existing in groups, and of that, Islington Mill is an emblem.
You can follow Kamila on Twitter.

All photography courtesy of Islington Mill