Now that you have clicked through to this page, you are morally obliged to read previous entries here .
Cult Grade: Come On, Tim!
It's that long and simmering sort of a summer, where days stretch out into sweaty infinity. Schools are winding down across the country, as kids in scratchy, ill-fitting uniforms lounge in the shade of the trees and stretch out indoors across blue plastic desks. In a classroom with the luxury of a wall-mounted television, a SHARP monitor shaped like a clunky grey cuboid, an apathetic teacher flicks over to Wimbledon to check on great white hope Tim Henman. He is losing in straight sets to a bleach-blond twentysomething who looks more like a kid on his gap year than a tennis prodigy. It is 2002, and a generation of children are watching Henman get battered by Lleyton Hewitt with something between disinterest and resignation. The people's champion is about to go out in the Wimbledon semi-finals for the fourth time in five years.
In fairness to Henman, Hewitt was ranked No.1 in the world at the time and would storm past David Nalbandian in the final, becoming one of the youngest men to win a Wimbledon singles title and doing so in world-beating style. Tennis fans, used to seeing Henman fall at the penultimate hurdle at this point, shrugged off their mild disappointment and half-heartedly wished him better luck next time. There would be no 'next time', however, with Henman never again making it past the quarter-final stage and losing his British No.1 status to Andy Murray a few years later. The man who had carried the hopes of a nation on his shoulders for almost a decade finally shrugged off his burden, and faded quietly into the background without even a Grand Slam final to his name.
While tennis has never been the most popular game in Britain, Henman was faced with much neurosis from the fourth estate concerning the failure of a British man to win Wimbledon since the thirties. Though it's easy to forget in the aftermath of Murray triumphing at the competition twice in four years, the decades-long absence of a British men's champion was once one of the most well-worn narratives in the national press, coming round again like clockwork in the lull between domestic football seasons, arriving at the same time each summer just after the Euros or World Cup had come to an end. Just as watching England's footballers crash out of major tournaments became an act of national self-flagellation, so too did watching Tim Henman stoically failing to win Wimbledon. He came to embody a national sporting malaise, a British contender conspicuously inferior to his rivals from Europe, the Southern Hemisphere and the USA.
Unlike England's footballers, however, many people found themselves falling in love with Henman in light of his inability to live up to the hype. It might have been an ironic sort of love not afforded to those invested in the life-and-death seriousness of football, but the affection for Henman was genuine nonetheless. He became an inherently British hero, a man celebrated for his naffness and for being a bit crap despite enormous – and in part artificial – expectation. He wasn't actually crap, of course, but his crapness became conventional wisdom, the butt of jokes on topical panel shows and the subject of much mockery in the media and elsewhere.
Henman certainly wasn't the most charismatic figure in tennis, nor was he ever likely to be worshipped in a conventional sense. As a person he could most accurately be described as 'nice', though he was also awkward and uncomfortable at times, not least in his early years when he was disqualified from the Wimbledon doubles for smashing a volley into a ballgirl's head. He lacked the stinging serve of Pete Sampras or the efficiency and versatility of Andre Agassi, and was essentially a mainstream serve-and-volley player with little to suggest he should win Grand Slams regularly. Probably the most interesting thing about Henman was that he allegedly enjoyed a crafty tab after hours, but apart from that he was basically a good egg from Oxfordshire who happened to be better at tennis than everyone else in Britain, at least from the mid nineties until the arrival of his monotone Scottish heir.
Henman should not by rights have been a British sporting icon, but owing to the perverse humour of the British public he became iconic regardless. While the media obsession with Wimbledon rumbled on, there were few who really believed Henman was ever going to match the renowned feats of Fred Perry, at least not after his first couple of exits at the semi-final stage. Henman was an underdog on the court and people supported him accordingly, while there was something cathartic about watching him fall short every single summer. Henman taught the public to laugh at British sport and – even if it took him some time and considerable media training to learn to laugh along with us – the comic inevitability of his semi-final collapses stripped much of our self-importance away.
It is for this reason that, even now, whenever Andy Murray takes to the court at Wimbledon, there will be at least one cry of 'Come on, Tim!' from a tipsy spectator in the stands. 10 years after his retirement, we are still supporting Tim Henman, because Murray is actually capable of winning things and therefore doesn't really need our love. Henman may never have won Wimbledon, but he is there in the very fabric of the All-England Club, with 'Murray Mound' still failing to catch on at the expense of 'Henman Hill'. Ultimately, the British public owe Henman a debt of gratitude, in that despite being one of the most beige sportsmen of his era he taught us to see the funny side of our shortcomings. In a way, isn't that what being British is all about?
Entry Point: The Unlikely Underdog
Henman's enduring popularity seems particularly weird when one considers that he was hardly an archetypal everyman. Hailing from an upper-middle class family and a long line of accomplished tennis players, he was privately educated at the Dragon School in Oxford and had many of the advantages associated with a traditionally privileged game. The Guardian once delivered the following verdict on Henman: "He would probably admit that he is a disappointing air-puncher and rather young to be living in Barnes." As well as being an awkward character he was a bit too posh to be universally relatable, even among the people necking Prosecco and wolfing down strawberries on the hill bearing his name.
Still, Henman's background made little difference when it came to facing Sampras, Agassi and the like. While privilege might have earned a man a title in the early days of the All-England Club, in the late nineties it was all about tennis. Few saw Henman as an underachiever with a racket in hand – quite the opposite in fact – and the prevailing view is that despite being better than most he never truly rivalled the best players that decade. In the context of his noble failure his private school mannerisms only made him seem even more naff, earning him an additional dose of ironic adulation as the people's champ.
The Moment: The Eternal Semi-Final
While we may have laughed about Henman's semi-final defeats, they must have been galling for the man himself. He lost twice to the imperious Sampras, in 1998 and 1999, before blowing a fantastic chance to reach a final two years later, going out in five sets to the brilliant but beatable Goran Ivanišević. If Henman seemed to be stuck in some sort of temporal vortex at this point, a rift in the space-time continuum where he was forced to come to terms with losing in the Wimbledon semis for the rest of eternity, his defeat to Hewitt finally broke the cycle. There was a tragicomic symbolism to that definitive loss, with the sight of an ageing Henman struggling to keep up with his youthful opponent a sign that he no longer had time on his side.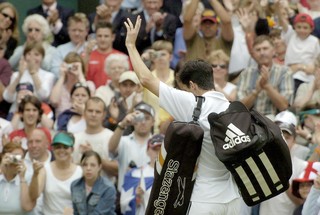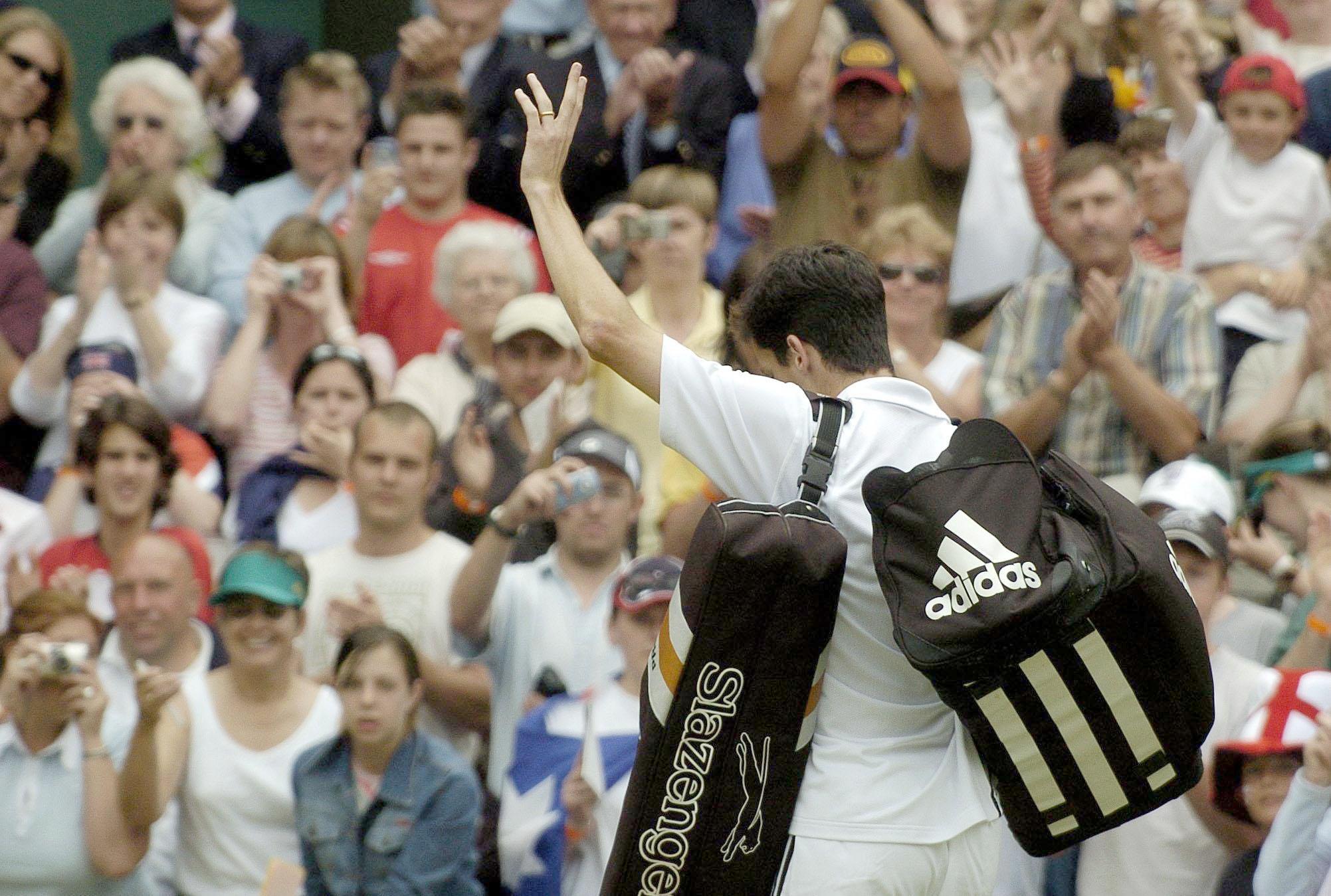 In the end, the fates never intended to allow Henman to pass the threshold of the Wimbledon semi-finals. Like a nineties computer game with an impossible boss battle, Henman's career was discarded without ever coming to the completion which some had envisioned. As it turned out, though, Henman didn't need to win Wimbledon to become a sporting legend in Britain. All he ever had to do was turn up, let us down with integrity and lose in the semis with a wistful smile and a wave.
Closing Statements:
"If Tim Henman had won Wimbledon it would have been so weird it would have torn a hole in our reality. 'Oh, Henman's won, and here to present the trophy is Winston Churchill with the head of a bee.'"
Frankie Boyle's speaking on Mock the Week after Henman announced his retirement in 2007.
Words: @W_F_Magee // Illustration: @Dan_Draws