The last time I visited Rita Duarte in her son's East London flat, it was a sweltering summer's day and the walls were bathed in sunlight. The Brazilian co-founder of food business Dona Rita, along with son Pedro Duarte and daughter-in-law Clara Tudela, showed me how to make pães de queijo, the traditional Brazilian cheese and cassava flour bread balls that the trio sell online and at markets.
But when I arrive on a late October afternoon, things are different. And not just because it's pissing it down outside. The looming clouds render the once sunny room dark, the bright white table in the centre of the room has been draped in a black satin cloth, and shiny skulls leer at me from shelves.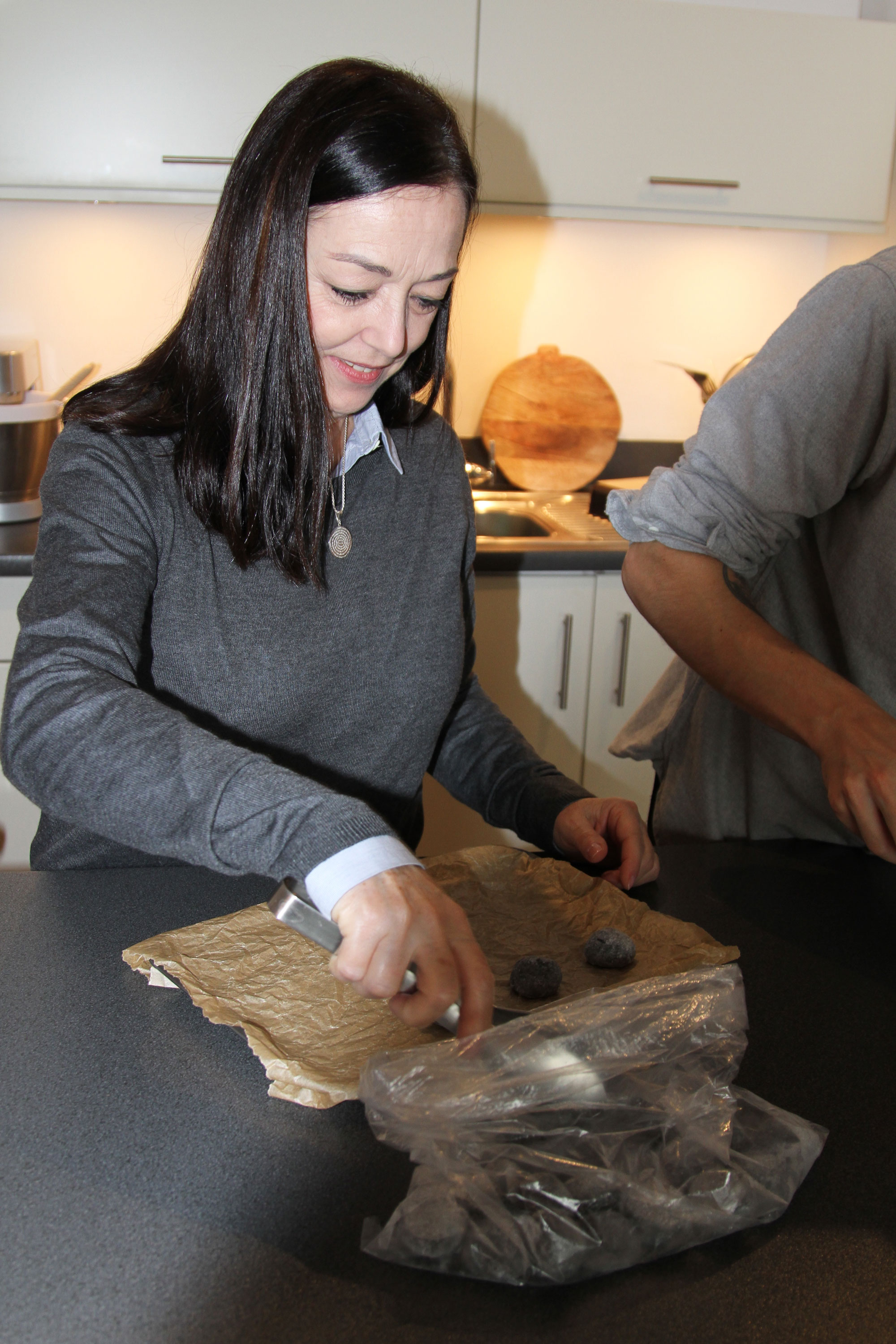 Holding a tray of small black rock-like balls, Rita exclaims: "Have you seen the blood-filled syringes, yet?"
Apparently even cheese balls can't escape Halloween.
"Halloween is about the decoration but everything is always the same," explains Rita. "We're preparing something completely special. I think it's going to be a big surprise for the customers."
As Rita puts the tray of black balls into the oven, she assures me though that the surprise will be more treat than trick.
"The balls are the same pães de queijo but we've just added charcoal powder," she says. "Believe it or not, it's exactly the same taste as my traditional pães de queijo. They're black but it's only the colour that's changed. It's incredible!"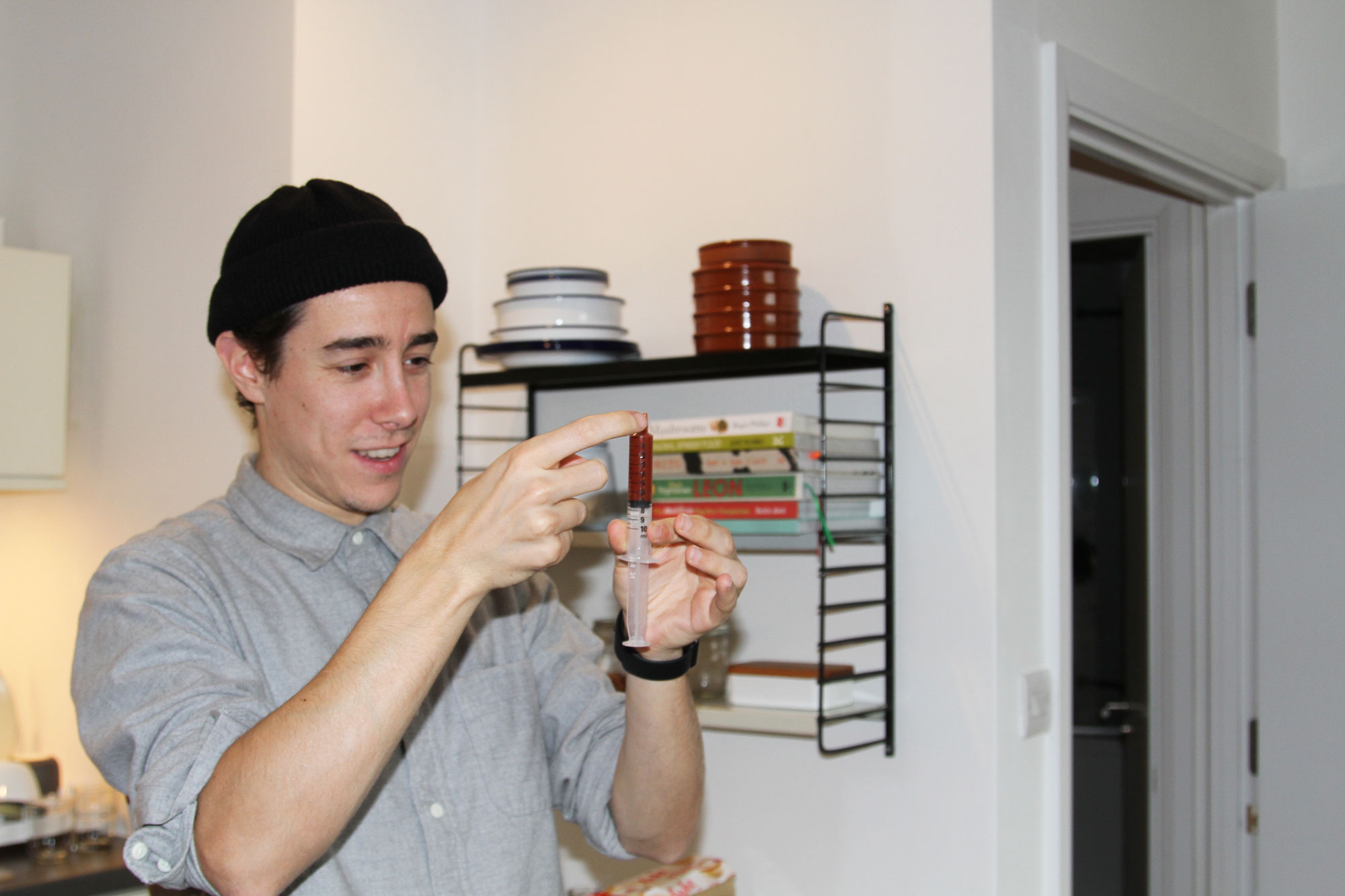 "And the 'blood'?" chips in Pedro, ominously flicking a syringe filled with red liquid. "It's just Sriracha. We don't really eat spicy food but when we've done markets, people always seem to love spicy chili jam. We're going to do a sweet filling as well, like strawberry jam."
The pair tell me that inspiration for the spooky creation came when they were brushing their teeth. Really.
Pedro explains: "We bought a bag of charcoal powder to play around with because apparently activated charcoal is quite good for digestion and you can add it to anything. You go to trendy cafes in Shoreditch and they do charcoal lemonade. So we thought we'd experiment. You can even brush your teeth with it."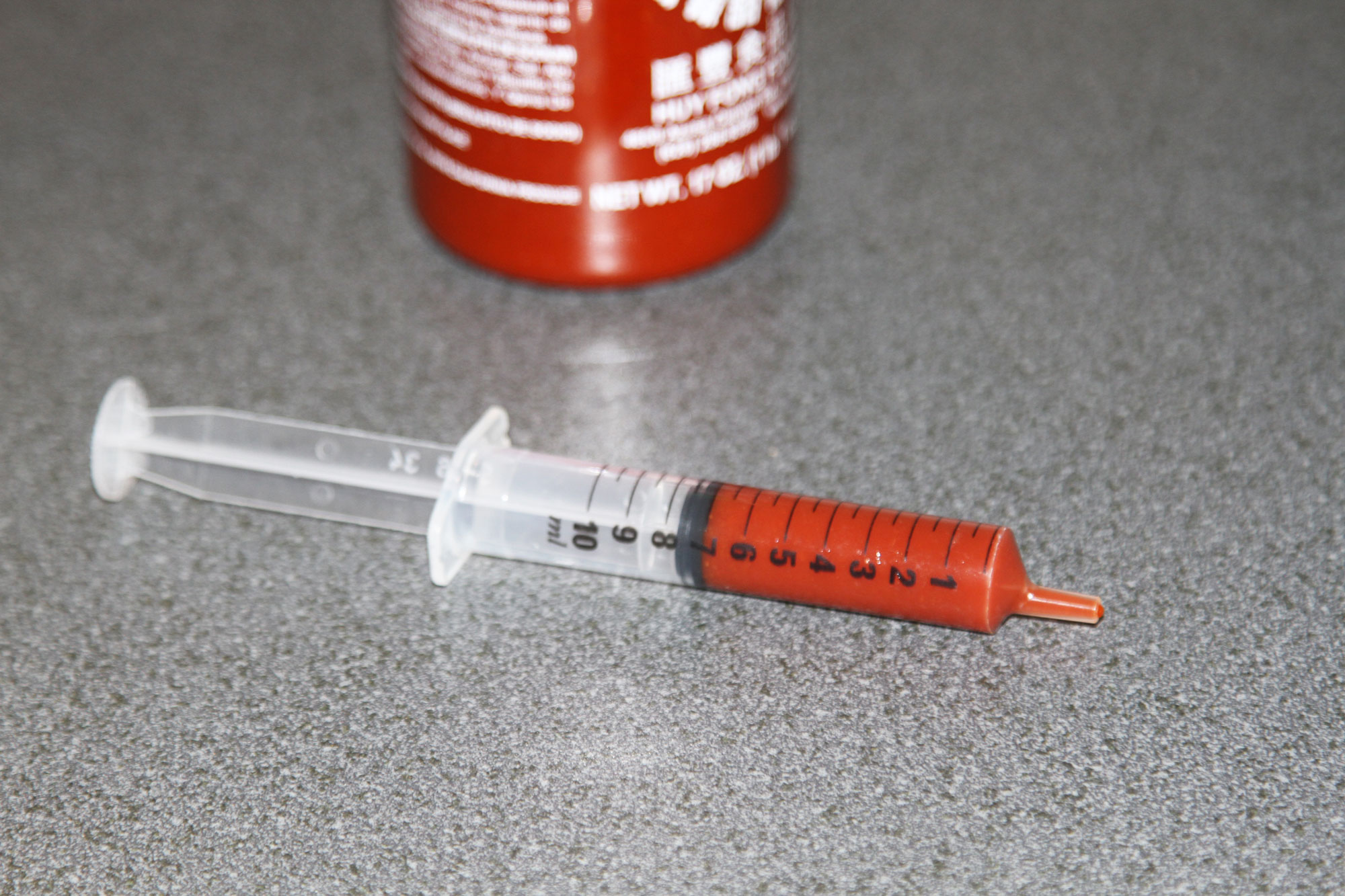 So, it was over the bathroom sink that that the idea for black pães de queijo was born.
"I tried it! It's very good. You should try it!" says Rita. "It doesn't taste of anything."
Pedro continues: "After we brushed our teeth with it, we realised it didn't have any taste. It was Clara's idea to put it in the cheese bread and then Rita helped develop the recipe. Once we knew charcoal was a natural food colouring and didn't affect the flavour, we thought we'd just add some charcoal powder into the mix. Then we wouldn't have to change the recipe."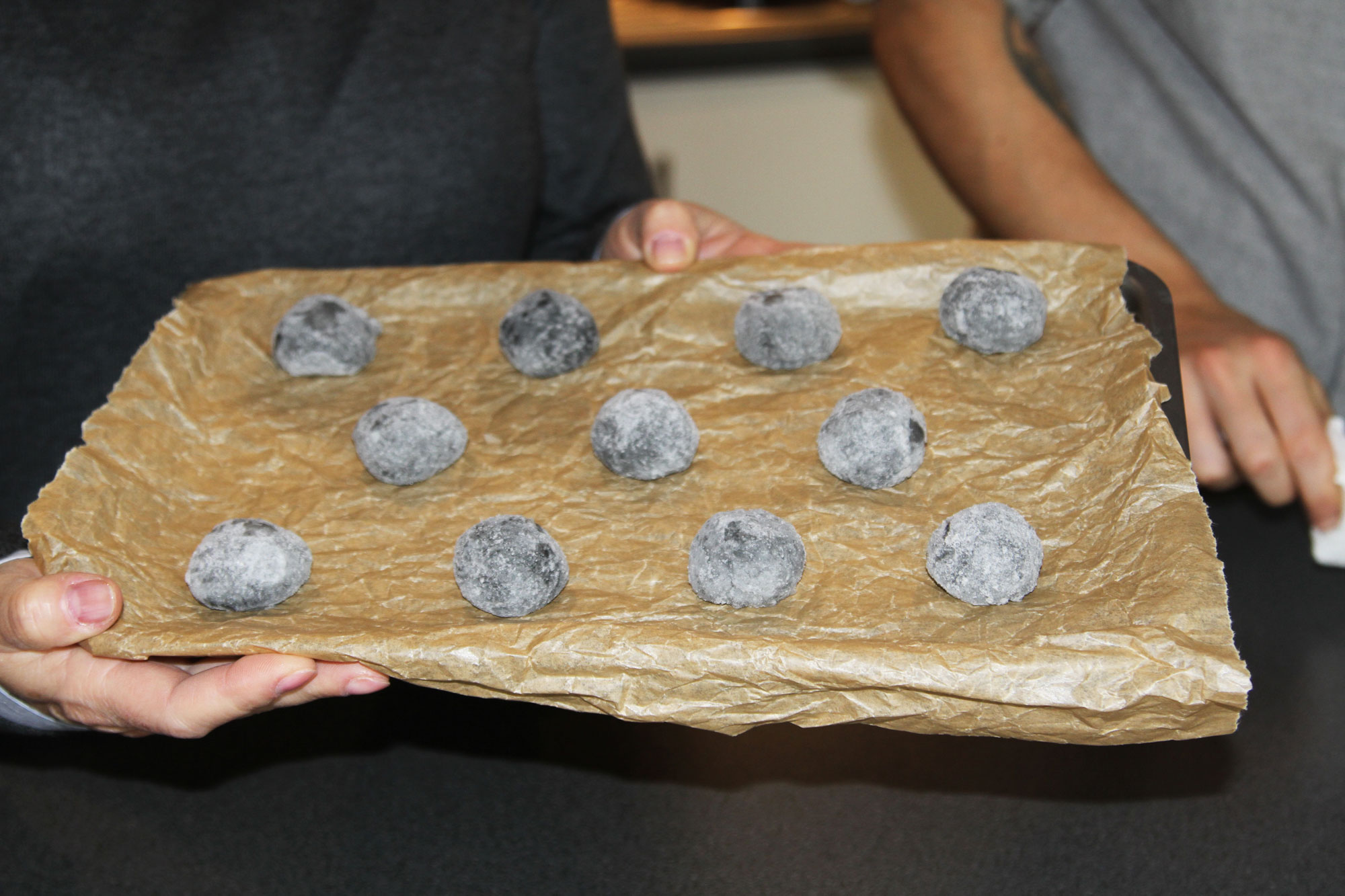 The health claims of activated charcoal may be dubious but Rita's gothic cheeseballs have already garnered much attention.
"All my friends have been calling me up and say, 'Rita, you're making black pães de queijo? That's amazing.' They are very excited," Rita tells me.
Pedro adds: "I've spoken to all my Brazilian friends and no one has ever seen a black pão de queijo. In Brazil, they do experiment with colours and different concepts like pizza with a pães de queijo base. But no one's ever seen a black pão de queijo before."
Although Pedro recounts trick or treating—a custom imported from North America—when growing up in São Paulo, Halloween isn't a holiday widely celebrated in the South American country.
"Halloween in Brazil isn't as big as it is here or in America," he says. "I do remember that as kids, we'd dress up and go and knock on doors. It's very different, though, because in Brazil, you knock on doors within your building, not on the streets."
Rita adds: "It's only for children. It's not like here where adults celebrate as well."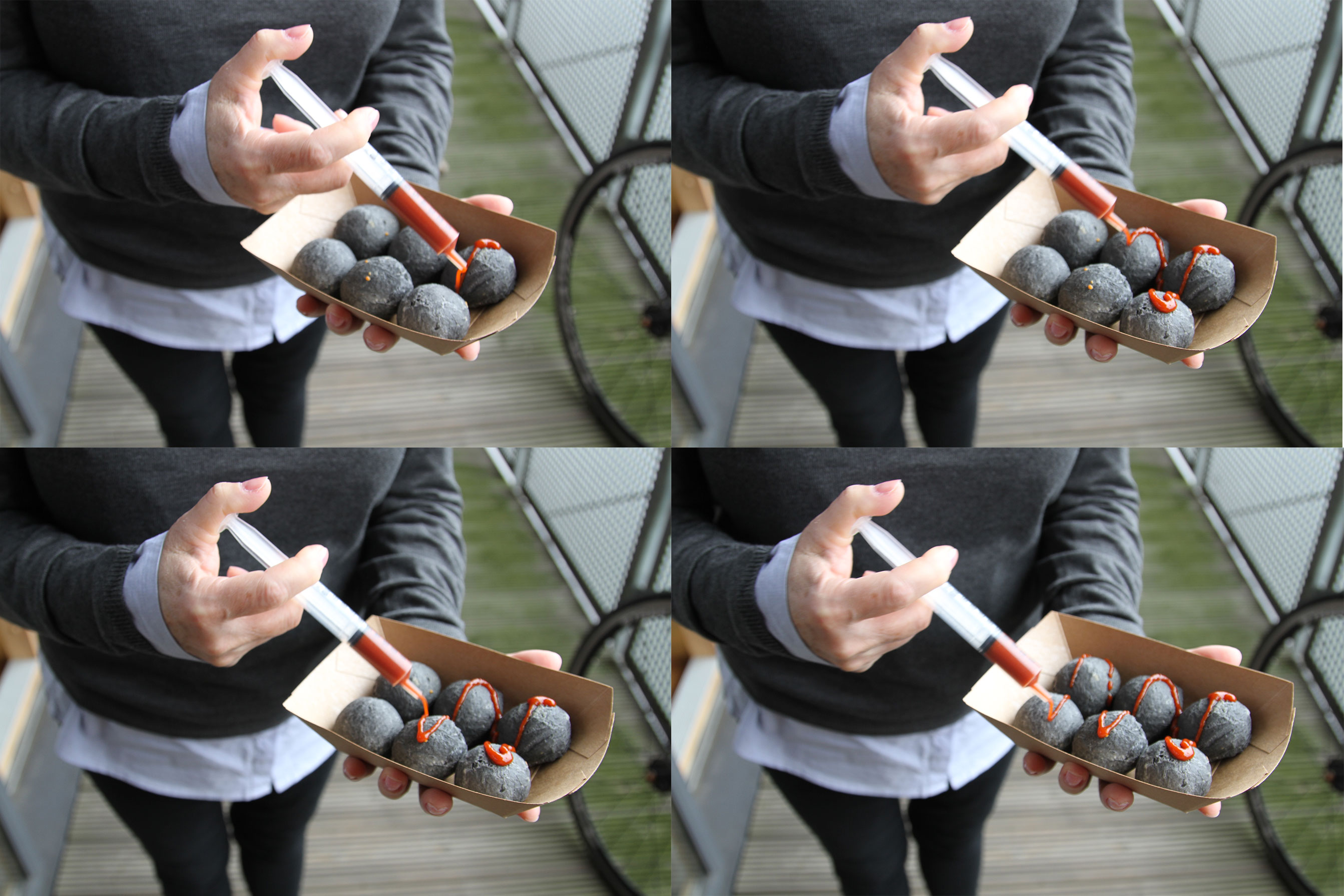 During Rita's childhood, the time of year was reserved for remembrance, rather than celebration.
"On 2 November, we have Dia de Finados [similar to All Saint's Day]. Historically, it's a day that people remember the passing of loved ones," says Rita. "All the family would be together and we'd bring loads of flowers to the cemeteries. We'd decorate the graves with flowers and messages and pray together. It's a sad day. Even if children go and play, they're told to be quiet."
But those traditions are changing.
Rita continues: "It's sad to say that it's not like when I was younger. People still respect the day but it's different now."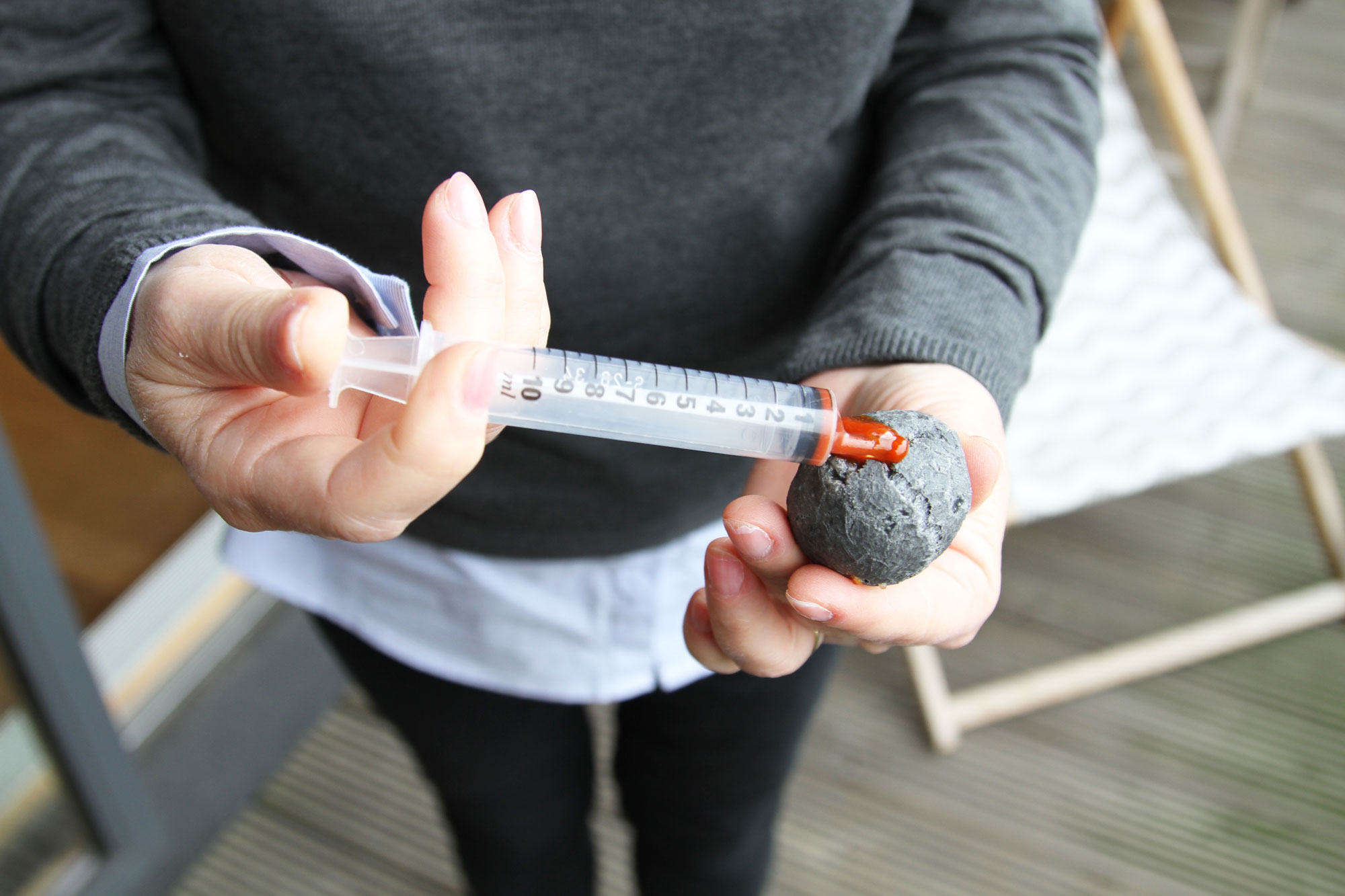 She sniffs the air and says: "The pães de queijo are ready now." Rita places the black charcoal cheese bread in a small tray with a Sriracha-filled syringe on the side.
I know where I'll be treat or treating this year.