Dirty Sanchez was three Welsh guys and an Englishman waving the flag for British stupidity. You'll remember it, because in the age of Jackass, CKY and Tony Hawk's Pro Skater 2, it was impossible to ignore. That said, while it had elements of Johnny Knoxville and co's show – a skate background, adult men hurting themselves on purpose – it was always a little more visceral, a little more extreme.
Premiering on MTV in 2003 – and named after a supposed sex act where one person puts their finger in their partner's butthole, then smears their top lip with whatever's left on that finger – viewers watched as Matthew Pritchard, Lee Dainton, Michael "Pancho" Locke and Dan Joyce arm-wrestled each other over candles, played naked paintball, ate pube pizza and took part in the aptly-named "pain Olympics".
Eventually spawning two spin-off shows, a tour and a movie, hitting nearly 60 countries while picking up 400 million viewers over 39 episodes, the show holds a fond place in the cultural memory of anyone who still remembers the GTA Vice City infinite money cheat by heart.
Sixteen years after Dirty Sanchez first aired, we spoke to the cast and crew about how it all came together.
HOW THE 'DIRTY SANCHEZ' CREW MET
Matthew Pritchard: It started with me and Dainton. We met skateboarding in Cardiff, at an old spot called Cardiff Banks, which is where all the south Wales skaters used to go. I was about 15 then. We both met Pancho there a few years later.
Lee Dainton: Pritchard was this really tame and shy person, just sort of there on his own doing his own thing. I remember watching him doing the same trick over and over, trying to nail it.
Michael Locke, AKA Pancho: I was 13 when I met Pritchard in Cardiff Central station – he was 19. He had a name for himself in skating at this point, and I met Dainton through him.
Dainton: Joyce came along around the same time as Pancho – I think I saw him in the skate magazines and basically asked to meet up because he seemed to be into the same shit as us.
THE BEGINNING OF 'DIRTY SANCHEZ'
Pritchard: We were heavily involved in skating back in the day. Dainton had a camera, and his mate filmed us doing our thing: skating and winding each other up.
Dainton: I'd taken redundancy from my job as a carpenter for the local council, and I'd always wanted to make a proper skating video, so I used that money to buy a camera and my friend filmed us. It took the form we know now when Pritchard and I were in the Alps in a log cabin in the middle of nowhere. We were bored in the evening so we got pissed and did stupid shit like smashing bottles over our heads, and basically filmed the whole night of messing about.
We looked back at the footage and were laughing so much that we decided to make a skateboarding video with some stunts included in there. I knew it was going to be the sickest skate video the UK has ever produced – that wasn't me being cocky either, it's just that what we had was very funny and could jump from skaters to the general public; it had legs.
We made a trailer, which we recorded copies of on to VHS tapes. As we were friends with Sidewalk Magazine and worked for Globe Shoes at the time, we sent a copy to the magazine and to every skate shop we could get it in, and Pritchard sent one to FHM – this was pre-internet, proper horse and cart shit. It ended up getting banned by the British Board of Film Classification (BBFC). I think we sold about 3,500 before it was banned, but MTV were already knocking on the door, so we just chucked it on TV instead. Madness.
Pancho: FHM was the first mainstream media to report on us, and they did a double-spread feature on us. Then we had some attention from Channel 4 – they did a short documentary on us and the skating scene. That's when MTV approached us. Jackass was kicking off in the States around the same time, and they wanted a UK equivalent.
Pritchard: I was contacted by MTV while working at Globe – they asked us to meet them with a copy of the video. So we went to London.
Dainton: A week before this, Pritchard was flying to Dubai for work, and he phoned me saying that Liam Howlett from The Prodigy was in the airport, had seen the video and wanted us to hang out with him, before admitting he was taking the piss and putting the phone down. So when Pritchard rang me saying, "Daint' you'll never believe this, MTV are on the phone, I said 'fuck you' and put the phone down on him."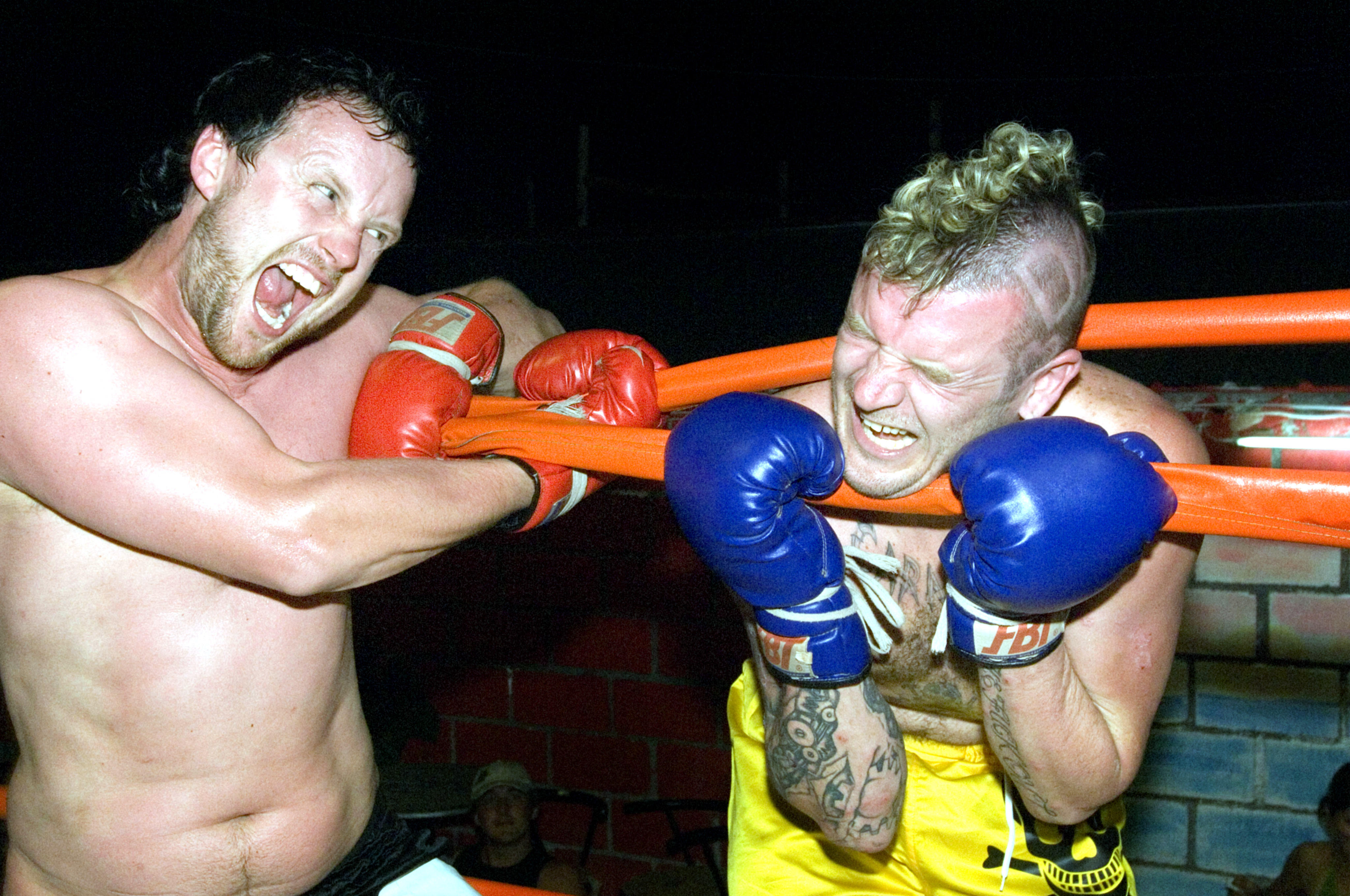 WHEN MTV APPROACHED THE 'DIRTY SANCHEZ' CREW
Becky Staniforth, series one director: At the time I was producing/directing other things for MTV. I was given the videotape and asked if I could do anything with them. I thought it was hilarious and decided to take it on, so I called them in for a meeting. I was slightly nervous about meeting them, as most people are, given how they come across on screen. The meeting went pretty well, though, aside from Pritchard and Joyce getting naked and running through the offices after it.
Dainton: I didn't think we'd hear back from MTV after they did that. They phoned us before we'd even got back home.
FILMING SERIES ONE OF 'DIRTY SANCHEZ'
Pancho: MTV rented a house in Roath, Cardiff for six months – we called it the "house of doom". We pretty much lived there the entire time.
Becky: I lived in the house of doom with them, and I'd just have the cameras rolling constantly. We often started by going to DIY shops like B&Q, browsing for whatever utensils of pain we liked the looks of, then we'd just find a suitable, semi-quiet location. I think it helped that I was female because I would persuade one of them pretty successfully – usually Pritchard – to do whatever it was we had thought of, and then we'd hit record.
Pancho: I walked past the house two years ago and it was strange to see it looking so normal – there was a fruit bowl on the window. I was just thinking: 'Imagine if they knew the shit we got up to in there.'
Becky: I don't think the neighbours loved us. There were a few noise complaints – when they had the mousetraps on their penises, for example. Though we didn't get too much telling off, the house got a bit wrecked. I don't think we had our deposit back.
Pritchard: We kept it as raw as possible. It was very much: "Here's these four guys and we'll follow them." But we also knew what sorts of things were expected of us, so both us and the directors came up with ideas collaboratively.
Dainton: They'd just follow us around to skate parks and festivals, and we'd think of ways to fuck about at the same time. It was carnage.
Becky: I'm not actually sure how the camera stayed straight sometimes, because it was hand-held and I was rolling on the floor with laughter – you can hear me giggling most of the way through that series.
FILMING SERIES TWO OF 'DIRTY SANCHEZ'
Becky: Before I went on maternity leave we were planning the second series, and we just needed to take the show somewhere different. We decided to put them in situations where there was an opportunity to do funny things. So I came up with the idea of them taking on jobs.
Pancho: We never imagined ending up on TV. So to have one series was huge, a second series was just madness – I couldn't believe they had commissioned another series of us messing about. The second series involved a lot more travelling. Living on the road was pretty heavy too, with us all being the way we were.
Jim Hickey, director from series two onwards: I came on board for series two. I think they were a bit sceptical – they're four mates, and it would have taken them some time to get along with the crew from series one. Because of the impact of series one they had more pressure on them to put out good content, and perhaps they were afraid I'd come in acting like a total wanker.
Series one was super raw. Even the sound was often distorted on the TV, and it was self-shot by directors – there wasn't a full camera crew. So we added a bit of production value, and the locations could be a bit more elaborate, but I don't think it was all that different. Their relationships with each other – and their "characters" – hadn't changed at all. It was very much a collaboration. What MTV wanted to do was to put more structure to it than just filming them in a house for months on end. I don't think the boys were that arsed about the new idea, but they understood it needed to move on a bit.
Dainton: I wasn't as into it, to be honest. I didn't like how staged it felt. With series three and the tour it was back to the old ways, though.
TOURING
Jim: The idea for a European tour came about after series two and it sounded like a good idea. They were happy about this because they felt they could do what they wanted easier. The idea of living like rockstars suited them, too. We had a bus for them and another for the crew, where we edited everything, but we were more or less always filming them.
Pritchard: Our agent said we should take the show on the road, on tour. So we had to come up with some kind of stage adaptation of the show: so we decided to do the most hardcore stunts we could. One thing we didn't think about before agreeing was that we would be doing this constantly – by day three, we were so fucking bruised and battered and bloody that we realised we couldn't carry on, but we did anyway.
Dainton: At one point we had six shows in six days, so we decided we could do the fish-hook-in-the-ear stunt because we had more than six ear lobes between us. Pritchard had six different parts of his body that he could hit with a meat tenderiser, and we could do the piss/spunk one as many times as we wanted. We saved the really painful ones, like being hit with a bullwhip, for the big events.
Jim: I don't know if any of the others mentioned the pepper spray? I was taking a break that week. It was a bit mad being stuck on that bus for six weeks, I guess.
Pancho: I fucking hated that tour bus – in the end I'd had enough and just wanted to be kicked off, which is why I sprayed pepper spray all over it.
Jim: You needed a good month away from everything when it was done. But it was a lot of fun.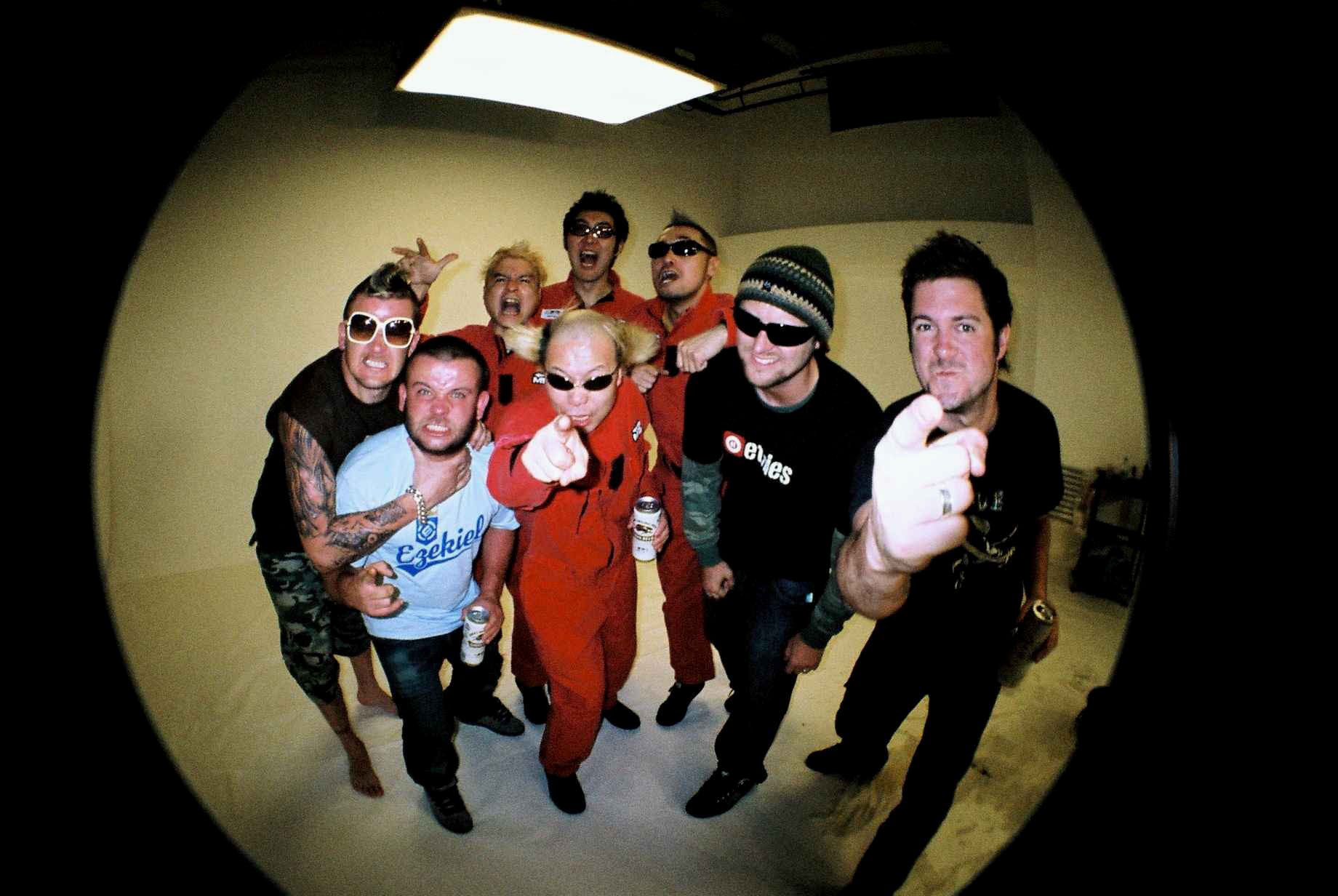 THE STUNTS, THE MEMORIES, THE CARNAGE
Becky: We'd suggest things and they'd end up turning it into something a bit different but equally funny.
Dainton: We wouldn't do anything we didn't like the sound of, but it was quite back and forth in terms of coming up with ideas, I suppose. For example, we were going to paraglide off a mountain in the first series while throwing balloons full of piss from the sky onto the others standing on the ground below, which was tame as shit, but we had nothing better for it. That is, until Joyce shat in a bucket while filling up the balloons. Pancho wouldn't glide because he's scared of heights, so we ended up making Pancho eat a chicken claw out of the bucket as a forfeit – but he didn't know there'd been shit or piss in there. That was funny.
Jim: Tricking Pritchard into thinking he'd broken the world record for paintball shots to the body was pretty memorable, especially because Dainton and I felt so bad for lying to him – his body was an absolute state and he was so happy. It was terribly bleak.
Pritchard: Fucking hell, where do I start. Getting shot with live ammo at point-blank range in Prague was nerve-wracking, even with the bulletproof vest on. So was getting taken out by a car while standing on a stepladder.
Becky: Pritchard did end up in hospital once…
Pritchard: We were playing Trivial Pursuit. Basically, whoever lost had to have a drill through the skin between their thumb and index finger – it was too graphic to show on TV. [I lost and] it gave me septicaemia, and I was in the hospital for a week.
Dainton: My mum watched the episode where I ejaculated from a prostate massage while filming [spin-off series] Sanchez Get High in Japan, so that stands out for all the wrong reasons.
Pritchard: I remember being dragged across grip tape on my bare arse. That took ages to heal. I'd be waking up with the bedsheets stuck to me and I'd have to rip them off. I did that three times on tour, but I saved them for the big shows.
Jim: You also sort of knew to just have the camera rolling around them, because they were so funny that stuff would happen organically, especially in the evenings, when Pancho would fall asleep because he was wasted.
Pancho: I suffer from sleep apnea, which means I'm likely to fall asleep in the day at times. It's worsened by drugs and alcohol at times, sure. It presented many opportunities for them to fuck about with me.
Jim: Dainton was always very good in terms of pushing people's buttons. He didn't usually do the worst stunts, but he was very good at orchestrating them. I was very grateful for that relationship with him. He was almost like a producer.
HOW 'DIRTY SANCHEZ' CAME TO AN END
Pritchard: Let's just say that, like most rock bands, after years of doing it, things start to strain. Getting pissed and high as a kite every night means there are hangovers, and you just fucking do each other's heads in. People weren't turning up sometimes because they were wrecked, you know.
Pancho: It's like any relationship: things get strange, people get greedy and life moves on – you stop wanting that life. Now we're coming around to do a reunion tour , we're all good.
Dainton: I think for Pancho and Joyce, it just got too much. There was a load of partying and we just needed a break from each other before it got ugly. We're still mates now, so it was for the best. I didn't think we could top what we'd done, so I was happy to call it a day. It ran its course. We did do some spin-offs, though, including my favourite show, Sanchez Get High.
THE FUTURE
Pritchard: The money would have to be good – I'm 47. I'd probably be alright if it was more humorous things, rather than just killing ourselves.
Pancho: Mature Sanchez! Never say never – but I don't know if my body is cut out for that. I have interests elsewhere, too. Still within skateboarding, of course.
Dainton: I wouldn't do anything like the first series again, fucking hell. I think a few of us are a bit more sensitive now. I'd jump on something like Sanchez Get High again in a heartbeat, though.
Jim: I think if it was going to be as funny, then yeah, maybe. It feels like there could always be a reunion episode. If they wanted to, I'd have to say yes.
Becky: I don't think I'd do anything quite as crazy as series one again, although I spent the entire year laughing. I'm in education now, and I have a few ideas of stunts I'd like them to do demonstrating physics and chemistry concepts.