Ivory burns in Nairobi National Park on the 30th of April, 2016, Kenya. (Photo: Frederick Paxton/VICE)
On the day of the ivory burn, the 30th of April, 2016, the headquarters of the Kenya Wildlife Service was a hub of frenzied activity, made worse by heavy rain in the morning. A 4x4 carrying a red carpet for President Uhuru Kenyatta and dignitaries faltered in the mud. The brass band marched stoically through a downpour. There was a slightly chaotic air to the usually imposing, serene setting of spacious quadrangles, statues and well-kempt gardens.
But everything was in place in time for the arrival of the invite-only attendees: an audience of partners including NGOs such as WWF, Tusk – of which Prince William is patron – and dignitaries including US ambassador Bob Godec and former Deputy Secretary of State Heather Higginbottom. They were all there for the spectacle of several massive piles of elephant tusks going up in flames.
We'd been told that Leonardo DiCaprio, Angelina Jolie and Brad Pitt were tipped to attend. In the end, only Liz Hurley braved the morning rain for a once-in-a-lifetime selfie at the elephant crematorium.
But the message – that elephants are worth more than ivory – was beamed around the world by a cast of some 600 media representatives. Even the New York Times Style section hailed 2016 the year of the elephant.
Lighting the ivory, President Uhuru Kenyatta may have reflected on the event's global attention. A year earlier he had praised the "socioeconomic value" of Kenya's wildlife, describing it as "a critical pillar of our tourism industry" – responsible for about 12 percent of the country's GDP. The logo of the Kenya Wildlife Service is a mother elephant protecting its calf.
However, a VICE investigation has revealed the deadly cost of preserving Kenya's elephants. For the first time we can provide evidence to show that:
Kenya Wildlife Service (KWS) chairman Dr Richard Leakey admitted KWS rangers sometimes "foolishly, immorally, wrongly take the law into their own hands". "It has happened," he said, "and I'm sure it'll happen again."
KWS agents are allegedly responsible for the death or disappearance of at least five people during Leakey's tenure as chairman.
In one village, the Kenya Wildlife Service allegedly opened fire on unarmed protesters, killing one and injuring 14.
Innocent people with no links to poaching are believed to be among the dead.
To date VICE understands no rangers have been convicted and the KWS has never accepted responsibility.
VICE's investigation is supported by a cache of dozens of documents, including sworn affidavits, court documents, police reports, death certificates and senate committee documents.
---
WATCH: 'Shoot to Kill: VICE Investigates the Kenya Wildlife Service'
---
Dr Richard Leakey is on a mission to end the ivory trade, and draws no salary in his role as chairman of the KWS. He has done more than anyone to preserve Kenya's wildlife in the face of significant challenges. After a resurgence in poaching, President Uhuru Kenyatta reappointed him in April of 2015 to use his "influence and experience and connections" to try to put the organisation back on its feet, he told VICE.

Although celebrities flock to him, he could not be described as a man who actively courts celebrity. But as far back as 1999 he was reportedly alive to the fact that his actions will be supported by the government only so long as Kenya's wildlife attracts tourists.
Dr Leakey established the Kenya Wildlife Service in 1989, and within five years successfully shifted the balance of power from poachers to rangers.
In the 1970s and 80s, elephant and rhino populations across Africa had been decimated by poachers. Kenya's elephant population plummeted from 160,000 in the 1960s to fewer than 20,000 at the end of the 80s.
This changed with the establishment of the Kenya Wildlife Service and the implementation of a new "shoot to kill" policy. Rangers trained and equipped by British and US military were authorised to kill any armed poachers who set foot inside Kenya's national parks.
Being a ranger remains a difficult, dangerous job that claims the lives of an average of two to three each year (based on data provided in annual reports).
But the KWS sometimes strays outside of the parks and into neighbouring roads and villages, where they claim poachers are being harboured. The KWS have no powers to kill here, but the villagers believe they are behind dozens of mysterious abductions and disappearances. And many of the victims, they say, are completely innocent.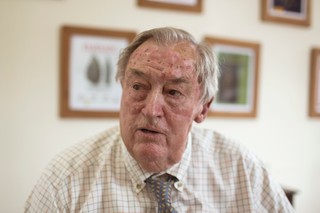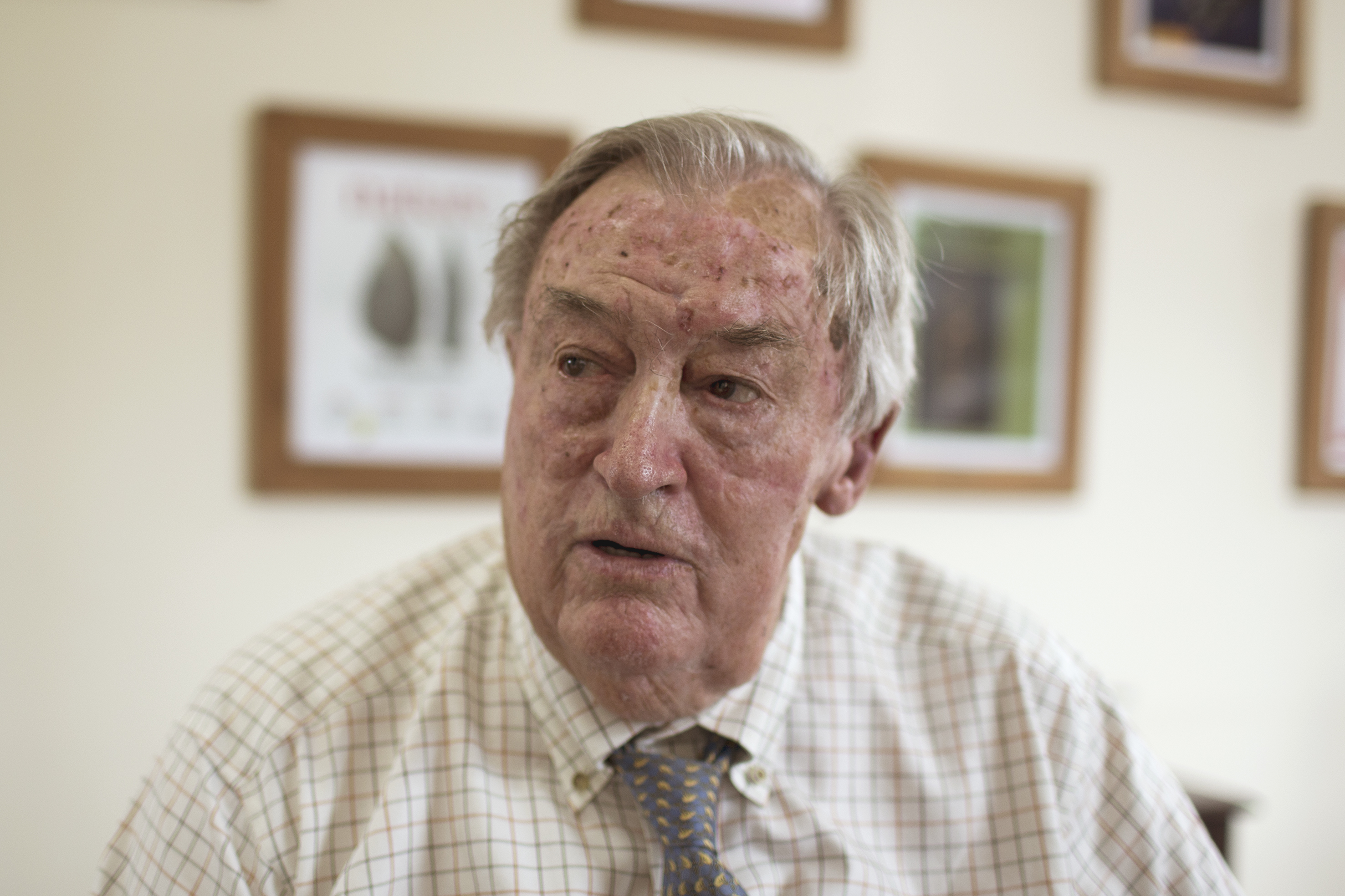 When VICE asked Dr Leakey about the disappearances, he didn't duck the question. "The fact is," he said, "That men with weapons who are feeling very frustrated because they can't get court convictions and they can't get this and they can't get that sometimes foolishly, immorally, wrongly, take the law into their own hands. And that should never happen. But it has happened. And I'm sure it'll happen again. But we want to make sure it happens less and less as we go forward."

Dr Leakey made the comments after VICE began presenting him with our findings. The conversation was ultimately terminated by Dr Leakey, but rapidly deteriorated after we asked him if it is hypocritical to stage an event that glorifies the work of the KWS when he knows what is going on in its name.
"I think that's a typically sensational media question," he said. "And I'm surprised you asked the question because you know perfectly well the burning of the ivory had nothing to do with a public relations exercise. It was solely to do with getting public attention to focus on the plight of the elephant.
"If you're suggesting that we shouldn't have tried to stop the ivory trade, where people do get killed and violations do occur, because we're still worrying about an incident that happened before my watch, you're talking about chalk and cheese. And you know, I think you're wasting my time with that sort of question."
DEATH AT A PROTEST
On the 18th of May, 2015, the people of the poor farming village of Kinna staged a protest. The community lies to the north east of Nairobi and borders Meru National Park. They carried banners that read: "KWS: Stop shedding blood of innocent Kenyan civilians," and: "KWS Wardens: stop murder without trial – it's against human rights." It was the climax of several months of strained relations between the KWS and Kinna. By the end of it, 14 people were injured and one man was dead.
According to a sworn affidavit signed by one of the injured, a KWS plane flew over the gathering at the watering hole. Two Land Cruisers of KWS rangers then drove up to meet the gathering. They opened fire without warning, he alleged.
"They didn't give us any warnings," said Abdullahi Wako, another witness present at the time. "We ran, but they were firing still."
When the shooting began, 18-year-old Mohamed Abduba Duba was at the watering hole with a herd of his animals, three of which were also killed, his father told VICE. His death certificate states that he suffered a "cardiopulmonary arrest due to severe injury to liver due to fatal gunshot".
KWS rangers associate the town with poachers. David Kones, the Deputy Park Warden at Meru National Park, said: "[It's] not everybody. It's just some individuals – individuals which can be held very responsible. It's the small fellas. It's not totally that all the communities are bad. [In] issues of terrorism, it's not all Somalis who are bad, or all Islamic fellas who are bad. It's just elements. So these elements are the ones which we need to bring to book. You cannot bring a whole community to book."
A petition to the Senate Committee on Security, signed by hundreds of community members, tells a different story. Relations between the KWS and Kinna have broken down to the point that the KWS is no longer welcome at all in the village. The community borders Meru National Park, and many of its residents told VICE that the KWS has embarked on a campaign of intimidation and torture in the area. They believe they are responsible for the abduction and extrajudicial killing of locals in a number of so-called "disappearances".
The protest was called after one such alleged "disappearance". On the 9th of May, 2015, KWS rangers allegedly abducted three men on a motorcycle, on a road outside Meru National Park, Kinna residents told VICE. One of the men, Kalicha Halake Dima, a cattle trader, had recently successfully defended against poaching-related charges brought by the KWS. One of the others was 79 years old.
With no answers as to the men's whereabouts, around 100 residents of Kinna and surrounding villages gathered at the border fence with Meru national park in preparation to stage a protest.
VICE asked the KWS what happened to the men. They initially replied to our emails, but despite stating they would deliver a statement they did not respond to the allegations.
Kinna's Member of County Assembly, Adan Ali Wako, the most senior official in the area, was also a witness to the shooting.
"In our capacity as leaders we have made many complaints," he said, "but till this moment we have not been offered any assistance. And those who carried out the killing are still in employment," he claimed.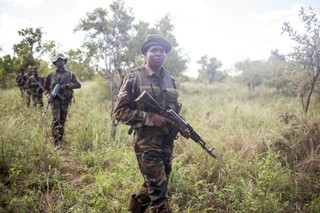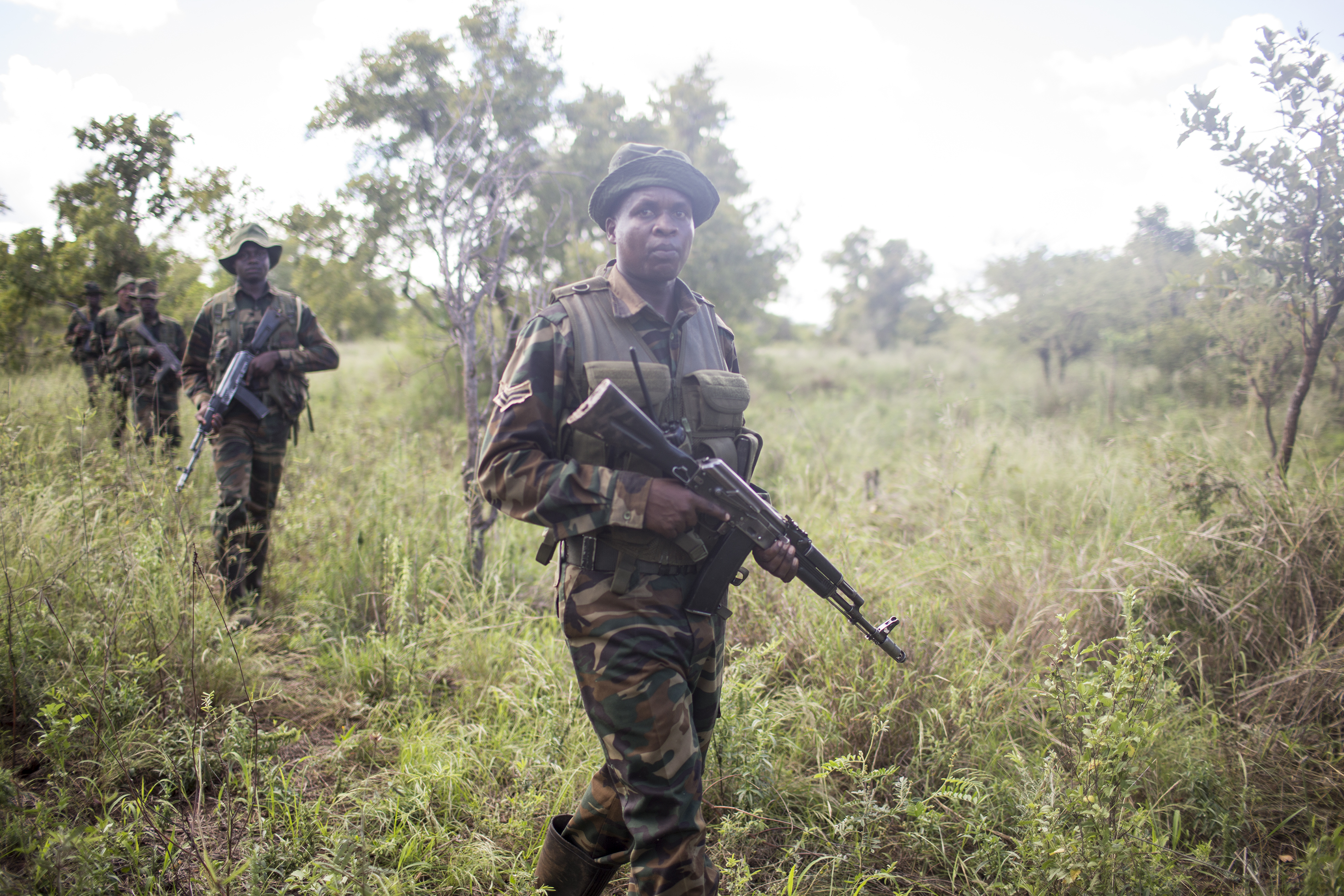 VICE asked the KWS detailed questions about the incident. They initially replied to our emails, but despite confirming they would deliver a statement, they did not respond to the allegations. KWS Spokesperson Paul Gathitu told Kenya Citizen TV in a short film published on the 27th of June, 2015 that the service denied all responsibility for the disappearances in Kinna and for shooting at unarmed protesters. "We were shooting in the air to try to get out of that position. And there was shooting from the community side and we don't know who was shooting. KWS is not responsible at all. It's credit to those rangers who were there for restraining themselves."
A police report obtained by VICE appears to contradict the KWS claims. A post mortem form from the Kenya Police states that "officers opened fire", killing Mohamed Abduba Duba.
An independent police witness also contradicted the KWS claims. The officer told VICE that between 50 to 70 spent cartridges were found close to the KWS park border, along with markings that suggested the rangers had used a mounted machine gun.
The police officer said he found no evidence that the protesters had fired weapons at the KWS. He did not want to be identified, for fear of reprisals.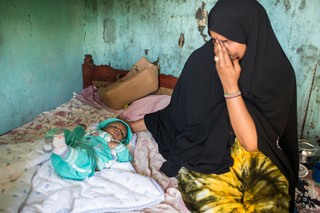 PANDORA'S BOX
Gitobu Imanyara is one of Kenya's most prominent human rights lawyers, and is no stranger to standing up to the authorities: his arrest in 1991 was described by the US State Department as "another denial of freedom of expression in Kenya" and ultimately led to aid reductions for the country.
In his office, Imanyara told us about the deadlock of a recent case he had brought against the KWS. On the 23rd of June, 2015, one of the organisers of the Kinna protest, Mohamed Sheikh Abdullahi, was taken from his vehicle in the presence of his brother Adan and wife Mulki. He was never seen again.
The motive for Mohamed's alleged abduction is unclear. But VICE's investigation found that in addition to backing the protest in Meru, Mohamed had recently provided surety for an uncle accused by the KWS of involvement in poaching.
Imanyara felt there was a chance justice could be served. He said the police had initially informally cooperated with the family, providing crucial mobile phone location data which linked the KWS to Mohamed's abduction.
The evidence was "Beyond doubt. Including the name of the KWS officer," he said.
He subsequently brought a case against the KWS and the court ordered telecoms provider Safaricom to formally produce call records to demonstrate the KWS role in Mohamed's abduction.
But court documents show that Safaricom claimed it was not able to supply information on the location from which the mobile numbers were operated during the period "due to breakdown in the company's data system".
Imanyara said he believed the state was involved in the suppression of information that would implicate government officers, in part because the provision of location data would set a precedent that could be used in other disappearance cases.
"The government is actively suppressing provision of information that will lead to the capture of government officers involved in murderous activities," Imanyara told VICE. "They do not wish to provide that information because it will open a Pandora's box."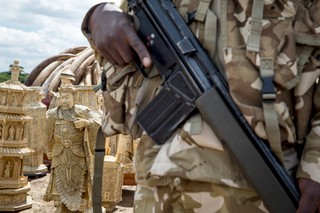 "EXTRAJUDICIAL KILLING IS ALL TOO COMMON"
Dr Leakey has not been uncomfortable talking about extrajudicial killings in the past. In 2014, before he was affiliated with the service, an Associated Press report quoted Dr Leakey saying that he accepted extrajudicial killings by the KWS took place "from time to time."
"Sadly the extrajudicial killing is all too common in Kenya in the uniformed services," he said.
Earlier in the year, the Associated Press also reported that he had made the claim that the Kenya Wildlife Service had been infiltrated by powerful people enriching themselves off poaching, and that impunity for those doing wrong was rampant.
In Dr Leakey's office we discussed the incidents of May and June, 2015.
Dr Leakey said he had "heard those stories" about human rights violations and that he believed "a number of people on the KWS side were picked up and indicted for that". [The KWS did not confirm to VICE whether this was the case.] "As soon as I learnt about it I insisted the director go up and deal with it."
The director at the time, William Kiprono, did not provide him with "a report that was satisfactory in terms of there being a conclusion", he said, adding that it confirmed that people had acted inappropriately, "but beyond that I have no personal knowledge".
"I don't think it was handled properly last May," he said.
Leakey said that, as chairman of the board, he did not have the power to ensure that investigations are properly conducted. "The executive function lies solely with the director general and his staff and the ministry," he said. "Chairmans of boards don't have hands on responsibility for incidents of that kind."
Leakey said he could only ensure training was improved, vigilance was sustained and that "if you find incidents of this kind you jump on it pretty hard and you make it absolutely clear that sort of behaviour is unacceptable", he said.
But Dr Leakey did have the authority to remove and replace his Director General. Kitili Mbathi succeeded William Kiprono in February of 2016, nine months after the protest.
We asked if investigation into such allegations was a priority for the Director General and his staff.
"Well, I think it's one of many priorities, my friend," Dr Leakey said.
It was at around this point that we asked Dr Leakey if he thought it was hypocritical to stage the ivory burn. He accused us of sensationalism. In the ivory trade, he said "people do get killed and violations do occur"; and he repeated the claim that the incident happened before his watch, although he was chairman at the time.
We asked Dr Leakey if he believed there was a culture of impunity in the Kenya Wildlife Service.
"Now? No. I don't think there is a culture of impunity whatsoever. Has there been in the past? There could have been."
"Then what's changed?"
"I've come back as chairman and I've a new director general."
"Who you say has not made the investigations a priority –"
"I think your questions are impertinent," he said, pulling off the microphone. "Let's stop the discussion now."
As we attempted to retrieve the interview, Dr Leakey ordered his guards to pick us up.
"Piss off," he said. "I'm going to have you arrested if you don't get out."
By this point we were surrounded by several staff, and it was clear the interview was over. There was time for one more question.
"Is there a human price to pay for animal conservation?"
Dr Leakey stared across the table.
"Of course there is. Idiot."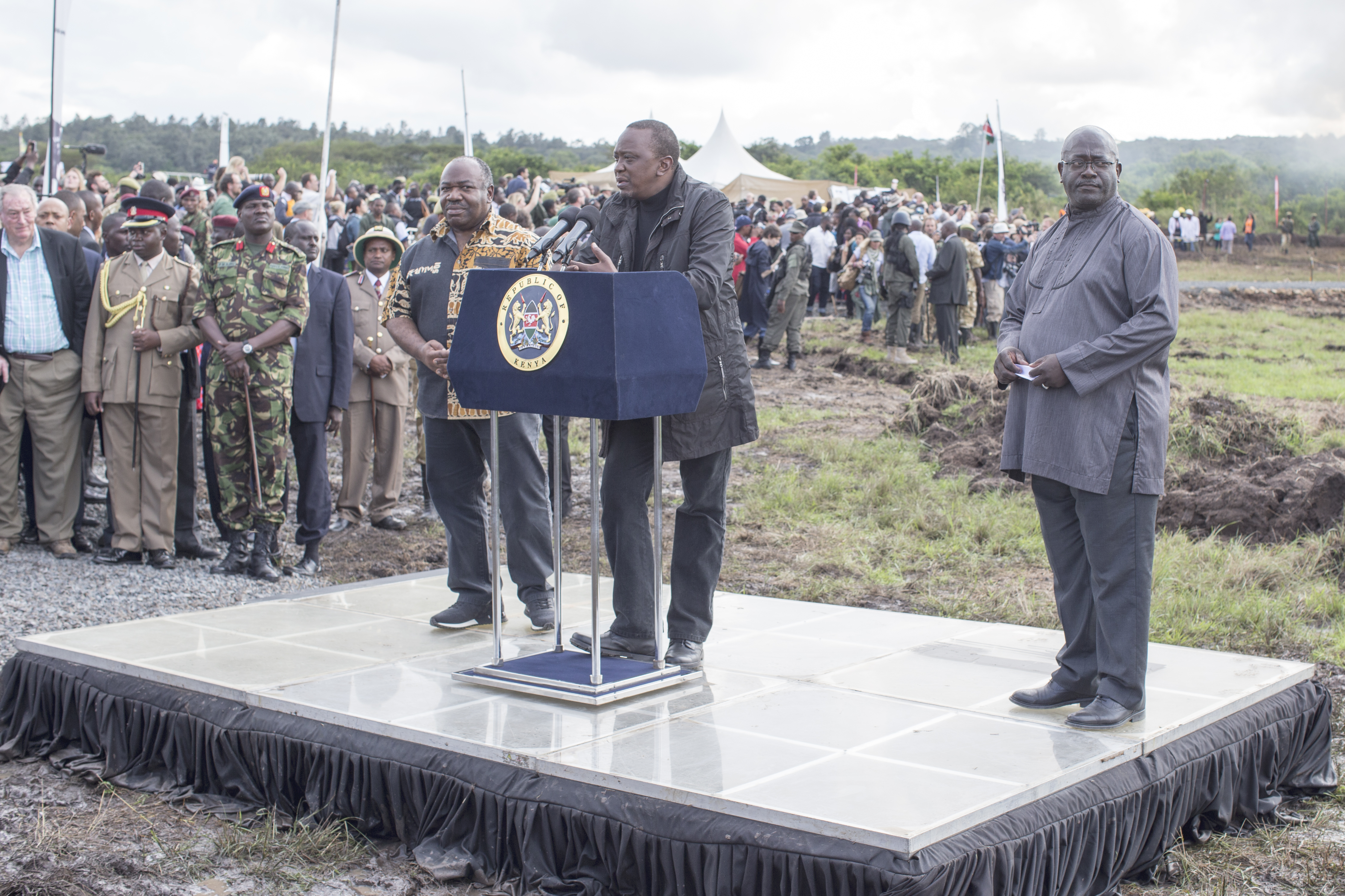 A brass plaque stands at the entrance to the Nairobi's KWS headquarters. It lists the names of more than 60 officers killed in the line of duty protecting Kenya's wildlife. Of course there is a human price to pay for animal conservation: the rangers and poachers who die every year. But there is compelling evidence of another, higher price: extrajudicial killings and – in isolated cases – the murder of innocents.

VICE has identified more than 40 unsolved cases of alleged disappearances and killings over the past four years from its own investigation and compiled in reports by Human Rights Watch, the Independent Medico Legal Unit (IMLU), the Muslims for Human Rights group (MUHURI) and the quasi-governmental Kenya National Commission on Human Rights (KNCHR).
VICE followed up the interview with Dr Leakey with detailed questions about the protest shooting and disappearance of Mohamed Sheikh Abdullahi, and disappearances and extra-judicial killings in general.
Director Kitili Mbathi gave repeated assurances he would deliver a response. No response was received.