Welcome to TV Party, VICE's weekly TV column, brought to you by resident sad-act, me, Lauren O'Neill, where I basically just talk for a bit about the best (or worst) thing on telly this week. Best enjoyed with a plate of your favourite breaded item and an open mind. Contains spoilers, obvs. This week: 'Gordon, Gino and Fred's Road Trip.'
I wasn't planning to write about Gordon, Gino, and Fred's Road Trip, but within seconds of flicking on the first episode, I realised I had no choice. The first minute goes like this: Gino D'Acampo drives a camper van round a corner, blaring "Blue" by Eiffel 65 like a Solihull school disco in 1999, before being told (and I quote) to "shit off" by Gordon Ramsay.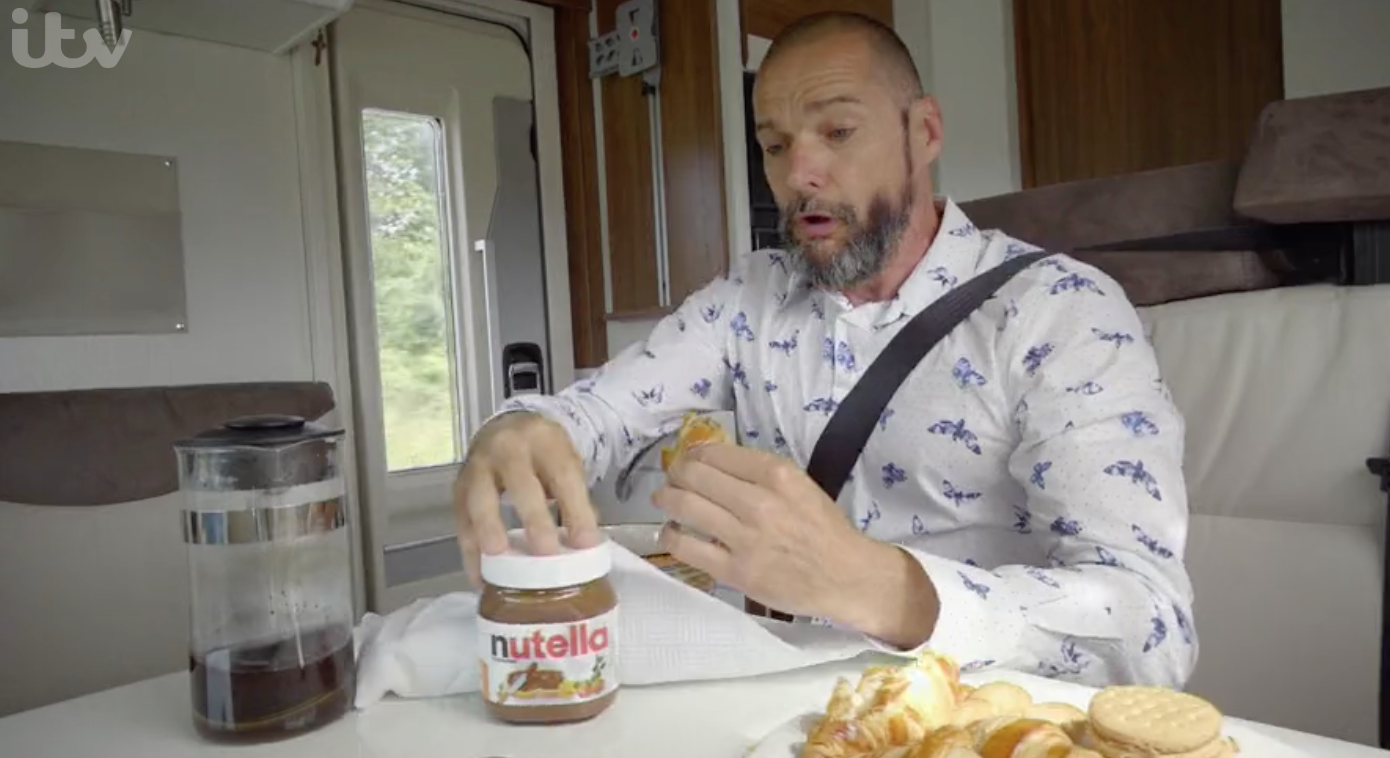 *Seinfeld voice* What's the deal with Gordon, Gino and Fred's Road Trip
In an extremely shrewd move from ITV, Gordon Ramsay, Gino D'Acampo and Fred First Dates have been brought together again (following a Christmas special last year), to eat food and swear in their respective homelands. For Gino, that's Italy (specifically Naples and the surrounding area, where the first episode is set); for Fred, it's France; and for G-Ram, it's Scotland. It seems to have been conceived as a sort of Dad's On Tour extraordinaire.
Who's even in it?
Right:
GORDON RAMSAY: Michelin-starred chef, generally mad bastard and one-time ITV cocaine correspondent*. You know him for shouting FUCKING HELL about gone-off chicken breasts and making inadequate head chefs named, like, Randy or Sean cry on Ramsay's Kitchen Nightmares.
GINO D'ACAMPO: Less good and famous chef, certainly, but also a Laugh in that he makes his own wine called Gino's Vino. You know him for making your mum/nan/auntie horny too early in the day while he fucks about with a pasta maker on This Morning (and for therefore being the reason why she's now also got a pasta maker and keeps making innuendos about dicks).
FRED NOT SURE OF HIS LAST NAME: Nice French lad who seems a bit out of place here if I'm being honest. You know him for being the guy on First Dates who everyone at the restaurant wishes they were actually dating instead of Mike, the supposedly loveable Warhammer enthusiast from Warrington who smells regrettably like Quavers.
The dynamic, essentially, is: Gordon's the beleaguered dad trying to get stuff done so he can live his truth and braise all fuck out of some octopi; Gino's the out of control one who, it is revealed staggeringly early on, wears briefs; Fred – less used to making this sort of personality-based TV, but giving it a go – laughs exaggeratedly loudly a lot, sometimes at nothing.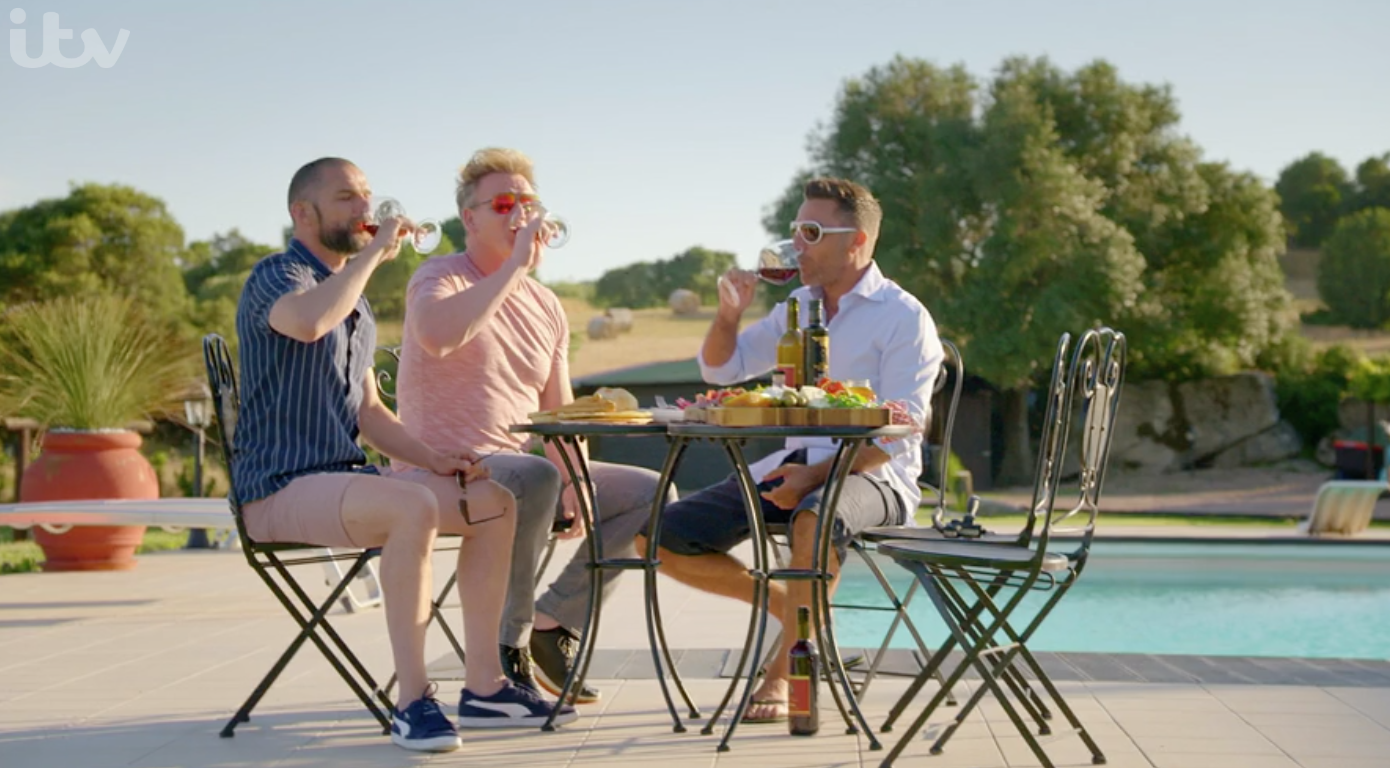 OK fine – but is it any good?
Gino D'Acampo shouting "I'M SWEATING LIKE A PIG" out the window of a caravan. Gino D'Acampo mooing 'til he's hoarse at a load of water buffalo and then going "look at the way they listen to me". Gino D'Acampo squirting milk directly from a water buffalo onto Gordon Ramsay's face. Gino D'Acampo calling every helper he encounters his "cousin". Gino D'Acampo wearing a never-ending selection of sunglasses that all look like they were bought on a British pier, pivoting between "70s porn baron", "Hunter S. Thompson Halloween costume", "child on a surfing holiday" and "Pitbull".
Of course it's good.
From Emmerdale to shagging, how mum friendly is it?

I can't shake the feeling that this programme is the direct result of a focus group where a load of older ladies were asked to tell some poor researcher their detailed fantasies about the men on TV they like best, with the top three most-mentioned names then being hauled on board, chucked in a caravan and told to take their tops off for "swimming". So yeah, your mum's already all over it.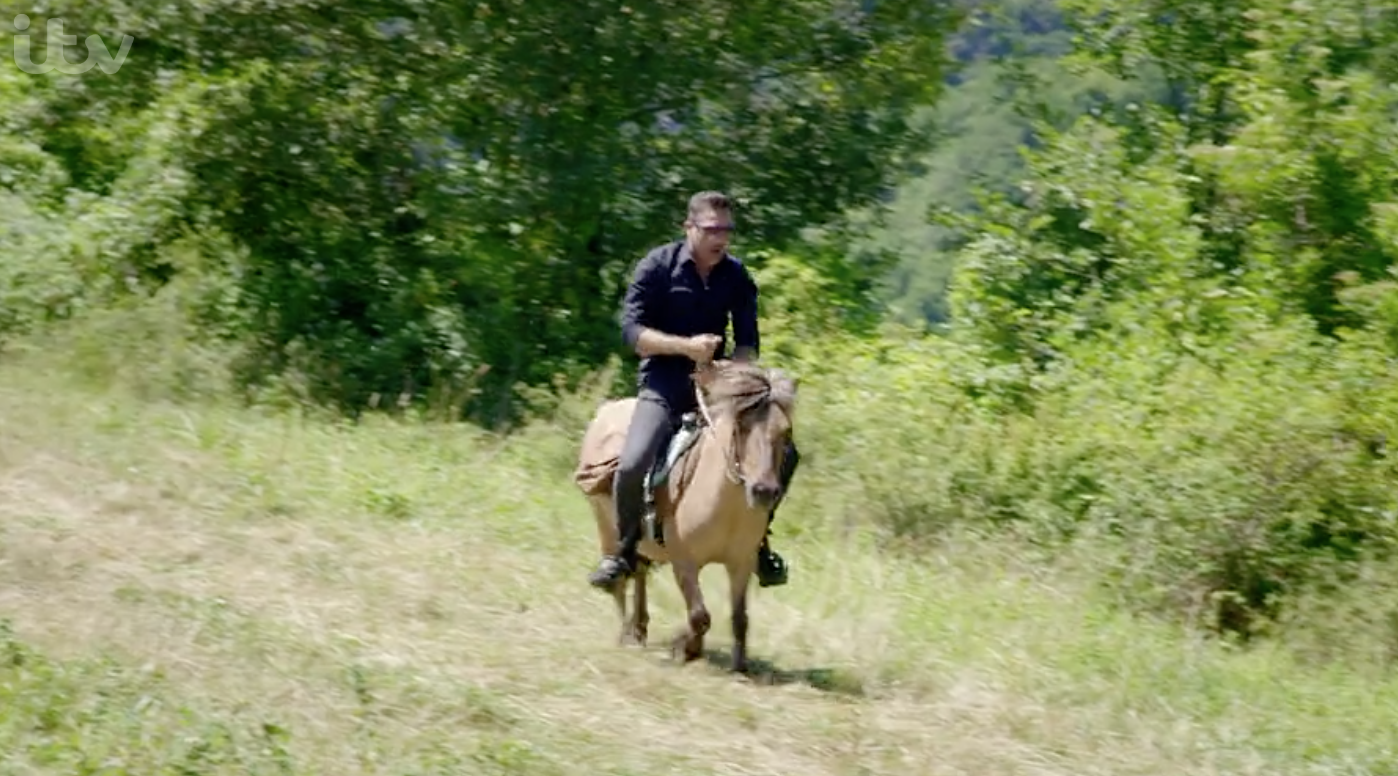 Is it likely to cause a Twitter shitstorm?
Not as far as I can gather. This is Wholesomeness Central. Despite all of what ITV would probably like me to call "the hi-jinks", the chefs are generally quite insightful and interesting.
Any last words?
Shit off.
*I really do just want to know if anyone else has days where all they can focus on is the fact that Gordon Ramsay on Cocaine (which saw Gordon Ramsay "investigate" "cocaine" (??) in part by going in the back of a police car while lads on gak got arrested and then also bundled into the back of the car while saying things like "I'm really sorry we're meeting under these circumstances Gordon") ever existed.