There's a moment on the title track to Phoenix's new album that finds Thomas Mars overwhelmed with infatuation. "I love you," the frontman splurts, before letting loose: "Ti amo! Je t'aime! ¡Te quiero!" Those Italian, French and Spanish declarations of love light the fuse on a fizzy, swirling chorus – "I'll say 'ti amo' til we get along," he seems to sing with a shrug, as the track winds back down.
The French four-piece's longstanding amorous intentions have a wider scope on Ti Amo, their sixth full-length. Across their last five albums, their neon tales of seduction have been centred on the bars and bedrooms of their native Paris. As the touring cycle for 2013's Bankrupt! wound down, though, the band set up a studio high above it all in a converted Parisian theatre, and looked out on a far gloomier city than the one they'd come to know. The City of Love now felt tense and unwelcoming – a result of the slow crescendo of terror and deeply seated suspicion that had made its way across the country.
As the band began sowing the seeds for album six, they watched that same wave of negativity and isolationism sweep across both Europe and the US. The rise of far-right politics marched on across Europe; Trump was elected; Brexit saw the UK kick out at their European neighbours. To their surprise however, from these dark moments came Phoenix's most vibrant album to date – one that sings of love across multiple languages and a desire to "get along" – borne of a time that seemed to reject such notions.
As Mars sings of gelato, prosecco and lattes, Ti Amo writes a love letter to the hedonistic delights that Europe thrives on – those that are instantly familiar to anyone who's ever hopped on a budget airline, foreign festival clashfinder in sweaty hand. A spirited, sparkling depiction of summer beach parties and mountaintop sunsets, Phoenix's return embraces the continent's kaleidoscopic beauty. In a note written following the album's completion, guitarist-keyboardist Laurent Brancowitz cites the band's "European, Latin roots, our fantasised version of Italy" as Ti Amo's signature, while stating that the artwork mimics "the romantic graffiti you can find on so many Italian walls". The band's interest in dance music and repetition takes the fore, and the likes of "J-Boy" see stabs of piano replace the sharp guitar lines of previous records. For the first time, Phoenix sound more Italo-disco than indie disco.
And yet, the members of Phoenix remain effortlessly and undeniably French. Before the album dropped last week, I met cooler than a concombre guitarist Christian Mazzalai (Brancowitz's younger brother) and bassist Deck D'arcy when they were fresh off a Eurostar from Paris, sat behind a cheeseboard. As they talked, they sliced slither after slither from the wedge of brie in front of them, never breaking eye contact. Thomas is the only member to have left his home country, instead taking residence in New York's trendy Greenwich Village with his wife, the film director Sofia Coppola. The other members of the band still live in the outskirts of Paris, and as Ti Amo began to take shape, they watched their city begin to wobble.
"It's a bit… chaotic," Christian said of the political situation in France. At the time when he spoke, a general election loomed there, with Marine Le Pen and the far-right Front National making gains on a seemingly daily basis. It clearly troubled the band – they spoke tentatively of Le Pen's father Jean-Marie, who formed the party and rose to prominence himself over the past two decades, capitalising, like so many right-wing leaders, on a disenfranchised working class. "It was already a warning; a big revolution," Deck said, hesitantly. "The reality is that people in France are suffering. Suffering never leads to good things."
A week later, and with the National Front defeated by Emmanuel Macron and the centrist En Marche! party, I chatted to Thomas – he was in slightly brighter spirits. "It's a big relief," he said from his New York home. "It's a big relief not to have both countries I live in go that way. If every country is just shutting down, we go into medieval times. That's the end of culture, the end of all these things."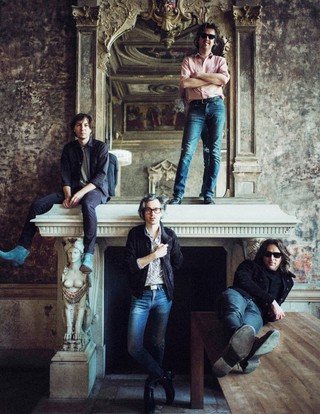 And now, from Macron's win to Corbyn clawing back some seats for Labour in the UK, the left and centre of politics finally seem to be gaining ground. Ti Amo is the perfect soundtrack for those changing fortunes – a record that revels in music's restorative political power, without dipping into "at least we'll get some good music out of it" levels of cringe and cliché. The theatre Phoenix holed up in still doubles as a music venue – each night, the four of them would sneak in through a backdoor to watch local artists, finding inspiration in the grassroots spaces that they once cut their own teeth in. It was a nervy time for French music, and Paris in particular – on the evening of the Bataclan attacks in the capital, Christian found himself trapped in the studio, the whole building on lockdown – but Phoenix found a beauty in that basement. "We stayed connected, especially with the French scene – we never really get exposed to the French scene," Deck told me.
They formed one such connection with Dodi El Sherbini, a dark synth-pop producer who performed in the theatre one night. Striking up an unlikely friendship after they intruded on his soundcheck, the four of them invited Dodi up to their studio; for the first time, the group allowed an outsider into their insular, improvisational writing sessions. "We rarely do collaborations, but this guy fit perfectly," Thomas said with a smile, joking about how they 'stole' a few of their favourite chords from that soundcheck.
Inspiration was found everywhere – from that basement, to the 9-5 rush of the offices in the upper floors of the venue, to memories of French children's cartoons, Italian summer holidays and posters passed on long, cross-country drives. Channelling everything from hazy house on "Goodbye Soleil" to lean indie-rock on closer "Telefono", Thomas sings across British, Italian, French and Spanish throughout, melting the languages together until they form one cohesive tool. It all feeds into the collage that makes Ti Amo such a multi-tonal mishmash of musical styles and cultural reference-points, reminiscent of a more united, utopian Europe. Faced with a crumbling continent, Phoenix celebrate European connection, rather than wallow in is dissolution.
"I remember getting back to the studio the day before Brexit," Thomas recalled. "We were talking about anything – it's basically like Seinfeld when we're in the studio, we talk about nothing – but you could tell we were not in denial." Shifting their focus from the collapsing constructs around them, though, has allowed Phoenix to craft an antidote – a record that extends a hand across Europe and celebrates its beauty, at a time when the majority of its nation states are clenching their fists and turning inward. "It's surprising," Thomas continued. "You shift really quickly. Those conversations shift really quickly into making music. It feels like a totally different universe – it feels like an alternative."
Carefree and joyous, the likes of "Tutti Frutti" and "Lovelife" twist and twirl like a flamenco dancer around arpeggiated synths and crisp, crackling percussion, while the slower "Via Veneto" (an ode to one of Rome's most beautiful streets) comes off like a warm, smoky, midsummer night's stroll. Ti Amo is a self-contained universe – a microcosm of European collective identity that recalls tins of Estrella on Barcelona's pavements as much as it does glasses of prosecco on the Adriatic coast. In a time where the continent feels prone to fragmentation, cracking like a waffle cone in your fist, Phoenix are sticking it back together, one scoop of gelato at a time.
Ti Amo is out now via Glassnote/Warner Music.
You can find Tom on Twitter.