Do you suffer from sunburn? I mean actual sunburn, not the sort of pinkish hue that elicits mild coos of "oh, you've caught the sun a bit" as you slump home after a day sat in a park trying to do keepy-uppys between gobfuls of cheese puffs. I mean proper sunburn. Sunburn that turns your flesh the sort of scorched lobster pink Jonathan Ross probably paints his bathroom. Sunburn that sears your skin until it peels away like filo pastry, leaving a trail of dead cells in your wake, rolls of shoulder speckled over everything you wear. Sunburn that has you wincing as you drag crisp socks over your tender feet, howling in agony as a simple shower becomes a form of precision-pointed water torture. This is my reality. The prospective fear that haunts my every holiday, like a grim reaper in board-shorts. I have always been millennial pink.
Which means, of course, that going to a music festival like Primavera, in a hot place like Barcelona, is problematic. I want to go and watch Slayer and Van Morrison and Solange, I really do, but how can I if it means I'll end up sprawled on a grassy verge, desperately trying to wring hydration from plastic pint cups? The answer is simple: fuck off the sun entirely. Ignore it. Pretend it isn't there. Stay holed up under the stained white sheets of whichever decrepit Airbnb you've overpaid for during the day, because this year Primavera by night proved itself worth the trip alone.
Obviously, the majority of Primavera is Primavera by night. The festival doesn't really kick off in earnest until the early evening, and headliners often don't take to the stage until gone-midnight, but I was here for those real Ben UFO hours. This year—the festival's 18th edition—the organisers made a point of increasing their commitment to electronic music—made evident by the addition of 62 live acts and DJs alongside the expansion of the "Primavera Bits" section of the festival site—just a hop across a bridge and down beside the ocean.
First things first, obviously Barcelona is fucking great. If you haven't been before, and you like shiny tiles and patatas bravas—an impressive name for roast potatoes slathered in ketchup and garlic mayo—then you must make the trip over. I insist. It's also a great place for a festival, mostly because you can move with such ease between the beach, your apartment and every band you've ever liked, all the while slamming 50p cans of Estrella like the pissed-up Quietus reading Brit Abroad you knew you'd one day become, bellowing Angel Olsen lyrics at the Sagrada Familia, chanting "Hamilton Leithauser...he does what he wants" as you board the metro.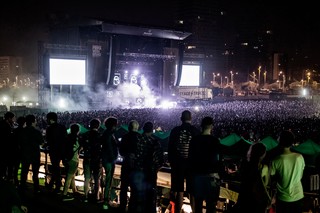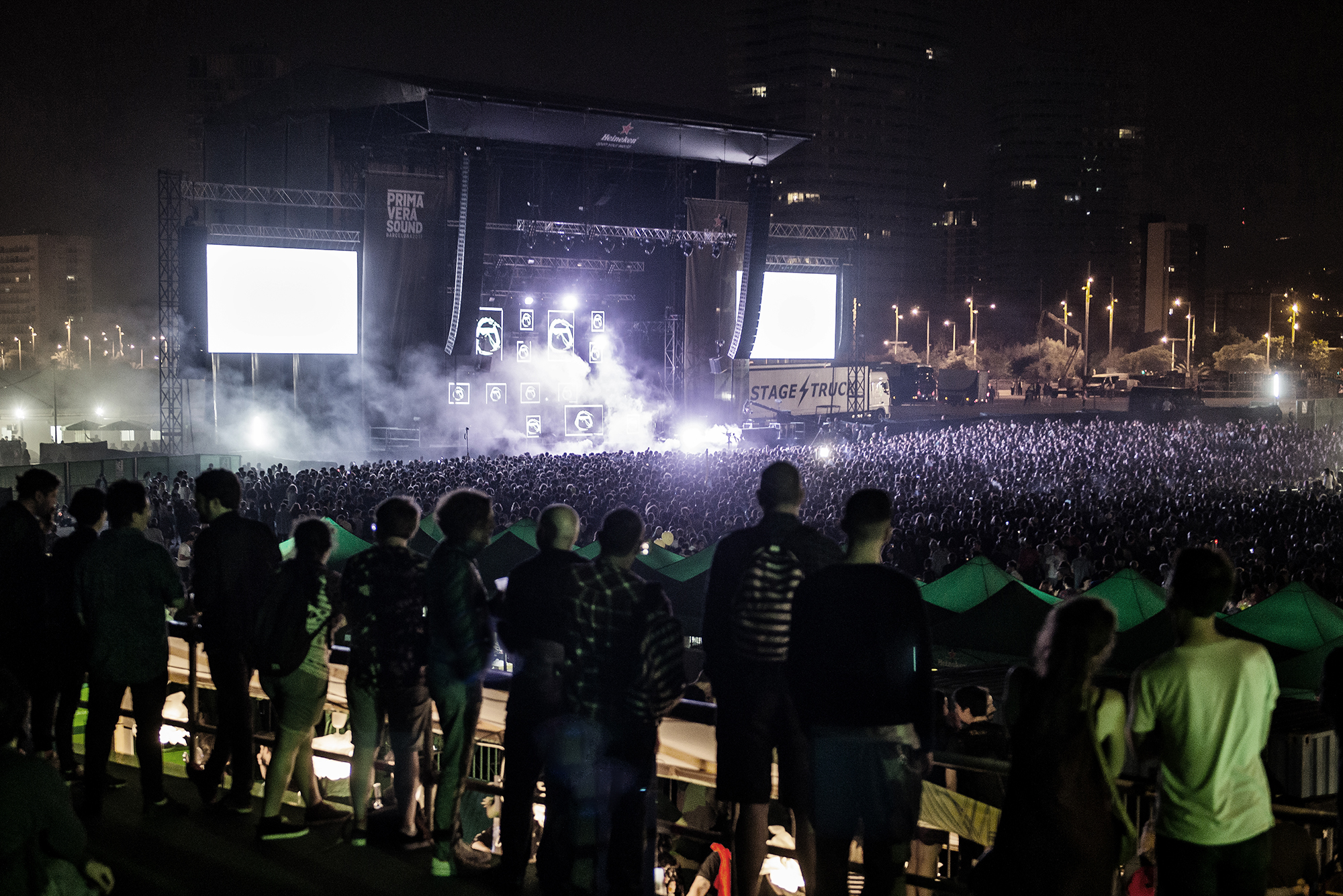 Because that's what really makes Primavera so great. It exists in this strange liminal space between a big mainstream festival, and a small headsy affair. Yes the crowds are big, but you'd be hard pressed to find more than a handful of dickheads. And yes some of the acts are huge, but they are good huge—deserved huge.
Electronically speaking, the important headline set was from Aphex Twin. It was, as you'd expect, sufficiently bracing enough to send Bon Iver fans—presumably still reeling from the preceding Slayer performance—running for the hills. That said it was a refreshingly forward facing set from an artist at risk of being weighed down by a career now stretching back over thirty years. Not only did he play new material of his own, but he also called up tracks from lesser known UK producers like Kamixlo and Roy of the Ravers. It was weirdness on a orchestral scale and a perfect start to the weekend.
Importantly though, the real highlights this weekend involved the simple but eternal joy of dancing through the warm, summer night time. Personal highlights for our group included Ben UFO's pounding closer on the first night, as well as Avalon Emerson's blistering session before Kornel Kovacs, but to be honest you'd be hard picked to find anyone who didn't rise to the occasion. From Huerco-S to Henrik Schwarz, every set brought with it thundering reminders that all good memories are made after-dark, and the best ones in another country. Whether there was something in the sand, or it was just the obvious symptoms of enough people on holiday with their best mates, the hours spent illuminated under the boughs of Primavera's electronic stages were special.
Cynically it's easy to see why Primavera wanted to commit to expanding the number of DJs on the lineup this year. The bigger and more monstrously profitable club culture has become, the more festivals have seen the obvious appeal in slapping a load of extra names on the bill, safe in the knowledge the production costs will only extend to a pair of CDJs and the odd strobe here or there. You can't help but feel though, at least on some level, that Primavera had something a little more sincere in mind, transplanting the ethos they have applied to alternative rock, to the world of electronic music. Put simply, Primavera presents the best festival option for anyone in their mid to late twenties with an interest in music that goes beyond whatever is on their Spotify Discover playlist that week. The line up pulls together the highest standard of each musical sphere—from Saint Etienne to Wolfgang Voigt's GAS—and situates them in a location that is both panoramic and manageable.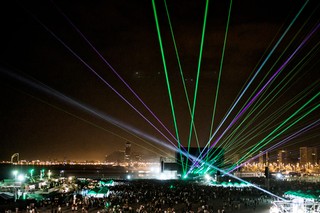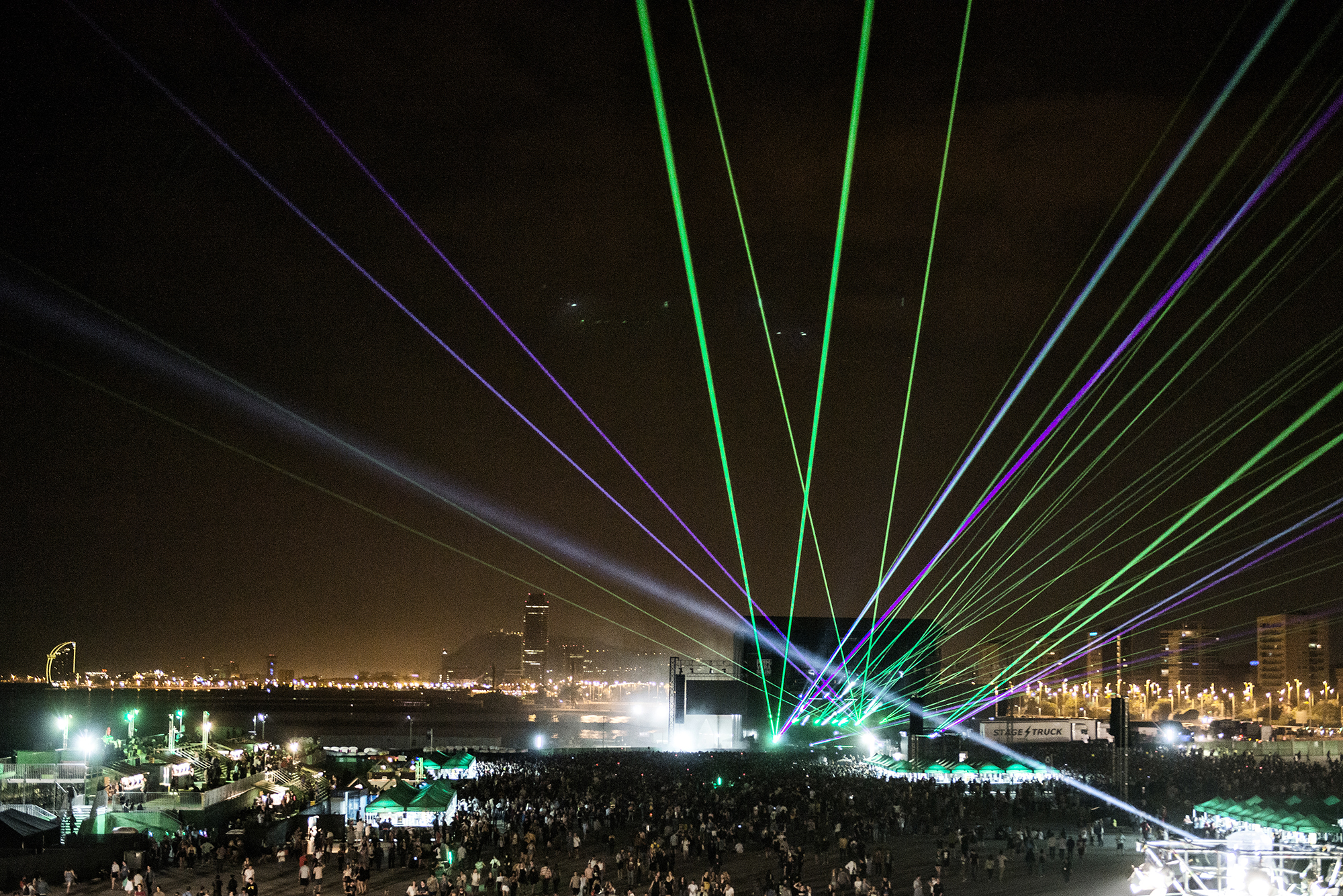 It is a festival that excels because the organisers, the artists and the crowd are invested in its success. It isn't a day spent in the same park you spend the rest of the summer sitting in for free, flitting between a portaloo and an inaudible B2B2B, or the sort of festival with a dance music scene. It's the festival you tell everyone about for weeks after. The one you promise you're going back to.
The bad news is, due to an ill-advised beach day after the festival had finished, I broke my own golden rule and stepped out in open sunlight, resulting in the incineration of my entire back, which now looks like a melted first class stamp. It has resulted in prolonged pain for myself, and deep psychological wounds for my nearest and dearest who spent the remainder of our holiday applying after-sun to my charred torso. I would hazard to say, however, that it was worth it, for a weekend of music that will stay in my memory, long after every inch of my weathered, stinging skin falls from my body.