Eleven months ago, we wrote about how the 2014 MOBO Awards "kinda, slightly represented black British music". Yeah, it was an awards show that honoured Skepta, Fuse ODG, Stormzy and Krept & Konan, but it was also a show where all the big awards still went to the likes of Sam Smith and his watered-down version of Duffy doing Amy Winehouse doing soul.
Last night, we hit up the inaugural Rated Awards in Islington - in association with GRM Daily and KA soft drinks - the first proper attempt at an awards show that champions British urban music from the bottom to the top, and somehow, nobody mentioned In the fucking Lonely Hour once. "You guys have got it right - back in our day we were up against Robbie Williams and Kylie Minogue," laughed Harvey and Megaman from So Solid Crew, there to present the very first award, before imploring everyone to make sure it's a good night with no problems.
And it was. Manchester's Bugzy Malone won Best Breakthrough, Stormzy wandered up to take Best Video for "Know Me From", Diztortion won Producer of the Year, Big Narstie received Personality of the Year, Kano was appreciated with a legacy award, and Coventry rapper/producer Jevon was cherry-picked for future success. Amid all that, there was some frenetic sets from WSTRN, Ghetts, Bonkaz and Giggs, who turned the place upside down with his verse from "Man Don't Care".
Man like @officialgiggs shutting down #RatedAwards pic.twitter.com/5SRTNKw7jy
— Link Up TV (@linkuptv)
September 17, 2015
Grime OGs were sat alongside the new wave, scenes from North, West, East and South London all represented, as did artists and crews from Manchester, Coventry and further afoot. Yet there were no bitter tones of rivalry or pettiness in the air. It felt like a united front, and an event everyone wanted to see do well.
All that was topped off with technical difficulties, misfired jokes, faulty microphones, presenters forgetting to announce the nominees then just shouting the winner and slamming their cards down, spilled drinks, and some pretty active audience participation. Basically, it was absolutely everything you want from a proper awards ceremony; a welcome shift away from the tuxedos, tossers and table settings of sanitised commercial awards, instead choosing to constantly veer between being the best night out ever and a bit of a shambles, bulked up with the kind of live music you'd just never normally hear at events like this.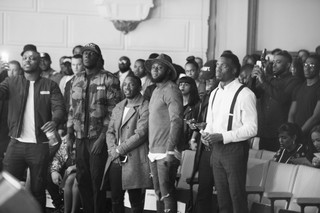 However, it wasn't all good loving and fluffy kitten vibes. The strangest part of the night came not from the audience, the MCs or the presenters. It came from special guest Tim Westwood and Best DJ winner Charlie Sloth, who enacted a cute little spat, that evolved throughout the night until, by the end, it had been dubbed "white boy beef" by the night's hosts.
It all started when Charlie Sloth took to the stage to accept his award for Best DJ. He opened humbly with a self-deprecating acceptance speech that quickly evolved into him basically calling himself the greatest living DJ of all time, and that ever was, bar none. I don't remember the exact words, because I'd started mixing free cartons of KA with white wine.
Westwood, who was replaced by Sloth when he was axed by Radio 1 in 2013, seemed to sense some personal jibes in Sloth's words, and when he took to the stage to present Artist of the Year, he kicked off with a pro-Westwood, third person rant about being big in the game, legends never die, have some respect, don't get gassed. He didn't mention Sloth by name, but the intention couldn't have been much clearer, unless he'd pulled up a 50 slide Powerpoint presentation titled "Why Charlie Sloth Needs to Stay in His Lane, by Timothy Westwood", with graphs and pie charts.
Don't get me wrong, Westwood vs Sloth isn't exactly Klitschko vs Fury, but it was a real life beef in a modern world of Twitter roasts. And no amount of retweets and favourites will ever rival the sight of seeing five rows of people leaping out their chairs as two personalities start shading each other IRL. Every good awards show needs some controversial drama, and if we're discounting the moment we discovered there wasn't a cash bar, then this was it.
Sloth has since tweeted: