Today's world can often feel like a cruel and heinous one. Battery farms, air pollution, racists, the rising cost of Freddo chocolate bars – these are just a few of the things that contribute to the seemingly infinite and never ending list of modern day evil. Yet through it all, there are a few things that can take us out of the moment and into a world where life is blissful, happy, and warm. One of those tickets to serenity is sleep. Another one of those things is sex. Another one of things is puppies.
That's not to say these cruel imprints on our life are irrelevant, because they're not, and ultimately they are important and never leave our consciousness. But often there are times when we seek a little dreamworld for ourselves; a place where people have rainbows sprouting from beneath their eyes and kindness seeping through their veins. It's within this world of gleeful joy that, at least for a brief moment, we can forget about the heinous crimes of today's evil world. That's why, ever since the creation of the Internet, people haven't been able to stop posting pictures of puppies.
They're just so goddamn cute. Which I guess is why some pictures of notoriously uncute heavy metal band Slayer have recently surfaced, in which the group gleefully pet some puppies for the camera. It's a real treat; a real moment; a beacon that shines adorably in the face of satan.
Take a look below and witness the sort of love and happiness that puppies can exude. Look on, as it spreads across the faces of Slayer, contorting their being into something that feels akin to them proudly holding their own unborn grandchildren.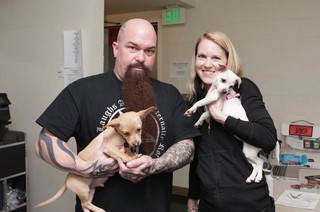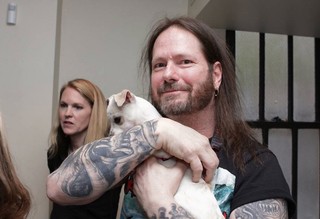 Puppies are clearly an international symbol of love and happiness and if you don't agree then, sorry – you are systematically an evil person. Of course, that's not you, and you're a nice person; you wouldn't be reading a post titled "OMG, Cute Alert! Puppies Make Slayer Look Like Adorable Old Men" unless you had a strand of kindness inside of you. So with that in mind, lets get to the real meat of the matter here. Slayer were pictured with these puppies, because Slayer are ultimately good people who are encouraging you to donate to charity.
The pictures were taken by the genuisely named Motley Zoo animal charity, which is a volunteer-run, rock-themed organisation that aims to find new homes for cats and dogs in the Redmond, WA area. You can view the rest of the photos on their Facebook page through the link below, but before you do, click here to donate some money to their Paypal account. If you do not do this, then it's highly likely the demons of karma will come to punish you for your sins and bad luck shall be bestowed upon your entire day. That, or a little girl sized ghoul will crawl out of your TV tonight and kill everyone.
You have been warned.
Here's the full post from Motley Zoo.
****This post has been viewed over 870,000 times, but has only generated $799.16 in donations (which can save almost 3...
Posted by
Motley Zoo Animal Rescue
on
Monday, 21 March 2016