During the weekend, over 25,000 signatures flooded into a petition on Change.org, carrying with it the support of Hudson Mohawke, Felix da Housecat, Erol Alkan, Skream, and thousands more involved with the local music community, all seething with Weegie outrage. The reason was simple and vital: Glasgow's city authorities are forcefully jeopardising one of the largest and most important clubs in in the city after revoking its licence on Friday.
The Arches is an acclaimed arts venue and warehouse club, taking its name from the bricked archways it occupies below Glasgow Central Station. It's hosted gigs with everyone from Grimes, Rustie, and James Blake, to legendary bands like The Fall, Damon Albarn, and Ben E King. Since opening in 1991, it's been at the forefront of the city's swelling music, theatre and clubbing scenes, operated by a non-profit organisation which uses revenue from club nights to subsidise the other elements of its diverse programme. In that sense, it's like a utopia sometimes, and has earned a reputation as one of the UK's leading club spaces, is ranked in DJ Mag's top 100 clubs in the world, and counts Carl Cox as one its patrons (the other being Scotland's national poet Liz Lochhead. It's safe to say The Arches isn't your average club). The regular nights, notably Pressure and Colours, have become legendary, and you'd be hard pushed to find a young Glaswegian music fan who hasn't found love or God in that dark and glorious space.
Now, following Friday's judgement, the venue now isn't permitted to open any later than midnight, and considering that's what time most of us turn up, it will effectively end its ability to operate as a nightclub and – given the funding crisis it now faces – puts its entire future in peril.
The decision was made by the city's licensing board but came after a prolonged campaign by the police, who've been making efforts to shut down the Arches for over 12 months. Early last year, the tragic death of an underage clubber – who took a tainted pill – saw The Arches' license come under review. However, no action was taken against the club after it was found not to be at fault. That should have been the end of it, but it was in fact the beginning of a campaign from local authorities to have the club's licence restricted.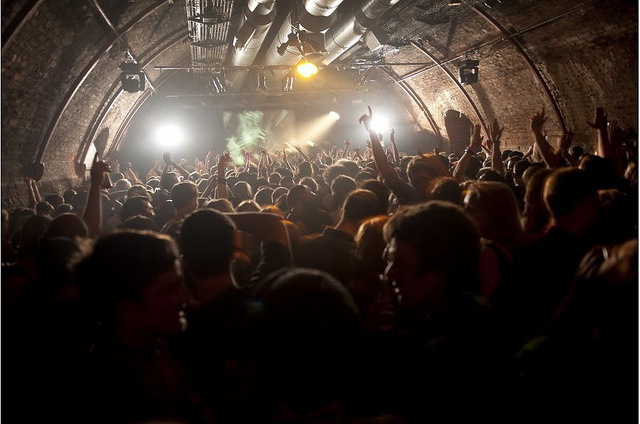 Less than two months ago, an emergency closure order was enforced against The Arches, after police officers recorded an "unacceptable" number of drug and alcohol related incidents outside a popular trance night, attended by around 600 clubbers. 26 arrests were made, and it sparked days of negative publicity which ultimately provoked Friday's decision to close the club permanently. "We recognise the decision of the Licensing Board", the police commented afterwards, as though they were casual observers rather than key instigators of the decision.
There are many sides to this story though. As The Arches have been keen to point out, most drug seizures at the venue have come as a result of rigorous body searches carried out by their own security staff (I can testify to their rigour – it's the kind of place that doesn't even allow you to take a phone charger inside). More brazenly, the eleven arrests for alcohol offences that night came after the police themselves closed the club an hour early, thus forcing everyone out – and then they arrested them all for drinking on the street.
The petition growing online was started by Callum Smith, who works in the arts sector and, like many, watched on in horror as the news broke on Twitter on Friday afternoon. He felt compelled to do something. "There's definitely a sense that if The Arches can be targeted in such a way, the future for clubbing and nightlife in Glasgow is pretty bleak. I don't know any club that does more to try and keep people safe," he told me. "The venue's got so much to offer, whether you're looking for theatre, clubbing, music, a restaurant or a bar. I think the council have really shot themselves in the foot by not trying to come to some kind of arrangement to keep the club open."
This sentiment was shared by Kieran Hurley, a freelance theatre producer who, over the past few days, has been among the most vocal critics of the licensing board's decision. Hurley's 2012 production Beats explored the collective power of dance music and the government's attempts to clamp down on rave culture through the Criminal Justice Act in 1994. The production was, ironically, commissioned by The Arches, a venue now facing a similar strain of bureaucratic intransigence, albeit in different circumstances.
"I really don't think the people that made the decision have given a full, thorough consideration of its ramifications. I think that's one of the reasons it's hit people as such a shock," he explained. "The club itself is a hugely significant cultural institution, and the revenue from it funds an arts venue that is hugely important to the whole set up in Scotland. It's a brilliantly simple idea, to put on massive parties and to fund experimental art that would otherwise really struggle to find a platform."

Hurley adds that beyond the negative implications of the closure, the entire basis for it, which in the words of the police is to keep "young revellers safe", is pretty tenuous. "It's a really flawed policy on drugs. Whatever you think about drug use, if your aim is to stop people taking them and to reduce harm, then closing a nightclub doesn't fix that at all," he said.
That The Arches is one of the most well run club spaces in Glasgow was rarely disputed in the past, with even the council's licensing board struggling to find any fault during a similar license review last year. Quite what's changed since then is unclear, although the idea that the venue was supposed to become completely drug free during this time seems laughably at odds with reality. But the continual references by the police to The Arches as some kind of depraved den of iniquity has clearly made an impact on those with the power to decide its fate, despite the venue's extensive stewarding arrangements, medical staff and ready supply of tap water, all to the standard you'd expect in a club of its size.
Continues below

To be frank, it seems like those with the powers to enact a more tolerant licensing regime have instead become blinded by their own warped logic of "zero tolerance", incapable of understanding why people go to nightclubs and why some people might choose to take drugs to enhance that experience. Under a pretext of trying to keep "young revellers" safe, they've decided to pursue an aggressive "war on drugs" that appears to begin and end with vilifying Glasgow's most prestigious club. This hardline attitude, which refuses to acknowledge any possibility that heavy drug use or dealing could be regulated safely, makes any sensible discussion about substance use and misuse impossible.
Instead, license holders become stuck in this bind, forced into regurgitating harmful rhetoric about how "tough" on drugs they are. On occasion, it's moved into the realm of parody, like last year's (thankfully rejected) proposal by the police to introduce "moments of calm" during The Arches' club nights, which would see the music silenced and lights switched on for five minutes each hour.
Police Scotland's corporate tagline is "Keeping People Safe". How the kneejerk decision to close one of the safest night spots in the city under a misguided charade of zero tolerance is going to keep anyone safe, however, remains hazy at best. The future for The Arches, meanwhile, should become clearer once the organisation which operates the venue has had the time to assess their financial situation this week. But as to whether its hallowed archways will ever again reverberate with thumping basslines and its signature chant of "Here We Fucking Go" does, from the current outlook, seem bleak.
You can follow Liam on Twitter.
Next week we'll be falling arse-backwards into the state of UK Music in a special series of articles about scenes outside the capital: from club closures to free parties to local legends. Fuck London starts 25/05 on Noisey.