Last week our resident rap nerd, Ryan, laid down the claim that this year marked a new golden age for hip-hop. Not everyone in the comments agreed. To the point where it looked like they'd just tearfully smashed up their keyboard and pressed send.
So, for the sake of evenness, I thought I'd ring up my good friend and aggressively opinionated hip-hop aficionado DJ Snips to state the case for the opposition a little more eloquently.
Noisey: Hello there…
DJ Snips: Hello Fuertes.
So, our golden age of hip-hop piece…
Well firstly, I wanna start by saying that there is a lot of music that was mentioned in the article that I'm a big fan of. Where I think he's gone wrong is that the music that he's mentioned as being a new golden era is not what's dominant music within hip-hop at the moment. If you look at the top players it's the same artists pushing out the same type of formula over and over again. If anything it's got worse than it was three or four years ago. Rick Ross is making the same record over and over again, so is Meek Mill and Drake's just made the same album again. Kendrick Lamar is probably the only justifiable person in that category who's actually made a massive impact.
Yeah, you've had your reservations about Kendrick though, no?!
He's an amazing artist but I think he's been credited for being better than he is due to the lacklustre people that are surrounding him at the moment. When your competitors and peers are French Montana then you don't have to be Nas to stand out and appear to be a great artist. The other thing that didn't sit well with me was the idea that rap belongs to the internet and that's what got it to this great place. It would be stupid to suggest that the internet hasn't helped benefit people, launching music careers without the help of major corporations and major labels. However, I think the difference in today's era is that if you cite what's been considered as the previous golden era –87/88, and then the second wave of Wu Tang, Nas, Biggie, the mid 90s wave–both those eras were music for the common person, it was for the underbelly of society, it was for people who didn't have a voice and it was still very much the inner cities who took ownership.
Nowadays, with this new wave of hip-hop there's distance, and I think it's because of how accessible it is – it's almost become a tongue in cheek joke for privileged middle class white kids to laugh at. I mean people aren't entertained by Kanye West, they're laughing at him, this is because the people that now dictate the music don't really understand the background and lifestyle that these people are coming from, they find it ironic and funny. And to say that these older guys have made amazing albums compared to what they were doing three years ago isn't true. I think Jay Z's made a mediocre album compared to his previous efforts, I think Kanye has probably made the worst album of his career and, like I said, Drake is using the same formula. They're not breaking any new ground.
I do think artists like Danny and Tyler are important, but I think that if you want to say this is a new new golden age you have to cite the people who are at the very top of their game. As opposed to citing specific, slightly underground artists who you think are doing well because, yes, it isn't just about sales, it's about impact. These artists do not have the impact on hip-hop that someone like Rick Ross does.
Right. How about critical impact?
But this is what I'm saying, they've got the impact on the non hip-hop world...
Is that not some kind of step forward though?
I don't understand why hip-hop feels it needs this co-sign by Pitchfork and Fader mag and these publications that never gave a shit about hip-hop before.
So only some people should listen to hip-hop?
No, I'm not saying that, I'm not saying that people who aren't from a hip-hop background shouldn't check for these artists and shouldn't like them, what I'm saying is that when we're looking to these publications as the gospel on saying whether or not an artist is credible or not, that's wrong, because these are essentially people who don't know or understand the culture, taking ownership from the people who the music was originally intended for.
At the other end of the scale what do do you think about hip-hop monopolising the mainstream today?
Massive pop domination is a gift and a curse to for any type of music, obviously people can sell more records, more artists can come out, more artists can have careers, and for every ten shit artists that capitalises off this there'll be a great one. But when you're seeing someone like Miley Cyrus exploiting it it's detrimental.
Commandeering something for her own gain...
Exactly, when people take ownership of a culture they've never been submersed in, that's dangerous. I don't think that would've happened under any previous "golden" era of hip-hop.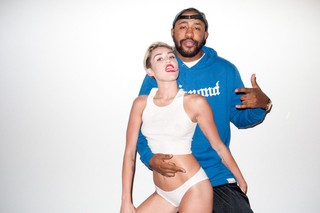 via Terry's Diary
Right. Say with something like Odd Future and the focus they brought to L.A., that felt like an anomaly to me?
It was great, especially in a genre that's been dominated by older people for so long, and all our favourite rappers are in their late 30s early 40s, it's great when any younger group can come out and create such a buzz amongst people their own age. But I don't think it was an anomaly?
An anomaly in the level of hype and interest OF gained so quickly.
What, more so than someone like Drake?
Drake is Drake. Something like "Yonkers" doesn't have as broad an immediate appeal as a Drake track, it wasn't easy listening when it came out...
No, but then neither did Rocky really.
I guess, about Rocky…
Rocky's done a great job of incorporating more than just his music into his brand. He's become this rounded artist.
Do you think staying afloat in hip-hop today is about being a brand?
Definitely. I think Rocky's done it well because he's credibly a fashion icon, he's credibly a recording artist, it never seems forced with him. But I think the fact people think they need to be a brand rather than just a recording artist put the pressure on to do things they're not comfortable with or good at. I think that's partly because of the internet. The internet has removed high record sales so artists have to diversify to stay on top. What it forces people to do is things that they're not talented in. But there are other artists who move onto other things that they really shouldn't do.
So their music suffers because they feel like they need to explore other avenues?
Yes, completely. Not only does the music suffer, but the overall culture suffers. There's a complete saturation so people just begin to like what's easy and what's targeted, it's like junk food.
Maybe it's a golden age of hip-hop as a brand?
I think hip-hop now more so than ever is the laughing stock of music. It's a massive industry joke.
Bit harsh...
There's a small element of people who stay in tune with more than just what's out there at the top of the charts, so we understand the credibility, and why people want a part of that credibility. But it's very easy to get sucked up in our little industry world where we actually think the people we're interested in are bigger than they are. But in reality the faces of hip-hop US are, like I said, Rick Ross, French Montana etc. Everyone I know that doesn't listen to hip-hop and is a music fan, they reference hip-hop and it's just a massive joke for them where the privileged laugh at those who aren't.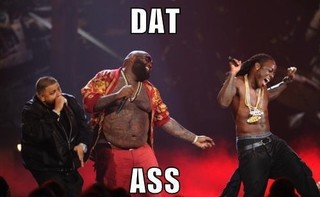 But how do you differentiate the "real" fans, I don't think that's fair.
I'm not saying people shouldn't listen to it because of the way the industry controls it. I'm jut saying at the very top it's become a modern day minstrel show because what's funny and entertaining is an exaggerated lifestyle of poor black America, they find humour in the ignorance and the lack of education in impoverished areas.
I don't think it's that clean cut, but say where there is that element with the Chicago scene the flip side is there has come a genuine appreciation, a respect of it...
Of course, but we all know who the buying audience is. Privileged white kids thinking, "this is crazy, oh my God he's talking about guns, he's got his shirt off and he's draped in Louis, oh my God, it's amazing!" That's what they're getting from it. I understand and can appreciate artists like Chief Keef and Waka, what they're about, where they come from, but I get really annoyed at the hipster kids who think it's cool. I have no problem with the artists, I have a problem with the way they're exploited.
Are they being exploited?!
Completely. These labels are saying "keep it as gangster as you can" and that's what these middle class kids want to see.
I think this is a generalisation.
Say...there are players at West Ham who score goals and get applauded with "good fucking monkey" and they do it because it pays their bills. That doesn't mean that it's right, and you can't blame the black football player but you can blame the fans and you definitely blame the racist football association..
Okay, but then how do you feel about big, mainstream media outlets intellectualising hip-hop? Broadsheets and sites like Jezebel were not discussing it so readily a few years ago? Is it a positive thing?
It depends. I think you should be educated about where the music stems from and the history of the music. I don't want to see someone writing a review of the GKMC album if they've never listened to a Nas album. I feel like your opinion needs to be worthy.
Right. How about if I just said to all this..."you're old".
Look, a 19 year old rock fan won't say he's an authority on music till he's listened to Led Zeppelin. And a 19 year old reggae fan won't consider himself an authority until he's listened to Bob Marley. We're so obsessed with age in hip-hop when it's totally irrelevant. The longer you've been on the planet, the more life experience you have. Regardless of age, who's going to have more to say, a 16 year old or a 30 year old?
Yeah, it's a young mans game, there's a bad habit of writing off ageing rappers if they've not already hit the big time.
Do you know who does that? People approaching the same age. Whenever I hear people saying "you're out of touch" it's just other people in their 30s. It's not 19 year olds, they're generally quite happy to have a conversation about hip-hop and are interested in me putting them onto things they weren't aware of. It's the other 30 year olds who are desperately trying to hang on to some kind of youth, rubbishing people their own age.
Ha, I guess. Have you fallen out of love with hip-hop?
Not at all. As much as I can try and intellectualise it, when I go into consumer mode and not "works in the industry" mode I will listen to everything on an even playing field. But when I give an opinion on the bigger picture and how the industry works and how I think labels exploit these artists, it's because I've sat in A+R meetings and I've discussed music with them. It's not assumption, it's coming from a real place.
Okay, so purely as a fan do you think it's a better age?
I wouldn't say it's a golden age. I would say it's exciting but the exciting movements are sporadic. I think we're possibly gearing up to the foundation of a new era of hip-hop, but not in one. We're building blocks for a change, but the problem is there's so much outside influence on the culture about what can actually make it to the top, about what can be lucrative. When you look at Kanye West, he went from being progressive in that he was this conscious rapper all about change and against all the jewellery and fast cars to becoming everything he used to despise. In the same way we see people like Kendrick come through it's like, how big can a hip-hop artist get before they're pushed into a mould?
I can't say I agree with everything you've said. Any final thoughts?
I really like Danny Brown's album.
No, I mean Jerry Springer style final thought.
This is an exciting time in hip-hop, but not a golden age. How can this be a golden age of hip-hop when you've got Justin Bieber in the article picture. Actually, make that my final thought. "Having a discussion about whether this is the new golden age of hip-hop, based on an article with Justin Bieber in the picture, sums up why this is not a golden age of hip-hop.
You're a dick.
Tell him I'm really sorry.
Follow Snips on Twitter @DJSNIPS
This is a New Golden Age for Hip Hop