Last week, I went down to a run-down old shop that claimed to be selling bits of Pete Doherty's old tat and ended up spending the entire afternoon alone with Pete and his girlfriend, watching him rummage though his own stuff and take a nap on a typewriter.
It was a big deal for me because Doherty was a childhood hero. In the Libertines, and later with Babyshambles, he soundtracked every Trafalgar Square Strongbow piss-up and jeans-on dry hump on my parents bed until my 16th birthday. But let's be honest, both mine and Pete's glory days are behind us. At the tender age of 34 he's lost most of his creative impulse, fame and liquidity. These days cash is tighter than a belt strap on its last hole.
Which I guess is why Pete opened a shop in Camden. It's called Doherty & Martin: The Rag & Bone Collection and it sells almost nothing of worth, for prices that are extraordinary. There are cigarette butts for £100 and wrapping paper for double that. Essentially, it's a really expensive car boot sale run by a self-confessed crack addict. I wondered what sort of people were parting with their cash there, which is why I first decided to head down to Camden Stables to have a look.

I didn't know the exact location of the shop, so when I got to Camden I called up Suzi, who runs it, and asked for directions. She told me that it's closed until Saturday. Disappointed, I told her that I'd travelled really far but she told me that, unfortunately, there's nothing she can do. I hung up and moped around sneaking free chicken from those Chinese ladies in Camden market who seem to enjoy force-feeding tourists. Twenty minutes later, Suzi called me back, saying that since I'd come such a long way she may be able to find someone who'd be able to open up the shop for a bit. I thanked her, and wondered: whose cigarette butts will I buy first? Kate Moss's or Bobby Gillespie's?

Half an hour later, I received a text from an unknown number: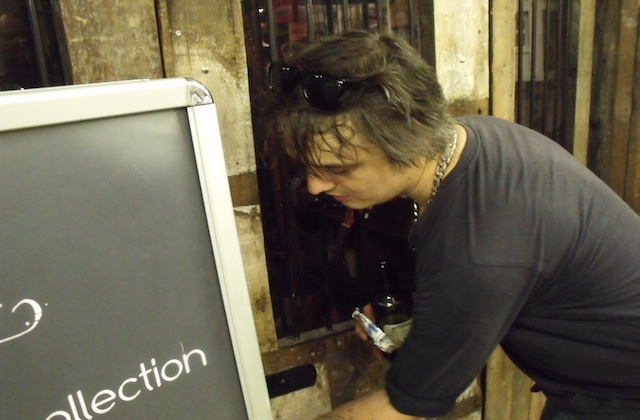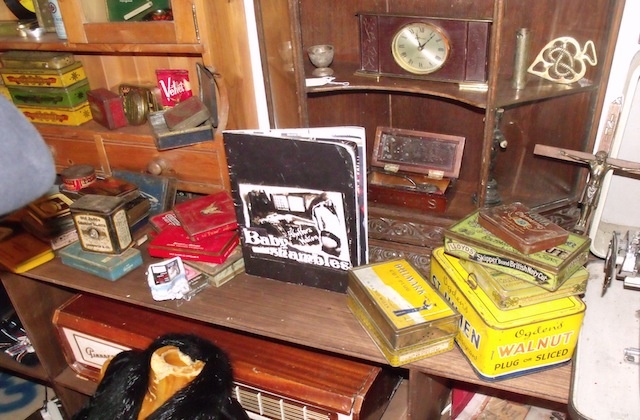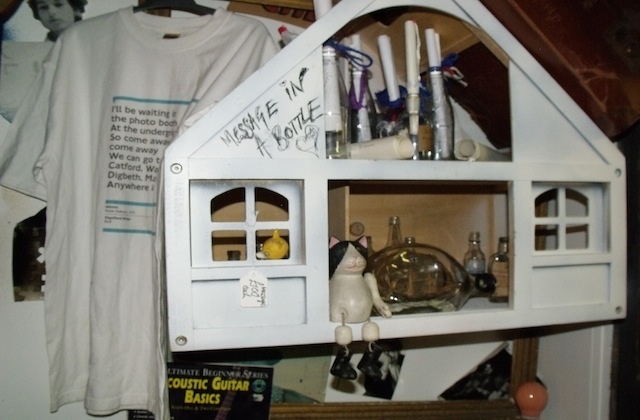 I was confused. Was this THE Peter? Pete has said that he prefers to be called Peter. But, then again, it's a pretty common name, especially in a market full of moth-ridden Harrington jackets and old postcards. I waited for "Peter" to arrive, then some more, then a little bit longer. Eventually, I received a text asking me to come to the Camden Stables entrance. It was THE Peter, and he'd come with his girlfriend, Katya. I said hi and they asked me if I've been waiting long. It'd been three hours and seven minutes. "Not at all!," I said.

Before I'd had a chance to ask Pete about the meaning behind "Breck Road Lover" or if he'd ever had the RSPCA called on his kitten infestation, the lustful couple had already walked ahead. I was the third wheel. I had to run to catch them up and get back in the conversation. I decided to ask them about their day. Katya said they're in a bit of a rush because Pete has a gig in Paris later. "It's always a rush", Pete replied. He looked exactly as you'd imagine: tall and thin, but with a fair few grey hairs to show for his wild life, looking all of his 34 years as well as most of my 21.


Pete opening the shop.

We got into the Stables and Pete opened up the shop. It was lit dimly, with every available space filled with tour posters, cans, old vinyl, old magazine articles and thousands of cigarette butts.



There's enough Libertines, Babyshambles and Doherty memorabilia in there to fill a ballroom. I asked him where it's all come from. He shrugged and said "I've brought it all out of storage, these are just the things that I wanted to sell." I asked him where he spends most of his time, in London or Paris? "Mostly Paris." I asked him who he's currently staying with in London, but he flips the question back on me asking where I'm staying, before muttering "friends.."



As I was looking at all of the stuff inside the shop, I wondered if Pete had a favourite item for sale. When I asked if there's anything that's really special to him, he pointed at a treasure chest. "Is there any treasure in there?" I asked. He mumbled "not anymore…". and ventures to the back of the shop, and puts on an old reggae record. We sit there in silence, listening to reggae.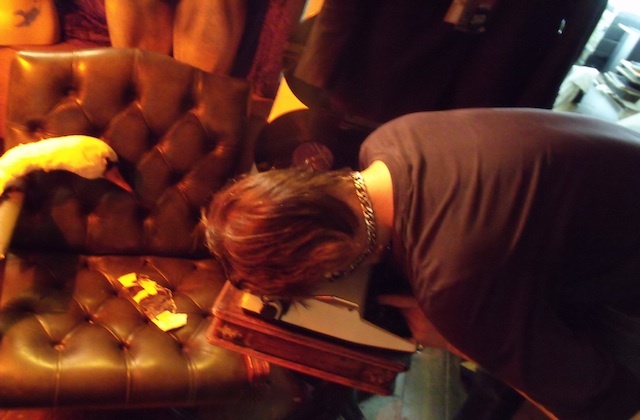 After a while I noticed the messages in a bottle on offer and wonder what iconic statements Pete would give to his fans. I mention the bottles and he tells me that inside are stories and poems. I ask what the stories are about, he replies "it's about... um,no no no, it ends with...um, you'll just have to buy it to find out." For £100 a bottle, I might just wait till it comes out on Kindle.

While we sat in silence, Pete picked up a guitar and started improvising over the song that was playing. I caught a glimpse of his talent, the one that usually gets overlooked by tabloids and people writing snarky blogposts. Afterwards, he played a blues song, howling over the top. I asked if he could tell me anything about the rumours that Carl taught him how to play guitar. "I've never actually learnt scales, I should someday", he replied. Later, he indulged me in a rendition of "Big Spender".

I ask Pete what item he has collected the most of over the years. He pointed at his collection of tins and tells me that most are older than him. He looked at a particular can, it's as rusty and old as the other cans for 1940's mustard but Pete seems aghast at its inclusion. "I'd never sell this one" he said, "It's worth the most, but I'd never sell it", the other cans are listed at £200 each so that one must have some really good mustard inside.

Pete spent a while rummaging through a box of old magazine cuttings and separates an old NME interview. He sat down at a typewriter, feeding the picture through it, and started to type, the text covering the side of paper with his face on. When I peered over and enquire whether he's writing a poem, he gave me a dirty look, and asked me to finish it. I laughed, but he asked me again to finish the story. The only words that I could see are "two people", written in faded ink. I typed a few random words. Afterwards, Pete finished the story, jumbling together reams of seemingly randomly selected words.


Pete, asleep.

I was browsing the shop some more, hoping to come across Scarborough Steve's toenail clippings when I noticed that Pete has fallen asleep at the typewriter, his face covering the keys. I didn't know what to do. Should I have woken up him up? Should I have drawn on his face with magic marker or put his hand in a bucket of cold water? As I was pondering my options, he stirred, and asked me who I am. I reminded him that he's giving me a tour of his shop. We carried on and he showed me his priceless collection of communist flags. "They're worth a lot," he says, "I won't sell 'em, that's why they're at the back of the shop".

Seemingly feeling wistful, Pete then told me that achieving your dreams is a gradual process. I asked him about The Libertines, and he says "I was only nineteen then, we were a pretty different band… You can achieve anything, well, not anything, but something close, if you really put your mind into it and spend everyday thinking about it and doing it".

When talking to people you don't really know, conversation usually turns to topics that you'd never normally speak about. Somehow, we'd found ourselves talking about balloons, and I told Pete that I'd always wanted to take a ride in one. He seemed excited, and said that he has a book that I might like. Scurrying to the bookcase behind him, he flicked his lighter, using it as a lamp, despite the fact that at any point, he could easily set any of the paperbacks on fire. He didn't find the book.

Finally, I asked him about his day to day life, wondering if he sits at home and watching Eastenders, or stalks old members of Rough Trade Records on Twitter. "I've mostly been with Katya. I used to write songs to get love, but now that I have it, I don't feel the need to, anymore". Are they similar people? "Not at all, we have different personalities. She doesn't do any drugs. I'm still a little lost though…" he said.

At that point Katya showed up with a newly bought copy of Wind In The Willows and a fresh glass of Pimms and lemonade for Pete. I realised that I'd probably outstayed my welcome, and realistically, could not afford to spend £500 on a cardboard cut out of Pete Doherty. I thanked him for the tour, wished him well for his gig in Paris, and brought out my camera to take one last picture. "I think you've had enough pictures, mate", he says, and with that, I left.

I'm not sure if Pete met my expectations. But, I am sure that, although he's prone to moments of greatness, these are often bookmarked by extremely long pauses, and staring into space. He's a free spirit, and without anyone holding him down, he will always be spirographing through his career. It's nice that way, and I'm not sure that there's any other icons out there in the world who would take an afternoon out to sit down in a shop with a fan. Even if they were really poor.
Follow Dan on Twitter @KeenDang
What the Next Six Johnny Borrell Albums Will Sound Like
How To Make Your Shitty Indie Band Successful