Ever since she swapped her job in architecture for the kitchen in 2010, Elizabeth Haigh has been really, really busy. The chef appeared on the 2011 series of Masterchef and worked her way up the ranks of several restaurants before becoming the founding head chef of East London's Pidgin. Here, she developed a weekly changing modern-British-meets-Asian menu that earned the eatery a Michelin star.
Haigh left Pidgin at the end of last year (mere weeks after the restaurant received the accolade from Michelin), but things haven't let up since.
"Where do I start?!" she laughs when I ask what she's been up to. "When I left Pidgin, I had ideas brewing about opening my own place. I love barbecue, I love Asian flavours, I love the combination of Eastern and Western ingredients because that's basically my background [Haigh's mother is Singaporean and father is English]."
The result is her new restaurant, Shibui. The catch? It doesn't actually exist yet.
Haigh explains: "I've been developing dishes, trying to find investments and sites and get the restaurant going. I'm hoping we'll open somewhere by the end of the year. I'm dying to get back into the kitchen! When you're cooking at home, you drive yourself mad with how much mess you make."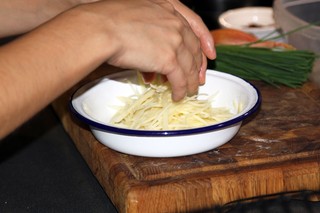 But Haigh hasn't been out of the kitchen completely. Earlier this year, the chef did a two-week takeover of a Marylebone restaurant and this summer, will cook a dinner with Typing Room chef Lee Westcott at the food-focused Lost Village Festival in Lincolnshire, showcasing her restaurant-to-be's "concept."
So, what exactly is the concept? Turns out, it's easier to pin down what it isn't than what it is.
"Shibui is a Japanese word which translates to beauty and simplicity. Also, in Japan, when people say something is 'shibui,' it's something that's 'cool,'" explains Haigh. "But I don't want people to think it's a Japanese restaurant because it's a Japanese word. We're not a sushi restaurant. It'll focus on cooking over wood, sharing platters, and celebrating being together. And I like to take unrefined dishes and refine them."
But of course, it's best to let the food do the talking, so Haigh has agreed to show me one of the dishes she'll be cooking at this summer's festival—a clam, pickled potato, and Sichuan oil salad.
As she peels a potato and slices it finely with a mandoline, Haigh tells me about one of the courses served at the recent restaurant takeover.
"I did buttermilk fried chicken but instead of using a bread crumbs, panko, or a flour dredge, I blitzed ramen noodles to make a ramen crumb. I love the taste of ramen noodles, I could eat them straight from the packet," she says. "Then I used the stock that comes with the ramen to flavour it. It was served with a tare sauce made with chicken bones, sake, mirin, soy which gives it a salty, sweet, meaty flavour. And also some miso mayonnaise and caviar."
Making the unrefined, refined.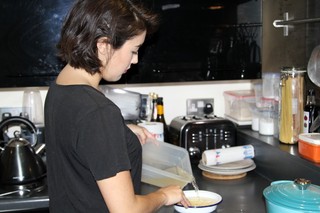 The now-sliced potato is placed in a pickling liquid, while the clams go into a saucepan to mingle with garlic, shallot, and a healthy glug of sake.
"There's always sake around here," says Haigh with a grin.
I comment on the unusual choice of pickling potatoes.
"I like raw pickled potato because you wouldn't think about eating a raw potato but when you pickle it, it's just really pleasant to eat. With the fishy clams and the bright, luminous red Sichuan oil—which I make with loads of chilis and peppercorns—it's a really fresh dish that will hopefully wake people up at the festival," she says. "And the pickled potatoes will help digest after a lot of drinking!"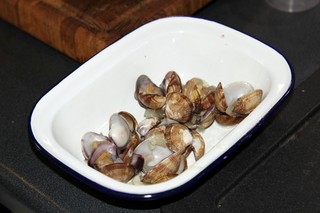 Along with introducing Asian-inspired flavours to British ingredients, cooking over wood and fire is another way Haigh likes to hone dishes: "When you're cooking over wood or fire, it elevates the ingredients to a different level that you can't get when something is just in a pan, basted in butter. It's quite a primal way of cooking and it takes skill. It's not like leaving a pan on induction number six."
But for today, we'll have to make do with induction and shellfish.
"I only have a small barbecue to use on the tiny patio area outside. And if I cooked something over the fire, we'll be here for hours. This takes no time at all."
As if on cue, all of the clams have popped open. Within a few minutes, Haigh has chopped a bunch of chives and drained the potatoes. The clams are picked out of their shells and the dish is assembled. She drizzles over a hefty spoonful of Sichuan oil as a finishing touch.
"When I'm developing dishes, I always look at what's in season as a starting point, identify which elements I like, and then I'll bring in an Asian influence," says Haigh. "I think, 'What would my mum put in that or what would my auntie do with that?' Then, 'How will I make that refined enough for a restaurant?'"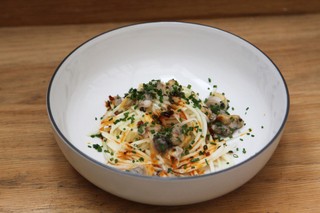 But there's one trademark you can always expect from a dish plated by Haigh.
She puts it bluntly: "I don't like flavours that are easy-going or gentle. I like things that are going to smack you around the face with flavour. That's why I use things like Sichuan oil or Sichuan peppercorns. If I'm doing a beef dish, I want that real meaty, beefy flavour. I don't do things by halves."
With a mouthful of spicy potato and clam, I don't doubt her one bit.