Ed Sheeran, Breaker of His Own Records, Has Broken More Streaming Records
Presenting a theory on how the country boy has managed this level of success.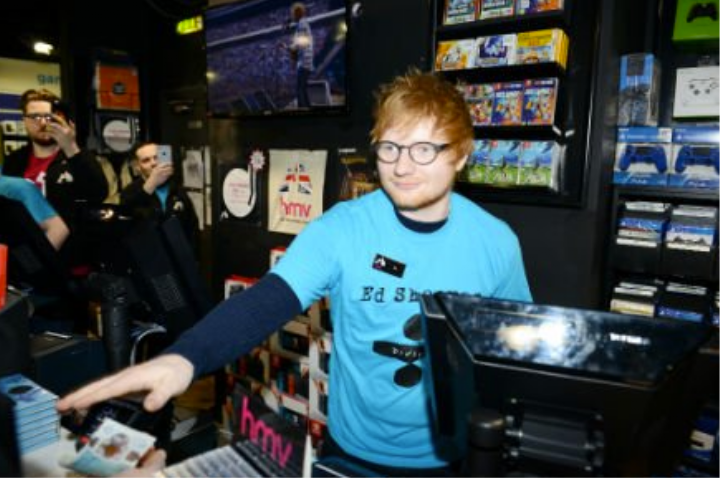 In seminal 2001 movie Josie and the Pussycats, which I may or may not have watched this weekend, music by the titular band is used by evil record label Mega Records as a vehicle for subliminal messages:
Please just sit on that for a minute, while I tell you about something else that happened this weekend: Ed Sheeran released his third album, ÷ (Divide), on Friday and broke the following records on Spotify:
The most streams in a day for an album. This record was previously held by The Weeknd's Starboy, which racked up 29 million streams a single day. Sheeran did over 56 million;
The most streams in a day for a song, which was actually his own record. "Shape of You" had previously received over 7 million streams, but on Friday Sheeran busted it open with over 10 million streams of that very song – maybe the only one where a multi-millionaire discusses taking a date to an all-you-can-eat buffet;
Further to this, ÷ has also received four-star reviews almost across the board (The Guardian are the only dissenters, with a two-star review for its "everybloke" schtick). And, you see, the thing is, all of this is despite the fact that this album – really, unfortunately, I'm so sorry Ed, you seem really nice – is fine but not particularly groundbreaking.
Because really, in your heart of hearts, you, music fan, know that Ed Sheeran is not a typical pop star. He does not make music that is really any different to the very serious lad in your uni halls who does a turn down the local open mic on a Friday evening. You know that this music is soft and comforting: it is appealing to your proclivity for a catchy tune, but is it appealing to your human sense for transcendent beauty, arguably the only thing that separates us from the animal kingdom? No, it is not.
So I am forced to ask: how will we explain the Ed Sheeran phenomenon to our grandkids? In 40 years' time, when Ed Sheeran is fronting an "An Evening With..." type programme on ITV, still doing raps well into his seventh decade on the planet Earth, what will we say? For me, there can only be one explanation:

The subliminal messaging from Josie and the Pussycats is real, and it's in Ed Sheeran songs, telling us to listen to more Ed Sheeran songs.
Please, don't get us wrong here at noisey.vice.com/conspiracytheories. This is not what we want, but we have to tell the public what is going on. We have nothing against Ed Sheeran personally, but we cannot in good conscience let this go unsaid. It is the only way I can explain why, despite knowing the chord progression sounds distinctly familiar and like several other songs, I think that "Shape of You" is a banger. It is the only way that we will be able to explain Ed Sheeran and his almost unmatched success (watch out, Adele) to the next generation. Stay. The Hell. Woke.
Follow Lauren on Twitter.
(Image via HMV on Twitter)