Main Event Coffee doesn't smell like a coffee shop. In all honesty, under the heady scent of espresso, I can detect notes of trainer, worn leather, and sweat. That's because this isn't a normal coffee shop. Sure, there are groups of people at tables chatting and laughing, and a barista steaming milk for a flat white. But next to the small coffee bar and seating area, there are people flipping each other over and wrestling to the ground.
I'm at Fight Zone, a martial arts gym in East London, and Main Event Coffee is its small coffee bar tucked in the corner next to a boxing ring. A chalkboard on the wall lists the coffees, juices, and workout shakes on offer and a chiller is filled with bagels, yogurts, acai smoothie bowls, and pasta. Kids perch on the edge of the boxing ring drinking green juices, I overhear two men talking about what time they're bringing their sons the next day, and a group of parents keeps an eye on toddlers roaming about the mats on one side of the gym while a class takes place on the other.
I could be in a community centre, which, along with running 100 martial arts classes a week, is exactly what founders James Roach and Marco Canha had in mind when they set up Fight Zone in 2012.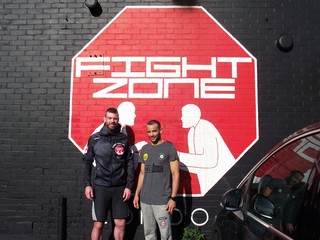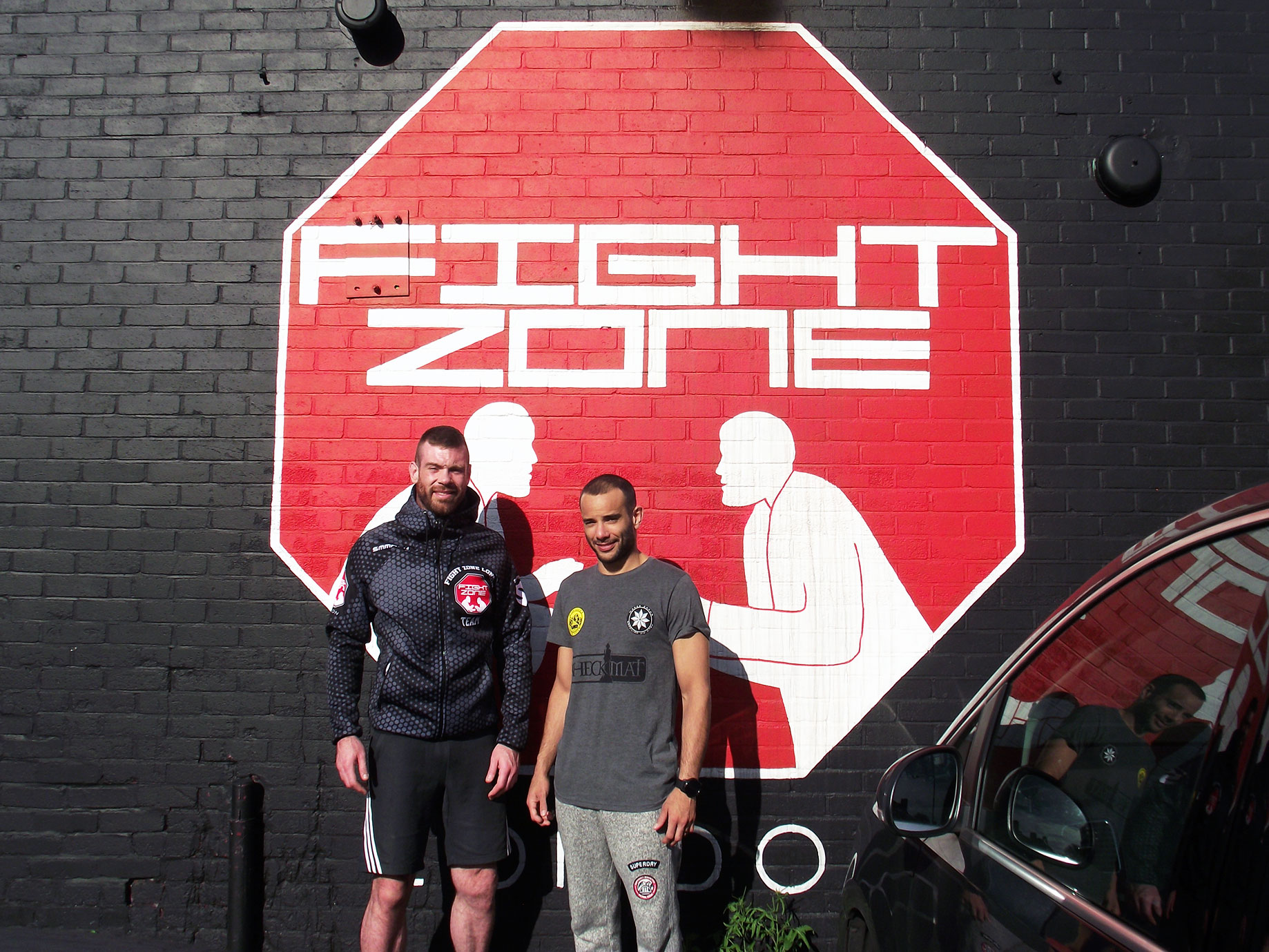 "I'd been brought up in a rugby culture and even though I didn't always enjoy the rugby club, I'd see its value as a place where people could spend all day, and eat and drink together in the evening," says Roach. "It's what attracted me to jiu-jitsu. You'd train at lunchtime then all go and eat together and spend some time hanging around."
Canha chips in, "It was always my goal [to create a community space] like I used to have in my gym in Brazil. You can train and compete but you don't have to be arrogant and swear, and make people who don't have contact with martial arts feel scared."
This is where the coffee comes in. Canha and Roach launched Main Event Coffee in the gym two years ago.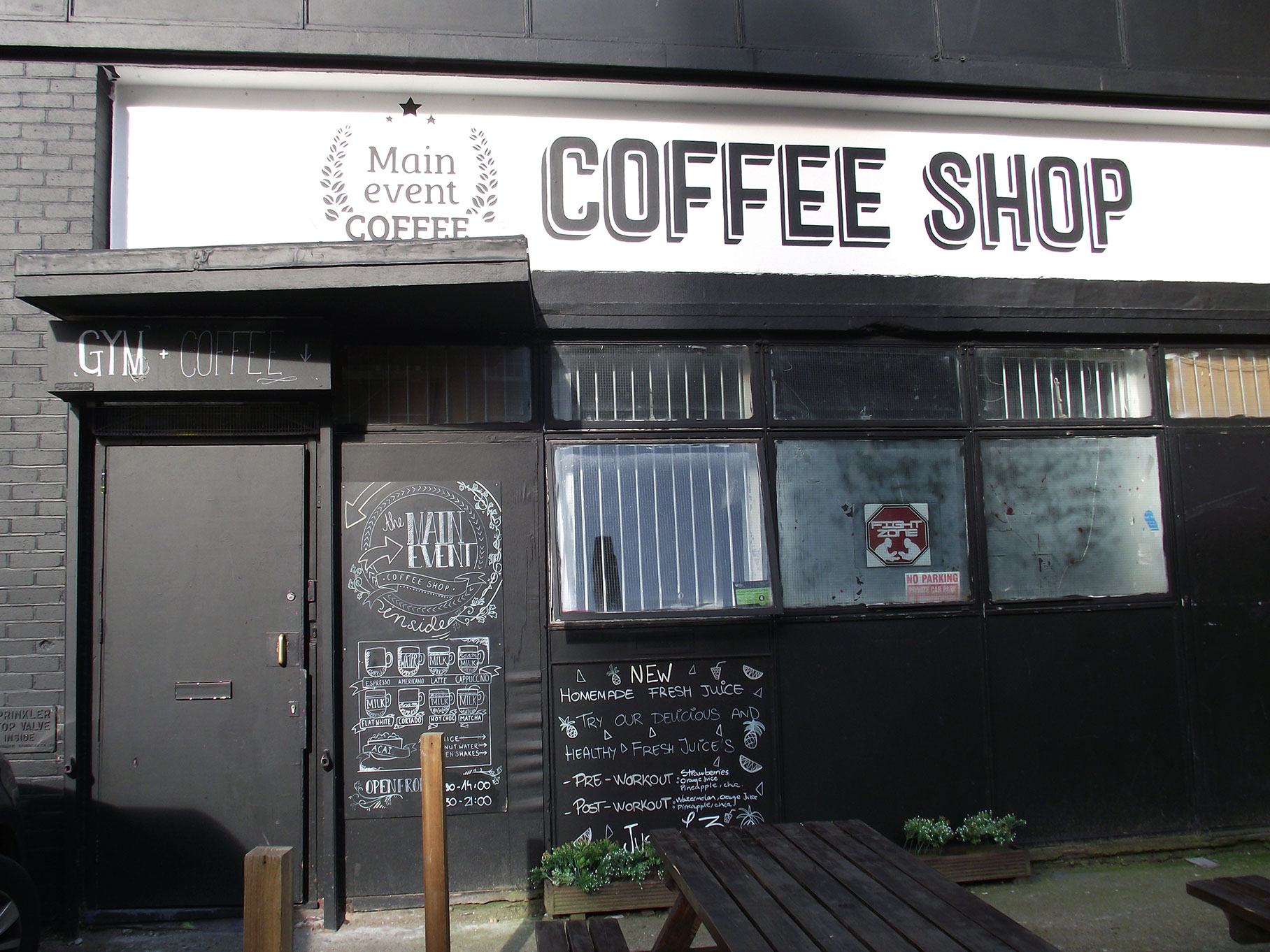 Roach explains, "Having the coffee shop inside is a nice way for people to come in and see that there's not a bunch of animals inside! It's a bit disarming. I think the coffee thing is also an essential part of the community. This is the bit that will bring people together. The bigger that this gets, the more that it can provide for people."
As we leave the main office to meet the barista and chef, Roach tells me that the coffee bar got off the ground thanks to a gym member who worked at a roastery. They found the chef because he's a member, as is someone who helped with Fight Zone's marketing, the scaffolders who put up the shelves, and the volunteers who helped repaint the gym over Christmas. On the way, Roach introduces me to Roberto and Annabel, father and daughter who both train here daily.
"I've been coming to the gym for about two years now. The martial arts is great but one of the main things here is community," says Roberto. "It's not like other gyms where there are egos and posturing. Everyone looks out for everyone, even though there are hundreds of members."
Annabel adds, "It's like a family. It's fun—you have your teammates and I now help with the kids classes."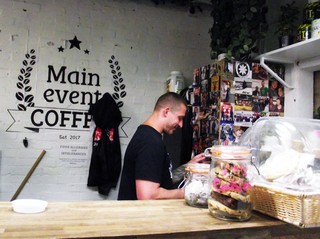 I ask about the coffee bar and Roberto smiles: "The coffee bar is the icing on the cake. Marcin feeds us well. It's all very healthy." Annabel says, "I normally get a bagel or a shake. The blueberry is my favourite."
Over an espresso, chef and barista Marcin Jarocki tells me how life at the gym differs to his ten-year career in restaurant kitchens.
"It was very stressful. And yes, I work a lot of hours here, prepping food in the evenings and the afternoons, and serving during the day. But you're always with your teammates and friends," he says. "If I can bring some nice food for them, it makes me happy."
I ask whether he's changed his approach to cooking, now he's catering for athletes. Jarocki says, "I try and keep it healthy but I'm not into macro this and micro that. Nice, healthy, and delicious is best. I've started doing courgette spaghetti with chili, garlic, and prawns. At the moment, there's also lasagna and sweet potato with feta. Tomorrow, I'm doing stuffed peppers."
"I do things like protein shakes if people want them and can make tailored flavours. In restaurants, you care about the ingredients but you don't care if they are low sodium, for example. Here, I'm using sea salt or low sodium soy sauce."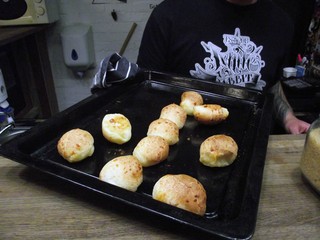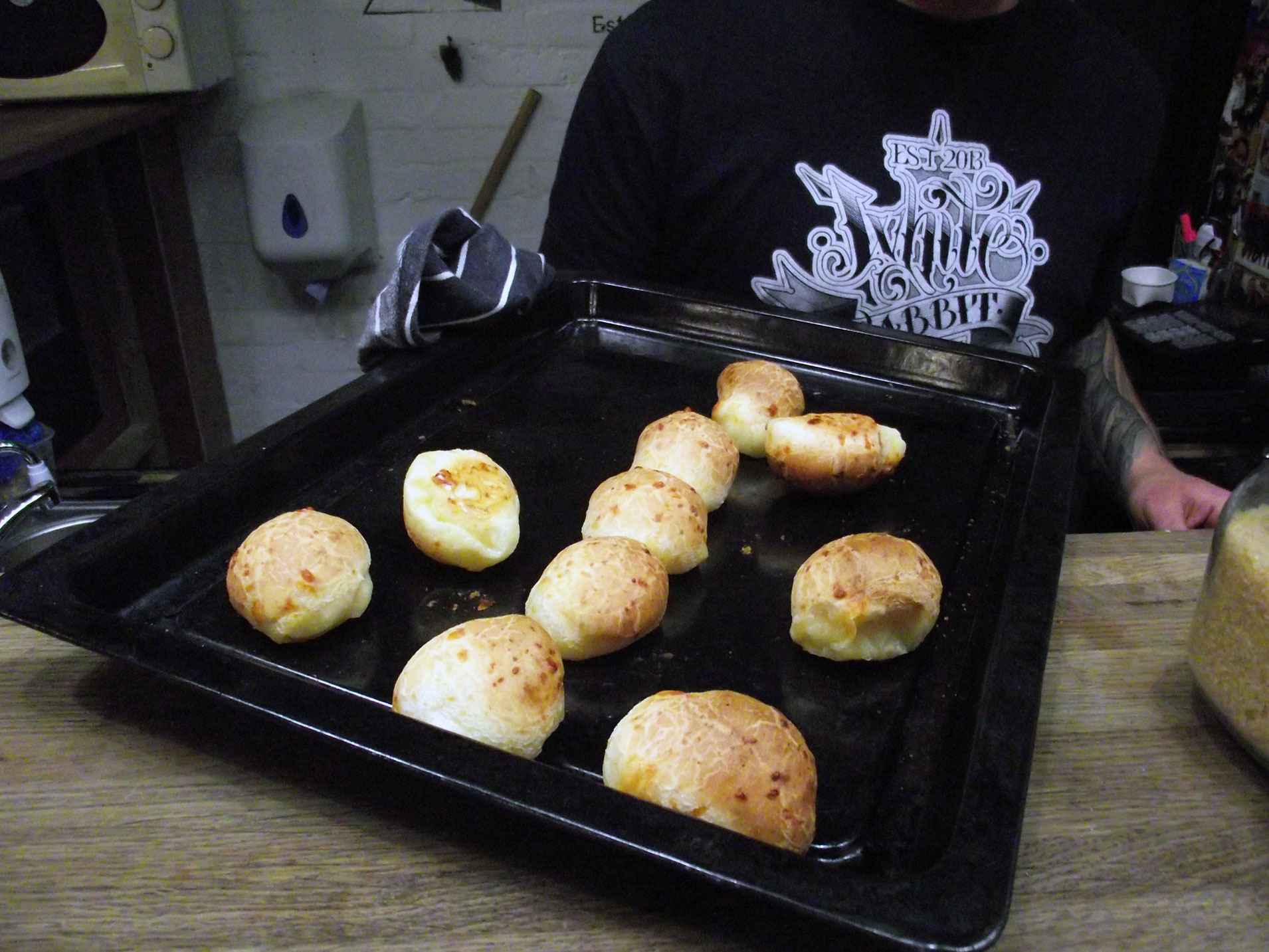 Thanks to Canha's influence, there's also pão de queijo, the traditional Brazilian cheese bread, and acai smoothie bowls, also from Brazil, on the menu.
"My mum is from Mina Gerais in Brazil and pão de queijo is very traditional there. She was the one who said we need it on the menu," says Canha with a laugh. "We buy them ready-to-bake from my favourite Brazilian shop but Marcin is working on how to make them himself."
He continues, "Acai is also very traditional in Brazil and became very popular among jiu-jitsu practitioners. There are many juice shops that sell it because it's hot most of the time in Brazil and acai is cold and creamy. You finish a training session and then go and have acai."
Back in the gym, I get chatting to Miriam who attends classes, as does her daughter.
"I signed up after my nephew started coming here. I was a bit apprehensive at first but everyone was so welcoming. It is a little community," she says. "They consider parents by letting the kids run around while a class is going on over there and I love the cafe."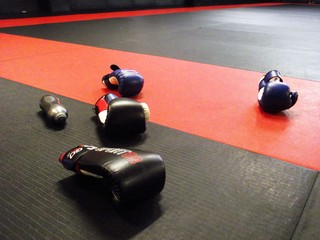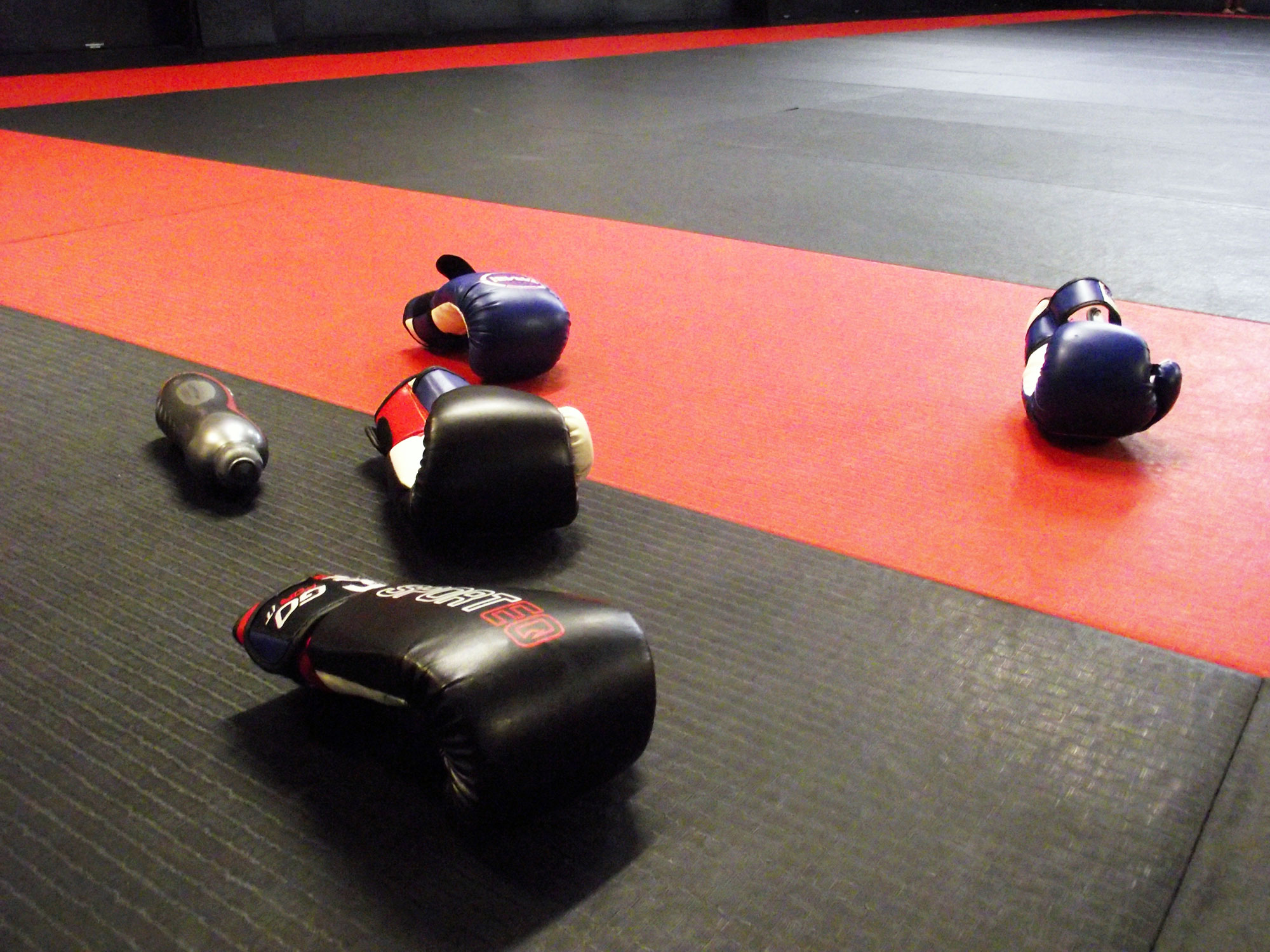 Miriam continues, "If I haven't got caffeine, I couldn't survive in this world! Marcin makes a really great cup of coffee. I also have to learn to eat more healthily. My daughter always asks for the apple pot as soon as we arrive."
At a time when the Conservative government makes huge cuts to social projects and imposes crippling business rates for small business trying to start community-based programmes, places like Fight Zone that serve all sectors of the community are more important than ever. Happily, the future here is looking bright.
"We're already looking for a bigger place," Roach tells me. "We'd have a small restaurant and an area where people could be there all day. That's the direction we want to go in."
As I leave, everyone tries to persuade me to give a jiu-jitsu class a go. I'm not sure my martial arts game will be great but I'll swing by for an espresso and a chat.