Soon after Julian Assange first entered the Ecuadorean embassy in June of 2012, he was joined by scores of protesters outside, sporting Anonymous masks, scuffling with the police and holding banners that read: "I AM JULIAN." Five years later, however, and the Swedish prosecutor's announcement that they are "discontinuing" the preliminary investigation into allegations of rape hasn't been met with any comparable mobilisation of support. There were hardly any well-wishers outside this time around – just a throng of broadcast journalists pointing their cameras at the embassy's white, twitching curtains.
When Assange eventually emerged on the embassy's balcony today, just after 4.30PM, he meekly raised a fist to a few disparate cheers and a cacophony of shutter clicks. "I have been detained… while my children grew up without me… that is not something I can forgive or forget," he said, sounding like a bad Bond villain and quoting a tweet he'd just published.
He went on to to speak about Chelsea Manning's release, thanked the Ecuadorian government for standing by him even as the European Union allegedly threatened trade restrictions against the country as retaliation, and returned inside after about ten minutes. He didn't comment specifically on his own future, other than stating that he can't leave because the Metropolitan police will arrest him "regardless".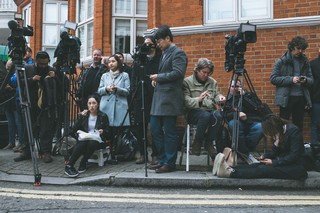 Although Assange called the decision a "total victory", the Swedish prosecutors made it clear that they didn't drop the case because they think he is innocent. In a statement made at 12PM Swedish time, chief prosecutor Marianne Ny said they were seeking to withdraw Assange's European Arrest Warrant because "all prospects of pursuing the investigation under present circumstances are exhausted".
Although Ny did not apportion blame to any party, she said, ambiguously, that Assange – who has always maintained his innocence – had "refused to make possible" the "formal [serving] of a notice of the crimes of which he's suspected". It's judicious language, but basically boils down to the fact that the case has been dropped due to technical, administrative reasons.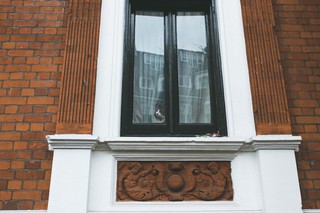 Assange went to the Ecuadorean Embassy seeking political asylum in 2012 after the British Supreme Court rejected his appeal against an extradition to face accusations of rape in Sweden. He believed that travelling to Sweden to face prosecutors over this allegation would then lead to his extradition to the United States, where a grand jury had been convened to prosecute his controversial publishing outlet, Wikileaks.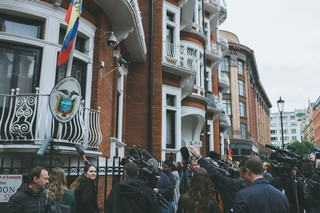 It was because Sweden refused to guarantee that his extradition wouldn't lead to his imprisonment – or worse – in the US that Ecuador granted Assange political asylum. As a result, he's been holed up in the first floor, apartment-sized embassy for five years, with nothing but the odd Pamela Anderson visit to cheer him up.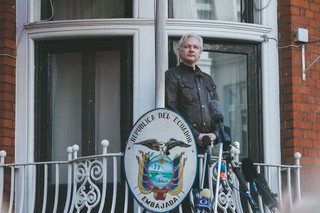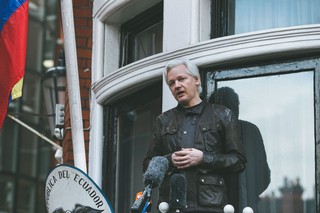 That said, Assange's supporters – from A-List celebrities to hacking-world luminaries – have dwindled as those years of self-imposed imprisonment have gone by, as their cause célèbre turned into a ghostly presence.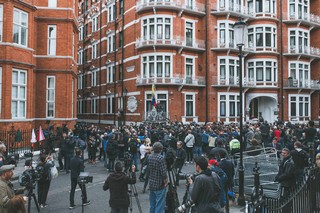 On a practical level, the prosecutor's decision doesn't mean that Assange is free to leave the embassy and make his way to Ecuador. The Metropolitan Police have said that he's still wanted for the crime of "failing to surrender", although they've admitted this is a less serious offence than the discontinued allegations of rape. Moreover, the Trump administration has been particularly vocal in recent weeks in terms of prosecuting Assange and Wikileaks, with Attorney General Jeff Sessions stating that apprehending Assange was a "priority" – a rhetorical departure from the Obama's administration's approach.
So despite today's decision, Assange's future remains as uncertain as ever. More importantly, so does that of the women who levelled the accusations at him – their lawyer has described dropping the case as a "scandal". Without the tenuous support Assange was able to muster five years ago from a handful of people across civil society, he'll probably end up finding life outside the embassy – if he ever gets there – just as lonely as it was inside.