This article originally appeared on Noisey Australia

In October 1979, Z Block records released Is the War Over?, a seminal DIY Cardiff compilation that showcased some of the new wave and minimal punk bands operating out of the Welsh capital at the time. Recorded at Grass Roots cafe, the record included a couple of tracks from Young Marble Giants, whose left-of-centre post-punk caught the attention of Rough Trade's Geoff Travis who soon signed them to the London label. But another stand out on the record is Reptile Ranch, a trio who included Z Block's Spike, Phil John and Simon Smith.
In the late 70s's the communities living in south central Wales' Ebbw Valley felt a growing insecurity as the region's coal mines began to close. It was here, among this working class tension that Reptile Ranch formed at a school nestled between two mines in Newbridge. After moving to Cardiff, where they started Z Block and immersed themselves in a burgeoning DIY scene, the band developed an original and potent sound. Often lacking drums, their songs centred on Phil John's bass and Spike and Simon Smith's unique guitar work that drew some similarities to the post-punk of Desperate Bicycles, Scrotum Poles, and The Fall.
Though the band was short-lived, they disbanded in late 1980, their two singles "Don't Give the Lifeguard a Second Chance" and "Animal Noises" grew to become highly influential pieces of UK post-punk. The two records have recently been reissued by C/S Recordings as part of Reptile Ranch's complete discography and unreleased live LP, so it seemed like a perfectly good excuse to chat to Spike.
Noisey: What was the move from the valley to the city like?
Spike: The valleys communities were founded on coal during the industrial revolution, but even in the 70s, we were aware that the industry was under threat and this caused huge uncertainty about the future of our communities without coal.
As if this impetus to escape wasn't enough, the people were very conservative and, for the most part culturally retarded, even the most progressive of them firmly stuck in the rut of 70s rock (or worse) with no desire to change. We often came under attack for not conforming to the fashion and rock norms. There was no place for us 'punks' there. We had to escape, as did anyone with any aspirations.
Moving to Cardiff was so exciting. We had our first single in our hands and were determined to take the city by storm. It was the first time any of us had lived independently and all we could afford was a shared room between the four of us in a college friend's flat in Splott. It was a grim, post-industrial steel and docks area of Cardiff with a reputation for being really tough. Despite the abject poverty and surroundings, we set out on our mission to spread the DIY message and almost immediately started organising what would become the Z Block compilation LP of Cardiff bands.
Even now, post-Brexit vote, there seems a divide between rural and urban Wales. Was it like that back in the 70s?
The valleys weren't "rural" then, although they look very pretty these days. The industrial valleys of South Wales were filthy, dangerous places where tens and even hundreds of miners died fairly frequently from pit explosions and collapses. The now green valleys were covered, almost completely, by mountains of black coal waste called slag heaps, one of which killed 116 children and 28 adults when it slid down the side of the valley onto a school in Aberfan in 1966.
I'm originally from a North Wales mining community. We didn't regard Cardiff and the valleys as properly Welsh since hardly anyone east of Swansea spoke the Welsh language. From the time of the industrial revolution, English and Irish immigrants flooded into these areas and virtually extinguished traditional Welsh culture wherever they settled.
It is a horrible irony that the areas that will be worst affected by Brexit were the ones who voted most enthusiastically for it. In my opinion, nobody really knew what they were voting for. Stupid is as stupid does.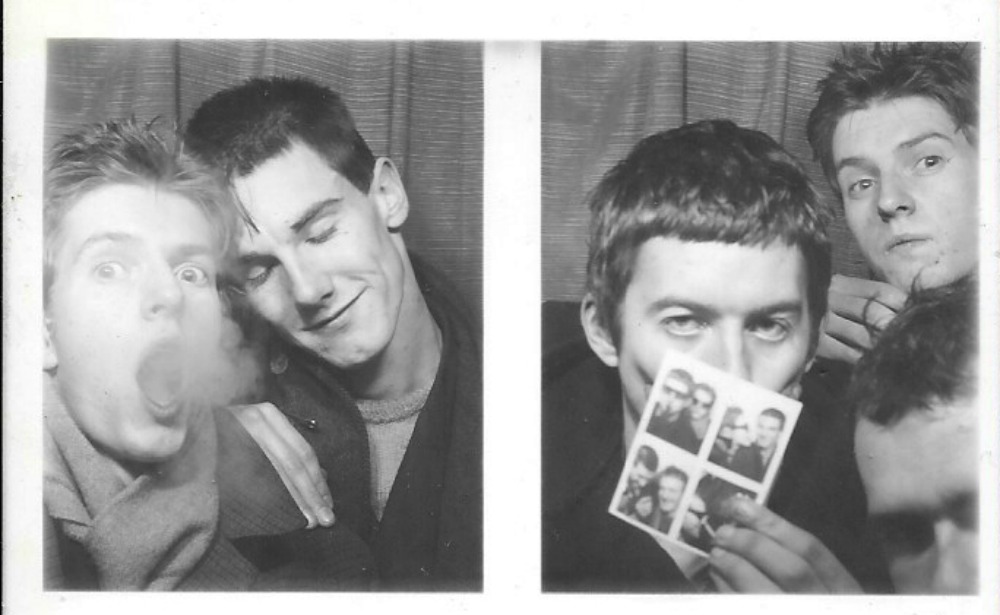 What there much of a punk scene in Splott in 1979?
I was the only member of Z Block who regarded himself as punk. We were part of the 'post-punk' DIY scene, on a mission to destroy the major labels. We were anarchists. We didn't think of 'indie' as a style of music, indeed, if you look at our output, a lot of it doesn't sound like what was later defined as 'indie' music.
Most of the punk bands in Cardiff were crude copyists of what had by this time become a parody of punk. Essentially, most of them were rockers in punk clothing. The only remotely interestingly 'alternative' indie bands in Cardiff at that time were Reptile Ranch and Young Marble Giants.
Is the War Over? was one of the first Young Marble Giants recordings. Did you see their importance back then?
Almost as soon as we arrived in Cardiff, the idea was to make a compilation LP, on a first-come-first-served basis. All the bands had to do was raise money to guarantee their eight- minutes on the LP. The original line-up did not include YMG but before we were scheduled to record, one of the bands chickened out. This gave us the opportunity to pile on the pressure to get YMG to come on board and save the day. I can't remember what incentives were used exactly but I know we were desperate for them to be on the LP. We had all been massive fans of theirs from the second ever gig they played.
The world owes Z Block Records a debt of gratitude for our efforts. It is fair to say that, but for our dogged determination, YMG could easily have vanished with hardly a trace other than the few hand-made cassettes that constituted Colossal Youth, their first LP. Without YMG, the single most important band to ever come out of Wales, Is The War Over? would have been almost pointless apart from the fact that it gave us our first national BBC radio airtime. The legendary John Peel played 6 of the 8 bands.
Why did the band disband in 1980?
The band never formally disbanded. I guess when I was given Z Block Records for my 21st birthday we called time on the project. There was never any animosity between any of us. I think that YMG getting the deal with Rough Trade made me question what we (Reptile Ranch) were doing and worry about our chances of achieving what we wanted. At that moment and right up to the release of "Animal Noises", we were a strong unit.
A pivotal moment for me came when Z Block, got involved in a BBC TV youth programme called Something Else in the summer of 1980, exactly a year after we recorded Is The War Over? Z Block campaigned hard to ensure YMG got to play one of the live band slots alongside The Damned.
After the green room party, I approached Alison Statton [Young Marble Giants] and suggested we work together. To my delight she politely agreed and, although I wasn't sure how polite she was being, I held on to that hope for the next year. I had aspirations I was sure the other band members didn't have.
I was the only band member with any formal music training and I think I felt that I needed to cash in on those 14 years of dedicated work. Having seen YMG go out and succeed and earn what looked like a good living from music, I decided I needed do the same. In the summer of 1981, Alison Statton and I started writing material that would later be incorporated into the project, Weekend, who signed to Rough Trade in November 1981.
Reptile Ranch's self-titled complete discography and unreleased live LP is available now through C/Site Recordings