This article was originally published on VICE Canada.

From the air, the 40-acre property near Airdrie, Alberta, looks like a typical sprawling rural acreage. There's a three-bedroom house, over half a dozen outbuildings including a greenhouse and some small sheds, and stretches of lawn heading off in all directions. In some photos taken from 5,000 feet overhead in on the sunny, cloudless first two days of July 2014, the farm belonging to Archie and Doreen Garland is a wide expanse of eye-popping green.

An observer would have to squint to see the three bodies—two adults and one child—lying near a row of small sheds south of the main house.

The bodies were photographed entirely by accident on July 1, 2014, and became an important piece of evidence that would convince jurors in a Calgary courtroom two-and-a-half years later that Douglas Garland had just committed one of the most shocking and disturbing crimes in recent memory.

The photo, shot by an automatic camera mounted on a plane owned by a digital mapping company, shows the bodies lying face down. The adults appear to be wearing only a white-coloured fabric around their waists. The smaller body is curled up. They are believed to have been Alvin Liknes, 66, his wife Kathy, 53, and their grandson, Nathan O'Brien, five. Within a day, the bodies would be gone—dismembered and incinerated.

Douglas Garland, already considered a person of interest to Calgary police in the days after Alvin, Kathy, and Nathan were reported missing, was arrested in July 2014. He was convicted of their murders following a five-week trial in January and February of this year. The 57-year-old lived on the Airdrie property with his parents, Archie, 86, and Doreen, 83. And it was there, without his parents ever suspecting, that Garland tortured, killed and disposed of the bodies of his victims.
(Photo of outbuildings where bodies were seen from above)
To understand why Douglas Garland murdered the Likneses and their grandson, we have to go back to 2007. At the time, Alvin Liknes was dabbling in the junior oil and gas exploration industry and hired Garland to work on a pump that could separate oil from water. Liknes filed a patent on it, and although the pump never made any money, Garland would feel cheated—out of credit, out of recognition, possibly out of money.

The perceived slight would eat away at him for seven years, his younger sister Patti would testify at his trial. She would often hear him complain about how he'd been wronged, and was sick of it. It didn't help that she was the common-law spouse of Alvin Liknes' son Allen, and was close to him and Kathy, as well as the family of Kathy's daughter from previous relationship: Jen O'Brien, her husband Rod and their three sons, Luke, Nathan and Max. Patti would describe her brother as a loner without friends or romantic relationships.

He was also a convicted felon, an identity thief, and suffered from mental health issues. Bright enough to be admitted to the University of Alberta medical school in the mid 80s, he would leave under a cloud after a few months following some sort of mental breakdown. The CBC reports he was kicked out for cheating just after he'd been voted class president. He'd be arrested three times on weapons violations between 1988 and 1999 but the charges were always withdrawn.
In 1992, at age 33, Garland was arrested on his farm and charged with running a meth lab there. While on bail, he fled to BC and stayed there for seven years, living as Matthew Kemper Hartley, an identity he stole from an Alberta teenager who died in a car crash in 1980. He even collected unemployment benefits under the dead boy's name.

In 2000, the law caught up to him. Garland would serve six months of a three-sentence for drug trafficking and identity theft, but psychologists said his mental illness was responsible for his crimes. They concluded he was essentially non-violent.

Fast forward to June 2014. As Douglas Garland stewed over the perceived wrongs he'd suffered, Alvin and Kathy Liknes were planning a major change in their lives. They had sold their house on 38A Avenue SW and, on June 29, they held an estate sale to get rid of as much of their belongings as possible before they pulled up stakes. They planned to live out their retirement between their new home in Edmonton and the condo they owned in Mexico.
Jen O'Brien was over with Nathan and his baby brother Max. Jen decided spontaneously to spend the night but Max was having trouble falling asleep in a strange bed. At around 10:45 PM, Jen took the baby home, leaving Nathan to sleep in a bed with her mother. She would collect him in the morning.
Nobody except Douglas Garland know exactly what happened in the next few hours. But, as the court heard, at some point in the early morning of Monday, June 30, Douglas Garland disabled the lock on their home and broke in. He also disabled the Likneses' internet router. He beat Alvin, Kathy, and Nathan bloody, and dragged them out of the house. It's believed they were likely still alive at this point, based on the amount of blood found at the scene.

It was Jen O'Brien who called police the next morning. She'd arrived, carrying baby Max, to pick up her little boy and discovered a home—the home she and her four siblings grew up in—with bloodstains everywhere: in the master bedroom where Alvin slept, in the bedroom where Kathy was sleeping with Nathan, down the steps to the kitchen, on the walls. One bloodstain on a closet door looked like it had been smeared by a small hand. No one was home.
She immediately called her husband. "My family has been murdered and he's taken the bodies," she told him. Then she called the police.

Though they didn't say so publicly, investigators were coming to the same conclusion as O'Brien. They held out hope that Nathan was still alive as they searched the Liknes home, believing he may be hiding somewhere. But once it was clear Nathan was not in the house, investigators began to suspect they would not find him alive.

Still, an Amber Alert was issued and a massive search for the three missing persons began in earnest. Police began with collecting DNA from the Liknes and O'Brien homes and stated they wanted to interview the 200 or so people who came to the estate sale.

As they searched the home for forensic evidence, police found a tooth that may have belonged to Alvin Liknes. DNA analysis of the blood found in the home, including on a set of 45-pound dumbbells in the garage, revealed that it matched that of the three occupants.

The disappearance soon caught the country's attention, thanks at least in part to Jen and Rod O'Brien's emotional, heart-wrenching public plea on Tuesday, July 2. "Nathan, I need you to hear my voice right now and I need you to know that Mommy and Daddy love you more than anything in this world," Jen said, fighting back tears. "Stay strong, Nathan. We know you are our superhero and I just need you to stay strong and we are going to see you."
Police collected hundreds of tips from the public and collected dozens of videos from nearby homes and businesses. DNA and other pieces of forensic evidence found at the Liknes and O'Brien homes were collected and fast-tracked for analysis.
On Thursday, July 4, the police announced they were looking for the driver of a late 1980s/early 1990s green F-150 Ford pickup in good condition. The vehicle had been spotted driving around the area several times on the night of the disappearance. Video surveillance also captured images of a man skulking around outside of the Liknes home in the early hours of June 30. The truck was later seen heading north along the MacLeod Trail, in the direction of Airdrie, with a white object in the truck box.

Patti Garland was pretty sure she'd seen that F-150 before. There was one just like it parked right outside her parents' home, where she'd arrived the previous day from Evansburg, Alta. She'd come down to Airdrie with her common-law spouse Allen Liknes, whose parents and nephew had disappeared. She knew them, and knew the grudge her own brother held against Alvin.

In court, Patti would testify that she had her son take pictures of the pickup and then forward them to Allen, who passed them on to Calgary police. Douglas Garland was taken in for questioning the next day.

It would emerge later that Garland was already on their radar. By the end of the first day of investigation, police had compiled a list of six possible suspects. One by one, they were crossed off, until only Garland remained.

A large-scale search of the Airdrie property was urgently authorized. Because they believed the Likneses and Nathan might still be alive and in imminent danger, the search did not wait for a warrant—an unusual though legally permitted measure. An RCMP emergency response team was first on the scene, arriving in an armoured vehicle, and operating with the assumption that they were conducting a possible rescue mission. But no one was found on the property.

The search was restricted to areas of the property where the victims might be hidden. Anything more extensive would need to wait.

Nevertheless, the initial search did turn up something suspicious: a duffel bag containing a set of handcuffs, a large knife, and a billy club. This, police would later say, was Garland's "capture kit."

"Myself, in my heart, I had moved past the idea that we were looking for a live body on the farm," Det. Dave Sweet later told the CBC.

While police combed the property for clues, Garland was formally arrested—but not in relation to the disappearance of the Likneses and O'Brien. Although he had been described a person of interest by the police regarding the suspected abduction, he appeared before a judge on identity theft charges on Monday, July 7. Police had found documents in the name of Matthew Kemper Hartley, the dead teenage boy whose identity Garland had assumed two decades prior.

The investigation continued relentlessly. Close to 300 officers were involved in the search, including personnel from the RCMP, Canada Border Services Agency, Passport Canada, the Canadian Air Transport Security Authority, the US Department of Homeland Security and Mexican government officials. Calgary cops even visited the Likneses' Mexican condo. The search would lead investigators to sift through Calgary city dumps, landfills, the farm's fields, a property near the Garland acreage, and nearby small wetland areas called sloughs.

In the meantime, on Friday, July 11, Garland was released on $750 bail. He was instructed not to return to the Airdrie property but instead stay at a local motel or shelter. He didn't. During the night of Sunday, July 13/Monday, July 14, Garland made his way back to his family home, unaware that he was being watched by Calgary police. He was tracked and arrested as he crawled through a thick wall of trees and undergrowth as a police helicopter circled overhead at around 1:30 AM.
Later that day, Calgary police chief Rick Hanson said at a press conference that Garland would be charged with two counts of first-degree murder and one count of second-degree murder. He told reporters investigators had concluded that the Likneses and Nathan O'Brien were dead, even though their bodies hadn't been found. The Amber Alert, the longest in Canadian history, was called off.

"Even as the days went by there's always a hope, there's always a glimmer of hope," he said. "And unfortunately with the laying of the charges, we've taken that hope away from the family. So they are devastated."

The cops never found the bodies. But what they did find was horrifying.

At the trial in January and February of this year, jurors and the public were confronted with evidence that was enough to make seasoned policemen lose their composure while testifying.

Based on what the police found at Garland's farm, it was clear that Garland was obsessed with the Likneses, and didn't want to just kill them. He wanted to humiliate, torture, and possibly sexually abuse them before he ended their lives.

Here is what they police found when they searched the farm on July 5, 2014:

• A burn barrel that was still smouldering. Police would extinguish the fire and sift through the debris, and would find bits of bone, a tooth, a pair of glasses. The lead forensic investigator, Cst. Ian Oxton, would testify that it took police 550 hours over the course of ten months to sift through 120 gallons of ash found on the farm. Eventually they would find some 17 teeth fragments, bits of bone, a button, jewelry, and a piece of a shackle.

• A shoebox that matched blood-stained footprints found inside the Liknes home. Tyvek full-bodied suits, the kind worn by forensic investigators at crime scenes, as well as rubber gloves, chemical gloves, and a rain suit. They also found size 13 women's shoes, two blond wigs, a straightjacket, and about 50 adult diapers, stolen from a local hospital.
• Gun parts, silencers, and ammunition. A charred circuit board to a set of car keys matching the Liknes' Toyota truck. Lockpicking tools, locks, padlocks, and blank keys.

• A half-empty bottle of chloroform and a bottle of insulin. They also found a bottle of RNase—a chemical that can cause DNA breakdown—a blood-clotting powder, and two empty 50-liter canisters of liquid nitrogen.

• About a dozen handcuffs, including at least one described as child-sized, leather restraint straps, and two whips.

• Several knives, two meathooks and a large hacksaw. One of the meat hooks contained DNA from Kathy Liknes; DNA from Alvin Liknes and Nathan O'Brien were found on a hacksaw. Other bits of charred flesh were found around the burn barrels, with help from a cadaver-sniffing police dog named Sully.

• The books Be Your Own Undertaker: How To Dispose Of A Dead Body and Silent Death.

• A hard drive hidden away in the joists of the basement. What was found on it, more than any of the other items catalogued to date, reveals some of what was going through the mind of Douglas Garland in the lead-up to the murders.

Calgary police digital forensic examiner Cst. Doug Kraan, who sifted through the 112 gigabytes of information on the hard drive, told jurors he found "a number of documents about killing." Some, he added, had "kill or murder in the title." Those include a book called How to Kill Without Joy: The Complete How to Kill Book, The Death Dealer's Manual, an autopsy manual, photos of men and women in adult diapers, many of them showing the subject restrained and deemed sexual in nature, and photos of Kathy Liknes. There were also documents relating to Alvin Liknes' businesses and patents, including the one he took out on the oilfield pump.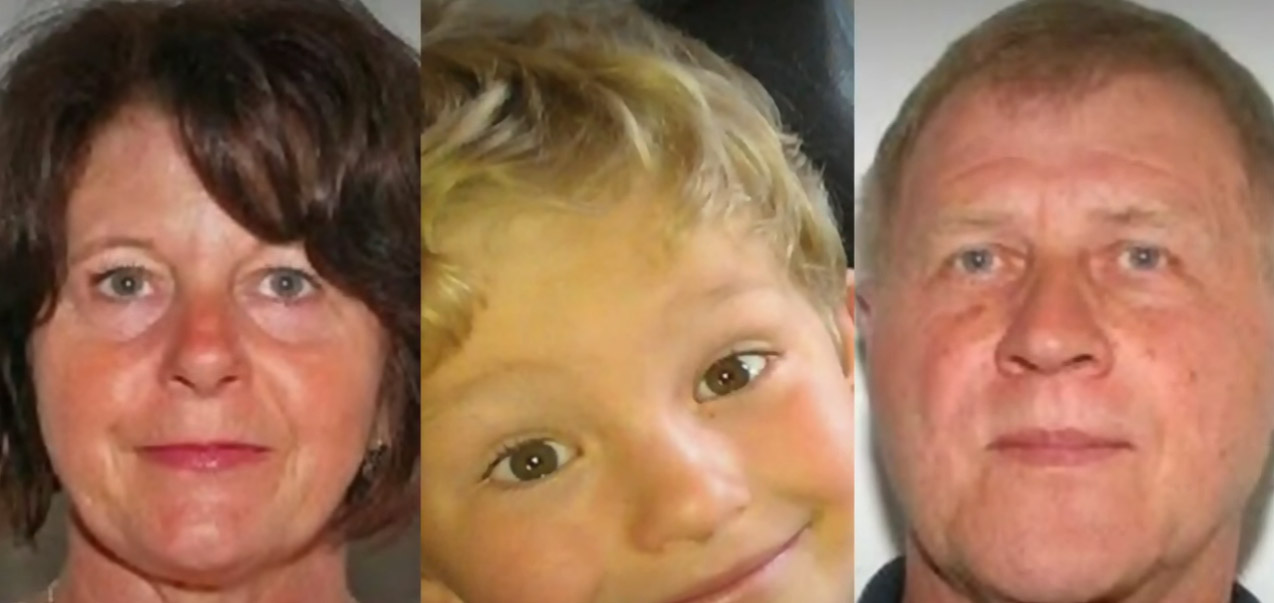 Then there was a folder simply titled "Gore." It contained 87 photos of dead and dismembered people and body parts. The jurors were shown these images, but quickly, only a few seconds at a time.
Kraan was also able to search Garland's Google history. Apart from details about the couple's estate sale and some personal information, there were also searches regarding amputations and autopsies, "most painful torture," "human dissection," "bone grinder," and "blood removal solution," among others. There was also information regarding the same kind of lock the Liknes' had on their home, and how to disable it.

Finally, on Monday, February 6, near the end of the trial, the Crown introduced one of the key pieces of evidence—one that they came across by sheer dumb luck. At 9:23 AM on the morning of July 1, 2014, a small airplane belonging to an aerial surveying company was flying over Airdrie, mapping the town and two other small Calgary ex-urbs and snapping photos every three seconds. In an almost unbelievable coincidence, it snapped two photos that would be introduced as evidence at the trial and pretty much seal the case against Douglas Garland.

The photo showed three bodies lying face down on the ground near three sheds south of the main house. Two are clearly adults, naked except for some sort of white cloth wrapped around their waists. One is believed to be about 6'2", the other 5'5". The prosecution says the bodies may have been decapitated. The third is much smaller, around 2'4". It seems curled up and lying on the side.

It was then that the jury asked the judge for a break. In the spectator rows reserved for family, people were openly weeping, including Jennifer O'Brien.

The jury would return ten minutes later. The plane's pilot testified that when he flew over the farm again 26 hours later, the photos he took then would show the bodies were gone.

Garland, who pled not guilty, never spoke, spending the trial hunched in his seat. He never expressed regret or remorse.

It took the jury eight-and-a-half hours to return a guilty verdict. On Friday, February 17, Justice David Gates gave Garland the maximum verdict: three life sentences, to be served consecutively, meaning there would be no chance of parole for 75 years. "It's hard to imagine a more cunning, cruel, or horrific set of circumstances," he said.

In his closing submission, Crown prosecutor Shane Parker would say that Douglas Garland was beyond rehabilitation. "These acts display a character of evil," he said. "You can't rehabilitate evil."
Follow Patrick on Twitter.