What is it? Okay, you know when you go to IKEA and you have to walk through that labyrinthine S-shaped run of showrooms before you get to the shop proper, so you – for example – have to push your trolley through all these acute-angled open-faced kitchens w/ fake balconies behind them and like a living room set-up with faux plants and a basket full of cushions, and you can't actually pick anything up and buy it – actually, maybe there's a random display of £1 ladles, or something, so to justify that massive yellow-blue carrier sack you have on your shoulder you pick one up, even though you don't really want or need one – and those false little rooms, at some point in your IKEA trip, you always flop onto the half-bed of, and you turn to your boyfriend or girlfriend (in this scenario, you are at IKEA with your boyfriend or girlfriend, and I am assuming you are both 25 years old and the sizzle has already started to go out of the sex life) and you sit on the bed and turn to them and say something like: "Ha ha." Or: "Shall we just live here?" It is unclear what the joke is, but it's something to do with the fact that it is absurd you both pay rent on a shitty sub-ideal place in New Cross when you could just sleep in IKEA instead, where it is nicer and costs less. Anyway, can't really remember what my initial point was, but going by the dimensions and layout this flat is one of those show-home things—
Where is it? The listing says "Fulham" but the map says "Hammersmith"; do with that information what you will;
What is there to do locally? There's a hospital that backs directly on to a cemetery, which to me seems unnecessarily pessimistic, but you can go there, I suppose;
Alright, how much are they asking? I'm pretty sure they are asking: £1,344 per calendar month. Which is: un lot.
Hello, this again. Here we have something I like to call "bad–nice", a new term I came up with to describe something that is ostensibly bad, but technically nice. Other things that might be considered bad–nice: Ed Sheeran; the way Jack from Love Island dresses now he's allowed to wear clothes; a Harvester roast. Things can be bad and come from a place of niceness. This is what I am getting at here. That is exactly what this newly refurbished Fulham alcove is: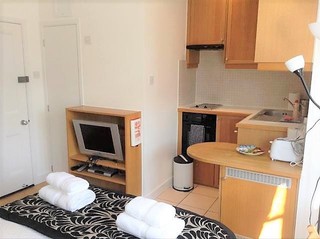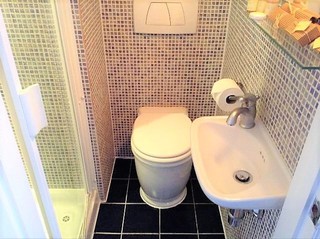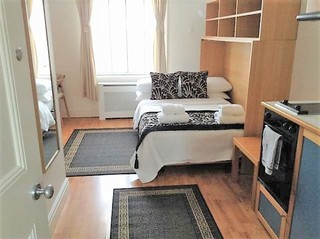 Note: the knotted curtains fitted in every enclave of the bay windows. Note: the kitchen bin you have to move to fully open the oven. Note: the strange tongue-shaped extended breakfast nook with a toaster and a plate of UHT milk tubs on it. Note: the aggressive angle of the TV, leaned down to meet you when you watch it from your bed, and the proximity of it to the fire blanket. Note: the thinner-than-an-actual-door door you have to go through to get to the bathroom. Note: the infinite number of bathroom tiles, dazzling and distracting you from the fact you cannot stand up and turn around in there. Note: the two-hob cooking surface, because four hobs constitutes greed. Note: the oppressively pine-finished panelling that surrounds every inch of you. Note: this word in the listing for the apartment: "Spacious". Note: the complete lack of space. Note: imagine in your head, for a moment, walking around this flat. How many times do you have to turn sideways to navigate it? You cannot walk into the kitchen without turning and crab-legging in. You have to crab-leg into the bathroom. Note: the price, again, £320 p.w. which puts it (by my estimates) at £1,344, and so to justify that price the building's amenities are listed – a reception desk, a laundry facility (which I'm assuming means: a laundry room, crammed with a whole building's full of tenants who, already a few months into their life there, can no longer walk in a straight line, they can only move sideways and straight like a rook), free digital TV, bills and WiFi. Consider paying £1,344 a month to live in a single room just so you can have a receptionist and your WiFi bill paid for you. Imagine someone selling that to you as a good deal.
But the point I want to note most of all is the rolled up towel pile on the bed, because I have looked at more low-end bullshit studio apartment bullshit bullshit bullshit properties than you, in London, and in recent months I have noticed this creeping trend, and actually I have turned it into something else, something I call: Towel Theory.
TOWEL THEORY
Estate agents take tiny hovels and try to glam them up by making the bed and putting exactly two small piles of towels on them. They do this for photographs exclusively, then take the towels home with them when they are done. Sometimes the towels are tightly rolled, sometimes they are neatly folded. The towels suggest neatness and life. The towels suggest a hotel experience from the comfort of your rented home. The towels are props to suggest a couple might live here, playfully enjoying a shower or bath (this flat does not have a bath; the shower is too narrow for one person, let alone two; imagine you and bae, sudsed up and half-horny, oiled and wet and ready to fuck, then you both try to cram out of the shower at the same time and get squeakily stuck, and the fire brigade has to come and jaws-of-life you out of there while you, sobbing, try to cover your junk up with a small decorative towel). Sometimes the towels are in fun colour-scheme matching shades – oranges, purples – but most often they are in a toneless white, as if the agents have a little pile of them in the back of their Mini at all times, ready for a photo call. What I am saying is: the towels are a red flag. If you are looking at a flat on Gumtree or Zoopla or SpareRoom, and there are photos featuring towels on the bed, do not rent that flat. The towels are there to hide mediocrity. The landlord will be a prick, the rent will be at least 200 over what it's worth and the property agents responsible will be absolutely unbearable. Trust me on this. I might be paranoid, but I'm not an idiot. NEVER TRUST AN ESTATE AGENT WHO ADVERTISES USING FOUR SMALL TOWELS. This is the end of: Towel Theory.
AND ALSO THE END OF THE ARTICLE
Thank you.