Funny how perspectives change. Back in April, a 17-seat majority seemed slim to Theresa May. Impossibly crappy. Unworkable, even. As in: "Oh, I've only got still water. I need sparkling."

Now? Now it's more like: "Of course I'm quite prepared to drink my own urine if needs be."
Stuck on minus-nine, lost in the wilderness and grimacing, she'd kill for those 17 seats.
It was a strange, lumpy night, one where the BBC especially struggled to keep up with the queasy shifting of the electoral map. No one "back in the studio" seemed to have any great ideas as to what was meant to happen next.
It began with the dynamite exit poll and that strange reality-reset feeling – like when someone glues all your furniture to the ceiling for a prank.
Between friends, the texts were mainly exclamations. Back in the pundit-stacked studios, the capacity was little better. It took a surprisingly long time for everyone to figure out the basic maths on exactly how screwed we all were. That, at 314 Tory seats, 12 shy of a majority – and with every party having taken the bloody-genius decision to promise they wouldn't go into coalition with each other – no one could go forwards, and no one could go backwards.
In the Tory ranks, the disasters rolled in. Gone: Gavin Barwell, the Housing minister. Gone: Ben Gummer, who drafted the disastrous 2017 manifesto. At 5AM, after begging for a third recount, Amber Rudd, the Home Secretary, who'd been targeted by the Progressive Alliance in her Hastings & Rye seat, clung on by 364 votes. From the unemployment queue to being talked-up as next week's PM within 364 votes: that's life.
The evening blundered on. Still no one had a clue what any of it meant. By 2AM, Nigel Farage was on the telly announcing that if it was all going to be a total mess, then he'd have to just roll up his sleeves and lead his party a fourth time. When Paul Nuttall later took a paltry 3,800 votes compared to the Conservatives' 22,000 in "Brexit Capital" Boston & Skegness, that prospect seemed locked-in.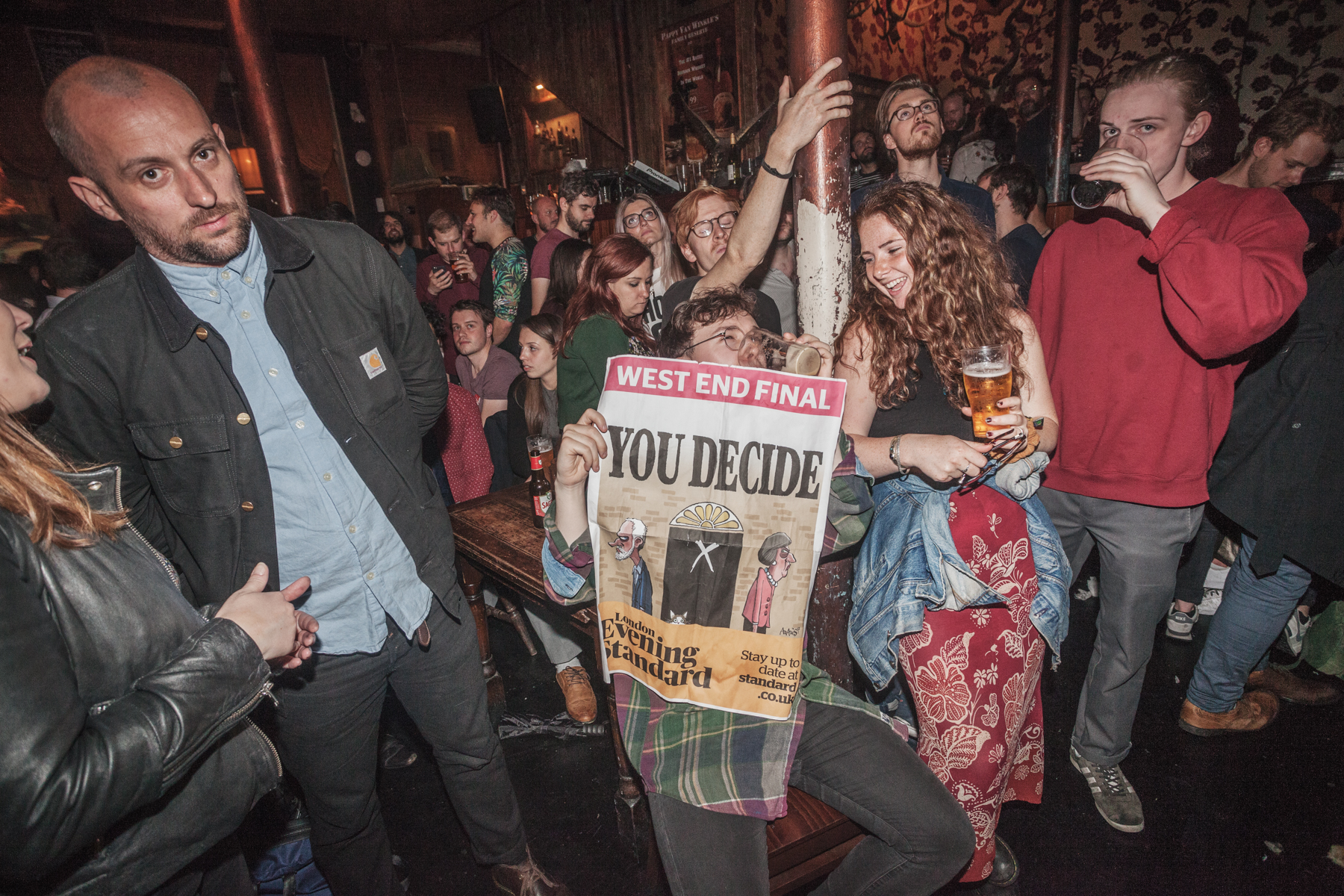 As predicted, Brexit's aftershocks continue to cleave the map in odd new ways. London proved what the Referendum had already told us – that the city is now a nation unto itself. Whereas the national swing to Labour was only 3.5 percent in the exit polls, in London it was ten or 11. Justine Greening – the former Transport Secretary – only barely managed to hang on to her Putney seat, having her 10,000 majority slashed to under 2,000. Boris saw his halved down in Uxbridge. Even boring old Battersea fell to Labour.
Meanwhile, up in Scotland, an unlikely cavalry started riding in to the Tories' rescue. The second independence referendum has cleaved Scottish voters, and its ripple effects – in making the Conservatives the party of Unionism – were being felt. By half-four, they had nine MPs north of the border – some improvement on having one in 2015.
These gains were someone else's loss, and for the SNP a 15 percent swing against them resulted in some heavy bloodletting. Alex Salmond lost his seat. Skunk-haired flamboyant John Nicholson went down at his count. As did the party's deputy leader, Angus Robertson.
For the Lib Dems, Tim Farron had been talked-up as a dead man walking after they'd flatlined in the polls. And Nick Clegg losing his Sheffield Hallam seat to Labour's Jared O'Mara wasn't a great start. Yet, despite Farron's do-over strategy on Brexit, the party approached dawn having nearly doubled their MPs, with Vince Cable managing to win back the Twickenham seat he lost two years ago.
The reanimation of once-dead Lib Dems didn't end there, either. As they pushed towards a projected 14 seats, Ed Davey got back Surbiton. Jo Swinson nabbed back her Scottish seat.
No such luck for Simon Hughes in Bermondsey & Old Southwark, the constituency that saw the London Bridge attacks. Hughes lost again in his old seat, to Labour's Neil Coyle, this time by 12,000 votes. Yet again, London just couldn't get enough of Corbyn's metropolitan leftie vibes. They could hardly believe their luck. Clive Lewis did a little jig. A quite recovered Diane Abbott attacked "the politics of personal destruction".
By 3AM, Islington was declaring for Jeremy Corbyn. He took 40,000 votes, stacking a fresh 10,000 onto his personal tally – but his boilerplate victory speech didn't hint at where Labour would be going next.
In the event, Sky cut him off anyway, to head over to Theresa May, at her count in Maidenhead, where she stood stony, surrounded by a gaggle of novelty candidates, from Elmo to "Free Andy Tsege" to some kind of Dildo Tin Man. Her face? Well, she looked like she'd drunk her own urine.
Theresa May's victory speech
As she took to the podium for her own victory speech, May sounded halting. She stumbled over words, had to re-start sentences. "It will be incumbent on us to ensure that we have that period of stability" she reassured almost no one. She was naked and it was nearly morning, and the frog in the throat made you guess at what sad stony words had been conveyed in private.
"I suspect it's a question of when, rather than if, she resigns," wrote Fraser Nelson, editor of The Spectator and arch-Tory insider.
Other ranks of the guilty were also being lined up to be shot. Advisers Nick Timothy and Fiona Hill had managed May's brand throughout her time in the Home Office. They were in charge of her leadership campaign, then set up office inside Number 10. But they micro-managed, they access-controlled and, in doing so, they made an awful lot of enemies. One senior Tory summed up the mood to The Telegraph: "This is bad. It's worse than bad. Her advisers should walk out of the door now never to return, regardless of the final result."
They should certainly answer for the cowardice of their campaign. In 1992, with his back against the wall, John Major toured the country with a literal soapbox, orating at town hall meetings like it was 1952. Instead, May appeared aloof and chicken. She sound-bit, she waffled, she was never knowingly on-point. Major was expected to lose: he won. May was expected to win: she lost.
In sorting out this massive clusterfuck, the region of maximum importance may turn out to be the most overlooked and misunderstood of all. Like the relative you packed off to an old age home, we've all spent the last 20 years trying desperately to ignore Northern Ireland and its dense thicket of local issues.
If May is dependent on the DUP for confidence-and-supply, it may suddenly become quite fashionable to know quite what the Hand Of Ulster is, why it might be important and what exactly happens on the Drumcree Road every July.
They have nine MPs, and they're the only party returning MPs who probably wouldn't count as left or centre-left. They were whetting their lips at the thought of all the concessions. Meanwhile, Sinn Fein, who don't believe they should be in the UK, have historically never sent their MPs to Westminster, even though they hold four seats. That doughty principle is about to be tested to the max given that SF are also lefties of the unreconstructed Corbynite style.
Maybe. Who knows? Today will be just as long and confusing as last night. The only thing that's clear is that yet again the world is not where we left it, all the old certainties are being ploughed up.
Alongside it, the relevance of the once-mighty tabloids is declining. They mocked Corbyn in the press, it failed. They also said the youth vote wouldn't turn out, but that seems to have been decisive. Far from "It's The Sun wot won it"; from here on it, it's the young wot won it.