Welcome to Angus Take House – a weekly column in which I will be pitting two of the wildest takes the world's great thinkers have rustled up against each other. This is your one-stop shop for the meatiest verdicts and saltiest angles on the world's happenings. Go and grab a napkin – these juicy hot takes are fresh from the griddle.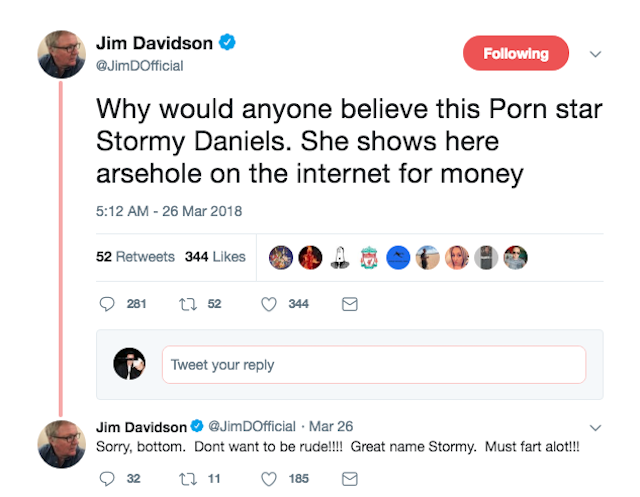 What's the story? Adult film-star Stormy Daniels claims she had a one-night stand with Donald Trump a year into his marriage and that she was intimidated into keeping the whole affair quiet. She is now suing the president over this "hush agreement".
Reasonable take: Hard to imagine anything damaging Trump at this stage. He is a better shock absorber than most sports bras.
Beef and Onion Take: Why would you believe here? She shows here arsehole on the internet! Must fart a lot!!!
Do you remember when there was an attempt to rebrand Jim Davidson a little while back? He went on Celebrity Big Brother and we were supposed to feel sorry for him as some sort of victim of cultural history. As though he'd been wronged by the socially progressive sands of time, and that, actually, that West Indian character he used to do in his stand-up sets was... good?
Well, the show's over, lads. The jig is up. Surprisingly, Jim Davidson isn't a very nice bloke, and this absolutely huge *THREAD* about the Stormy Daniels saga is another wonderful reminder of just that. Just an absolutely God-tier couple of sentences, that. "Must fart a lot!!!" Breathtaking.
The Trump/Stormy Daniels saga is a good old-fashioned scandal – sex, threats and lawsuits – so it's understandably caught people's imaginations. Yet, you'd struggle to find any writer who has so effectively taken an already grimy story to even lower places. The unequivocal horror of this take speaks to a man so desperate to defend Trump in all this business that he will go anywhere: silencing, gas-lighting, farting.
Strangely, these tweets from a long-since relevant gameshow host illustrate just how paper thin Trump's defence is. That, essentially, there is no defence for forcing people you've shagged into silence out of self-preservation. And, to be honest, Jim mate, if over-exposed arseholes are the mark of mistrust, then why should we believe a word you say?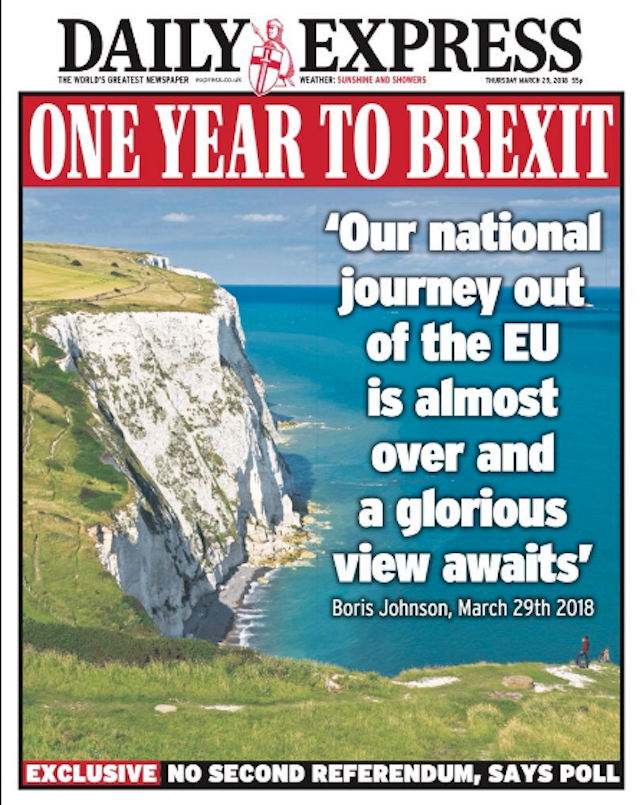 What's the story? We are a year away from Brexit! Oi oi!
Reasonable take: This is going to get a lot worse before it gets better.
Lumpy Mashed Potato Take: And now the glorious sun of destiny rises and we feel the warmth on our cheeks. And now the salt-air of prosperity skips over calm international waters and into our lungs, oh so already full with boyish wonder.
I realise that the Boris Johnson getting a bit over-excited about Brexit isn't necessarily headline news, but seriously, read this:
"THERE comes a moment in every great journey when the destination hoves into view on the horizon. That time is upon us now because it's exactly a year from today that Britain will be out of the European Union and re-engaging with the rest of the world."
Which is very "improv comedy group doing an impression of an epic movie trailer", isn't it?
The editorial is pretty straightforward: the big man just wants everyone to know he is really excited about Brexit. He honestly can't wait. Tony Blair can get stuffed. It's going to a screamer. To be honest, if it wasn't about exiting the EU, it would actually be quite a charming bit of writing: "Like an unstoppable express, we are heading for Brexit and frankly my friends, we can't arrive soon enough." Replace "Brexit" with "the pub" and sign me up!
Sadly, however, the destination that is heaving into view – dragging, lurching, collapsing into view – is not of a crisp pint, it's of insecurity and fear. Even if you're pro-Brexit, confident optimism at this stage seems at best delusional and at worst wilfully deceitful. As much as Boris would like to suggest otherwise, the view is not of a big ship bouncing on crystal waves and carting barrels of mackerel to China. It is a view, quite fittingly, of a cliff's edge.
Prime Cut: Jimmy wins it this week. As the saying goes: "Sorry, bottom. Don't want to be rude!!! Great name Stormy. Must fart a lot!!!"