A quarter of all homeless youth in the UK are LGBT. That's no small number, and some organisations – like Stonewall Housing, with its Finding Safer Spaces programme in Brighton, London and Manchester – offer housing help to LGBT rough sleepers. But they, like all homelessness services under austerity, are stretched, and people can slip through the net.
Earlier this year, Carla Ecola had the idea of providing a safe, welcoming place for members of the LGBT community who found themselves in crisis or facing homelessness. She founded The Outside Project and set up a crowdfunding page, which – in three months – had raised £11,000, allowing them to buy an old 12-bed tour bus which they now use to provide crisis shelter housing for London's LGBT homeless.
I met Carla at the bus for a chat.
---
WATCH: Squat the Rich – The London Activists Squatting Empty Multi-Million Pound Buildings
---
VICE: Hi Carla. I love what you're doing. Where did you get the idea from?
Carla Ecola: My idea to have an actual shelter came from working in outreach services and homeless services, and not seeing many queer people coming through the doors – and if they did, they were quite isolated. Before that I had squatted for years and had never got involved in any homeless services. I was what you call "hidden" homeless now [people the authorities are not aware of who find temporary shelter themselves]. Queer people who live in squats and sofa surf and that kind of thing, they don't go into the system or they don't feel it's their place.
When I actually did go into Crisis Skylight Centre it was full of men, and there wasn't anybody like me there at all. So it was a combination of needing to ask for help at some point and not really feeling like I was deserving of it because I wasn't "street" homeless, cradling a bottle of cider and taking heroin. So I looked at getting a tour bus and emailed everyone I could find. Mike Moulds from MM Band Services got in touch and said he had this bus that he was going to retire, and wanted it to go to a good cause. He basically gave it to us for the cost of the recent parts they put on it. He's a really charitable guy. It's in really good condition!
How did you raise funds?
It's mainly been the queer community here in London. Venues giving us their spaces for fundraisers, performers, poets, comedians. Amanda Palmer from the Dresden Dolls did a gig for us, friends helped, friends of friends. Our friend Tali invited us along on the Pride PUNX march at Pride this year, which kicked off the fundraising and got us some exposure. We went up to festivals, we went to Grass Movement and had a sober space up there. We were even invited to people's birthday parties, where they'd tell the guests, "Don't buy me any presents, give your money to the Outside Project."
What specific difficulties do LGBT people face when being made homeless?
That feeling of being outside of services, not really feeling like you can be yourself if you're using those services. Going into "stealth mode" is common in the community, whether you're going to the doctors or whatever – the challenges of being open about your sexuality or your gender identity is something you have to face throughout the day. But when you add in the pressures of being in crisis or being homeless, and the fact that you may be met with hostility, you're even less likely to disclose that information. If you're going into a room that may have typically been hostile to you in the past, you're just not going to do it. It's a societal issue of prejudice and hate crime that people have had to put up with for their entire lives which stops them from feeling like they can access a service. There's also a lack of awareness and training within the sector in how to support our community properly. I think there are definitely some holes in the sector where they might turn people away or make them feel unwelcome. When sleeping rough, I guess there's abuse, sexual violence and hate crime.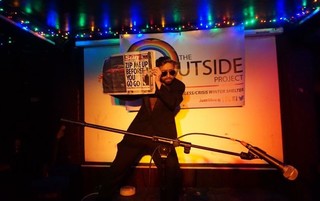 How will the bus work?
For the pilot we won't be a direct access place; we'll get referrals in from domestic abuse partnerships – Gallop, Stonewall Housing and other outreach teams will be leading and will do the case work for our guests to try to resolve their issues. On the bus we will be friendly faces offering help with the here and now: what do people need? Food, clothes, a shower, somewhere to sleep and safety. We've got so many awesome volunteers with ideas for workshops. We've got offers of massages, drag make-up workshops, vogueing… it's going to be mad!
Where will it be?
It's going to be in a secure location. We can't say where, to keep it safe from hate crime, angry exes, violence. A lot of people coming here will be fleeing domestic violence, so we need to keep it safe. I will say it's currently in Barking and Dagenham – they've been very welcoming to us. We plan to open at the beginning of December. We have some training sessions for the volunteers and some other things to do, like sanitation and power security.
What's your hope for the future of this project?
To have our own space that's big enough for the amount of referrals we're going to have. Also to educate and support the sector to be more accessible to our community so we don't have to have segregated spaces as much. We should be able to access the services that are already there and feel comfortable doing that.
Thanks, Carla. Good luck.
Keep up to date with the Outside Project here; donate money here; and details about their Night of Solidarity event can be found here.
More on VICE:
Why Queer People Need Chosen Families
The Anarchist Squatters Housing Manchester's Most Vulnerable Homeless People
London Councils and Cops Are Confiscating Homeless People's Tents