Greggs, everyone's favourite high street bakery, is known for sausage rolls, steak bakes, and every icing-topped, whipped cream-stuffed, doughnut-based sweet snack under the baked goods sun. It's food that satisfies rumbling stomachs, soothes hangovers, and wins over Hollywood movie stars.
Greggs is many things to many people. What it isn't, however, is particularly healthy. Despite this, the bakery chain announced today that it had released a diet plan designed to help customers lose weight.
The questionably named "Minimise Me" plan claims that by exclusively eating Greggs products for breakfast, lunch, and dinner (plus snacks) for 30 days, it is possible to lose up to two pounds per week. The seven-day plan, put together on behalf of Greggs by a dietitian, is to be repeated over four weeks for full effect—and presumably to make the bakery a tasty profit in the process.
Greggs published the plan on its website alongside testimonials of customers who have successfully followed the regime and lost weight. It includes many of the bakery's low-calorie options like salads and wraps, but also its better known pastry offerings. A typical day's menu includes porridge or an egg roll for breakfast; a falafel salad, katsu chicken bake, or pizza for lunch; a ham salad or chicken sub roll for dinner; and almond bakes, fruit, or yogurt as a snack.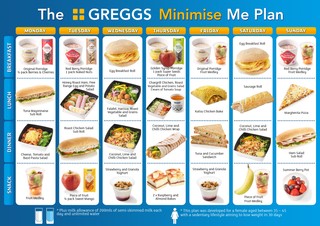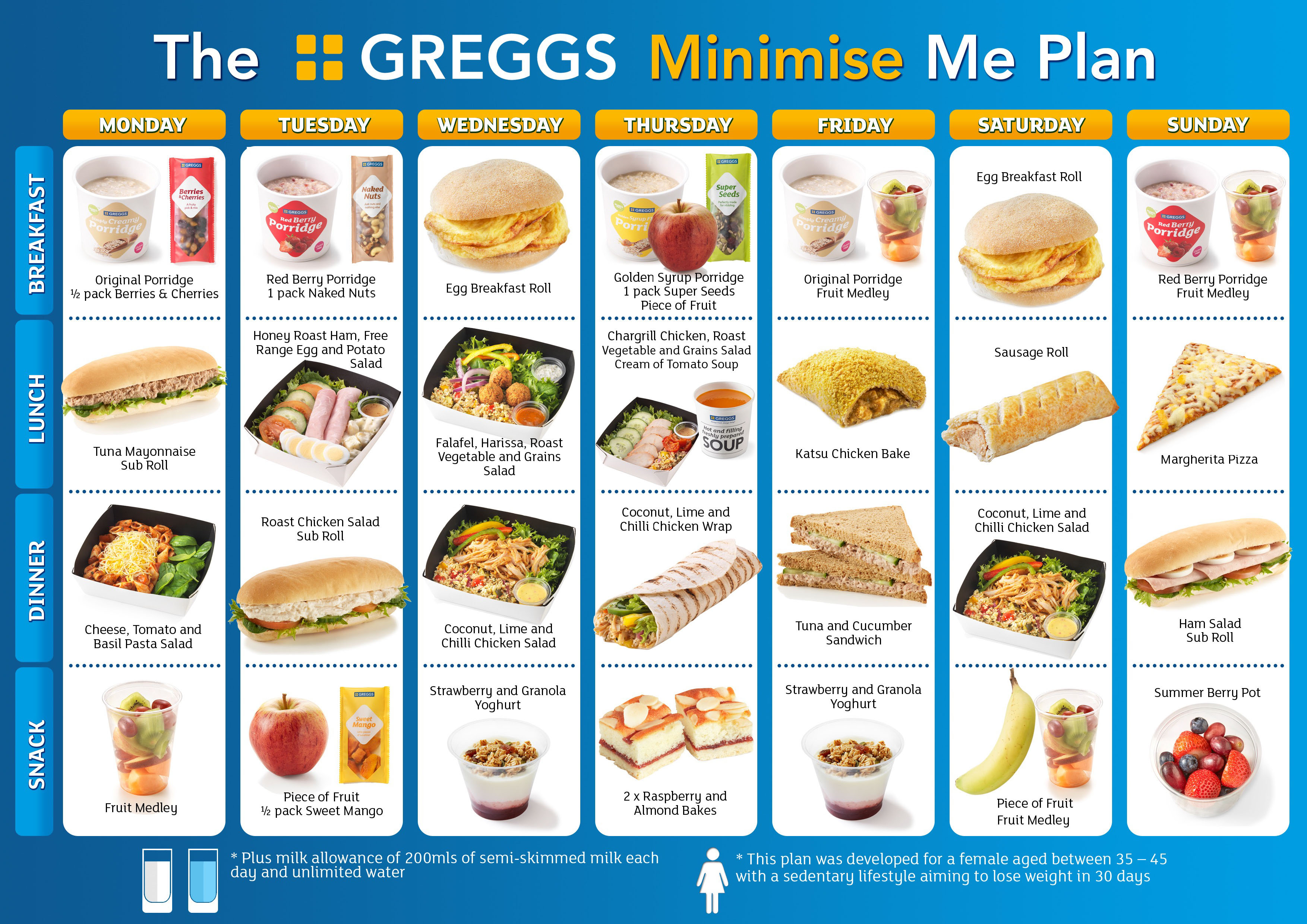 In a press statement, Greggs customer director Hannah Squirrell explained why the bakery had decided to publish a diet plan. Squirrell said: "We wanted the experiment to be enjoyable and fun and as far as we know, this is the only diet plan to incorporate sausage rolls and doughnuts—all in moderation of course! As part of our commitment to providing lower calorie options for our customers and given our strong presence throughout the UK, we have been developing our Balanced Choice menu further, which now includes a range of new salads, sandwiches, wraps, bakes, porridge, fruit, cold pressed juices, drinks, and snack packs all at under 400 calories."
But does the diet actually work? MUNCHIES reached out to Duane Mellor, dietitian and spokesperson for the British Dietetic Association, for his opinion on the Greggs plan. He told us: "Looking at the plan, there's no reason why it wouldn't work because it's an energy-controlled diet. It's likely [you'll lose weight] if your energy requirements are bigger than the amount you're eating. But in terms of a long term, globally complete diet to meet recommended guidelines, it's going to be struggling in a few areas."
Mellor continued: "You're unlikely to meet your five-a-day on several of the days like the Saturday where you have the egg breakfast roll in the morning, a sausage roll for lunch, a salad in the evening, and fruit medley snack. The other thing to look at if you're doing it long term is the amount of fibre. I would think things like the sausage roll and the bun for the egg roll are made with white flour and unlikely to provide a lot of fibre. The plans gives you ideas of convenient ways of having one or two meals [at Greggs] that will fit in with a wider healthy eating plan, but it's not necessarily a perfect diet in the long-term."
But in the short-term, sausage roll, anyone?