All photos by Alexander McLuckie
Lance Walsh has been in and around Soho since he was nine-years-old. He's a family man, has three kids, and runs a fruit stall on Berwick Street, home to the famous rows of market stops as synonymous with London's history as the Bow Bells. Originally he worked on the flower stall. "I used to help on a Saturday and we used to always drink in the pub The King of Corsica. I was a locksmith, and then I just stayed on the market, got me own stall. But I do exotic fruits, you know, because I get more money out of it."

The King of Corsica, named after the German Theodor Stephan von Neuhoff, who aided the Corsican independence fight from Genoa in the eighteenth century, and died a poor man in Soho, was changed to The Endurance in 2012. Its nouveau pub food – little lamb chops arranged in a pyramid with a smattering of gravy encircling it – wasn't doing it for anyone, it seems. The Endurance is now a Chinese gastropub called Duck and Rice. Who knows what it will turn into when the crunching, screeching sound of development behind the market eventually cranks out The Hub Hotel, the new venture by those cool cats over at Premier Inn.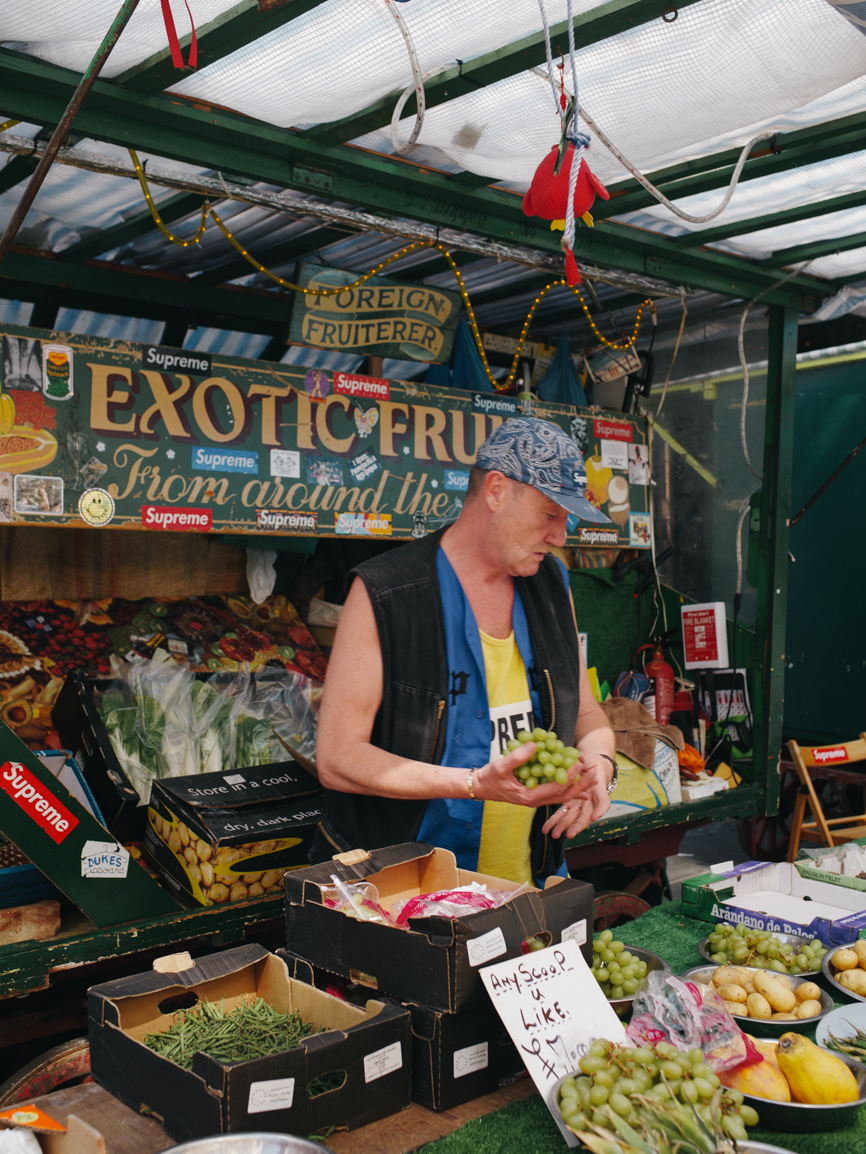 Lance is a bit of a face around the market, and has been for the past few decades. Recently, though, he's become famous online, for wearing Supreme. A small profile of him appeared on Vogue's website, and then on Hypebeast. But a hype beast he is not. Before the store's London branch opened on the street adjacent to where Lance has his stall, he was already showing off his sartorial selections to the good punters of Soho's market. He's not buying it to sling it on eBay or Grailed minutes later.
"I don't collect it, I never buy two of anything to sell. I buy what I like and I wear it. The stuff that I get, it lasts," he says.
Lance exudes the cheeky camp that inevitably comes with holding a home for so long in one of London's most notorious party districts. He's a tall man with a weather worn face and a couple of bits of tasteful jewellery painting his fingers and wrists. He wears the black Supreme x Nike Uptempos on his feet and a trio of yellow, blue and black vests. Tartan shorts are completed by the (perhaps unwittingly) fashionable accessory of a leather money belt, needed to keep the cash from passion fruit sales safe.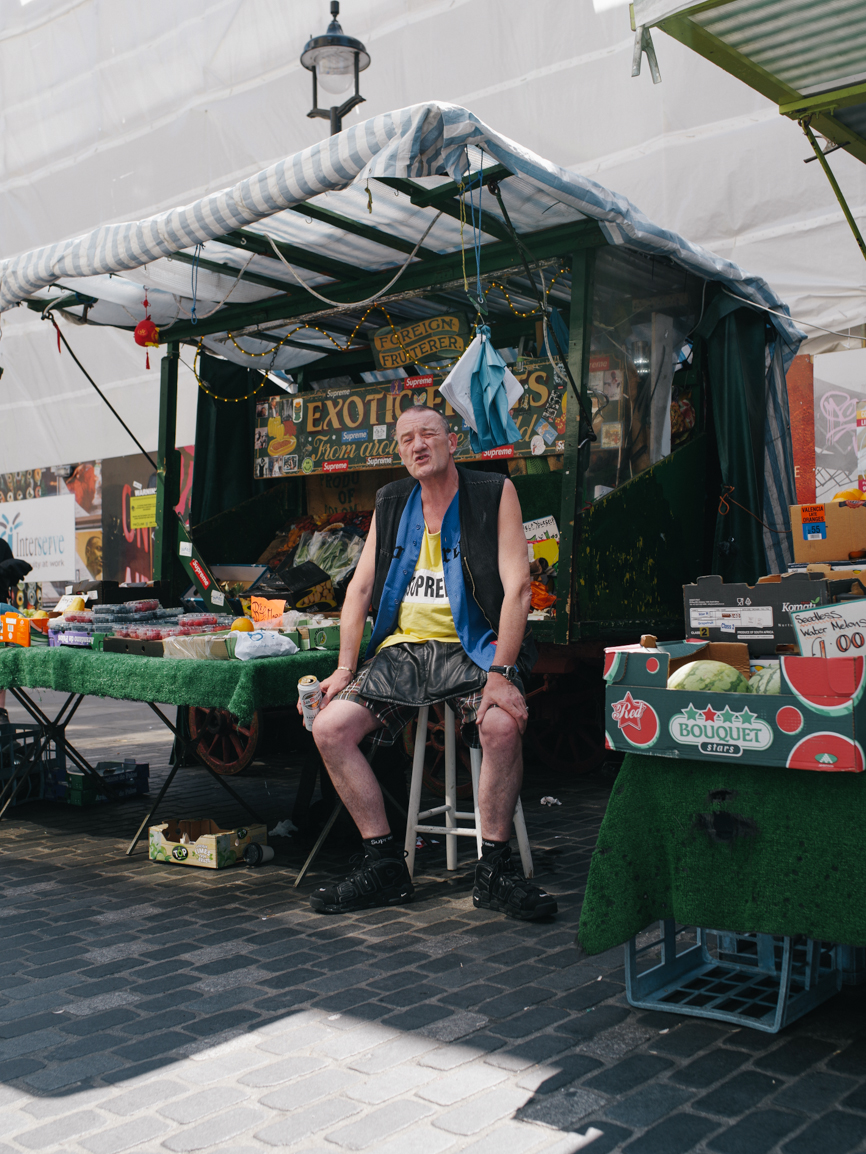 "When I left my ex-bird I had no clothes. I know Jagger [manager of Supreme store], and he gave me a hat in the winter, like three years ago. I used to get bits each week. Only what I like."
Lance isn't just popular because he wears Supreme, it's because he wears it in a way that all the people who queue up outside the shop wish they could. It's all well and good spending £300 on a t-shirt, a jacket and a hat, but if you look like shit it's pointless. Lance is imbued with a sense of style, and he knows what works for him. He can match colours, textures, fabrics. It's a skill a lot of kids don't quite get yet. But there's time to learn.
Supreme has bouncers now. The bouncers, inexplicably, wear black suits with red ties, like they're in My Chemical Romance. Around the corner is a new shop called Duke's Cupboard, run by a guy called Milo, who has known Lance since he was a young boy. Milo is a child of the market too.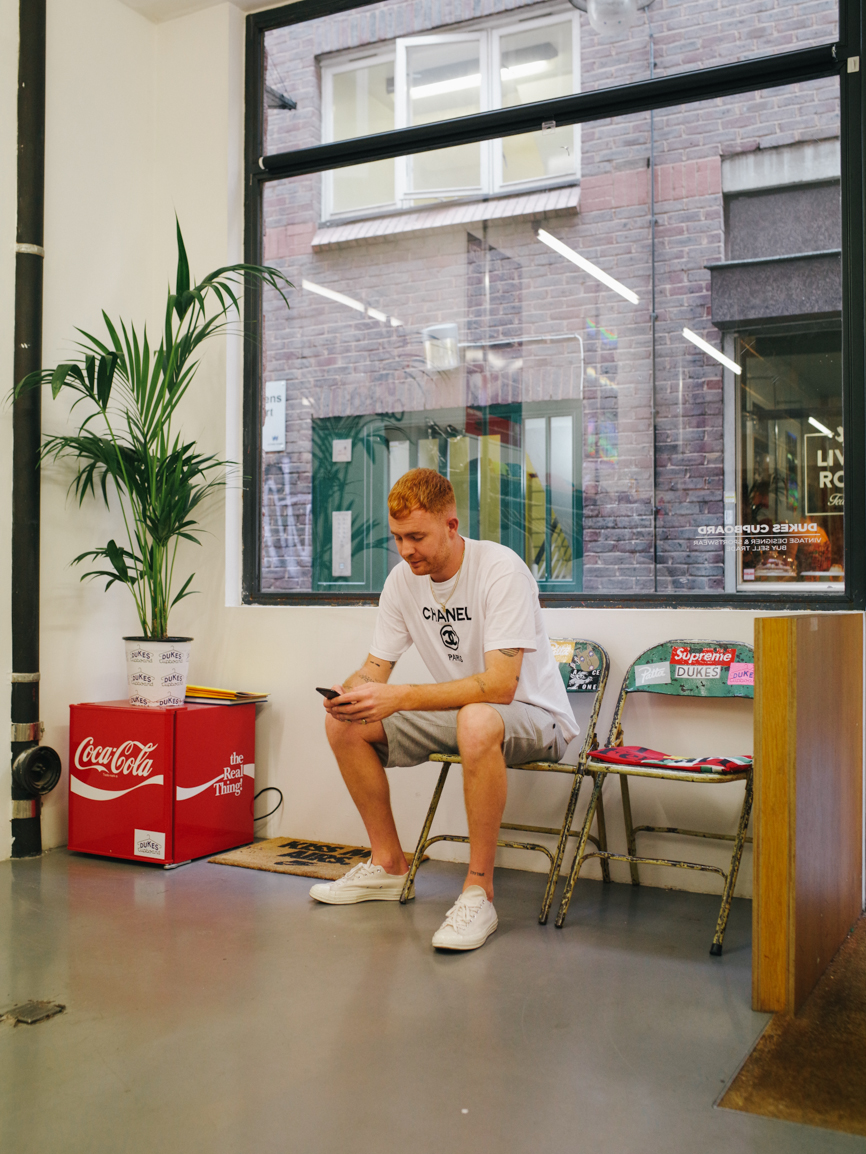 "I used to go and buy Ralph Lauren off [Lance]. He's got a mad collection of like Arc'teryx jackets like outerwear stuff because he's been on the market for 30 years or 40 years or however long. He's just always been into clothes I think. Someone told me he used to be a model actually when he was younger."
Does he think his experience on the stalls as a kid lends itself to selling clothes now?
"Yeah, I mean everything I learned about this I learned on a market stall. It's all the same principles as selling fruit and veg. Obviously they buy all of that stuff in bulk whereas our stuff is all handpicked so it's a little bit different. It's just such an old school mentality, and it's very British to be like, trading on a market stall all year round. It's quite cool and it's a big part of Soho's identity."
Lance doesn't mourn the old Soho as much as you'd think he might. In fact, his attitude is one of staunchly staying with the times, one of reinvention.
"You've got to go with the times. There's still the old characters, or new characters, because the old ones die don't they? D'you know what I mean? There's still a million crack heads. It's natural change innit, what can you do? I'm from the past, you have memories. I used to go like Whisky-a-Go-Go and Legends and all things like that when all that started 'cause I was always out then. I've always been out, maybe I've been out raving but I've always got up and gone to work, know what a mean? You've got to change with the times, or you won't survive will you?"
Soho will most likely never be the vibrant den of iniquity it once was – though much of the iniquity hasn't moved from its fag-butt-strewn gutters – but people like Lance will (hopefully) always serve as reminders of what once was. He's like a living history actor, but real and dripping in trendy clothes and not serf's rags. He's in himself an attraction, famous the world over (but mostly in Korea). Does the attention ever get annoying?
"No, it makes me smile. You know why? It could be my kids who come up, know what I mean? I don't mind them coming up cause I gotta tell you, they're all polite, especially the mothers when they come up. It makes them happy don't it? So it don't bother me."
The maddening, searing sound of construction rattles behind Lance's stall, as he sits happily flogging fruit, unfazed by the changing surroundings. He's a survivalist, Ray Mears in a box logo tee. Still, some things are better than they used to be, as he reminisces about the dustmen's dispute in the 1970s, when Hackney's bin men went on strike over pay.
"All it was was a mountain and rats running everywhere. It were mad. And what was I? I must have been about fifteen then, seventeen or something. Nah fifteen. '75 whenever it was. But you see you'd never see that again."
There may not be the hum of rotting trash in Soho anymore, but to many, the proliferation of regenerative shops and bars and restaurants, flying in the face of the Soho of yore, can be just as smelly. Lance doesn't quite accept his fate - the market is still too much of a historical landmark to be destroyed, try as they might – but he knows he must adapt, and does so with gusto. Besides, if he got moved on with all the other relics, the journey to his new favourite shop would be all the longer.
More from VICE:
I Traveled to Every Supreme Store in the World to Understand the Meaning of Supreme
We Reviewed All That Corbyn-Themed Streetwear