"They build luxury flats for the rich and ovens for us," said one man over a loudspeaker outside Kensington and Chelsea Town Hall on Friday evening.
Protesters had gathered outside the building to vent their fury over the Grenfell Tower fire, chanting, "Theresa May must go."
A simultaneous protest was marching to Downing Street, with demonstrators chanting that the Prime Minister had "blood on her hands". Earlier, she had to be escorted by police as she left a church visit to avoid angry locals.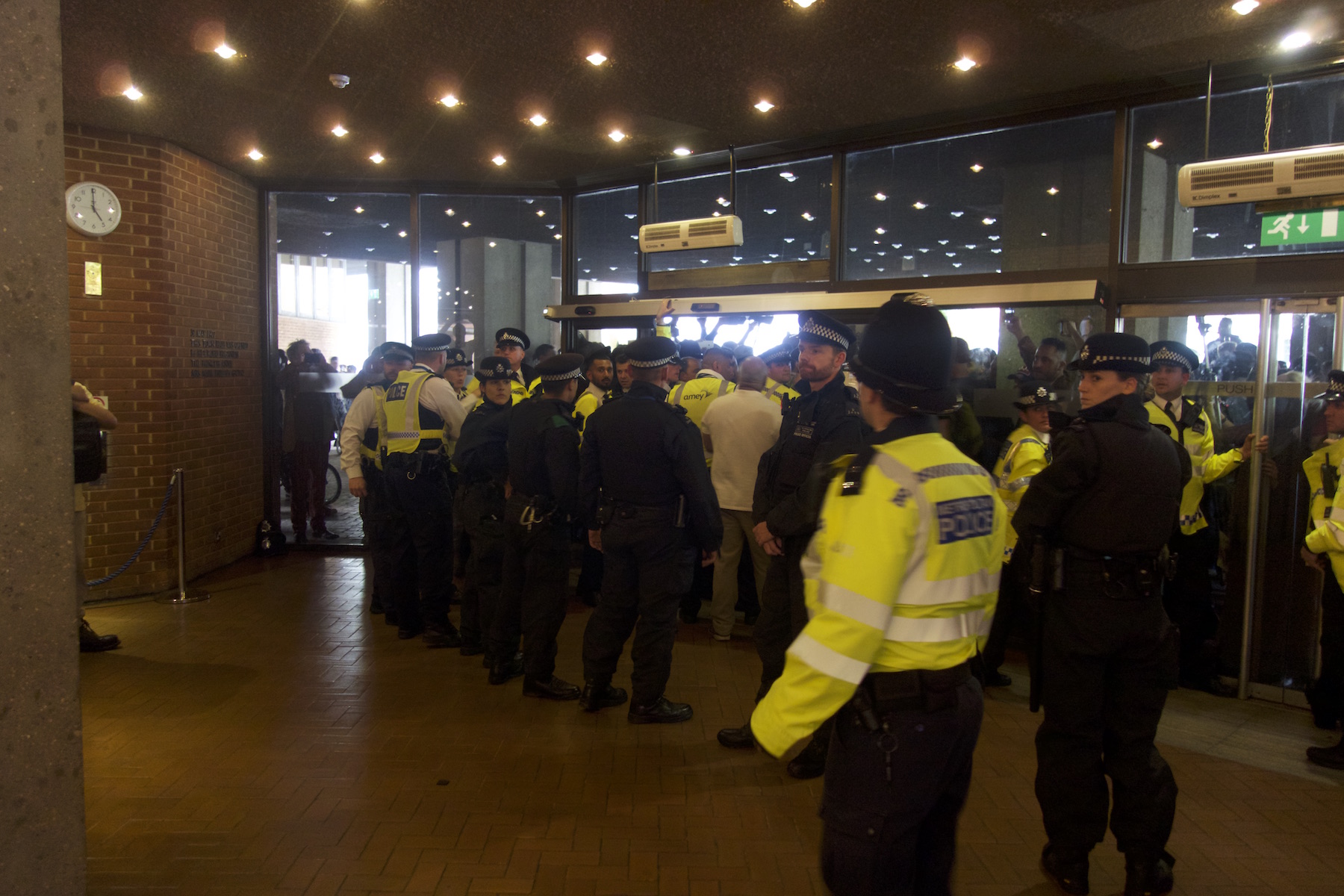 As I arrived at the town hall, some protesters were still standing outside, while others had stormed the building. The hall is the seat of the Royal Borough of Kensington and Chelsea, the top of a local governance structure that now-infamously failed to heed repeated warnings about fire safety from residents of Grenfell Tower.
Inside, the base of the stairs in the lobby was guarded by police, and protesters clamoured to say their piece on a megaphone as people chanted "lock them up".
Just a few metres back from the chaos, a protester called Jake, 32, sat calmly, dangling his legs over the town hall's reception desk.
He had witnessed the fire and had come to the protest from helping take donations for the former Grenfell residents who've lost everything. He told me, "When [the Town Hall] first got stormed it was like half and half. There were some people that were like, 'Yeah, let's just go upstairs, fuck it.' Then there was another half – myself and a couple of others – who were trying to calm them down. A few young ones broke through upstairs and started ripping things down off the walls… then they went to the top floor, booting the door – again [security] blocked it, innit. A few of the elders came up and kind of ushered people downstairs… we were just trying to stay here just as a silent protest, and they came back in again."
As for the tower, Jake referred to the cheap cladding believed to have helped spread the fire; "The surrounding areas are quite prestigious, so they didn't want an eyesore. But they didn't think about things like sprinklers, things like fire escapes, things like actual proper plans for getting people out of there, so just to make something look nice for someone who's got a bit of money, people have died.
"It's been a story of inequality for many, many years. It's just situations like this that bring it to the forefront."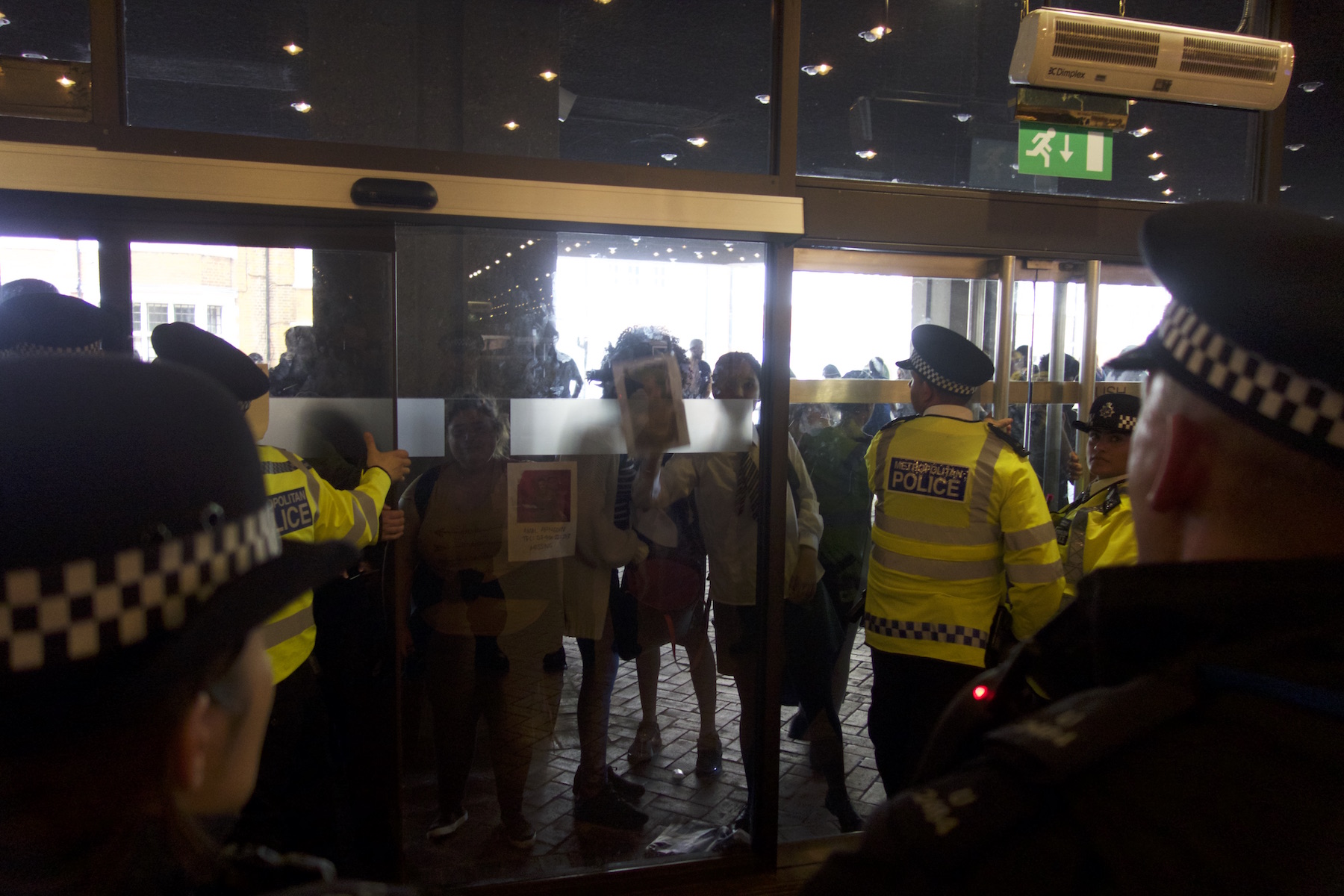 One man on the loudspeaker said, "People have lost friends and family. We need answers. We need solutions. People need to be compensated. People from this corporation need to be arrested… This is corporate genocide." He then called for Robert Black, the boss of the KCTMO management company, to be detained for questioning.
A line of police formed at an open set of doors to the town hall as more protesters tried to get in. People pressed printed notices of loved ones still missing up to the glass for the police to see. These posters – which now litter the area surrounding Ladbroke Grove – seem to have been transformed into symbols of accusation.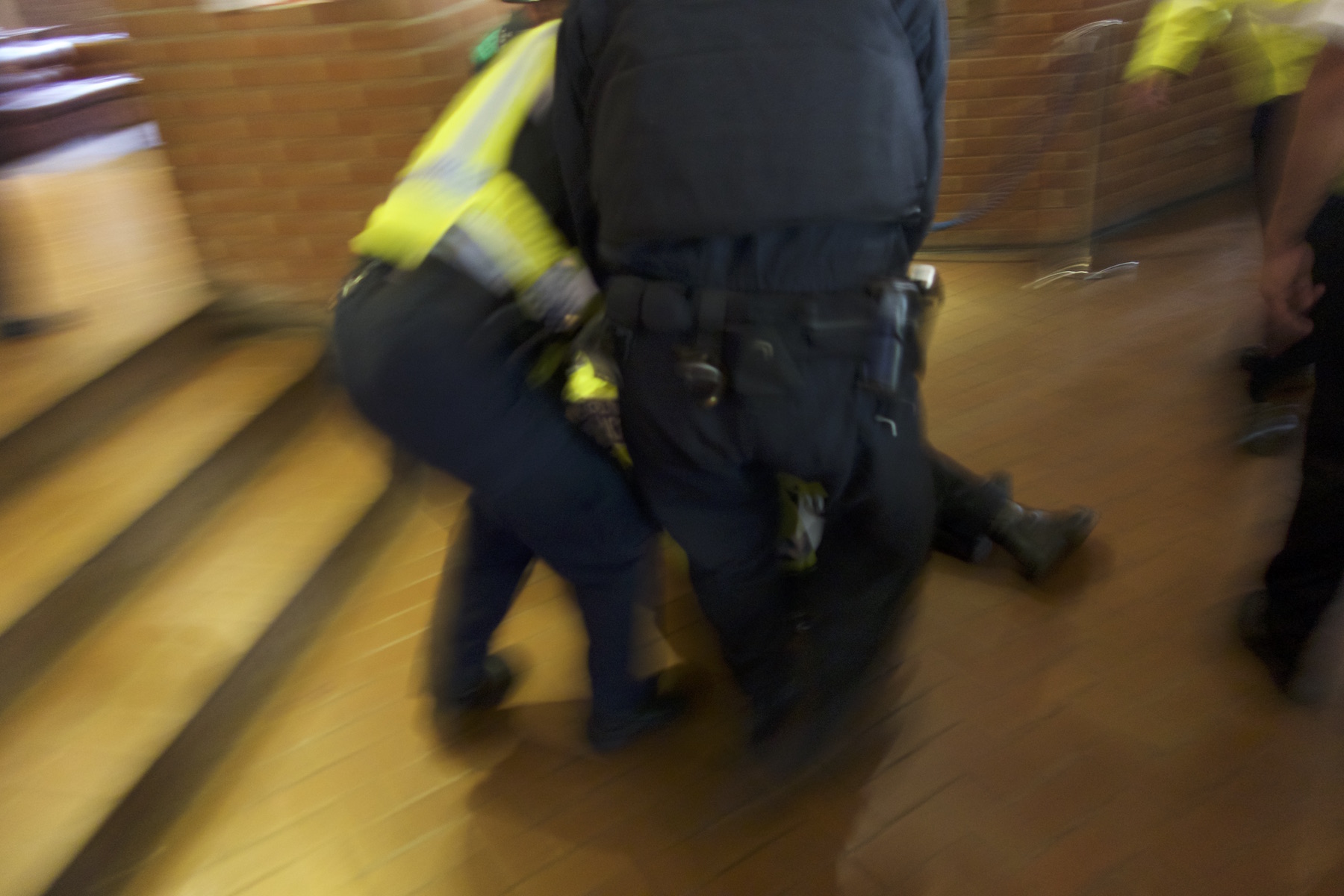 The line barely held as the crowd heaved. People banged on the glass facade and tried to push against locked doors as panicking officers rushed to reinforce them from buckling under the pressure. A missile was thrown and I saw an officer fall to the ground. He was carried back from the fray as his colleagues shouted for a medic.
The protesters who were already inside the building screamed into a loud hailer, trying to tell those outside to calm down. "We still need to bury our dead. Let's not become the villains," said one. Others shouted that violence is "what the media want".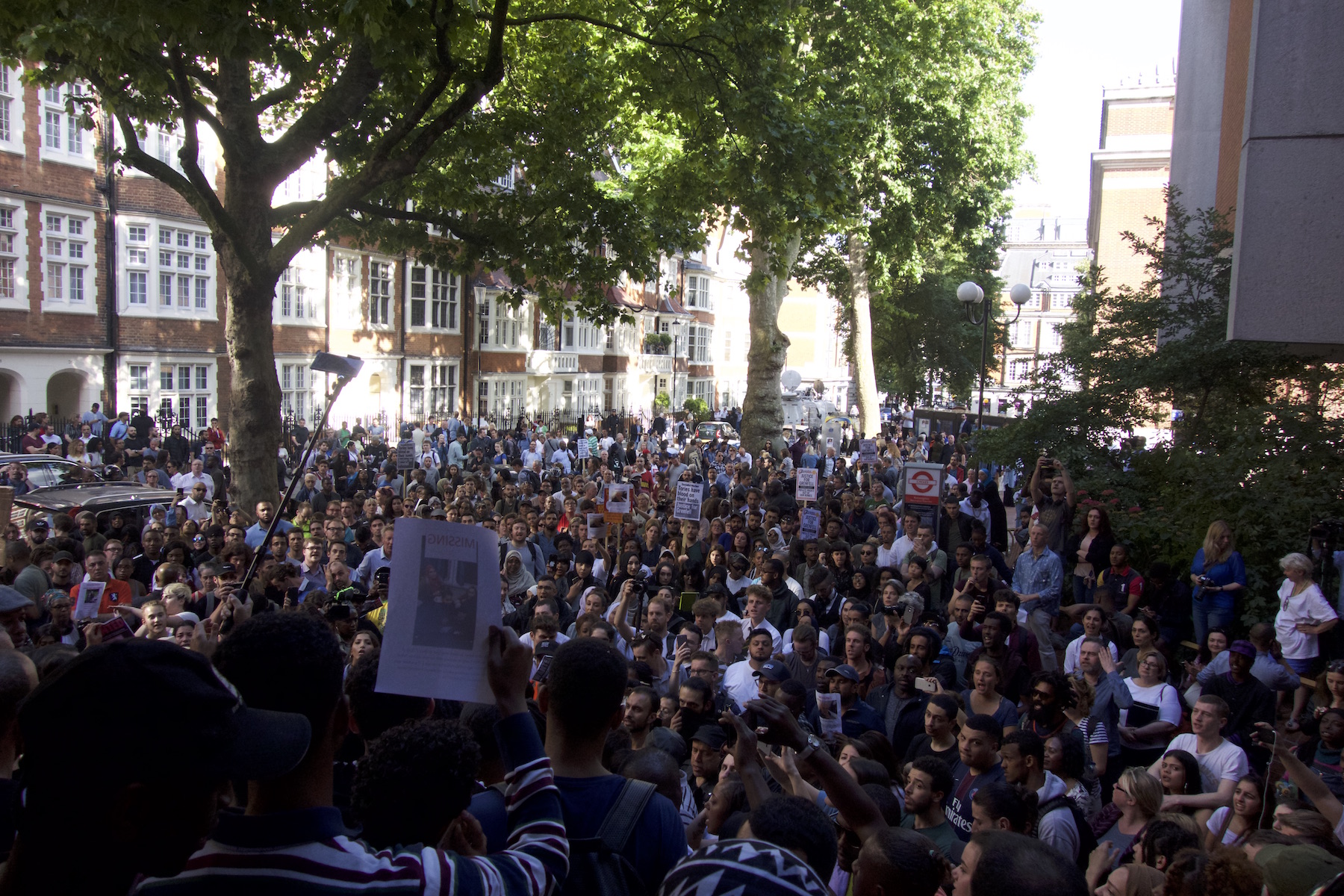 The pandemonium simmered down as it became apparent nobody else was getting in. "This energy is a warning," came a voice from the crowd. People stuck around to berate the cops. "Why you protecting a murderer for?" one guy said in repetition. "If you're real, put your badge down," said another.
The police have been praised for protecting fire fighters from falling debris as the tower burned, but here were seen to be defending those deemed responsible. One woman suggested that if they really wanted to help, they'd take the day off and volunteer with the community, to make better use of their time.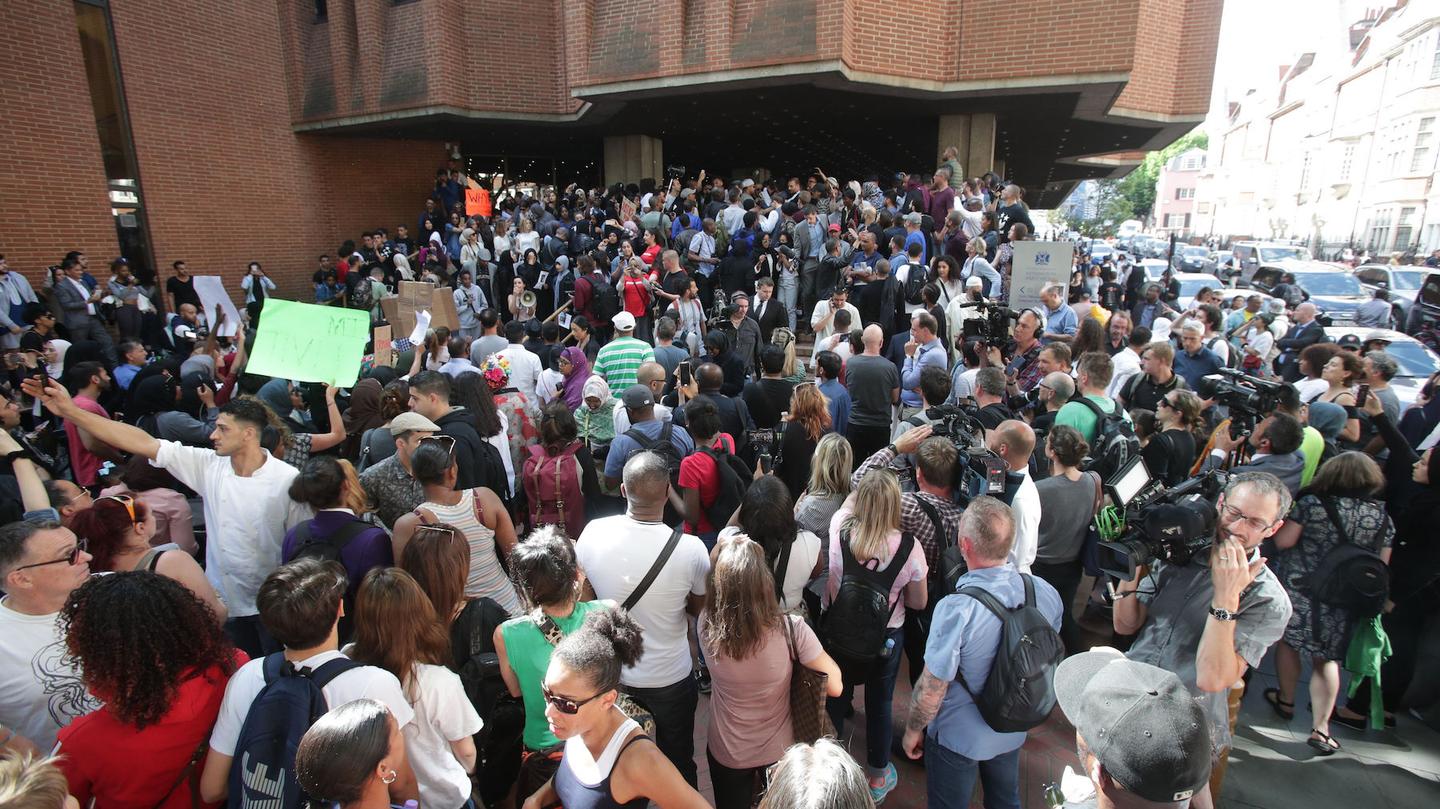 The government has tried to defer awkward questions by hiding behind its announcement of a public inquiry. In doing so, there's a risk that they could frame the fire as a simply technical matter – questions to be asked, mistakes to be learned from, bad apples to be made examples of. On the street, meanwhile, the tragedy is being understood as a consequence of systemic contempt for the lives of people who live in social housing. Outside the town hall, people were making speeches that weaved matters of fire safety and political accountability into a narrative of inequality and class politics.
As one speaker said, "[Grenfell Action Group] knew this kind of thing was going to happen. We're not stupid, poor, working class people; we are intelligent working class people… 600 people in one block and they couldn't afford no sprinklers, no back door. What is that saying about what we do? Do you know where all the resources came from in this country, because nothing grows here? Us, right here."
After that, there was a lively march back to the block – or, as people were calling it, "the scene of the crime".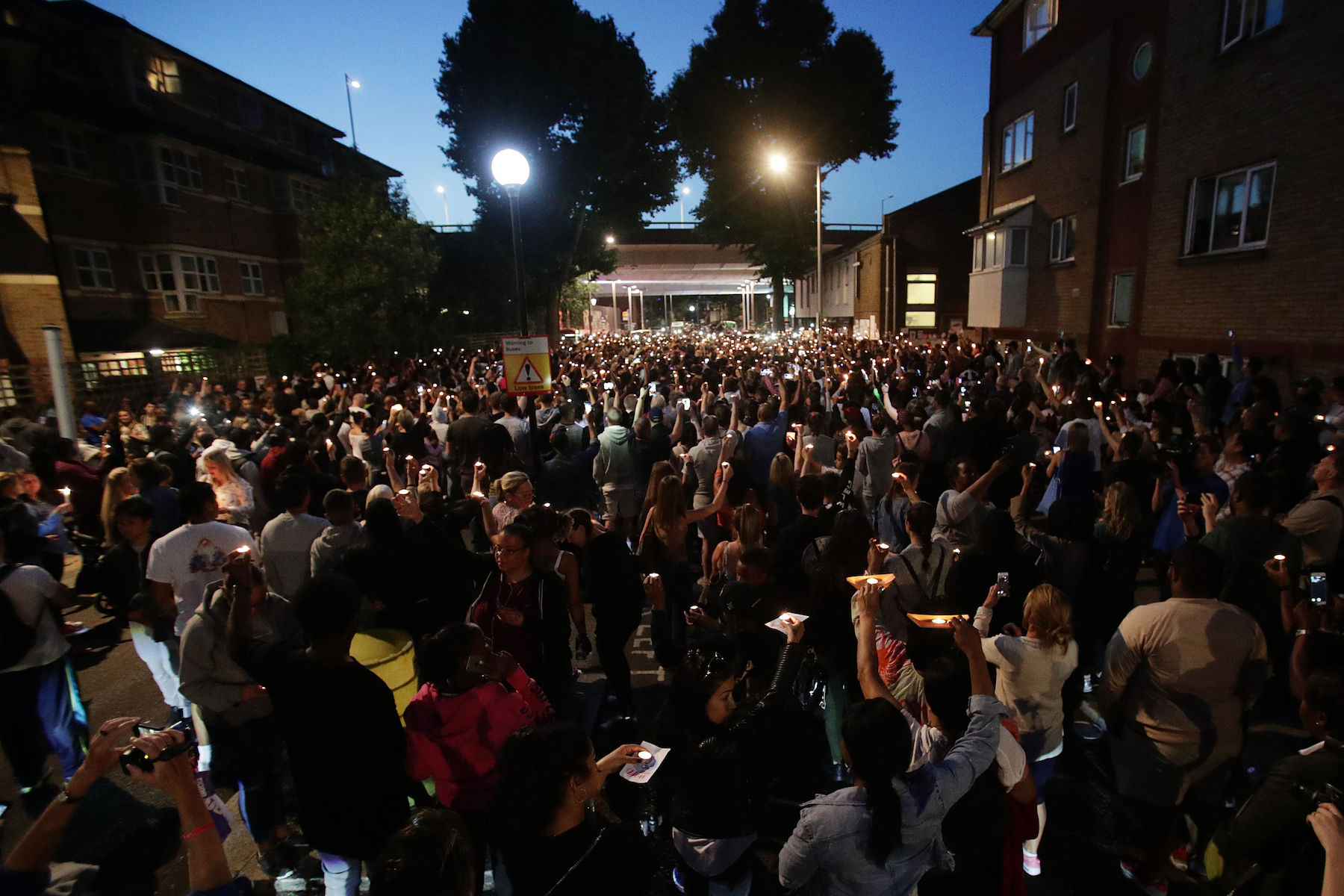 Walking around the nearby streets in the evening, you couldn't help but overhear talk of a riot potentially kicking off at the vigil that was to take place later on. "Watch where you park your car," I heard one man advise his friend.
By night time, the scene was quite different to the one some had anticipated. In the streets surrounding the tower – its gutted skeleton now a haunting monument – people gathered holding candles, crying as they sung "Change Is Gonna Come" by Otis Redding, "This Little Light of Mine" and "Three Little Birds" by Bob Marley. The songs were accompanied by the sound of a police helicopter buzzing overhead.
As a friend of mine observed, the cost of that single deployment – let alone the rest of the day's policing operation – could have taken a chunk out of the £5,000 it would have cost for higher quality, more fire-resistant cladding for Grenfell Tower.