Despite being France's second city, Marseille was little visited by foreign journalists seeking to explain the underlying causes of France's most divisive presidential election in decades. Instead, the affluent central arrondissements and depressed suburban banlieues of Paris bore the brunt of journalistic portraits of the country's social problems, enlivened with trips to the decayed industrial hinterlands of the northeast or the central wine-producing la France profonde to provide the mix of local colour and provincial rage necessary in portrayals of the Front National and its voters.
Yet, in an election largely driven by fears of dwindling security and mass Muslim immigration, Marseille presents many of the issues dividing France in starker relief. With a Muslim population estimated at anything between 25 percent and 40 percent of the city's total – the French government refuses to collect ethnic or religious data on its citizens – Marseille presents France, as the right-wing polemicist Eric Zemmour claimed in a controversial 2016 speech, with an image of its demographic future. As France's crime capital, with a steady drumbeat of fatal shootings fuelled by the drug trade and the easy accessibility of smuggled automatic weapons, in Marseille issues of security are also prominent.
While the city has so far escaped a major jihadist attack along the lines of the many that have killed 239 French citizens under President Francois Hollande, last summer's atrocity in nearby Nice – which saw 59 pedestrians mowed down by a stolen truck driven by a Tunisian immigrant, claimed by the Islamic State as one of their operatives – has fuelled a sense of insecurity in the city. So too did the disruption of a suspected major ISIS plot in the city over the election period, as well as other smaller, though no less alarming, incidents inspired by the Islamic State's vigorous propaganda machine.
Following young Front National activists around Marseille, the topic of security is at the forefront of their pitch. According to Eleanore Bez, 40, an FN activist and candidate for June's legislative elections, "Whole areas have become delinquent, and as we've seen this petty criminality often leads to the start of Islamism. It's the way things work here – we've seen the shutting down of entire areas, which today are no-go areas for the police, doctors, firefighters, even for workers doing the water pipes. The government has done nothing. They have asked to empty the prisons. The judicial response is non-existent. The police do their job. The know all the attackers, all the terrorists, all the files, all the names, all the groups, but they never stop them."
---
WATCH: France's Anarchists Clash with Police on May Day
---
This controversial claim of "no-go zones" – referring to the poor and crime-ridden monolithic housing projects of Marseille's mostly Arab Quartier Nord – is one that features prominently in local FN activists' diagnoses of their city's malaise.

Sophie Grech, 31, a police forensics officer and FN organiser in the Quartier Nord, claims: "You can go to the northern neighbourhoods, but there are certain estates where you mustn't go. At the entrance, they block you and say you're not allowed in; they frisk you. I went there to campaign in the Quartier Nord. I went to hand out leaflets. There were two buildings. I climbed the steps to go in. Then the lookouts came down, masked, asking what I was doing there, and I said I was handing out leaflets, and they said no, I couldn't come in. Not me, not doctors, not firefighters, the ambulance services, the police. It doesn't affect them, these politicians. Their daily lives are not affected by violence, by crime, by insecurity. They are isolated from it. They are disconnected from the reality of what's going on. And they don't give a damn."
This account was impossible to corroborate, but either way, because of the sense of growing social disorder, the Front National are able to draw on a significant degree of support from the police – a constituency Le Pen has assiduously courted. According to a 2015 poll, more than half of French police officers vote for the party, and this figure is likely to have surged in response to the exponential growth in jihadist attacks on French security forces since then, including the 2016 murder of a husband and wife pair of police officers in their home in front of their young son, streamed on Facebook Live and claimed by the Islamic State, and last month's fatal shooting of a police officer in central Paris, also claimed by ISIS. "Yes, yes," claims Grech, "the FN is very popular with the police. Because we are the ones who are confronted with the reality every day, of poverty, of insecurity and violence. I would say that at least 80 percent of my colleagues will vote FN."
"The only party, the only person who tells the truth to the French people, who faces up to the reality, is Marine Le Pen," adds Grech. "She doesn't lie, doesn't tell us that immigration has nothing to do with terrorism. She tells us the truth – that there is a link between immigration and security. I think it's a really important theme and one that allows people to sign up to the FN."
According to a recent Chatham House poll, 61 percent of French voters now support an absolute ban on Muslim immigration to Europe, a figure dwarfing American voter support for Trump's mooted Muslim ban and an indication that Le Pen's message is backed by a significant number of French voters, even if they cannot bring themselves to vote her into office. The sense of a wider French malaise has made bestsellers of apocalyptic books such as Eric Zemmour's 2014Suicide Francaise, which claims the country is drifting into terminal decline, and Michael Houellebecq's novel Submission – published on the morning of the 2015 Charlie Hebdo attack – which portrays a France quietly morphing into an Islamic state through a combination of apathy and internal rot. With over 17,000 French citizens officially registered as potential terrorists, and around 1,000 French recruits having joined jihadist groups in the Middle East, primarily the Islamic State (an unknown number of whom have now returned to France) the country's immediate security picture does not look reassuring.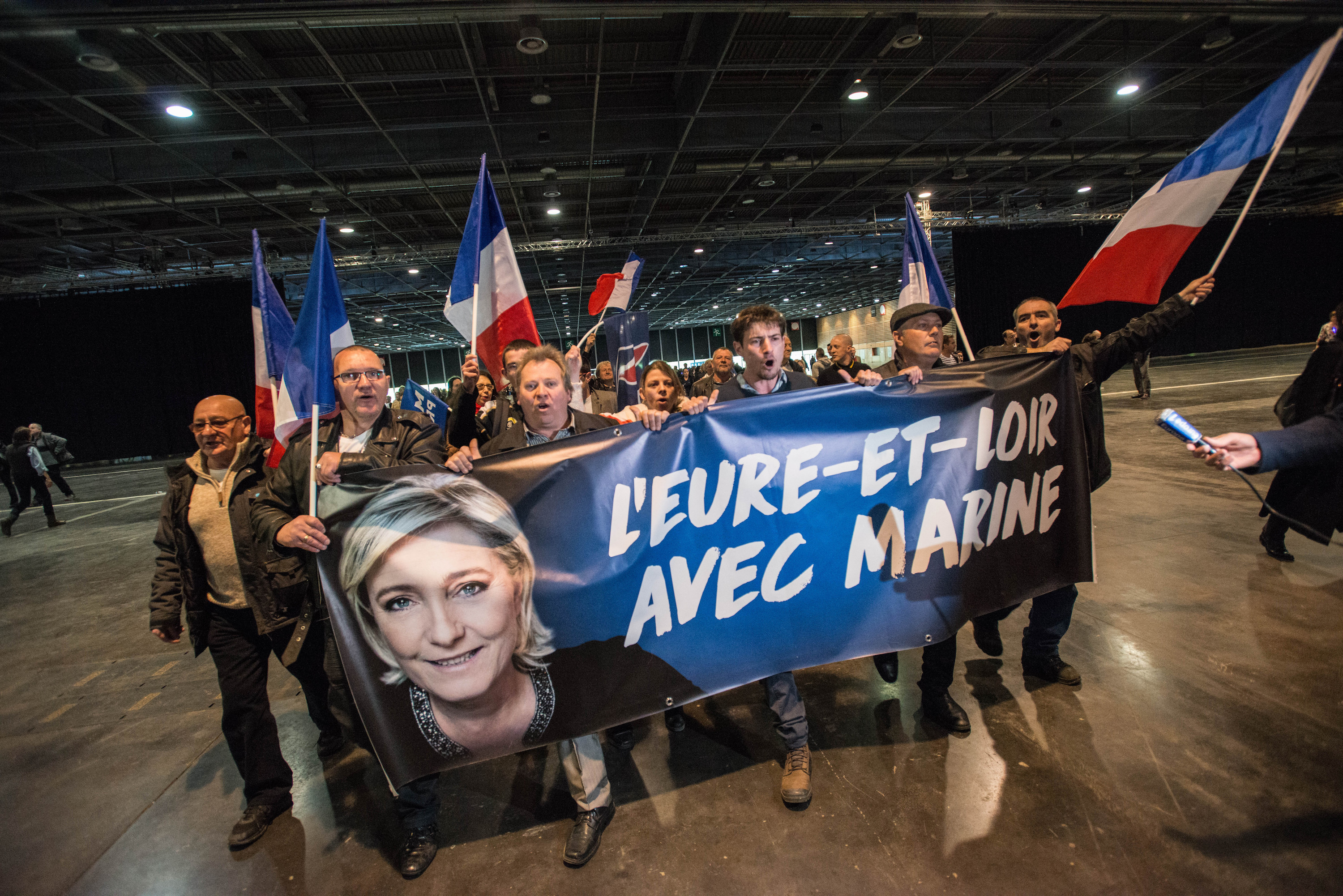 Even France's two most prominent scholars of Salafi Jihadism, Gilles Kepel and Olivier Roy, are locked in an increasingly acrimonious debate over whether or not ISIS attacks are slowly nudging the country into a sustained period of civil conflict, and voters' fears are certainly not quelled by the dire mutterings of the head of the French intelligence that a climate of civil war will emerge if the country continues on its present path.

"I don't think there will be a civil war," scoffs Grech. "They just want to scare the French people. They want to make French people afraid that there will be a civil war between people if the FN gets into power. But it's completely false. They want to bombard us with fear, to make them believe certain things, which unfortunately they have done for many years. They want to turn people against the FN to maintain their privilege, to prevent the FN from getting into power."
Partly, then, the Front National's electoral mission – extreme though it sounds – was to convince the French electorate that civil war was more likely if Le Pen was not elected than if she was. The climate of doom that pervades the French political sphere is not allayed by the militarised state of emergency the country has been under since the Bataclan attack, nor the presence of thousands of French troops in full combat gear patrolling the country's streets to deter jihadist attacks.
"I find the military presence reassuring," says Grech. "I think it's great that they're here, watching out, but it's not normal. It's not normal that, in France in 2017, we have the military watching over us because we are being targeted by terrorist cells. It's not normal. There is a lot of fear, and the problem is out of control. We need to shut it down, to take control of our own country."
Eleanore Bez agrees, placing France's security woes firmly at the feet of the country's establishment centrist parties: "The complete failure of politicians, rising unemployment, immigration has caused terrorism to skyrocket – Islamist terrorism, which we are experiencing throughout France," she argues. "It's very serious. The French people today find themselves in this terrifying situation because of these governments and parties."
The collapse of centrist parties in the election's first round indicated that the French electorate is beginning to search for radical solutions, as seen in the surprisingly strong performance of the far-left candidate Jean-Luc Mélenchon, the utter destruction of the governing centrist-left Socialist party and the inability of the scandal-tainted centre-right Les Republicains candidate Francois Fillon to make the run-off. For the left-wing demonstrators protesting the second round choice between one candidate seen as a borderline fascist and another viewed as the epitome of predatory and soulless neoliberalism, France had been presented a soul-sapping lose-lose scenario.
It is interesting, then, that Le Pen's stated economic policies owed far more to 20th century left-wing politics than those of what we now consider the right – a fact the FN attempted to leverage in gaining the support of frustrated Melénchon voters in the second round through posters underlining their almost identical stated aims. It is a curious fact of populist politics in 2017 that the radical right has now adopted the critique of neoliberalism once only made by the left.
"In France as well, we're accused of being cranks, racists. When they attack us, it's their main argument, so it's a bit of that that stigmatises us, being accused of being fascists and racists."
For Eleanore Bez, her opponents in Macron's En Marche movement and the wider establishment left are part of a corrupt neoliberal elite needing to be swept away by Le Pen's purifying broom: "They're part of a globalist system and they are the beneficiaries of this system," she says. "They spend most of their life disconnected from real life, and they are truly ideologues who have been placed in the media, in finance, in the south, on the left, in the Communist party. And that's why people ask questions. These banks have been subsidised by the state, they have links with the old parties, the old boys in the establishment. So globalisation doesn't upset them, because they have these links and they have reaped the benefits. They are against us. They don't care about the people."
For other FN activists, like 27-year-old Geoffrey Peretti, a banker with the Societé Génerale and party outreach representative for small businesses and entrepreneurs, Le Pen's vision is a more conservative one of small businesses thriving outside the shackles of the Euro, akin to the small-C conservatism of the UK's Tory right. "To regain our own economic sovereignty we need to return to our own national currency," he argues. "So, internationally, we can focus on deflation and inflation if needed so we can help our small businesses. To no longer be in the bosom of Europe, so we can manage things on a regional, local scale."
In a country that has always placed strong emphasis on the small businessman, on unionisation and the French social contract, Macron's history as a representative of the detested international banker class and an outspoken ideologue of neoliberal labour reforms seemed to present Le Pen with an opportunity to hobble his steady march against her in the polls. Yet her aggressive assault on him in the final debate, reminiscent of the Trumpian bloodsports of the US election, was widely perceived within the party as an own goal, and one that would cost her dearly.
According to activists on election day, a final result of around 36 or 37 percent would be considered a disappointing showing within the party. In the event, Le Pen struggled to reach 34 percent. But even still, the party's activists I shadowed on election day around the voting centres of the city's suburban 11th Arrondissement – a sprawling and ethnically-mixed collection of once-quiet Provençal farming villages swallowed up by either modernist high rises or the walled and shaded gardens of the local rich – were optimistic for the future, and unperturbed by the broad array of French and international media and politicians, from the New York Times to Obama, directly addressing the French electorate to vote against Le Pen and keep France on its present political track.
"In France as well, we're accused of being cranks, racists," shrugged Peretti. "When they attack us, it's their main argument, so it's a bit of that that stigmatises us, being accused of being fascists and racists. But I've never met anyone in the party nowadays who is seriously a racist. I think that's the image they give of us to try to reduce our credibility. So in most people's minds we've always been seen as the racist party. But it's an argument that thankfully for us isn't working any more. There's a new generation who are resisting being manipulated by the media. Because they see what's going on on the ground, they're tired of it, so we're winning credibility with younger people."
Indeed, polls show roughly 40 percent of voters aged between 18 and 24 support Le Pen, partly a reflection of France's 25 percent youth unemployment rate and sclerotic economy, and partly a reflection of a Europe-wide trend towards growing conservatism and radical right-wing politics among the young. It is difficult to see how the inexperienced Macron, whose main share of the vote derives from the fact he was the anyone-but-Le-Pen candidate, who has no meaningful party base beyond his supporters in business and the media, and whose overriding concern is to institute wildly unpopular labour reforms, can govern France with ease or stave off the advance of the Front National – or of a revitalised radical left – in the 2022 election.
Front National activists are already rolling out their campaign for June's legislative elections, and predict a summer of discontent – likely also involving the country's powerful unions – when Macron's economic reforms kick in. The blade did not fall on the neck of France's liberal elite this time round; but the next time France's electorate decide to give the scaffold a kick, it most likely will, propelling Marseille's young right-wing activists – and their counterparts across the country – into power, and Europe into a strange and unknown future.
More on VICE:
Could an Exclusively Right-Wing Society Ever Be Truly Happy?
Unwrapping the Conspiracy Theory at the Heart of the Alt-Right
I Asked My Tinder Matches If They're Worried About the Rise of Right-Wing Populism