Blowtorched Oysters Cured My Hangover
It's a strange sensation in the mouth, the crispy top with the soggy underside. It's sharp, sweet, and tangy and I feel the edges of my hangover curl up and concede.
Few restaurants offer the intimacy of Klaw. The match-box thin seafood shack in the centre of Temple Bar, Dublin's drinking quarter, only has a few bar-style seats, so most people eat on their feet. It's like being in the corridor of a student party. Groups come and go and conversations battle it out for precedence over the music, as the smell of freshly cooked seafood wheels around the room like a drunken Irish jig.
Opened in 2015 by Niall Sabongi, Klaw is a seafood oasis tucked into the anarchic sands of the tourist centre of Dublin. It's rowdy and boozy and he wouldn't have it any other way.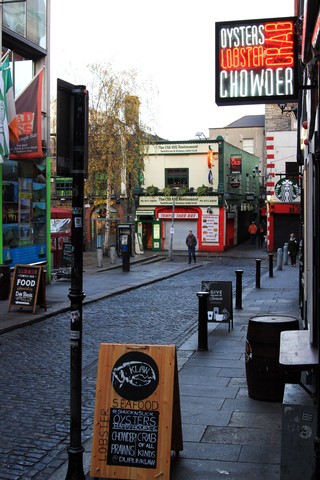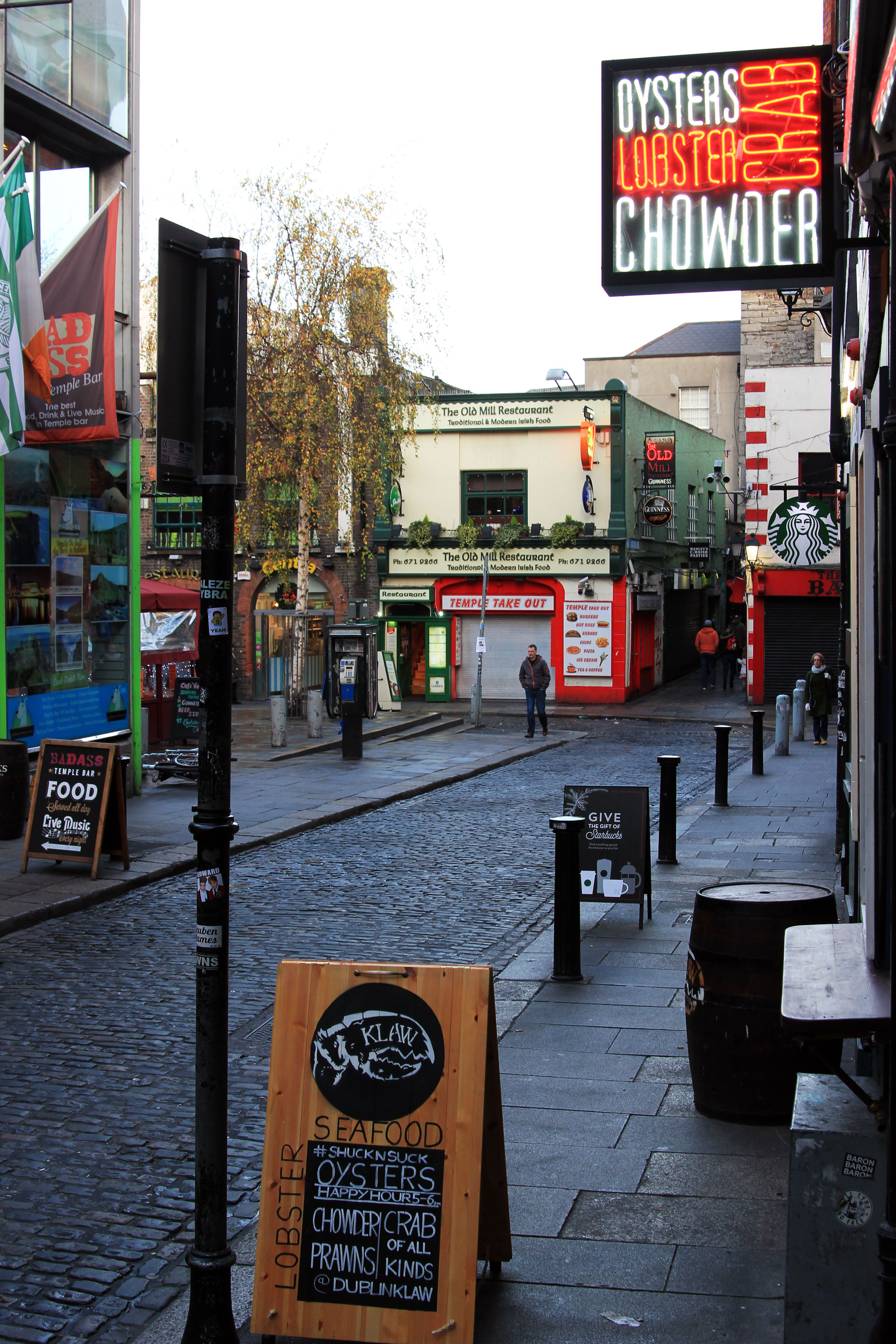 "For years I've been trying to slap the posh out of seafood," Sabongi says as he preps for a Sunday afternoon opening. "I hate the way when you go into restaurants, there's the whole palaver."
He reels off images of austere waiters, nurse-cornered tablecloths, and overly expensive wines.
"It's so off-putting, especially in Ireland where people are still quite modest. I just wanted to take all of that out of it and have it as a hole-in-the-wall. It is what is it."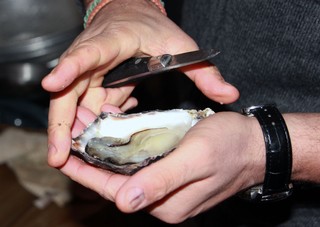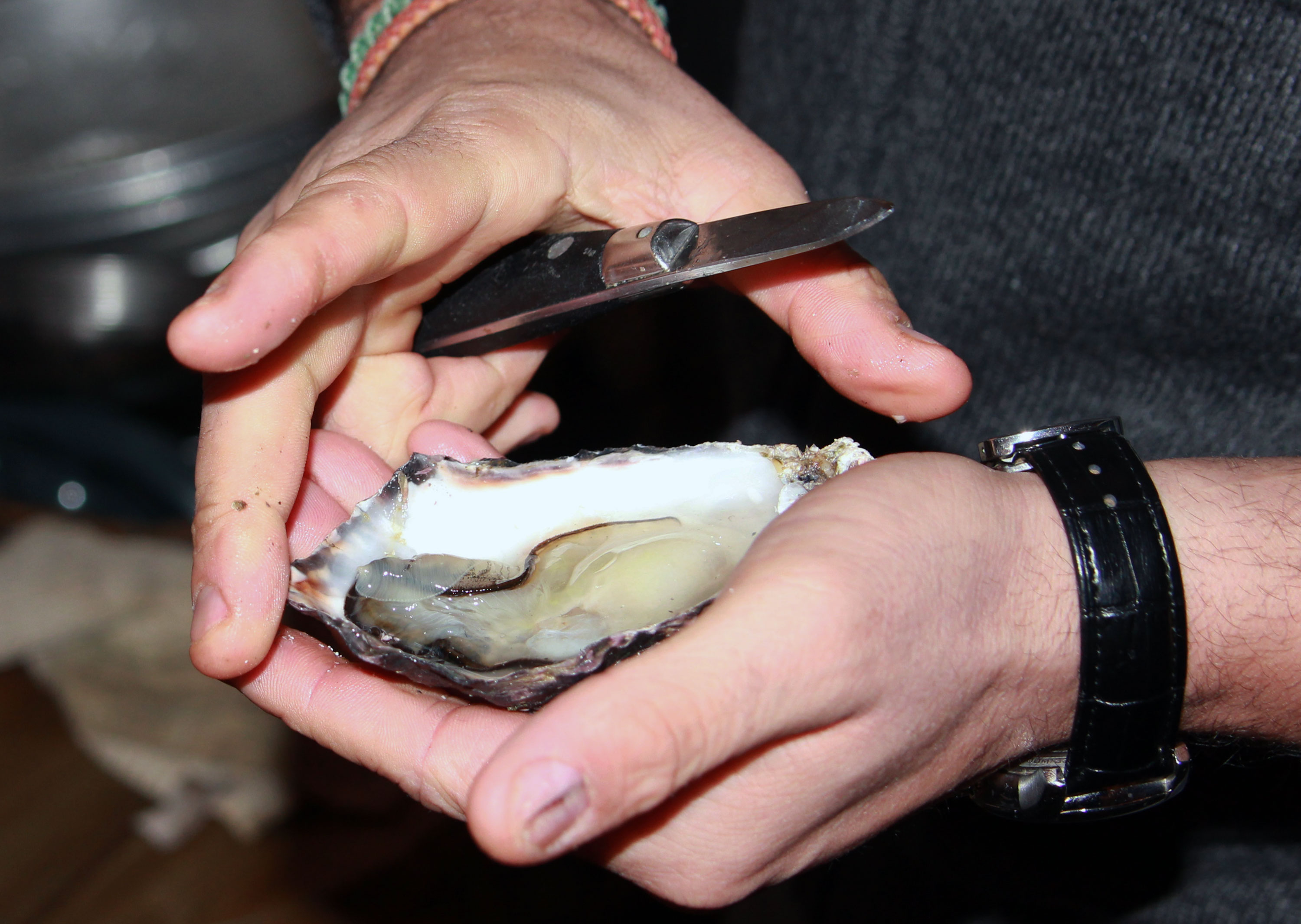 It certainly is. Everything at Klaw is simple and easy to grasp, with a menu written on a giant blackboard: fish tacos, crab mac 'n' cheese, lobster rolls, whole brown crab, seafood chowder, and the S.F.A. seafood platter. It stands for "Super Fucking Awesome" and is the most expensive item you can order in the city's Deliveroo menu. The main event, though, is the oysters. Billed as the (self-awarded) largest selection of oysters in Ireland, there are a number of varieties (Galway, Doon Castle, and Flaggy Shore) that can be eaten naked, dressed, or torched.
Sabongi admits some people come in and "go mental" on oysters, while others are virgins (and the truly inebriated request chips). Either way, "99 percent of the time, people love them and our oyster happy hour helps," he says, with a mischievous grin, pointing at the blackboard. The words "#shuckNsuck" glare back at me.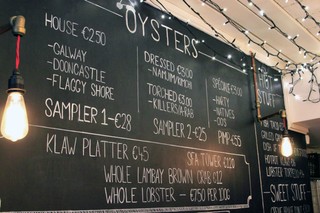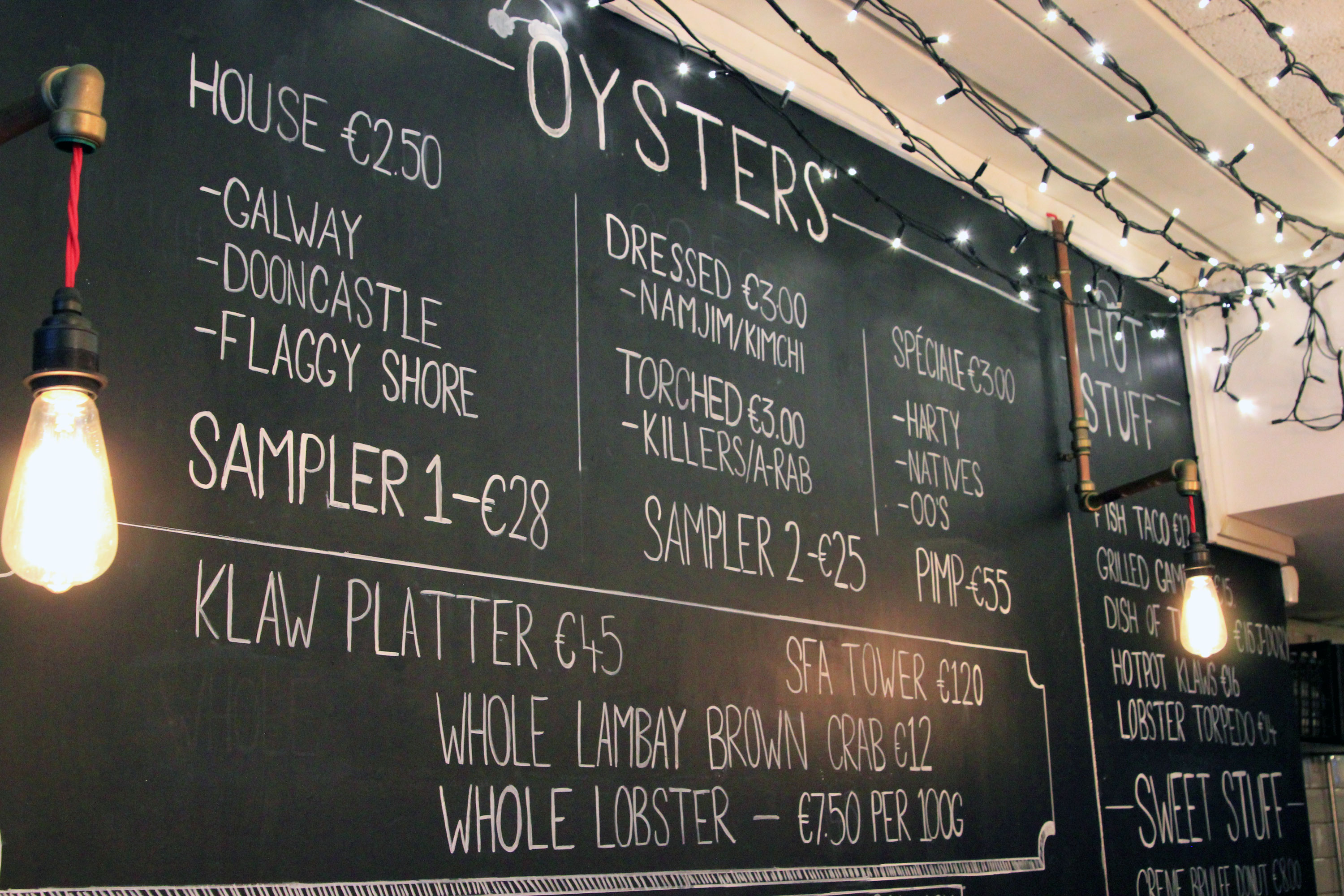 This is Klaw's signature dish: torched oysters (though in the current sea of giggles, "blown" might be more appropriate.)
"It was accidental really," Sabongi says, explaining how the blowtorch became an integral part of the kitchen. "We couldn't get the grill in here because it was a fire hazard so I said, 'Fuck it, how else can I grill an oyster?'" He holds up the blowtorch like a handgun and shrugs.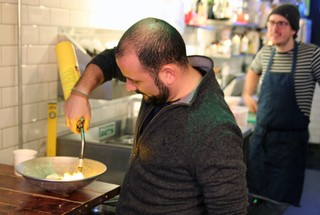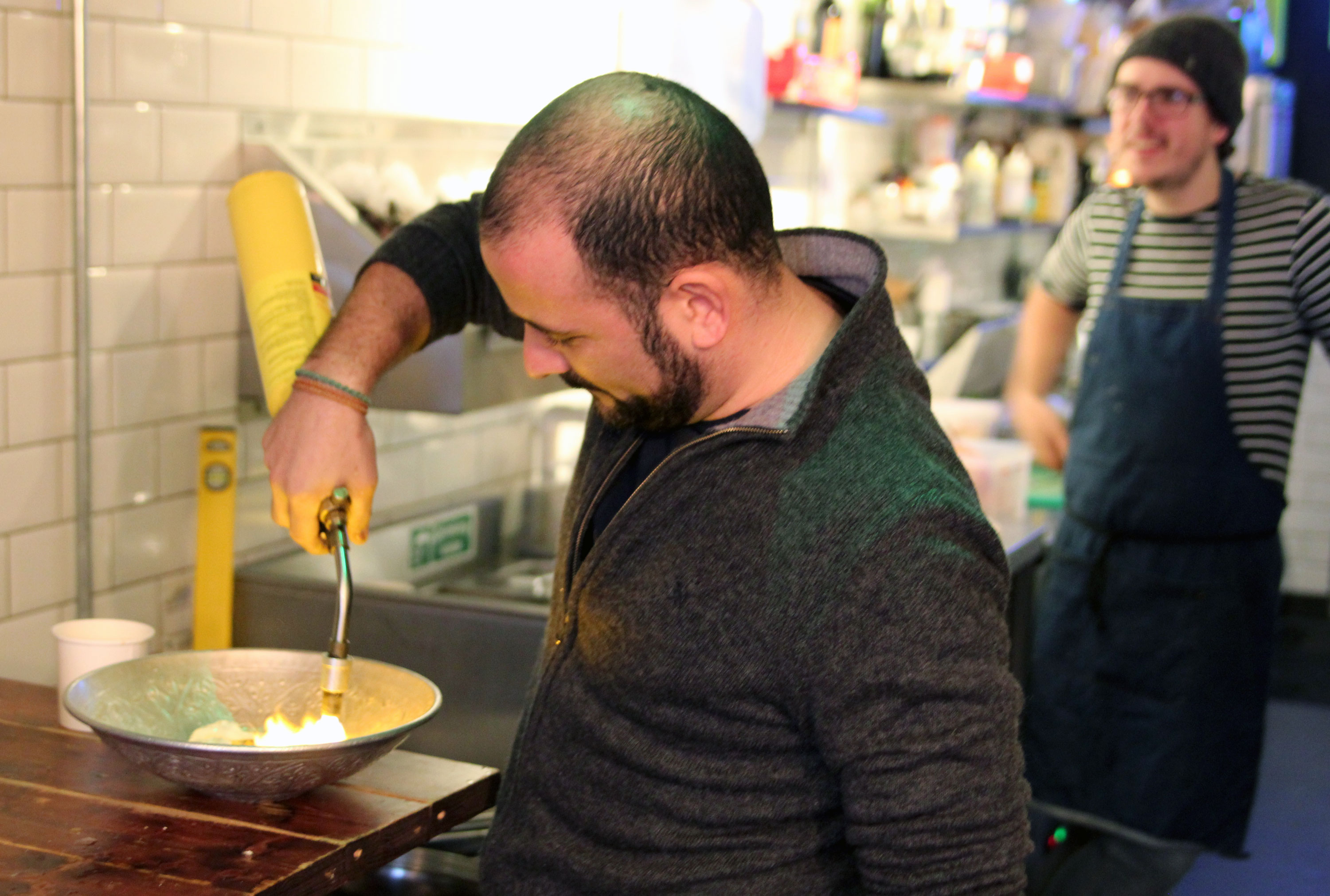 The torched oysters are the main attraction for a reason. Sabongi shucks a handful of Rocks, heaps a spoonful of spinach and Parmesan butter onto the exposed plump meat—pooled in its natural liquor—and guides the flame over the top, the orange and blue flare of the torch reflected in his eyes, as the cheese crackles and browns. It's quite the show and served on an ornate silver platter, the finished oysters look the part too. A couple of chews and the Killer slips down easier than that first sip of home Guinness.
It's a strange sensation in the mouth, the crispy top with the soggy underside. I don't know what to make of it. I need another oyster. We try one with a harissa and sumac butter, topped with dried shallot and coriander. It's sharp, sweet, and tangy and I can feel the edges of my hangover curl up and concede.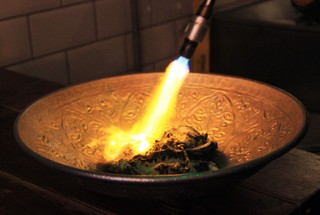 Our conversation is punctuated with the soaring sound of the torch—I feel as if I'm interviewing Sabongi in a hot air balloon. Through the noise, we devour our "Breakfast of Legends," half a dozen torched oysters and one or two dressed ones: the Thai-style Nam jim (with ginger, soy, fish sauce, lemongrass) and one with kimchi made by a Korean friend of Sabongi's.
Klaw's unfussy approach to oysters has made it a hit with people out on the razz in Temple Bar. But it's the quivering down-the-throat of the two temperatures that comes back to haunt me, like that 3 AM Drambuie last night.
"You do get a roasted torch flavour that is lovely," Sabongi says, collecting up the shells like tickets for a show. "What I like about it most is that the tip of the oyster will be cooked and crispy and caramelised where the bottom is still wet and salty. It's the contrast between hot and cold."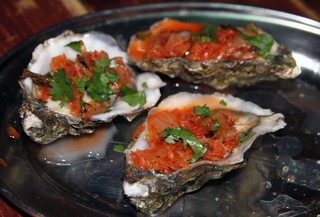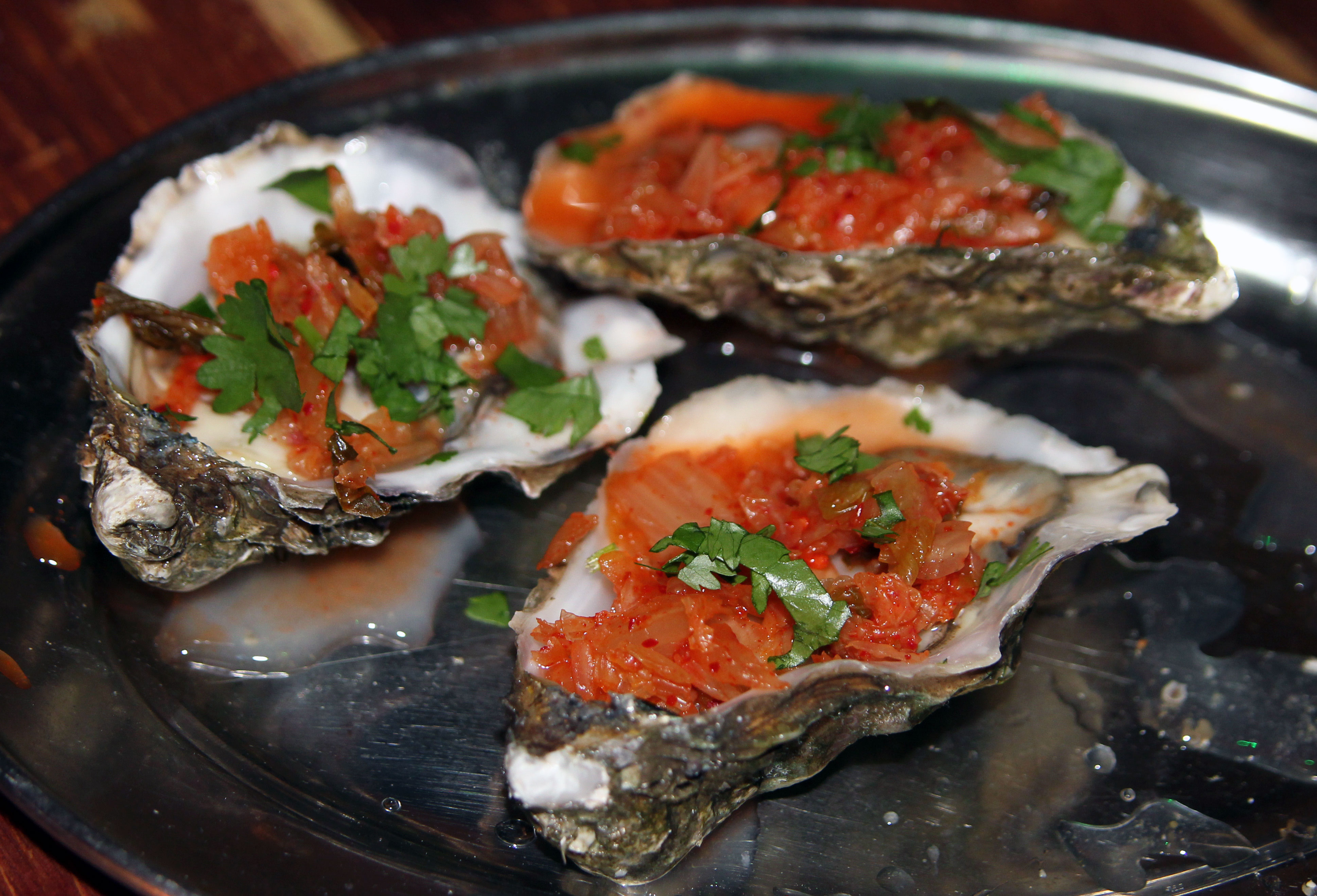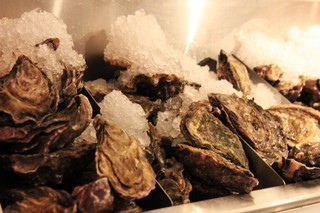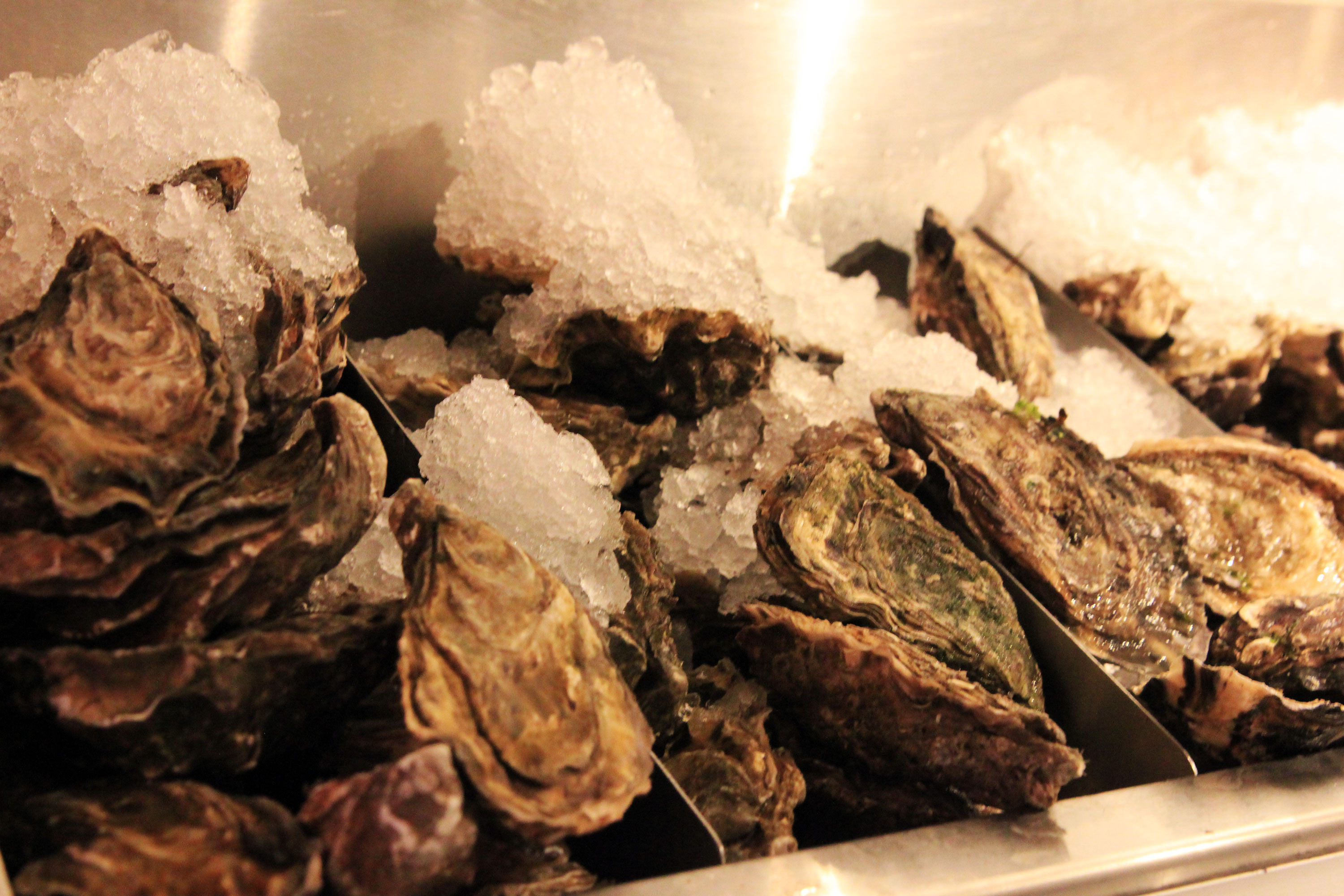 Not all oysters can handle the heat. Sabongi uses Doon Castle oysters from Claddaghduff on the west coast because they have a "real sweetness off the back" that comes from the residual in the sugar beet fields trickling into the oyster beds—and Flaggy Shore Dainty Oysters, grown in brackish waters (part salt, part fresh) in Connemara, which slows the growth and leads to a "super intense flavour."

As robust rock oysters (also called Pacific or Gigas) they can both take the blowtorch. Others are too mild for the torched treatment. Sabongi never blasts natives. He sells them naked. There's a purism about them and they're too delicate, he says. "Just let them be themselves." It's a mantra that works wonders for Klaw.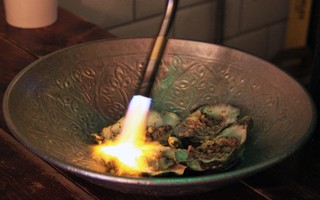 Does Sabongi have a favourite? "All of them really. Ireland has the best selection of oysters. Some are creamy as fuck, some are meaty, some are sweet, others sharp."
Whatever he choses to push, they're selling. Klaw shifts half a tonne of oysters in weight a week. His hands must ache. How many oysters does he have to shuck a day?
"Me?" he fires back, the incredulity and sharpened eyes of a boss roaring at me, the flame of the torch blaring in his eyes, red and fierce. "Fuck all," he laughs, gesturing towards the young chef behind him, and the tide of Irish joviality falls over proceedings once again.