Ninety Percent of Flats in London's Top New Developments Have Been Sold Abroad
And 42 percent have been purchased by buyers from "high corruption risk" countries.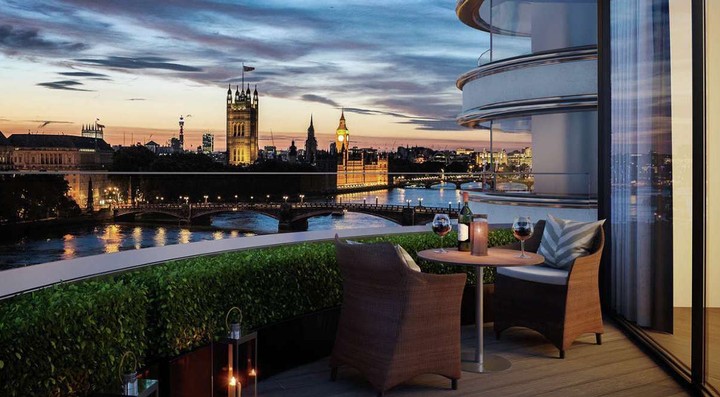 A promotional image from the Corniche development. Image: Berkeley Group
They were the apple of many a councillor's eye, architectural porn brought to you by developers with interactive design plans and deep pockets. Many were built on land sold by London councils, boasting of providing affordable housing or flats for hard-working professionals.
Instead, from 12 of London's highest profile new builds, some 87 percent of units so far have been sold abroad, with 42 percent of these going to buyers from high corruption risk jurisdictions, nations with a high incidence of corruption among public officials and services.

Last year, Keith Vaz of the Home Affairs Select Committee said that things need to change in the London property market. He revealed that around £100 billion of unchecked cash washes through the UK each year, much of it through London property sales, saying: "Investment in London properties is a major route which tarnishes the image of the capital. Supervision of the property market is totally inadequate, and poor enforcement has laid out a welcome mat for launderers and organised criminals."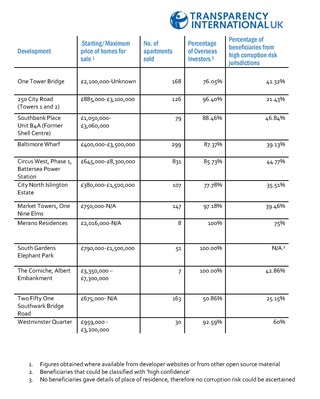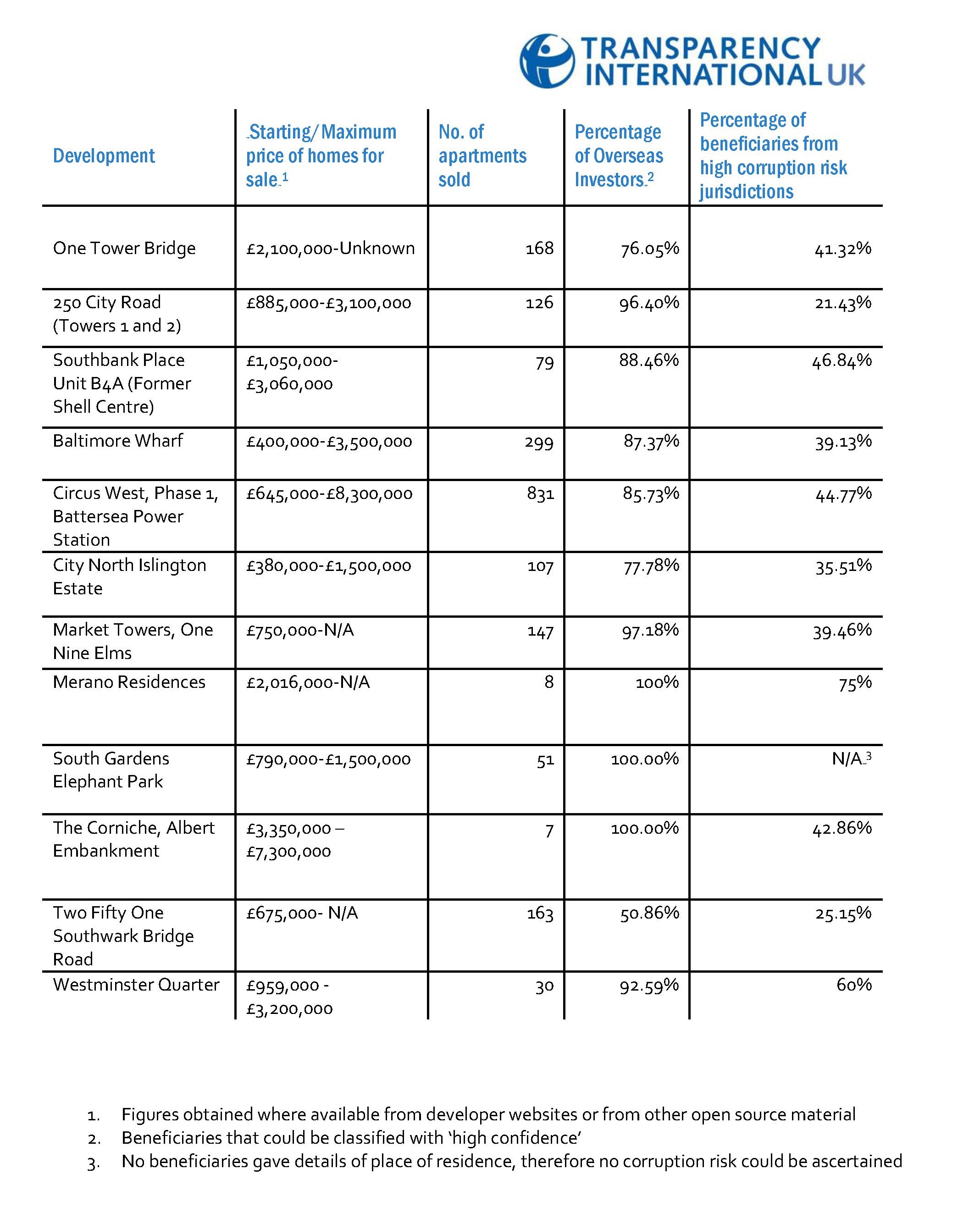 The National Crime Agency is jointly responsible for investigating state to state property transfers. Within 100 metres of the NCA head offices sit both the newly built Merano Residences and the Corniche building at Albert Embankment. Built within the Albert Embankment conservation area, apartments at the 28-storey Merano Residences start at £2 million each, with 100 percent of sales so far being sold to foreign investors, according to a Transparency International investigation, "Faulty Towers". Likewise, at the Corniche, every single one of the properties sold so far – available for as much as £7 million – has been sold abroad.
Sadly, it's not unique that, in the middle of a housing crisis, London's prime new builds are being sold to overseas investors – people who aren't going to live in them – snatching away more land that could be used to accommodate affordable housing (in the unlikely event of a local council demanding that developers build such a thing). Where these buyers come from is also no surprise; at the Merano Residences, according to the same report by Transparency International, 75 percent are listed as coming from high corruption risk jurisdictions, while at the Corniche 42.86 percent come from such states.
There is no assertion in this piece that residents or developers at either building have committed any crime or are under any ongoing investigation.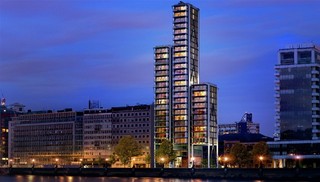 At the planning stage of the Merano Residences, local residents objected to the building on the basis it didn't include any affordable homes. Lambeth Council, when waving through the final plans, were satisfied the development met their criteria of increasing both housing supply and choice, and affordable housing. They stated, "The units within this development will be completely intermediate housing, therefore anyone who meets the criteria may apply once the development is completed."
One individual definitely fits this criteria, according to Land Registry searches. The gentleman, from Saudi Arabia, has bought – or is in the process of purchasing – nine units at the Merano Residencies and a further eight at the Corniche, a single outlay of between £44 million and £60 million.
Helpfully, the planning of the Merano Residences (formerly known as Eastbury House) was overseen by Boyer Planning's Hayley Ellison. On the company's home page, Ms Ellison cites her "excellent working relationship with London Local Planning Authorities and the GLA". According to her LinkedIn profile, Ellison previously worked as Lambeth's senior planner for three years, and a further year at the GLA. Lambeth Council, working alongside former Lambeth Council planners, selling public-owned land by proxy to foreign investors.
A spokesperson from The Berkeley Group says three sites at Albert Embankment (Corniche, Merano and another, Dumont) are delivering 158 affordable new homes for One Housing Group and the London Borough of Lambeth, but these are for rent only, not for sale. They added: "Berkeley markets all its developments in the UK first and we fully comply with the money laundering regulations."
---
WATCH: What it costs to live in London.
---
When it comes to "High Corruption Risk Jurisdictions", Transparency International's own "Corruption Perception Index" rates countries on factors like press freedom, access to public spending information and frequent examples of government corruption where public funds were transferred abroad. London property behemoths Russia (score: 29 out of 100), Nigeria (28), Pakistan (32), China (40), Brazil (40) and Saudi Arabia (46) score very badly on these factors. As a comparison, the UK scores 81 and the list is topped jointly by Denmark, Finland and New Zealand, with 90. To put it into context, if you are registered as living in some of the worst countries on the CPI list, you can't even get a bank account here.
Secrecy – and within it corruption – is what powers the London property market, forcing out those attempting to buy their first home. If you're struggling to get on the ladder it's likely because the ladder has already caught fire above you. To give you an umbrella figure, Private Eye magazine discovered – through a FOIA request – that 29,444 overseas companies based in tax havens have invested over £100 billion in London property since 2008.
Where global trouble starts, London's bricks follow. A tremor in the Middle East or Brazil or Russia can cause an earthquake in Westminster, Battersea or the Embankment, as foreign investors seek to stash their cash in property, gained legally or otherwise. After the Arab Spring in 2012, Middle East investors upped their expenditure in London property by 50 percent the next year. When war broke out in Libya in 2011, Colonel Muammar Gaddafi's son, Saadi, diverted public funds to buy a £10 million house in Hampstead via a British Virgin Islands company, Capitana Seas Ltd, which was later ruled to rightly belong to the Libyan state.
Former Niger Delta Governor, James Ibori – jailed for 13 years for corruption – owns £2.2 million of London property, all of which his country hopes to retrieve. Nigeria alone states some £80 million of government funds are hidden in the UK by corrupt officials. The family of deceased former Uzbekistan dictator Islam Karimov, deeply corrupt and once labelled by US embassy cables as the "single most hated person" in Uzbekistan, is believed to own several flats in Belgravia worth millions of pounds through a company in the British Virgin Islands.
Many of these public figures are known as PEPs – a "politically exposed person", i.e. individuals who are trusted with a public financial responsibility at home and present a higher risk of corruption because of the power they hold. Transparency International found in December of 2016 that 986 London land titles were found to have links to such foreign diplomats. While not everyone named above has invested in new builds, new builds bought off plan offer an opacity that enable corrupt buyers to move and clean money more easily.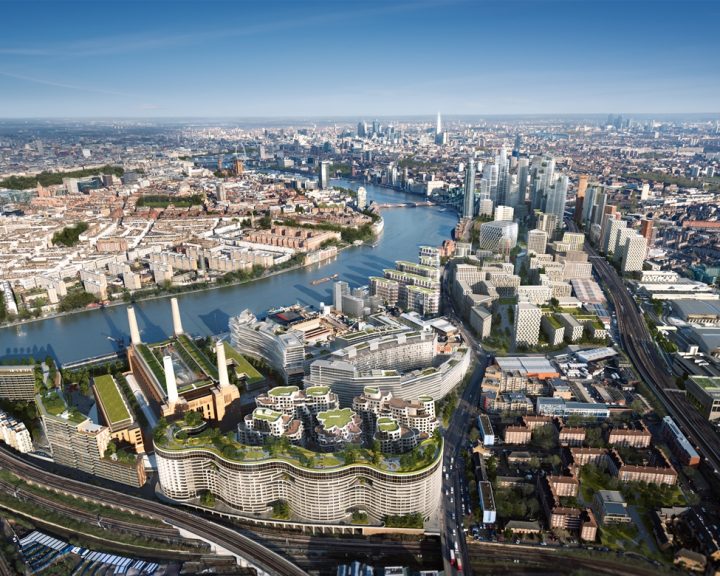 Both the Corniche and Merano Residences form part of the Vauxhall Nine Elms Battersea Development (VNEB) area.
As Boris Johnson stood outside Battersea Power Station at the end of 2014, before a lunch celebrating the London-Kuala Lumpur links behind the development, he fended off accusations that the Malaysian-backed £8 billion investment of the listed building was not providing enough affordable homes in the 3,500-unit development. He said, "I think 600 affordable homes are better than no affordable homes."
At one of the apartment complexes in the development – the appropriately named "Circus West, Phase 1" – 831 of the first shiny new units have been sold. A staggering 85.7 percent have been snapped up by foreign investors, according to Transparency International, with 44.7 percent of those from high corruption risk jurisdictions. Elsewhere within the VNEB land of opportunity, a development titled Market Towers has sold its first 147 units. Over 97 percent have gone overseas with nearly 40 percent being sold to those from high risk jurisdictions.
Again, there is no assertion that buyers or developers at either site have committed any crime or are under any ongoing investigation.
In total, out of a dozen high profile developments in London, 87.7 percent of sales so far have been made to buyers from abroad. Of these, almost half (42.8 percent) have been bought from persons living in high corruption risk jurisdictions.
This "high risk corruption" figure could, in fact, be even higher; in the final development covered – South Gardens Point in Elephant and Castle, the first development sold after the removal of the publicly-owned Heygate Estate – all of the owners are listed offshore through a specialist solicitor, as stated by VICE in our report on the development.
Some 36,342 London properties, covering a total of 2.25 square miles of the capital, are owned by offshore companies whose source of wealth is unknown or hard to verify. They are all within the very centre of London, on the doorsteps of all our corridors of power, our police forces and our Mayor. Yet, we don't have a clue who many of them are or how they got their money.
More on VICE:
Every Flat in a New South London Development Has Been Sold to Foreign Investors
Photos of a London Untouched By Gentrification