The remains are still there. Giant inflatable Halloween decorations that used to bring neighborhood children to a condo building in the Sunnyside neighborhood of Queens each year are now heaped into a pile in the back of a dirty backyard lot. Feet away, a sign displaying surveillance footage apparently from October 2016 reads, "Have you seen this ANIMAL? There is money for you."
This week, the condo building in question drew widespread attention for its truly bizarre decor. The initial vibe is just one of bellicose patriotism: Giant Uncle Sam statues guard the entrance, and inside, memorials of the 9/11 attacks and Martin Luther King Jr. loom. Far more divisive, however, are the building lobby's generous likenesses of Hitler, Mussolini, and other racist propaganda and imagery, as first reported by NY1.
On its surface, the story seems like the perfect bit of local news to illustrate increasing racial tensions in the Trump era: members of an ethnically diverse neighborhood being terrorized by a landlord newly emboldened in a longtime penchant for swastikas and Confederate flags. Gothamist asked if the display was a "hate crime." The Daily News called it the "hall of hate." City Council Majority Leader Jimmy Van Bramer said the iconography was "an affront to us all" and called for an investigation during a rally there Wednesday.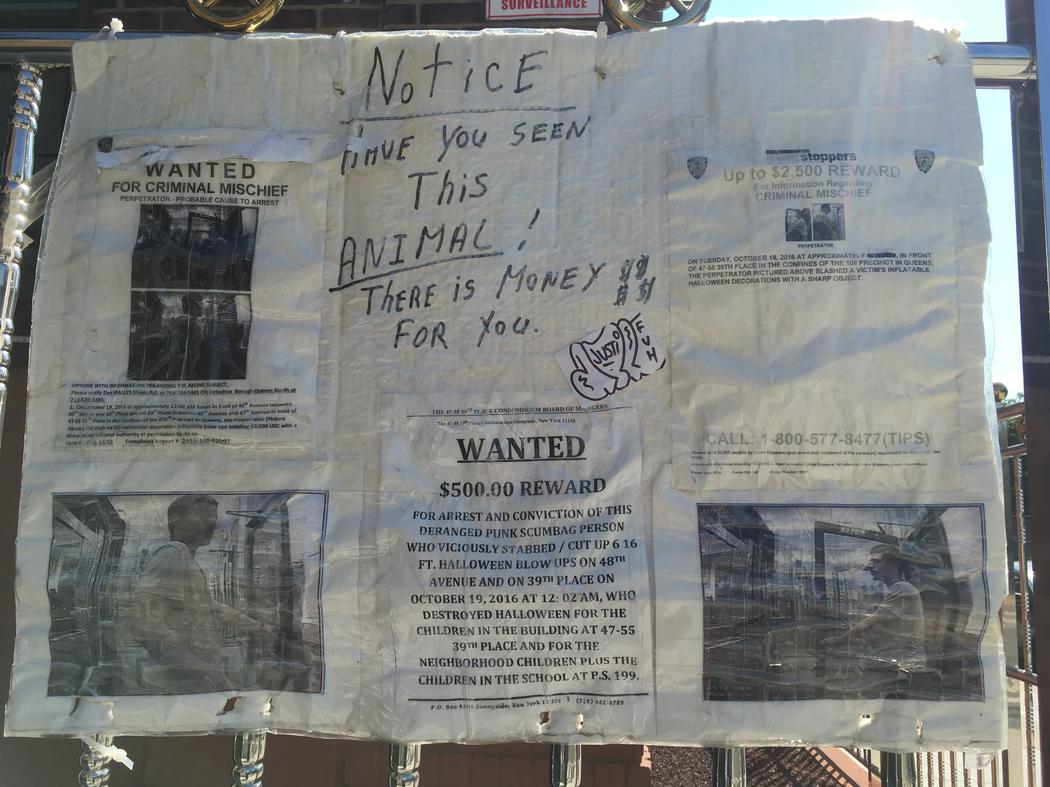 When VICE visited the place Thursday, four area residents bolstered previous accounts suggesting property owner Neal Milano is the kind of guy who will don a Trump mask and slap stickers bearing the president's name on the doors of tenants. But two of them also said the key to understanding how the building went from a reasonably nice place to live to a horror show may, incredibly, lie in the deflated Halloween decorations abandoned out back.
"On Halloween, he'd put displays of witches and ghosts, and on Christmas, he'd put displays of Santa so that kids could come out and take a lot of pictures," said a woman who described herself as Milano's friend but did not want to be identified for fear of his infamous temper. "This [unknown] guy came and destroyed the whole display. He came inside the property, but no one did anything." The woman said Milano was devastated by his decorations being savaged without punishment as well as energized by the November election. That confluence of events caused him to put up some Trump memorabilia soon after, she said, though the precise timeline of each image's appearance remained unclear. Milano is still offering a $500 reward on the large sign outside the property: "For arrest and conviction of this deranged punk scumbag person who viciously stabbed/cut up 6 16 ft. Halloween blow ups." The sign adds that whoever did the original deed "destroyed Halloween" for the children in the building, in the neighborhood, and at the nearby public school.
Another woman who has lived on the block since November but did not want to be identified for fear of having her "tires slashed" said the Uncle Sam statues went up three months ago.
"He put them in wood so that nobody can destroy it, like the Halloween decorations," she told me.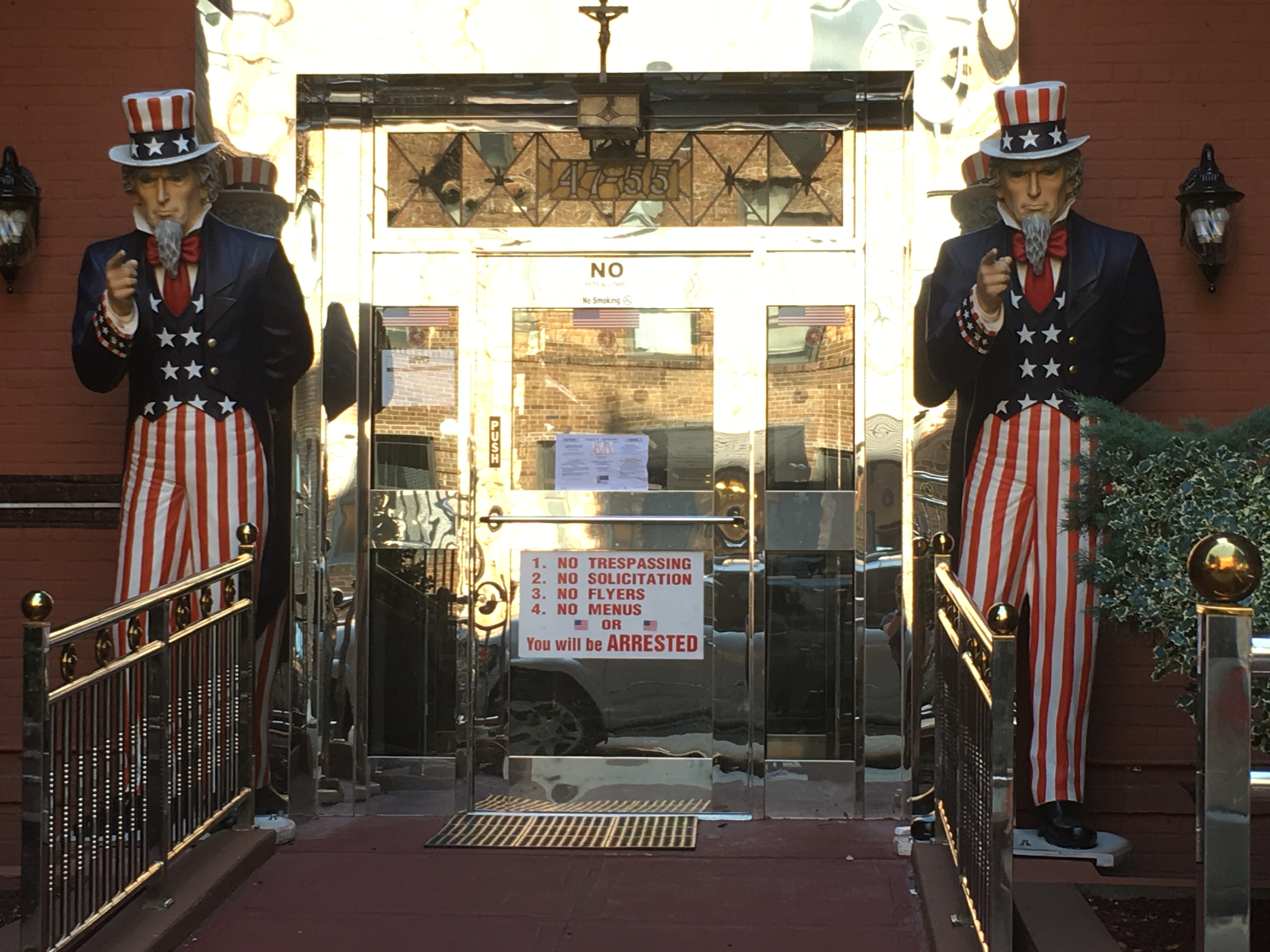 Things get gradually stranger from there. There's a directory filled with names ranging from notorious Nazis like Josef Mengele to the Notorious BIG. A World War II display features a Nazi flag in a hallway alongside imagery from the Allied powers. Milano apparently also put up notices about a tenant who had a "six-foot-four Middle Eastern person of interest" spend the night more than 20 times. Although NY1 confirmed with the NYPD that a stalking complaint was made against Milano last month, a local has been taking matters into their own hands by putting posters up falsely accusing him of being a sex offender.
Milano is out of the country and did not return a request for comment. Meanwhile, Councilman Van Bramer said the motivation behind the offending statues and posters is unimportant if they are deeply disturbing his constituents, and one of his staffers expressed skepticism of the Halloween explanation: "We don't think that's why he put up a swastika," they told me.
Indeed, it's hard to imagine resentment of a Halloween prank turning a man who once provided free entertainment for local Queens kids and their families into a bully who employs racist images. For his part, Milano's lawyer told NY1 that his client is just a history buff, a fact with at which least one local woman I spoke to agreed with. Basically, the neighborhood resident said, because the decorations feature a range of historical figures—not all of them evil—everyone just needs to step back and chill.
That half-baked solution surely won't satisfy people of color and other residents upset by images of hate, but it does fit neatly into the faux outrage that's as hot as ever after Charlottesville.
"I don't understand the current desire to erase history," the woman told me of Van Bramer's plan to remove the decor. "I guess [Milano's] love for America is too much for anybody else."
Follow Allie Conti on Twitter.