This article originally appeared on VICE Australia.

It sounds naive now but I only learned the harsh truths of transgender life after I'd made my own transition. I spent the first 26 years of my life as a male, doing "male" things and being "male" pretty well. I'd never been assaulted for just walking down the street, I'd never been rejected from a job because of my gender, and I had never been asked by a total stranger whether I had a penis or a vagina. The last one happens more often that you'd think. Like so many people, I thought I knew what I was getting into but, in reality, I had no idea.

Imagine trying to adjust to this new life, while also losing the one thing that always made you forget what was wrong, the one place where you felt you fitted in. I'm talking about sport. Before transitioning, I was a member of the Australian Men's Handball Team. I came relatively late to the sport, not taking it up until I was 19 after growing up in Albury playing cricket and AFL. Despite this, I managed to move up the ranks fairly quickly, competing at the 2013 World Championships as well as the Asian Qualification Tournament for the Rio Olympics among other tournaments. It was only after missing out on qualifying for the Olympics that I felt I could start my transition.
In Olympic sports—those sports which are contested at the Olympics—an athlete is required to sit out competition for a minimum of 12 months before being allowed to compete with other women. This covers athletes at the elite level, all the way down to social teams. The timing is because of hormone treatments. Specifically, the is to allow the testosterone in an athlete's system to drop to minuscule levels and then have the required effect on their nervous system, aerobic capacity, strength, and power to be able to compete with other women. Generally, trans women will end up having less testosterone in their system than women born female. To date, no openly transgender athlete has competed at Olympic level.
To be clear: I wholeheartedly agree these measures need to be in place, I believe they are necessary. But it also needs to be recognised that, for many people, sport is more than just the game. Being part of a team is much less about winning and losing than it is more about feeling a part of something, about feeling valued, appreciated, and welcomed. To suddenly lose that—especially at a time when you are for the first time acutely feeling like you don't fit in—can have a devastating effect.

Yes—you are still able to train, and hang around with friends from teams. But doing that, while not being able to actually play, to compete, that can be incredibly isolating. You just can't shake the feeling that you aren't really part of it. This isn't any one person's fault. To be clear: the support I've received from my fellow athletes, male and female, has been absolutely incredible. There's this lingering perception that sportspeople—particularly sportsmen—are nothing more than boorish dickheads. In my experience, this couldn't be further from the truth.
I'm yet to come across an environment more accepting than the one I found in within sport, regardless of what it is. Recently, I was lucky enough to meet former Australian wicketkeeper Ian Healy at Canberra airport—we both got stranded waiting for a flight. After he'd obliged to a photo, Ian asked with genuine concern about how everyone had reacted to my transition, how it'd been taken within my own sport. He just generally wanted to know if I was going okay. These are the stories that don't get told.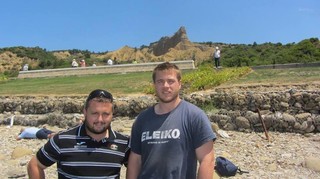 But the challenges trans athletes face are unique, and they're not being talked about—it's not a very visible community. I'm aware my specific experience is perhaps made unique by the fact I competed at an elite level pre-transition. But there are universal aspects: While I've been cleared to play again, would I play in a tournament being held in the Middle East, Russia, or other parts of the world where LGBT people are routinely persecuted? No, because it's not safe. Would I feel comfortable playing a sport such as beach handball (an outdoor, non-contact variant of Olympic Handball) or beach volleyball, where the international federation mandates women play in bikinis? No.
Handball Australia deserves credit for allowing women playing beach handball to wear a bikini or a less revealing uniform—but this gives you a snapshot of the issues all trans athletes have to consider before they even get to training. Sporting bodies need to start taking them into account when regulating their sport.
Given recent events it would be remiss not to talk about the issue of athlete mental health. In particular, how retired sportspeople and LGBT athletes alike are affected. Just in the last few months, former Parramatta NRL player Chad Robinson and former Wallaby Dan Vickerman both committed suicide. Vickerman's funeral was only a week ago. Triple Olympic Gold medallist Grant Hackett was taken into protective custody by police and reported missing a day later. Not only are mental health issues substantially higher within the athlete community, suicide and suicide attempts by members of the LGBT community are 14 times higher than the general population. When you take into account the statistics around the LGBT community—along with the higher level of mental illness within the athlete population generally—it's obvious this is an incredibly vulnerable population.
I count myself extremely lucky that I have so many people who've provided enormous support throughout my transition but more so for the mental health issues I've experienced. However, not everybody is that lucky. Even with people around me, I recently had to spend a week in hospital because of my own mental health issues. I still continue to struggle with them to this day. For those without support, things could easily end very differently. This is why it's imperative the federal government and Australian Sports Commission set up a multi-sport body whose sole responsibility is to assist athletes' wellbeing. Not just in retirement but at any challenging point of their careers: injuries, drug suspensions, gender transition and countless others.

Having attempted to navigate the public mental health system for the past three months, one thing has become increasingly clear: it is a nightmare. The experience of trying to seek help should not be so difficult that it exacerbates the problems you're reaching out because of. For a body to step in and help athletes who are struggling—particularly those from the LGBT community—would have the potential to save careers, and lives.
In the past 18 months, sporting organisations, particularly the IOC, have been proactive in promoting transgender inclusion in sport. I have no doubt the measures they've taken in allowing athletes to return to competition after 12 months of hormone treatment will save lives. What does need to be done now is for sports to recognise the challenges all athletes—particularly those who are trans or part of the LGBT community—face in the time away from their sport.
Follow Hannah on Twitter