What is it? Somewhere between "a one-bed flat" and "a storeroom that a landlord has dumped literally all of their spare furniture in".
Where is it? W14, so as best I can tell it is exactly splayed between "the posh bit of west" and "the extremely dog-shit bit of west".
What is there to do locally? See if you can go one sentence without invoking inverted fucking commas, probably.
Alright, how much are they asking? "£1,250 pcm."
Rarely I wobble into genuine, criminal-leaning anger when writing this column, you know. Nothing surprises me anymore. The actions of landlords just wash over me. A double shower door you can't actually open because it's been mounted next to a wall: whatever. A room in a family share-house where you can't control the temperature because they refuse to turn the heating on in your room: OK. Entire deposits withheld for small floor scuffs that were already there. That cupboard in our kitchen we can't open all the way because it's been installed directly next to the oven extractor. Exposed cables, six-strip electrical sockets inserted halfway up a wall, windowless rooms, tiny bathrooms with small special sinks: seen it, processed it, dealt with it.
But this really is some fucking shit, I have to say. This really is some turds on toast: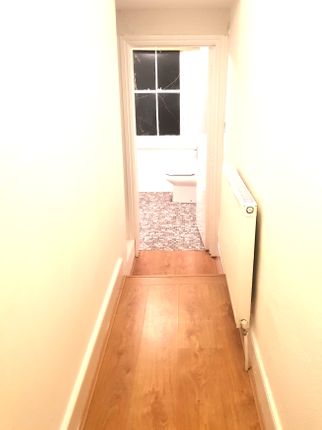 What you are looking at here is, it says here, a "nice and large lower ground floor 1 bedroom flat" with "a double bedroom, separate large living room, fully tiled bathroom, and a charming kitchen – furnished". I have to point out that the charming kitchen has two desk chairs in it, rolling around, instead of actual chairs you might see at a breakfast nook. Is that charming? I don't know. No? It feels like "no".
Also: I have to point out that the use of the word "large" as a modifier for "lower ground floor 1 bedroom flat" is something of a misnomer, because it isn't very large, it just happens to have some sort of corridor in it. (We do not have to discuss the heavy-lifting the word "nice" is doing re: a cold looking flat with cold-bulb lighting and all the blinds pulled up to expose the darkness outside). I have to point out that "separate large living room" is either a lie or a very baffling omission: the bedroom – which, for some reason, has two wardrobes and a fireplace in it, and little else – also has a sofa in it, suggesting that sitting on that constitutes the living room; there is no other room pictures that could feasibly be a living room, unless you count sitting on an office chair in your kitchen as some sort of leisure activity.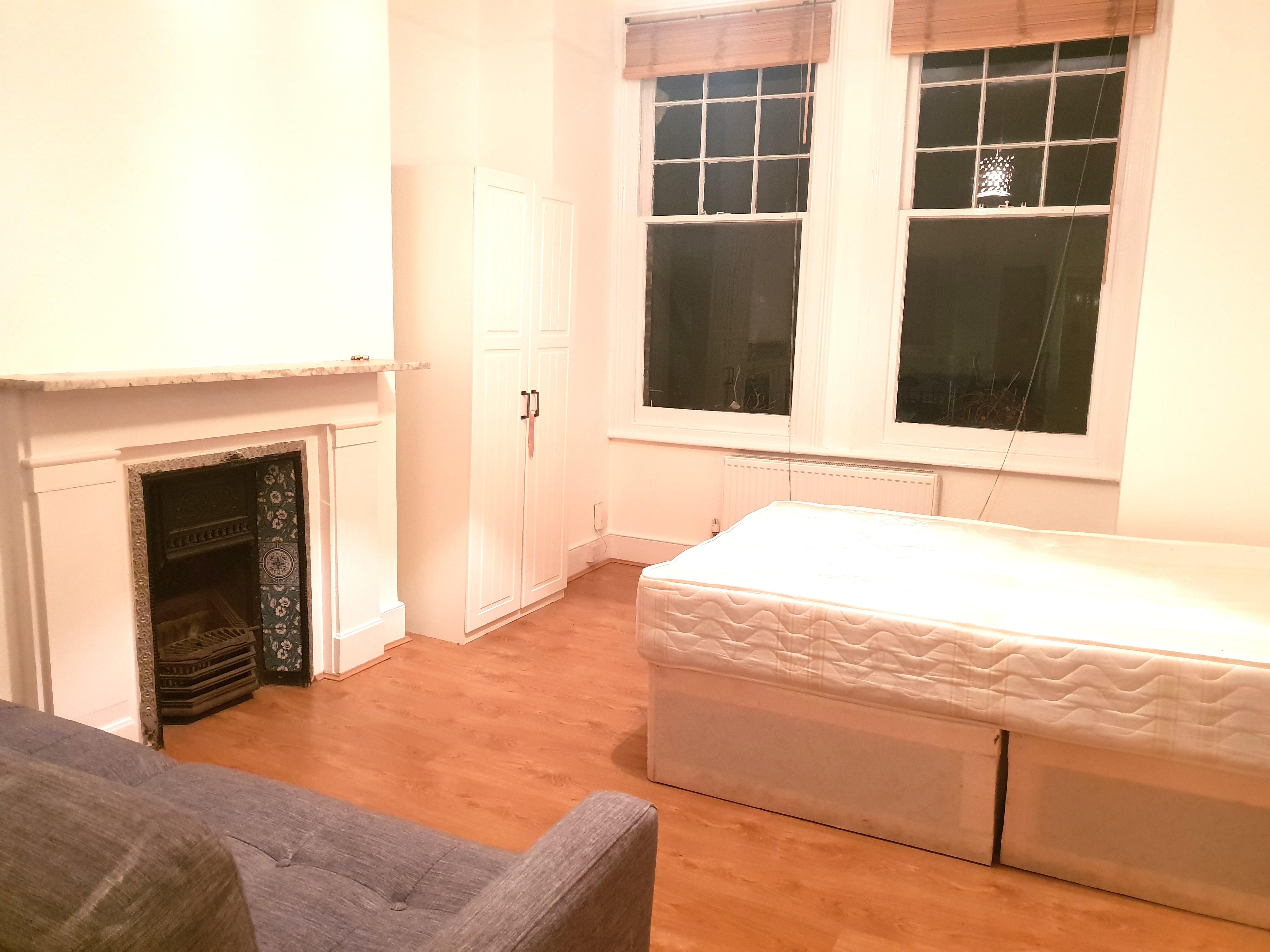 So, to clarify: your bedroom is your living room. Your office is your kitchen. Your bathroom, fully tiled, is at the end of an ominous hallway. This costs one thousand pounds per month, plus an additional two-hundred-and-fifty pounds, plus bills.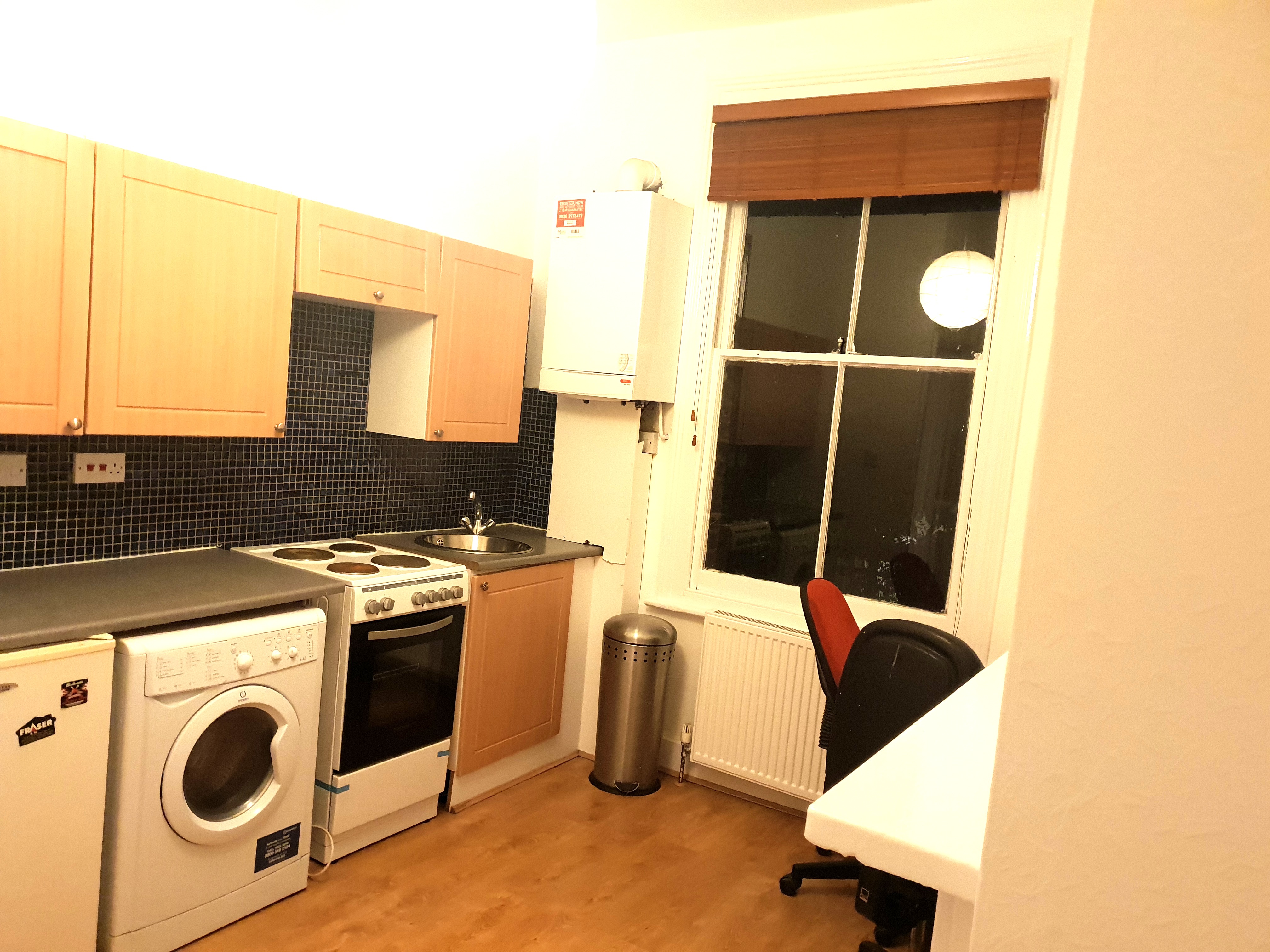 Then why am I so angry? I think it's because of how lazy this flat is: presented, as it is, with creaking cheap furniture – the box-frame bed; the Argos wardrobe that always slants and goes wobbly two months into use, the doors refusing to align unless you lift one of them to shut them; the sofa with the stains on it, the muck of someone else's hair gel smeared along the back; the errant poles left in shot, the starkness of the lightbulbs flashing off the windows. Nothing about this house says "welcoming" or "make this your home" or "this, in any market with natural forces in the known universe, is worth £1,250 a month". It says: "We found a lot of this furniture on the road outside. If you break one of these shitty poundshop blinds you're paying for it. The boiler works three months of the year and not the months you want or need it to work. If you take those soiled office chairs out of the kitchen I will snatch the entirety of your deposit."
It has been a long year – of everything, but most especially this column. Nobody moves in December: this is the time of year estate agents throw new adverts up, shit flung inelegantly at the wall, and see which properties get snapped up: those that do dictate the market rate for the coming year. 2020 will see rents go up, this is a fact: there is literally nothing regulating the rental market, I sincerely doubt the new government has any plans to do anything about it, and this year's law axing rental fees is due to be absorbed into rental costs so landlords, estate agents and everyone involved down the whole fetid chain get their cut and then some.
If you stay where you are next year, your rent will probably go up. If you move, it is likely to increase even more, because landlords know clearing out one set of tenants and moving in another means there's a grey £125-ish gap of knowledge in what each other paid for the same space, year-on-year-on-year. You don't need to move into this particular office chair shit-hole in west London for it to affect you: as soon as someone does (and they will), and as soon as this flat operates as a marker for what £1,250 gets you in this city, all the rents around it will adjust accordingly. This shit-hole being supposedly worth more than you are paying for your slightly-less shit shit-hole just made your shit-hole a whole bunch more expensive.
My advise is this: do not think about it. Go home for Christmas, enjoy the fridge your mum went absolutely barmy stocking up, eat as much food and drink as much drink as you possibly can. When your mum offers you a brick of tin foil filled with cheese and mince pies and Christmas pudding to take home to London with you, accept it greedily. Enjoy all those nights with the central heating on too high. Because once you come home, to W14, to London, to this, all of those things – eating, being warm, existing comfortably – will be a distant memory. £1,250 a month of someone else's money just put paid to that.
Merry Crimbly :)