This originally appeared on VICE US.

Crushed is a fair that celebrates independently published erotic and pornographic material. The festival will serve as a gathering place for artists whose work deals with sex. There, you'll find everything from raunchy prints and publications for sale to dirty film screenings and musicians performing in the nude. It's just like the Scholastic book fair your grade school put on, but with more dicks and butts and vaginas.
Throughout the weekend, a projected exhibition of the late-great photographer and teacher George Pitts's erotic work will cycle infinitely. Much of this work is previously unseen. We're showing it to honor his legacy and to remind people how amazingly sexy his photographs are. A second small exhibition will give the smut fair's attendees a glimpse of rare and hard-to-find queer zines from the collection of Philip Aarons and Shelley Fox Aarons.
On Sunday night at 6 PM, M. Lamar will unveil a new work, American Cuck, which will include projections and a live musical performance. For those who may be unfamiliar with Lamar's work, he is a male soprano, writer, and performance artist who the Wall Street Journal once called "the devil." Preceding Lamar's performance, Brooklyn Artist Lindsay Dye will perform a "cake sitting" at 5 PM.
Regardless of who you are and what you're into, you're sure to find something that suits your fancy at this book fair.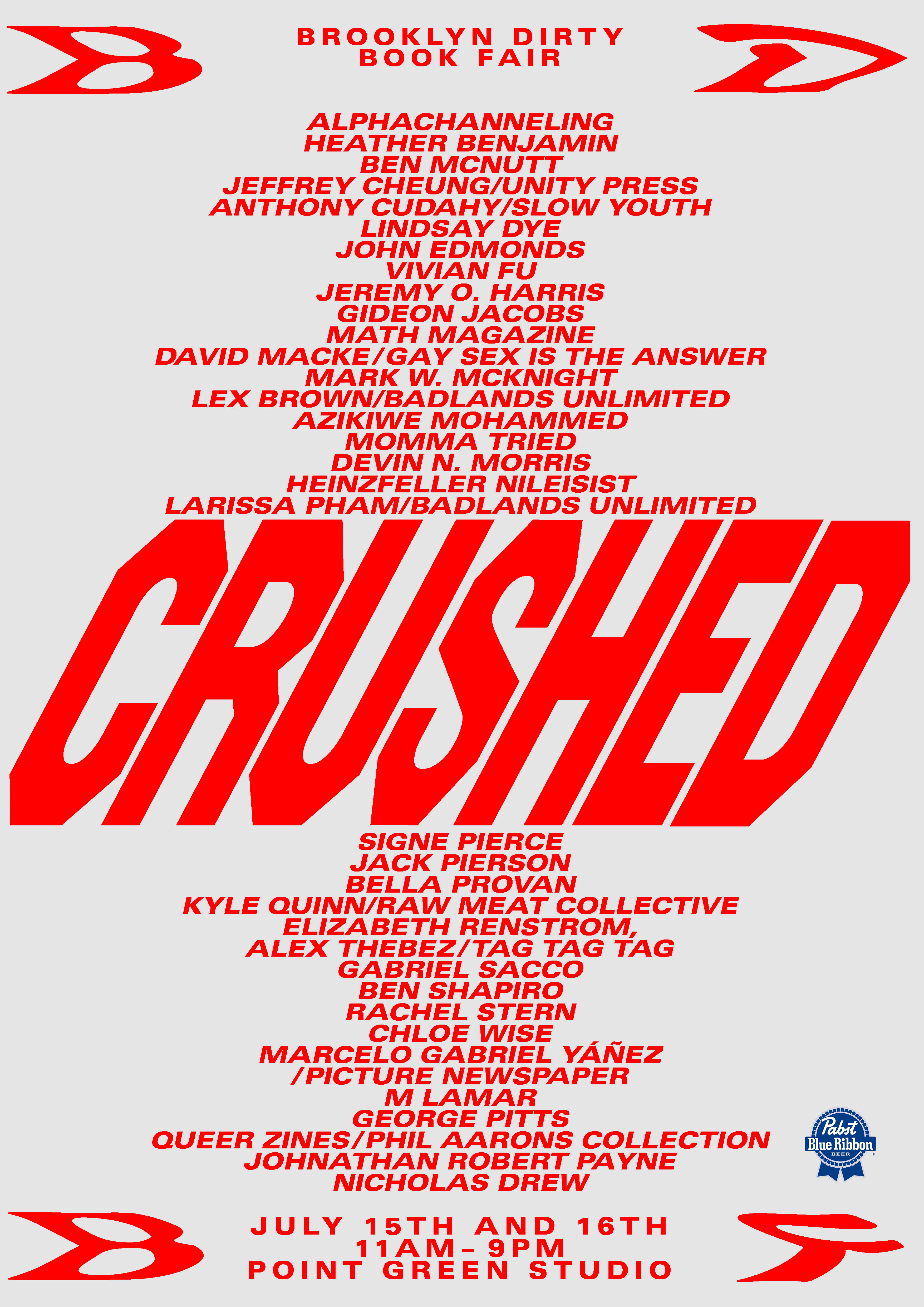 Here's the full list of participants:
Alphachanneling, Heather Benjamin, Lex Brown/Badlands Unlimited, Jeffrey Cheung/Unity Press, Anthony Cudahy/Slow Youth, Lindsay Dye, John Edmonds, Vivian Fu, Gay Sex is the Answer, Jeremy O. Harris, Gideon Jacobs, Math Magazine, Mark W. McKnight, Ben McNutt, Azikiwe Mohammed, Momma Tried, Heinzfeller Nileisist, Larissa Pham/Badlands Unlimited, Signe Pierce, Jack Pierson, Bella Provan, Kyle Quinn/Raw Meat Collective, Elizabeth Renstrom, Alex Thebez/Tag Tag Tag, Gabriel Sacco, Ben Shapiro, Rachel Stern, Chloe Wise, Marcelo Gabriel Yáñez/Picture Newspaper
Brooklyn Dirty Book Fair will take place Saturday July 15th and Sunday July 16th from 11 AM to 9 PM at Point Green Studios, 260 Java Street.