Go On, Here Are the Best British Tracks of 2018 So Far
Continuing our annual tradition, we've written about the songs our friends/neighbours/Uber drivers have heard on repeat all year.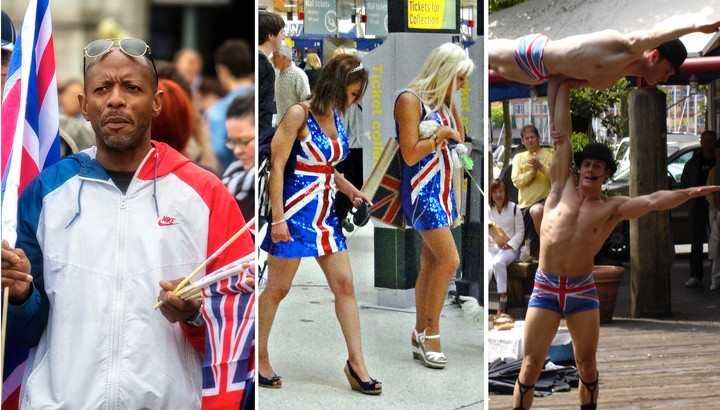 (L–R) Photos by Garry Knight, Gareth Williams and Hillbraith via Flickr
Thing about summer is, it just seems to make music sound better. Somehow, richer. Definitely louder, probably because the combination of a random guy blasting "Nice for What" with his car windows rolled down/the family three doors down who won't stop playing Stefflon Don's "Hurtin' Me" from last year means music follows you around at a higher decibel level than in winter. When it's cold, you retreat inwards to enjoy music, whether that means thawing off using body heat at a gig or sliding your headphones on while sat on the bus as it, predictably, pisses it down raining outside.
Here we are now, though, about halfway through the year. And it's time to dig back into some of the best music that's come from this normally miserable but temporarily not vitamin D-deficient island. A lot of these songs are summery bangers, others are a bit darker – but all will see you through until the end of the year and beyond. Trust us, there has been an outrageous amount of good stuff released already, and we are damn well ready for what's going to come next too. Let's get into our picks from the past six months (well, almost).
THE TOP 5:
1. Sports Team – "Camel Crew"
Sports Team are the best indie-rock band in London, and "Camel Crew," the standout from their January EP Winter Nets, is the best British track of the year so far. That's facts, friends! Balancing musical bombast with biting lyrics about Goldsmiths posers, "Camel Crew" swaggers and sticks its chest out in your general direction. Its charm, though, lies in its sense of humour. The song borrows from the cadence of the kitchen-sink eyebrow raises of acts like Pulp and The Beautiful South, trading lines about domestic mundanity for genuinely funny barbs about overdone steaks and sellouts.

From the off, frontman Alex Rice swirls the words around his mouth and spits them out wringing with derision. His literate verses build to a swinging chorus (matched elsewhere on the EP by the strutting, wryly self-aware "Beverly Rose") where the vocals swell capably, the synths shine bright, and the guitars partake in some pleasingly jangly Pavement worship. Of all their tracks so far, "Camel Crew" best exemplifies why Sports Team stand out: it blends wit with catchy songcraft and bold instrumentation, while also resolutely refusing to take itself seriously. British rock, for my money, could do with more "Camel Crew"s. Lauren O'Neill
2. Lily Allen feat. Giggs – "Trigger Bang"
London – and in fact the whole of the United Kingdom, probably – is awash with cocaine. It's in the water, on the bank notes, in the glove compartment of a dealer who arrives faster than a Papa John delivery. "Trigger Bang" isn't explicitly about doing blow, but it is about getting caught up in the maelstrom of a city and lifestyle that fuels addictions – whether they're alcohol, sex or drugs. Yet Allen, with her talent, gives these scenarios a bittersweet sheen, topping the tune off with a calm and collected chorus, and doing what she does better than anyone else: turning the fumes of a bad situation into a relatable, highly rewarding heater that stings as much as it stimulates. Ryan Bassil
3. Young Fathers – "In My View"
Surely the marker of a great song by a largely genreless, leather jacket-favouring band from Scotland is that within the first 12 seconds it makes you want to dutty wine until you put your back out. Young Fathers, initially known to your nan as those three lads who looked absolutely not bothered on the red carpet after their 2014 Mercury Prize win, have put together a saucy banger. Granted, it's a saucy banger about greasy scumbags and the sleazy allure of money. "In My View" clatters along with a syncopated, thudding drumbeat bedded beneath synths that buzz like a fly that's ended up on its back on a windowsill. Come for the dynamic build, which swells with every passing chorus. Stay for Alloysious Massaquoi whisper-rapping "I'm writing blank cheques, I'm a dirty bugger" into your ear. Tshepo Mokoena
4. Let's Eat Grandma - "Falling Into Me"
Let's Eat Grandma are from Norwich, which is very close to Peterborough, both in geographical location and East Anglian dreariness. I am from Peterborough and so feel qualified to say that you have to be pretty fucking magical to conjure something like I, Gemini from this flat patch of regional England. And to follow it up with – plot twist! – three lustrous, electro-driven tracks produced by Faris Badwan? That's just witchcraft. "Falling Into Me" announces itself with Kate Bush synths and quickly descends into a prog rock-riffing riot of strip lights and steamy windows. We're not in Norwich anymore, Toto. Phoebe Hurst
5. Years & Years – "Sanctify"
"I'm a Slave 4 U" but make it (even) queer(er)? Sign me the fuck up. The lead single from Palo Santo, the as-yet-unreleased second album by Years & Years, sees the group on pulsating form. "Sanctify" has everything that high-stakes pop should keep in its arsenal: a heaving chest of a chorus that expands and contracts with desire, its own mythology, and, crucially, commitment. Olly Alexander has rarely sounded better than on his ad libs here, and you can tell it's work he really believes in. Thrilling stuff that'll make you want to oil yourself up and do three minutes of floor choreography whenever and wherever you listen to it. Lauren O'Neill
5. Charli XCX – "5 in the Morning"
Let's have a moment for what 5AM often actually looks like: fag butts overflowing from a Red Stripe can, someone with cracked wine lips still talking to you about cryptocurrency, that sinking feeling when the birds start singing and you realise you should probably, like, exfoliate and rest your eyes. But this song by Charli XCX makes that sickly time of the morning sound like the place to be. She makes it feel like alien green strobes and nice, clean MDMA and a group bath in someone's boujie flat. "5 in the Morning" sits slap bang in the middle of relatable and aspirational – like what might soundtrack the first ever Skins advert instead of The Gossip, if the show came out today. Daisy Jones
AND ALL OF THE OTHER GREATNESS
Novelist – "Smiles"
In this Thatcher-like era of depravity, violence and political uncertainty we need someone like Novelist, a forward-thinking and fiercely independent MC who – on his debut album – is bringing blessings upon blessings. "Smiles", a song about not frowning in "the bits", should be taken like medicine – let it enter your ears, then take each day as it comes with as much positivity as possible. Ryan Bassil

Arctic Monkeys – "Four Out of Five"
Arctic Monkeys have been the oddballs of stadium rock for their whole career (lest we forget that they're called 'Arctic Monkeys'), and their sixth album – the musically accomplished but frequently batshit Tranquility Base Hotel & Casino – proves it. "Four Out of Five," a lounge-inspired musing on lunar gentrification, is its highlight, featuring Alex Turner in full crooner mode and loving it. Lauren O'Neill
IAMDDB – "Conjuring"
This song is literally less than two minutes long. The extended synth intro, which sounds a bit like an arcade fighting game villain's victory music, pushes it to two and a half. To that I'll say that Manchester trap-pop talent IAMDDB makes the most of whatever time you give her on the mic, skipping from blistering bars to throaty singing. Even though the vocals sound like they were recorded in a wardrobe, this one is perfect for the AUX cord and rinsing on repeat. It's such good value for your time. Tshepo Mokoena
Chip feat. Mist – "Marijuana"
I have spent my whole life trying to be one of those people who wake-and-bake to improve their temperament and wear nice big soft t-shirts around the house. Instead, weed turns me into an even more anxious version of myself. Three tokes and I am rendered speechless, paralysed by the certainty that everyone hates me, including people I've never met. This song – which is so full of melody, and ease, like a glowing cloud of smoke – is the opposite of all that. It's what could have been. It's perfect. Daisy Jones
slowthai – "T N Biscuits"
Let's be honest: this tune is like a punch in the face. slowthai is loud, brash, aggressive, and it's these qualities that've set him apart from the rest of the British rap scene. Sometimes I hate this song; at others I feel like I could run headfirst into a concrete wall and emerge on the other side unscathed, like a superhero. Ryan Bassil
Sorry – "2 Down 2 Dance"
Sorry are one of those young guitar bands with a live show so good I've literally seen them drive men in their forties to scream about how they're just like "the good old days of grunge". This is a song about being so sad that you can't bear to get out of bed. But it's also feverish and energetic and sort of feral, in the way so much of their great songwriting to date has been. After this, put on their brilliant visual mixtape from March. Tshepo Mokoena
Rina Sawayama – "Valentine (What's It Gonna Be)"
This V-Day loosie reminded us back in February that the UK has a bonafide, capital-P Pop star in its midst in the form of Ms Rina Sawayama. Loaded front-to-back with drama, "Valentine (What's It Gonna Be)" sounds like what you'd hear at a nightclub in space, energised by about four separate hooks and an irrepressible 90s R&B influence. Lauren O'Neill
Nimmo – "Too Late"
This song does not have enough views for something of its calibre. We're given dark synths, cold melodies and these intense, icy string sections that fit somewhere between old detroit techno and what you might hear at The Glory in east London after a certain hour. It's nocturnal, obsessive and massively underrated. Daisy Jones
Florence + the Machine – "Hunger"
"Hunger" could be about a lot of things – loneliness, eating disorders, drug addiction, heartbreak – and yet, in spite of this, it is a jubilant victory lap. It excels in the knowledge we're all missing something, searching for more, and manages to mutate that feeling into a celebration: a knowing that "we all have a hunger". Ryan Bassil
Dream Wife – "Hey Heartbreaker"
This track is energy, energy, energy. On the one hand, we've got garage punk of the classic variety: riotous vocals, riffs to start a mosh pit, a chorus that sticks to you like a beer-slicked floor to your shoes. But on the other, it's fresh and future-facing, which is perfectly captured in a video of raw, DIY sounds brought to life by animated cyborgs. Daisy Jones
Jimothy Lacoste – "Drugs"
Before you get the wrong idea, Jimothy Lacoste is not a joke. I know that's what you might assume from a guy with two-strand twists in pastel preppy wear, sincerely rapping about he doesn't want you, his girl, to do so many drugs – but the 23-year-old Londoner is no gag. He isn't rich either. His deadpan, 'in his proper accent' rap-singing means YouTube commenters like to make fun of his assumed Home Counties posh clientele nonetheless. Idk, I'm 29, so I keep well out of that 'you Poundlandbandit fake!!' chat but this drum machine bop is icy and has a sweet message, so thank you, Jimothy. Tshepo Mokoena
Rolo Tomassi – "A Flood of Light"
In a sentence: eight-minutes-plus soundscape from a British legacy band who deserve their quiet cult status. That this track dances around a sweet spot between dark and light, the oppressive and expansive, technical and ephemeral, shows a thoughtful and triumphant culmination of everything Rolo have tested to date and possibly their most accomplished piece of work yet. Hannah Ewens
James Blake – "If the Car Beside You Moves Ahead"
Of course James Blake's first solo single since 2016's The Colour in Anything sounds like a soulful robot coming down off uppers. The Londoner has always excelled at making warm stuff – Love! Yearning! Romance! – melt against the metallic tones of his production. Here he both literally and metaphorically plays with the concept of motion. You know the feeling: when you're on a train and when a faster train moves on the track next to you, making it seem for an instant as though you're immobile, or slowly being pulled backwards. See also: life and comparing yourself to others. Another corker from the guy who'll always have the honour of being the only white dude on the Black Panther soundtrack. Tshepo Mokoena
Casisdead – "Pat Earrings"
Yes this song came out last year – on Christmas Day, no less – but that's exactly what makes Casisdead the Greatest Rapper in Great Britain right now. He does things you wouldn't expect. So, with this luscious 80s tinged tune about falling in love with a high-end escort, he still makes the cut for our favourite songs of 2018. How could it not? Cas raps with such heavily nuanced detail ("Use a glove when we're getting off... / I love her too much to pay in duds") that you have to believe every single word, and does so in a way that's completely unlike anyone else in the UK right now. Ryan Bassil
Murkage Dave – "You Always Ring Me When I'm Busy"
A lot of music covers the universal conditions of, like, love (every song about love) or the tingling anticipation you have before a night out ("I Gotta Feeling" by the Black Eyed Peas) but very few of them tackle, like, 'sitting on your bed in a wet towel for 45 minutes before going to a friend-of-a-friend's birthday party you said you'd go to but don't really want to go to but now it's too late not to go to, also the party is in south London' or 'being slightly too tired to go to the shop downstairs so you just go to bed without dinner instead'. Maybe you do not have these feelings. I do. This song is a pretty good analogue of them. Joel Golby
You can find Tshepo, Ryan, Daisy, Lauren, Hannah, Joel and Phoebe on Twitter.