PnB Rock's first and only meaningful relationship began in the same place that it would end: a grocery store.

It was located Northeast Philadelphia, about 30 minutes from Germantown, the section of the city that Rock, born Rakim Allen, was raised in until his mid-teens. He was there with a court-appointed chaperone, a result of a recent arrest, and was doing some shopping. His single mom had recently moved the family, five boys in total, to the area to get away from the streets that had consumed Allen after his uncle, a father figure, was murdered. The suburban neighbourhood's manicured lawns served as a stark contrast from the broken sidewalks of the Pastorius and Baynton Streets that his stage name derives from. "It was like two different worlds," he remembers.
While there, he spotted a beautiful girl who happened to live across the street. She didn't seem to notice the chaperone, and the tall and lanky 15-year-old with an easy smile was able to nab her number. Coincidentally, he was not the first Allen boy to do so; while riding the bus a few weeks earlier, his younger brother met the same girl and also bagged her digits. His bro tried to play it cool, however, and waited to call, leaving the door open for a chance encounter with Rakim, who had no idea it was the same girl that his sibling had come home and exuded about. For a time, both tried courting her from the same number (their home landline). The young girl had already made up her mind, however, and started dating Rakim not long after.
"She was looking for a street-edgy guy, and I was looking for a nerdy girl," he says. "That was the only time I fell in love. Everything else felt like lust."
Despite being from a safer part of town and having a mother who was "heavy on church," she accepted him into her life. Little did she know that he was still frequently traveling back to Germantown to maintain his role in the streets. He managed to keep it a secret, too, until one day he made the bold decision to rob an unsuspecting kid in his new suburbia neighborhood. Feeling nervous afterward, he hastily ran into a nearby store—the same one where he met the girl he loved—and tried to dump the stolen goods. It was a futile effort; Allen's tattoos made him an easy culprit to identify. The police rolled up soon after and put him in cuffs.
"I was living a double life."

The serendipitous nature of this story only gets heightened from here. On pure chance, his girlfriend saw the whole thing go down from her bedroom window across the street. And in what could be taken straight from a page in a movie script, she then ran over and demanded what was going on, exclaiming to the officers that they had the wrong guy—that there was no way Rakim would do such a thing. Today, sitting across from me while sipping a cup of tea, a tool to help rejuvenate his vocal cords in midst of his first big tour, Allen still expresses guilt over the ordeal.
"She was 100 percent sure [I didn't do it]," he says with a sigh. "I was living a double life. I didn't want to scare her and her family. They accepted me into their house."
His relationship with her would never been the same. Although she continued to support him during the small bid he did for the robbery, things began to sour when, not long after, he was sentenced to 33 months upstate in a maximum security prison for more serious crimes. Their parting would inspire a bevy of hard-hitting songs by Allen centered around the topics of love and separation, including multiple on RNB 3, his latest release and first since signing to Atlantic Records. His lingering feelings of their time together tie into what seems to be a theme in the young artist's life, which is whenever something honest and good happens, something bad from his past rears its ugly head. Even now, at the age of 23 and on the cusp of making it big, Allen is seemingly still struggling to outrun his demons.
But you wouldn't know that from sitting with him. As we talk in VICE's bustling lobby about these topics and his January 13 release GTTM: Goin Thru the Motions, the warble-voiced singer, who's often regarded as the Philly version of auto-tuned trappers like Fetty Wap and A Boogie Wit Da Hoodie, remains calm and personable, never taking his concentration off my questions. Any sign of anxiety or guilt is buried beneath his perpetual relaxed posture, even when we broach uncomfortable subjects. His ability to converse open and genuinely, regardless of the topic, can be attributed to his time upstate, he tells me. There, as nearly the youngest prisoner amid a population of long-serving convicts, he learned to make friends fast. Within a few months, he became known for being "just a cool person that people wanted to be around," he tells me. He credits the older prisoners for teaching him how to be confident in his own lane, even in a place where his options were limited.
This newly instilled confidence is partially why Allen returned to singing and rapping—two things he'd been doing since he was a kid but never felt comfortable telling anyone about. The other driving factor? Time, and lots of it. Within the concrete walls of his cell, he used a small, $200 keyboard—one of the few luxuries prisoners could purchase as part of a program—to make simple, string-laced beats to write to. He took the melodies he secretly appreciated growing up made by crooners like Trey Songz, Chris Brown and Mary J. Blige—artists that dominated pop radio but didn't fit into the "hardcore" lifestyle he and his partners were living at the time, he says—and added street-focused lyrics. The results were songs both melodic and real, a hardened version of the catchy R&B he used to overhear on loudspeakers at department stores and hum along with. These weren't just scribbles on paper, either; Allen eventually gained the courage to perform them for other prisoners, who began to view him as a voice for their struggle.
"Those guys up there…they got a lot of frustration," he says. "It's easy for me to come out here on the streets and perform for crowds because them critics up there are going to keep it 100."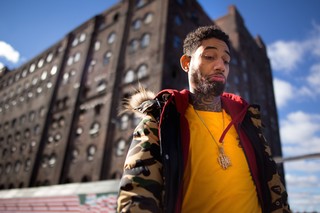 Some of his most well-known songs were cultivated in his cell, including "Alone," a somber earworm off RNB 3 highlighting the perils that fame can bring upon a relationship, and "Fleek," named after an elderly prison nurse who once fired back at one of Allen's prison mates for calling her ugly ("She was like, 'You just mad cause I'm on fleek,'" he remembers). But these were only the sketches of the polished jams that have racked up tens of millions of plays on Soundcloud and helped Allen gain a spot on a nation-wide tour this winter alongside fellow up-and-comers Shy Glizzy and Dae Dae. It was Allen's attention to detail (as we talk, he continuously checks his phone for messages from an engineer mixing one of his songs that he's sent copious notes to) that morphed them from simple ideas into big-time anthems. What's more, it helped that artists like Fetty, whom Allen would eventually create a whole project with called Money, Hoes and Flows, had established a blueprint for vocalists that mixed singing and MCing over trap production. R&B no longer had to be clean and glossy; upon getting released, Allen found that his edgy lyrics and catchy harmonies now had a place within the pop landscape.
But does he? The night of our interview, I catch Allen performing at a nearby venue as part of his current tour with Shy and Dae, and he looked every bit the part of a hit maker, enamoring the crowd with his infectious ballads and tough-as-nails bangers, including a few from his new EP, Going Thru The Motions, dropping January 13. A highlight of his set is his rendition of "Playa No More," the first single from Going Thru, which features Migos member Quavo and New York's A Boogie, whom he brings out to help perform the song. Its thudding bass line and snap snares remind me of heyday T-Pain, when the Tallahassee rapper turnt singer soundtracked summers with playful singles that catered to both the mainstream and street.
As I watch Allen, though, I can't help but think of the last thing he told me during our conversation earlier in the day, which was that his older brother had recently been murdered. Due to legal proceedings around the case, he revealed little more to me about the situation. He did admit, however, that he struggles sometimes to continue to chase stardom when much of his family is still living in a dangerous area that he's tried to leave behind. "[My brother is] supposed to be here [with me], you feel me?" He said. "I miss him."
On stage, he seems genuinely cheerful, smiling widely as he bounces back and forth with his fans. This, he would add, is his one release from the stress of everything that has happened to this point. Here he's free to be PnB Rock—the boy from Germantown who's finally letting his voice be heard. With any luck, that version of him is here to stay.
"All this keeps me going. If I didn't have all this shit going on, it would be way harder for me."

All photos by Matt Seger.

Reed Jackson is a writer based in New York. Follow him on Twitter.