Stop all the clocks, cut off the telephone,
Prevent the dog from barking with a juicy bone,
Silence the pianos and with muffled drum,
Mourn the retirement of Paul Robinson.
Though W.H. Auden may not have originally intended Funeral Blues to be dedicated to future Leeds, Tottenham and Blackburn goalkeeper Paul Robinson, the emotional force of the poem is appropriate in the context of Robinson's life as a footballer coming to an end. Having spent the last season and a half at Burnley, making only three appearances for the Turf Moor club, the man who once famously lobbed fellow keeper Ben Foster from 80 yards has finally hung up his gloves. That freak effort made him only the third goalkeeper to score a goal in Premier League history and – along with a euphoric glancing header for Leeds in a Carling Cup match against Swindon – was one of the highlights of a career in which Robinson became an ever-present in English football. Throughout the noughties, Robinson was part of the Premier League furniture, a timeworn leather sofa with stubbled edges and creases deeper than his precipitous widow's peak.
While Robinson's hairline may now have been altered by what appears to be some sort of correctional procedure, fond recollections of his goalkeeping remain. For many, he will be remembered as a keeper who was well liked but abundantly fallible; his time at Tottenham was scuppered by a series of mistakes including some questionable positioning in the 2008 League Cup Final, and despite Tottenham's triumph that day he was jettisoned by Juande Ramos soon afterwards. Despite making a respectable 41 appearances for England between 2003 and 2007, he was criticised for his role in the national team's disastrous Euro 2008 qualifying campaign under the inept guidance of Steve McClaren. His famous goal against Foster came only a few months after he had made one of the most embarrassing goalkeeping errors of all time for the Three Lions, with the contrast between the two incidents emblematic of a career which veered between highs and lows.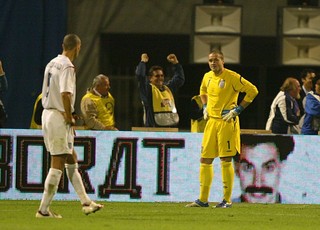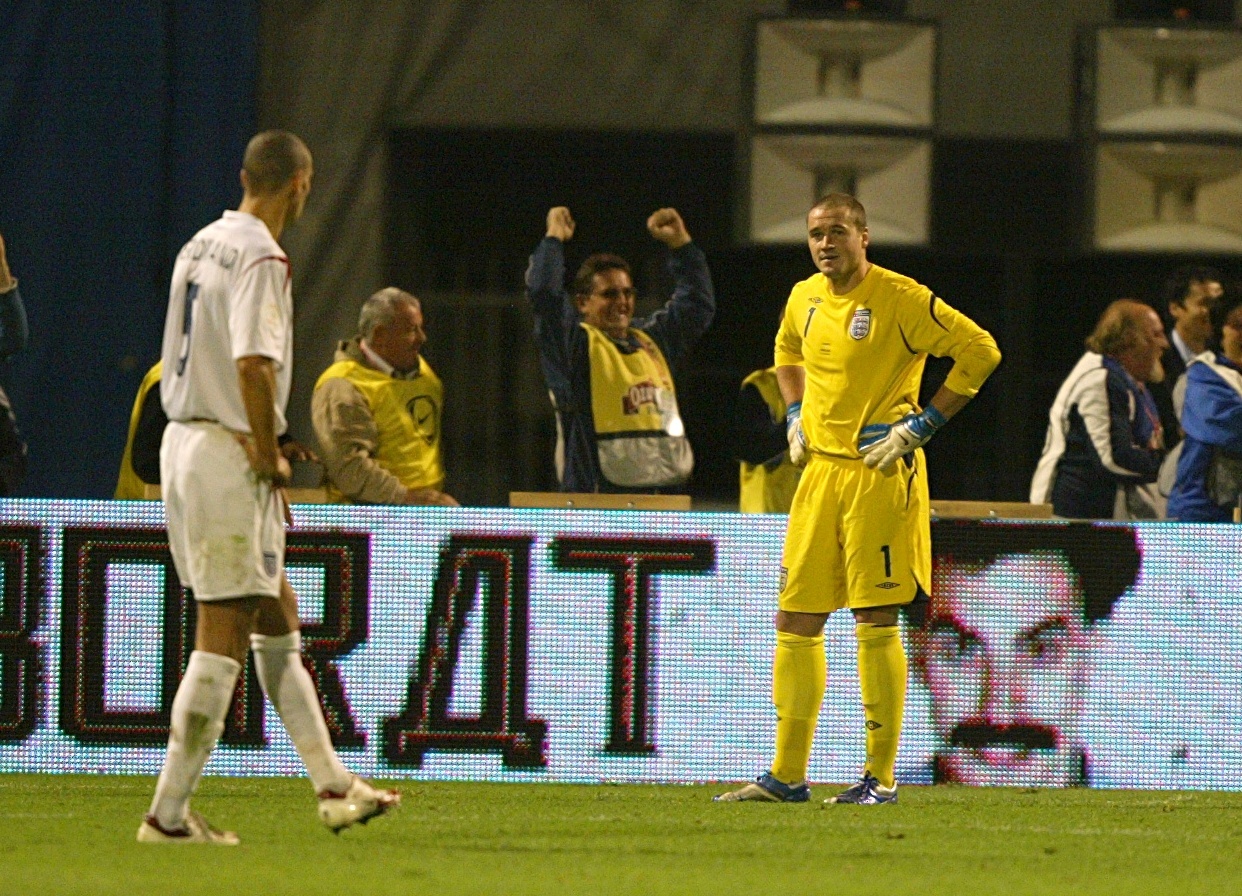 Robinson had an inadvertent comical streak which went further than allowing the ball to bobble past him and into the net now and then. One of his defining moments in an England shirt came when he accidentally hoofed a goal kick into the overhead televisions during the Three Lions' first match at the 2006 World Cup, with the enormous, aimless punt earning him an appreciative cheer from the England fans in the stands. For a former Tottenham goalkeeper, he bows out of football with one of the most unfortunate career statistics ever, namely that he has conceded more Premier League goals against Arsenal than any other keeper against any other club. Even his unlikely goalscoring feats were essentially ludicrous, with his celebrations consisting of flapping his oversized gloves and laughing in semi-disbelief at himself.
Nonetheless, while he was never one of the best goalkeepers in the league, Robinson was certainly underappreciated outside of the clubs he called home. There is a reason that he retained fan favourite status despite his fallibility, with fans at Leeds, Spurs and Blackburn more willing to forgive his errors than commentators and outside observers. He was voted Player of the Year by Leeds fans in 2003 and again by Blackburn supporters in 2011, both after otherwise underwhelming seasons in which they had flirted with relegation. Robinson may not have had the most accurate distribution, the coolest composure or even the most natural talent, but he was a siege goalkeeper who could be relied upon to throw out a strong hand or deliver a thumping reflex save.
READ MORE: How Social Media Has Become a Tool of Psychological Warfare During The Transfer Window
Relatively short for a goalkeeper at 6'2, Robinson was never going to have the greatest aerial presence under a thunderous barrage of crosses, but he made up for this with his agility and acrobatics between the posts. More than anything else, supporters fall head over heels for goalkeepers who are also entertainers, even if statistical mastery of the more prosaic areas of the game often earns a keeper more clean sheets. Robinson was certainly a virtuoso, a goalkeeper who was able to outshine his outfield teammates over the course of a full season with his dramatic shot stopping. There are few keepers who are Player of the Year at the age of 24 and again eight years later, and while he may have lagged behind in other areas he had few rivals when it came to tipping a screamer away.
Often forgotten with regards to Robinson is the fact that, at the age of 33, he missed six months after developing a potentially fatal blood clot on his lung after a routine back operation. Speaking to The Daily Mail towards the end of the recovery process, he said: "At the worst point it felt like someone was stabbing a knife into my chest and twisting it repeatedly… It was an achievement after the first month to go out of the house and walk." Despite losing his starting spot and his fitness to a serious health issue, Robinson came back to play another two seasons with Blackburn in the Championship before making his swansong with Burnley. While he might have had his heyday in the noughties, the end of his career is arguably more impressive than his peak.
Especially for fans raised on Premier League football after the turn of the millennium, then, Paul Robinson's retirement will leave an empty space where a flawed and much loved goalkeeper used to stand. More so than his bobbling miskick for England, his cameos up front and his tendency to hoof goal kicks into the stratosphere, he should be celebrated as a stopper who was there when his clubs needed him, even when he was convalescing from a pulmonary embolism. There are few other goalkeepers who can say the same, though only marginally fewer than those who can claim to have air kicked a back pass in a crucial European qualifier and allowed it to roll in for a decisive own goal.