I Spent a Day At the Infamous Equinox Gym, Which Costs Thousands of Pounds a Year
Name-checked by Kanye, and a hangout of American celebs, I went down to my local London branch to see whether it's worth all that cold hard cash.
All photos by Jake Lewis.
"Don't pray to Jesus, my love – Jesus is busy in spinning class." 
I'm in the mid-morning "Best Butt Ever" class at South Kensington's Equinox gym, being shouted at by Hugo Diaz, who is the human equivalent of a neon-pink slogan tank-top. "Enjoy the pain; you are paying for it," he yells at me and about 20 other women as we curl over doing hip thrusts.
The Equinox in Beverly Hills has always had a pretty swollen celebrity clientele. It's where Lindsay Lohan opted to train after rehab, and on any given day one can spot Paris Hilton, Khloe Kardashian or Ashley Tisdale tumbling into 4x4s after Cardio Pump or Vinyasa Yoga sessions. 
However, it wasn't until Kanye West uttered: "I need every bad bitch up in Equinox / Wanna know right now if you a freak or not" in Life of Pablo track "Highlights" that the workout brand fully entered the pop culture canon, just like eight-minute abs and SoulCycle before it.
Although I do work out fairly regularly, my fitness regime involves five-minute YouTube videos where you use the sofa as a footstep and baked bean cans as weights. At the £2,400-a-year starting fee – the equivalent of eight months' rent in Stoke – Equinox is a little out of my budget. So when I was offered a free day at the gym I headed off to west London to see what all the fuss is about.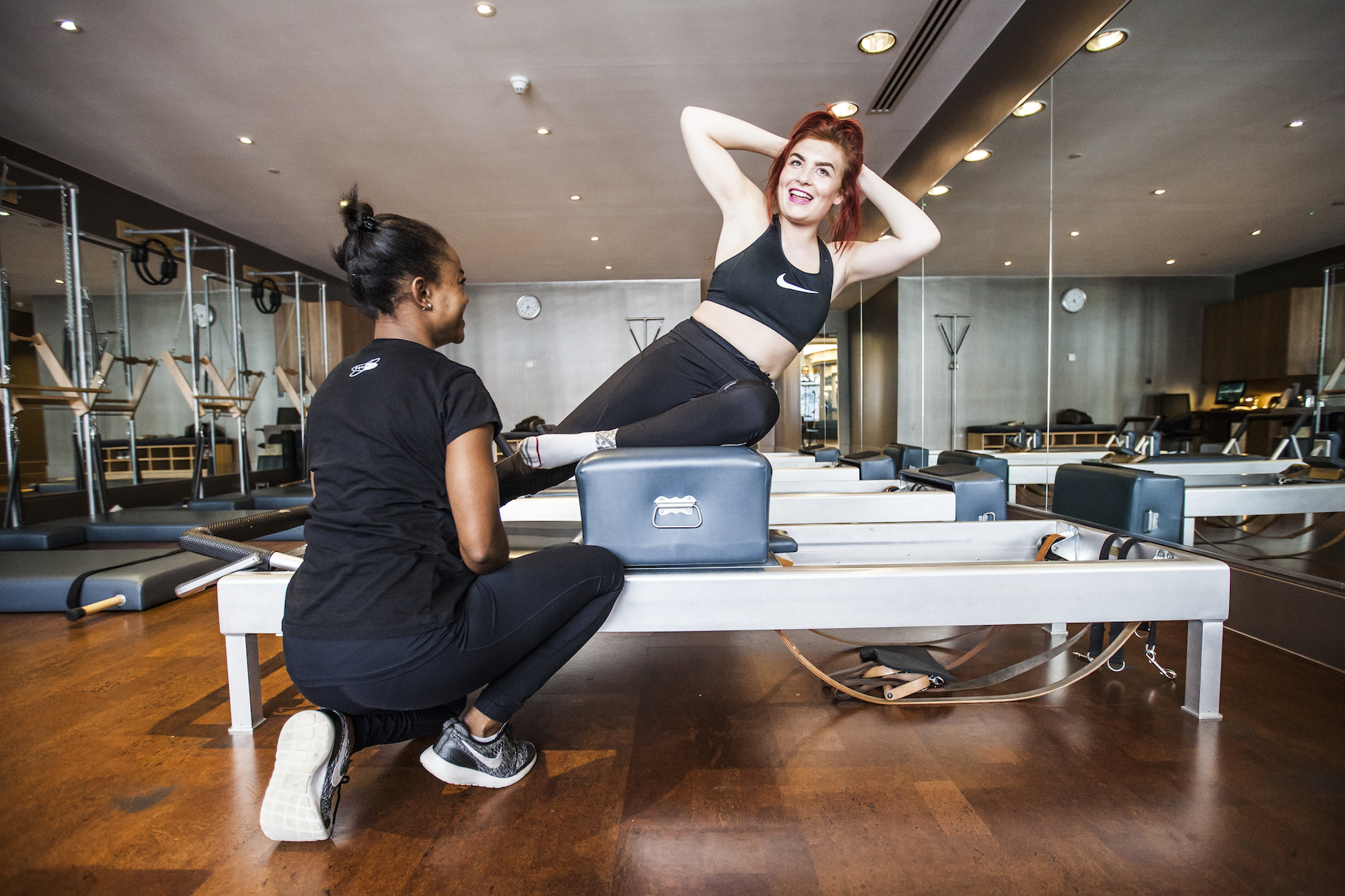 Back in Hugo's class a woman at the front starts yelling a countdown in what I assume is a bid to end her pain early. Hugo marches over to her. "No, no, no, no," he says, his finger swaying back and forth. "I am the boss, darling." But where Hugo scolds, he also forgives. A girl in the corner is splayed out across the floor; Hugo walks away from the class and cradles her head between his palms, like the Pope getting out of his Fiat 500 to comfort a crying baby.
Before walking through its doors I imagined the women of Equinox as the kind of bad bitches you might spot in the back of a Fetty Wap video, all belfies and thighbrows and workout gear that cost more than my education. In fact, the "Best Butt Ever" class was made up mostly of the kind of older women who might spend their days sampling seeds at Whole Foods. Still, their workout gear did look pretty expensive.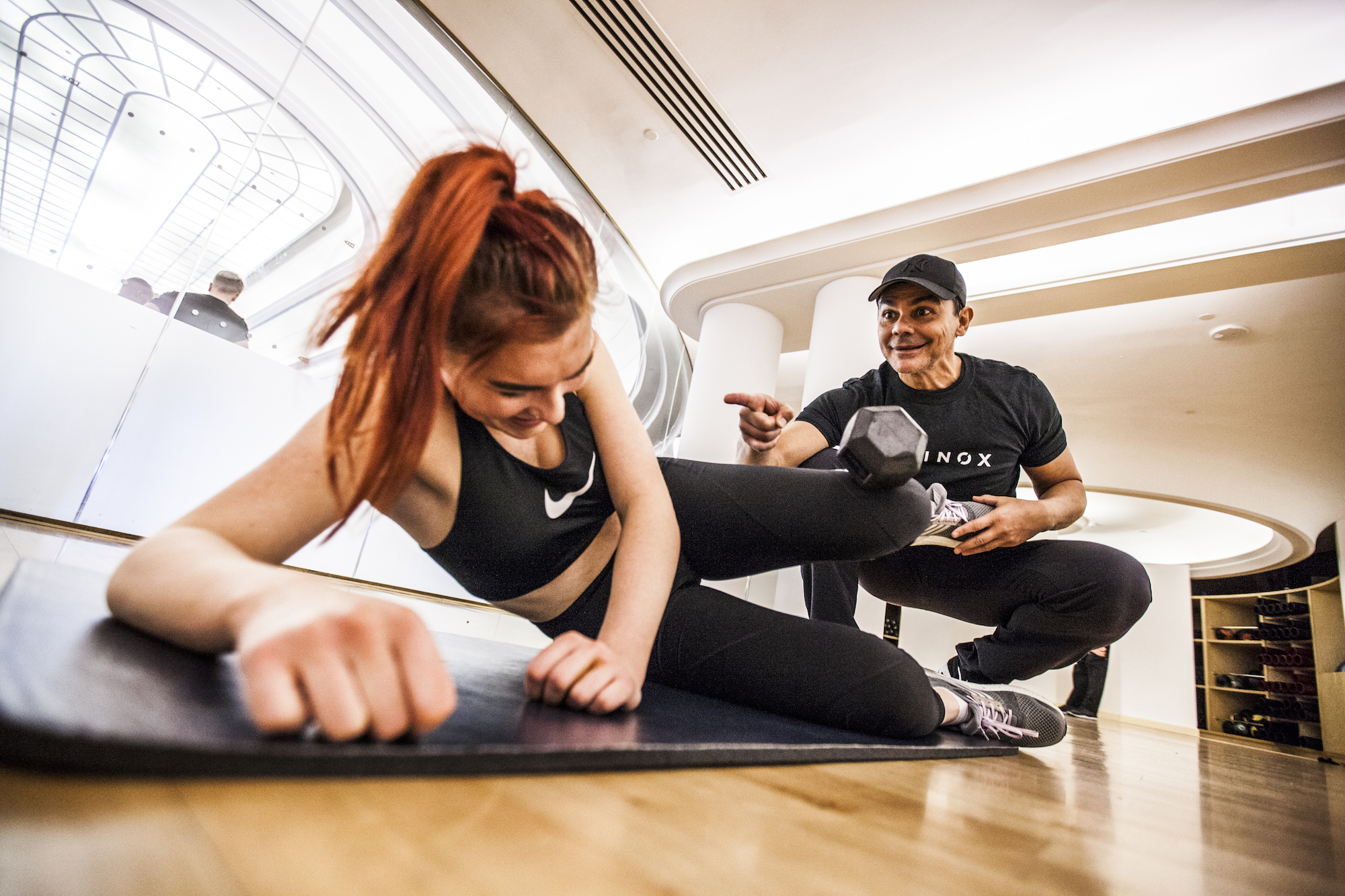 When the class is over, one of the women approaches me, presumably realising that I'm an outsider because I'm visibly impressed with the dark wood floor.
"Isn't he amazing?" she grimaces, grabbing my arm so hard that fat spills out the corners of her fingers. "Hugo's class is fun-ducational. That is something we say in New York. That's why I love him."
"At my evening sessions we have to put a bouncer on the door," says Hugo. "The women who forget to put their name down on the guest list try to sneak in." 

These women aren't attending Hugo's class because they want to shift a few pounds; Equinox seems more like a religion. As conventional faith rituals rot away, people are seeking transcendent feeling in exercise. And I totally get it: I have surplus serotonin juicing out of my ears. I feel all fuzzy and delicious.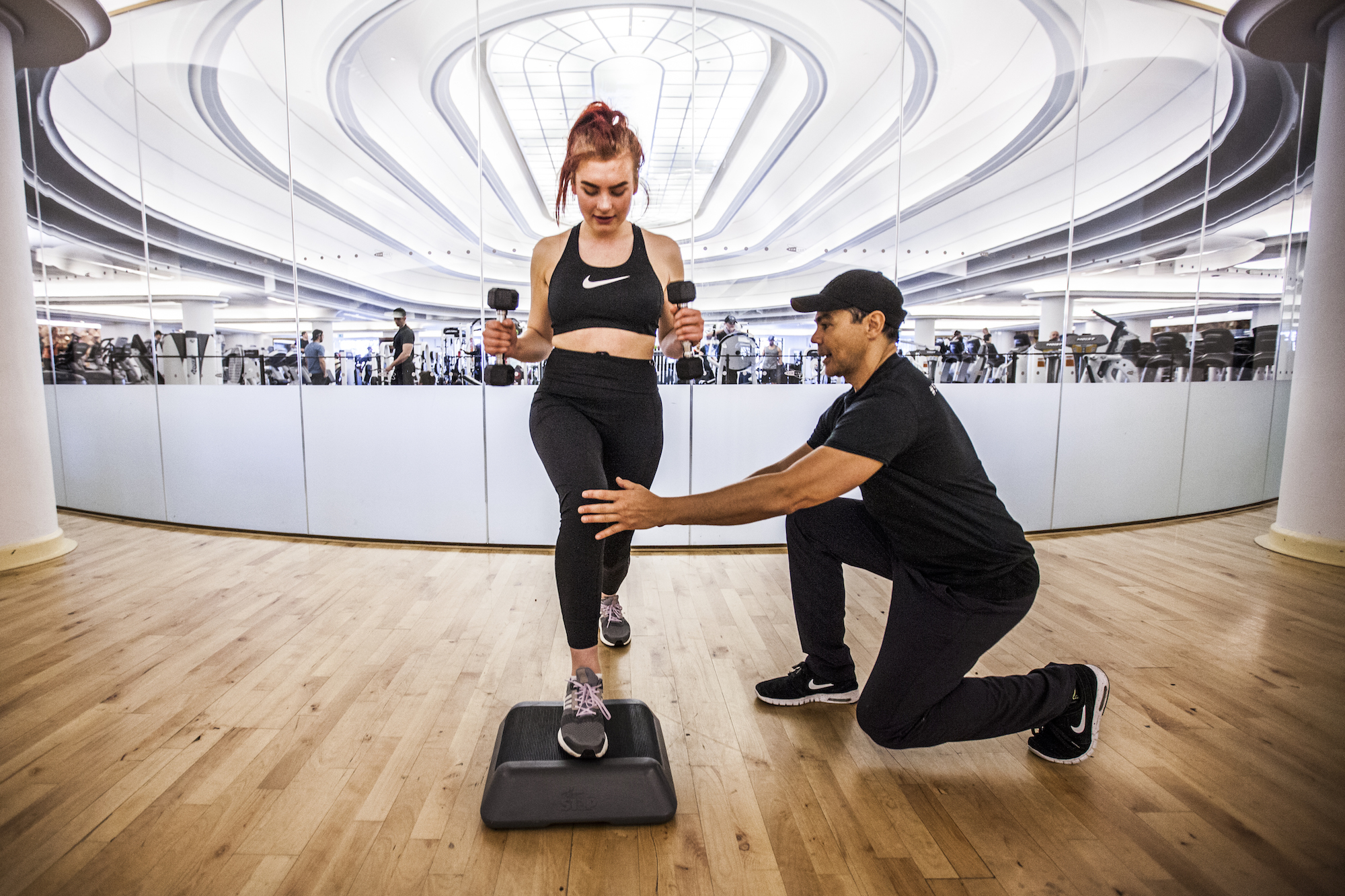 After the class I go for a wander around the building. With the illuminated elliptical dome ceiling and chunky white pillars, Equinox looks like an ultramodern Methodist church. The gym floor is padded so it's like walking on a cloud – a cloud that's extremely sympathetic to your tendons. 
Interestingly, none of Equinox's ads show people exercising; one shows a beautiful woman breastfeeding two babies, another shows a man covered in bees. They look more like a G-Star RAW campaign than promo for somewhere you actively choose to go to punish your body. And this isn't particularly surprising: as their Facebook page suggests, "Equinox isn't just a fitness club, it's a temple of well-being."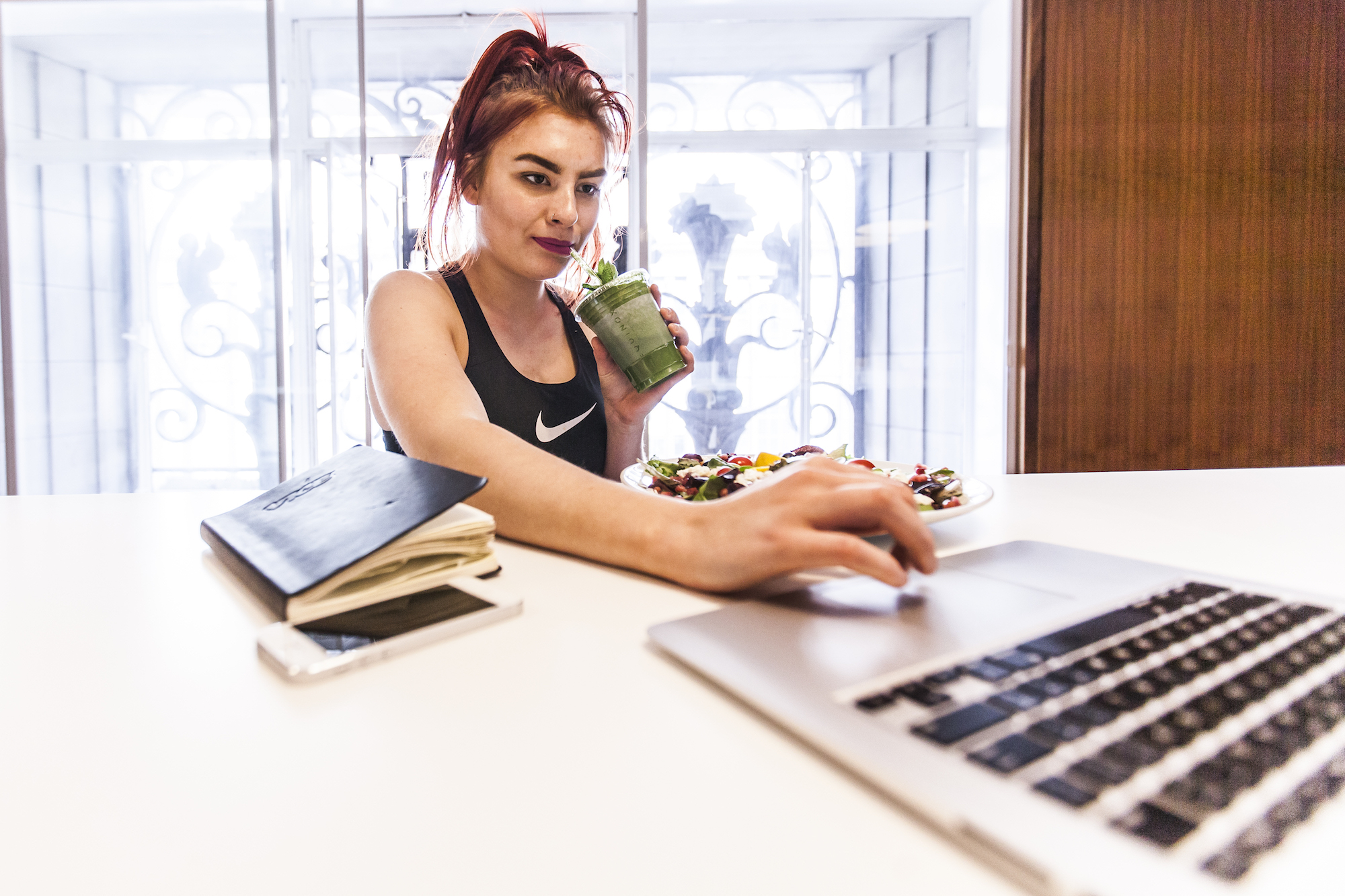 Back in the gym proper, the PR spokesperson, shows me the equipment. "The maintenance staff clean under here every day," she says, gesturing towards dust that has gathered under the machines. "I don't know how it gets so dirty." It appears people have such intense workouts at Equinox that they shed skin like snakes. 
There's a conspicuous lack of steroid-pumped meatheads here; instead, you'll find people she refers to as "high performance livers". By that, I assume she means they're high-achievers who take care of themselves, not that they're all teetotal. Another thing I can't help but notice is that men here stare at my body in a totally desexualised way, compared to other gyms I've been to. I'm muscle detached from all else. 
The toilets at Equinox are the stuff of beauty blogger wet dreams. There are eucalyptus-infused towels held at various temperatures, which I am assured is Equinox's "signature scent"; a steam room; and Kiehl's products on tap, so you could literally bring in some Tupperware and juice out a week's supply of lux products (but if you're that cheap I'm going to go ahead and assume that you're not in Equinox's target market).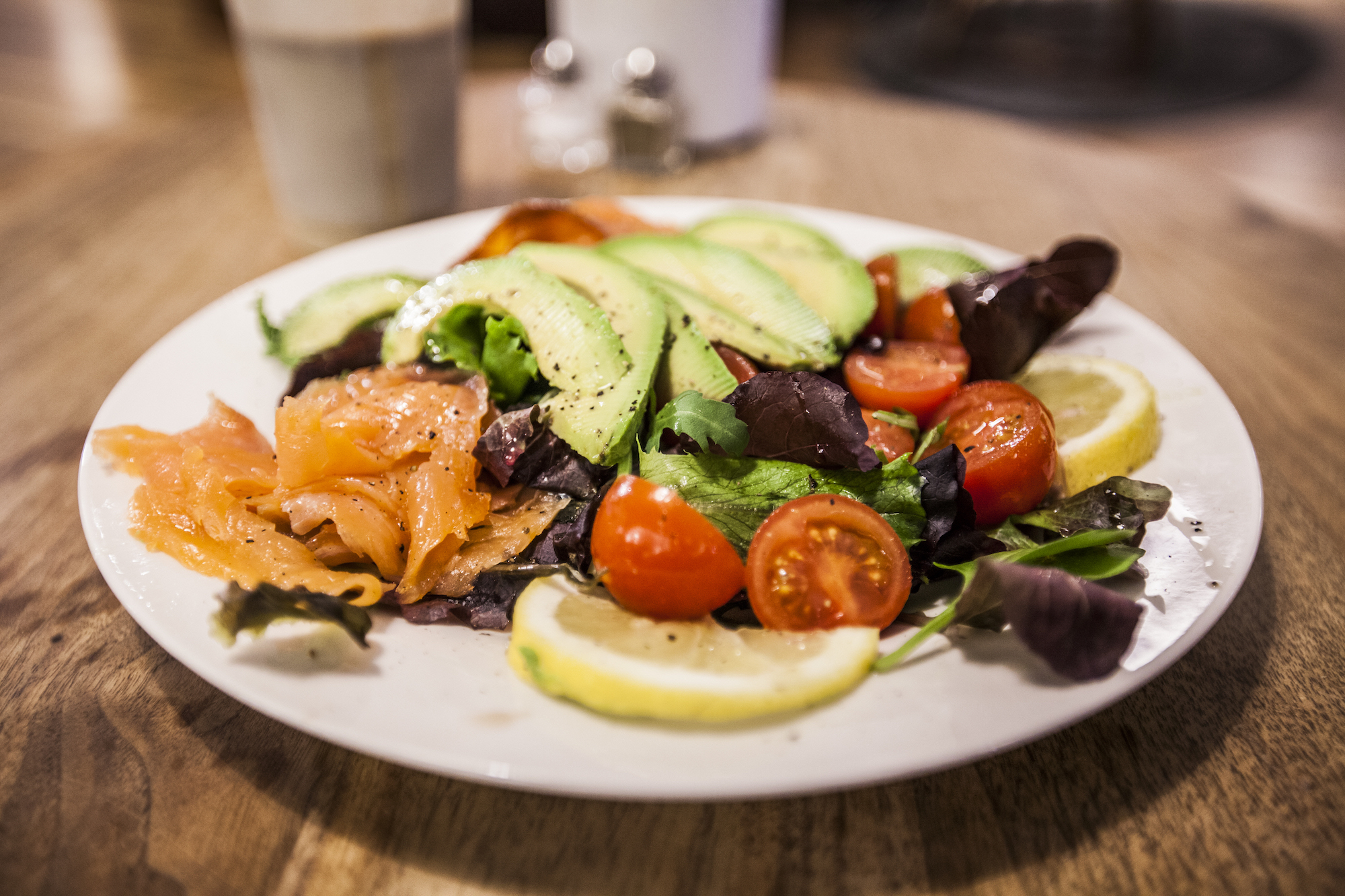 Before long I'm ushered out for lunch. 
"Have you had breakfast?" asks one of the waiters. 
"I had some Branflakes this morning." 
The pain of hearing this makes his face contort. 
I'm promptly handed some Icelandic mineral water, a salmon and avocado salad and a detox smoothie. Across from me is a lady eating an apple with a knife and fork like it qualifies as a meal.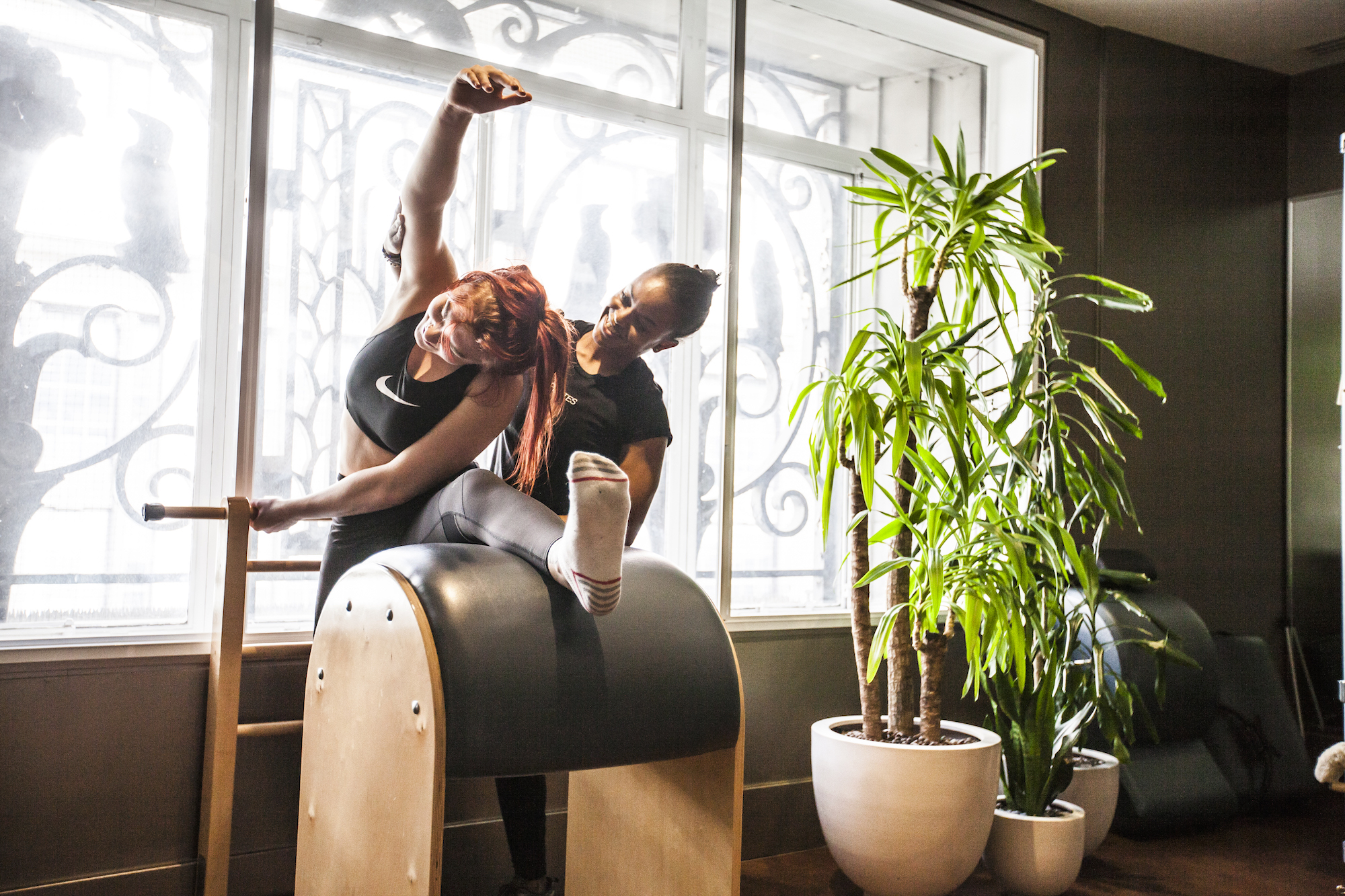 In the afternoon I go to Rory Knight's tissue regeneration class. Gone are the expensively lean women; in are more spiritual types. 
Next is a pilates class, where I'm strapped into what looks like a device you'd find at Torture Garden.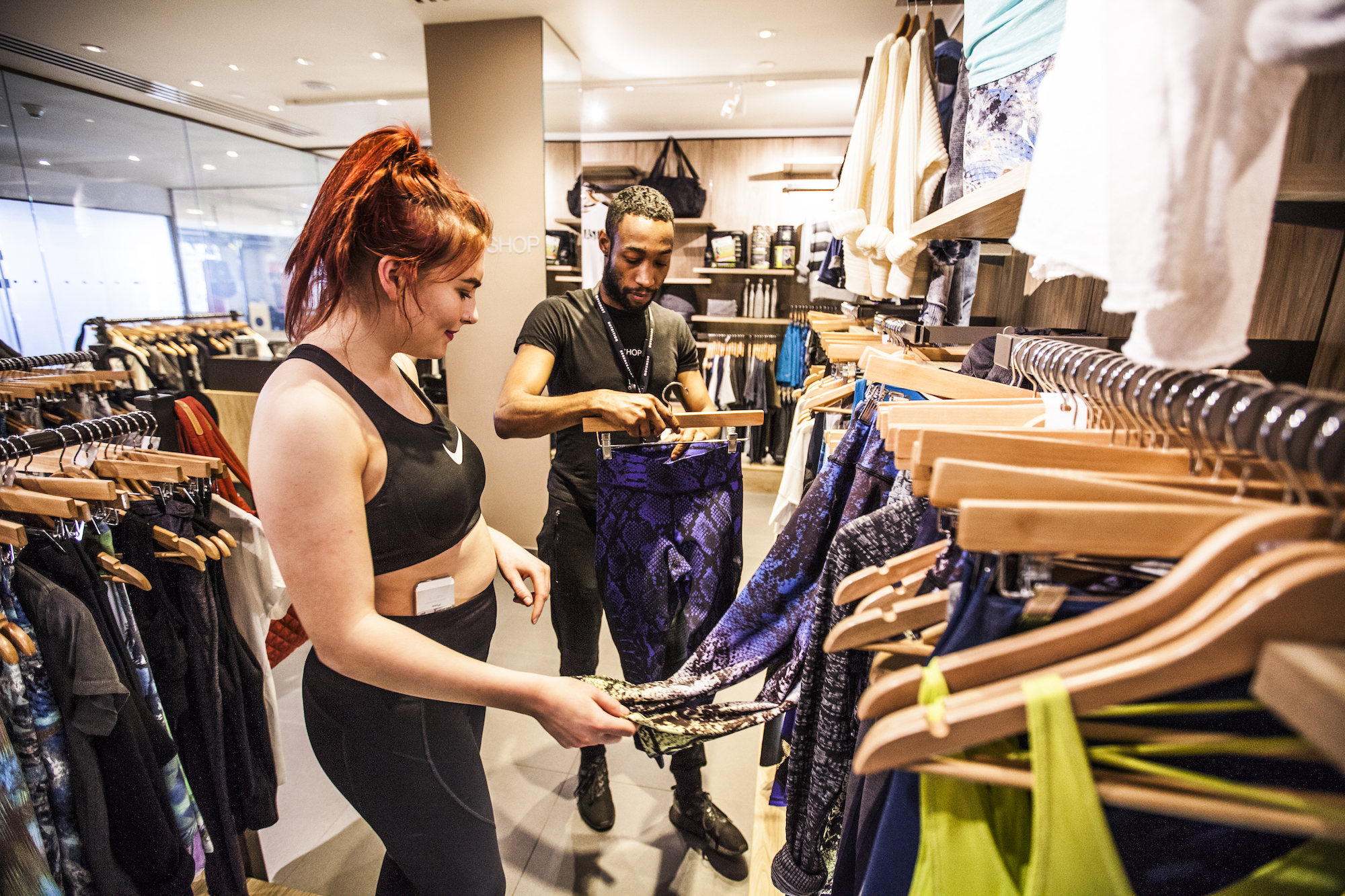 I'm then ushered in to try on some clothes in the Equinox boutique. I normally work out in my flatmate's football shorts, so I feel a bit clueless around brands like "Fitness Gangster". The clothes are so styled and structured you could wear them to Tiger Tiger and no one would notice that you were in Lycra. 
I pull out some snake print leggings. "I am afraid we don't have these in your size," says retail executive Marlon, which is funny because I'm only a 12. I found some other items they had in stock in my size. Marlon starts picking out some looks for me, one of which includes a clutch bag. I felt like a Bratz doll with a new expansion pack.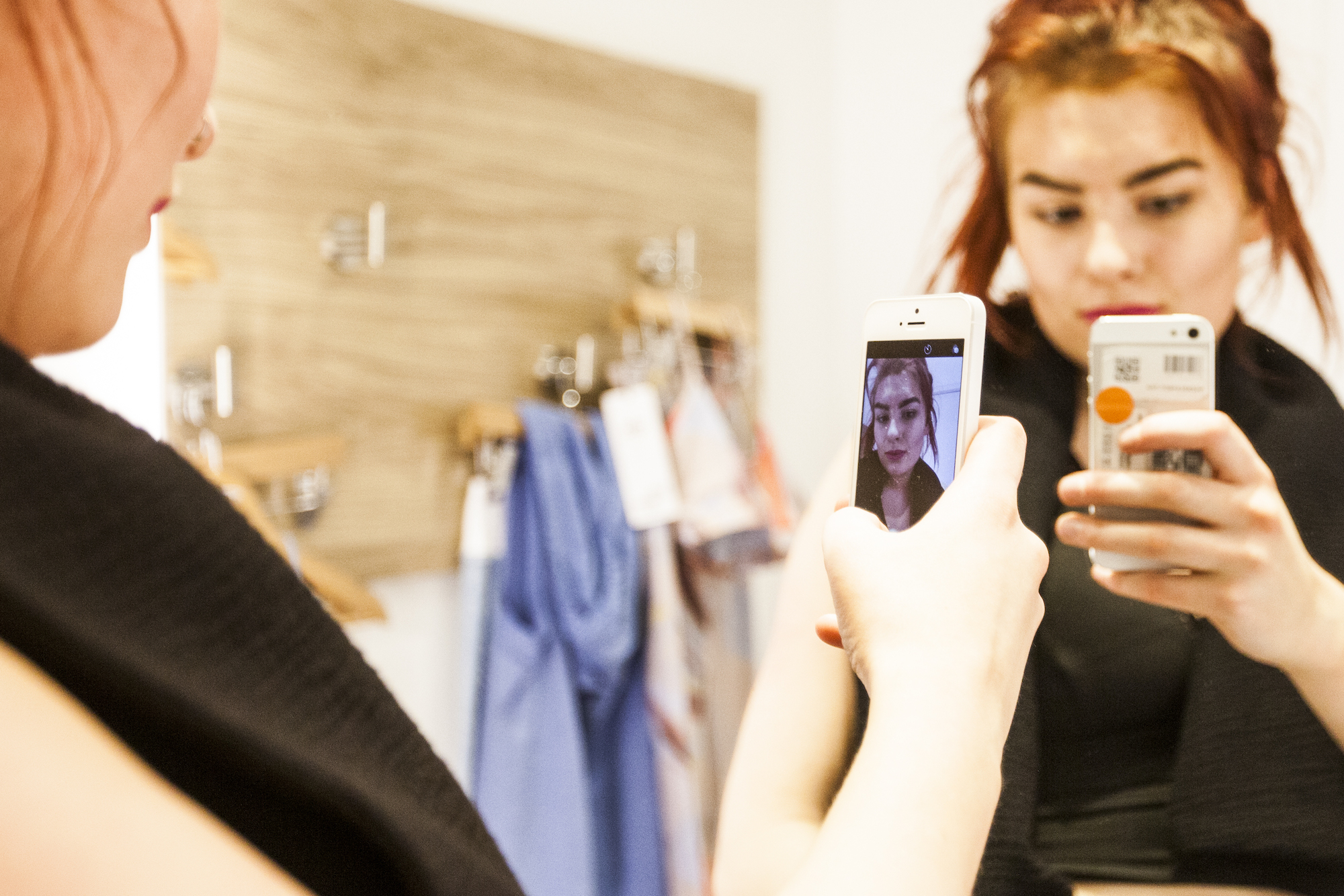 The Lounge area looks like what I imagine the VIP bit at Heathrow Terminal 5 to look like. All around me are copies of Esquire and art books with stiff unturned corners, propped up as display pieces. Equinox, I realise, is basically a private members club for those in the upper end of the tax bracket who don't want to die before 55. 
"People come here all day," says the PR. "They do a class in the morning, they have lunch, they do some work in The Lounge and then they stay and do an evening session. In the showers we have all the products you need so you can pack light."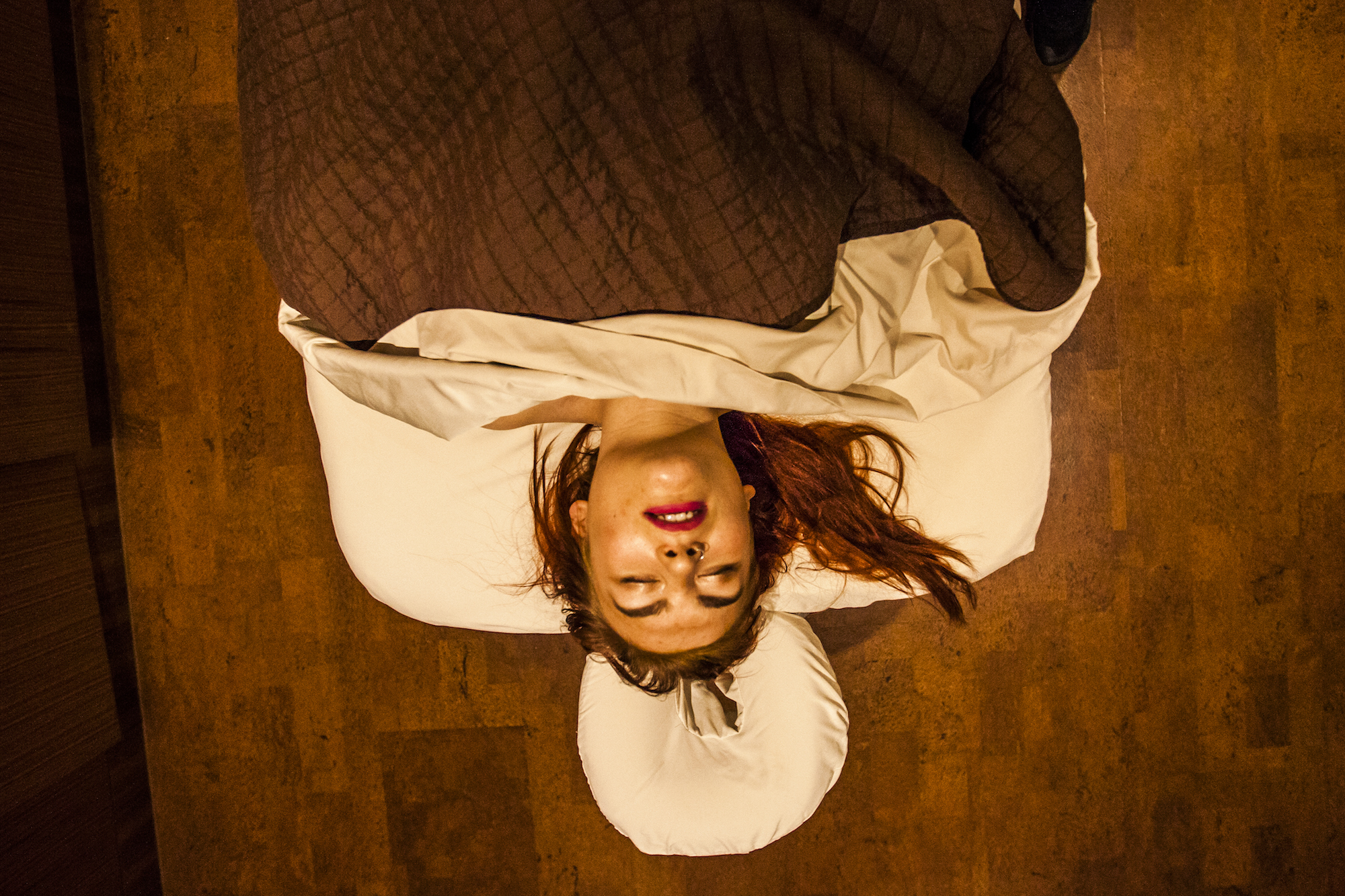 Would I want a membership? Yes. Is it good thing I can't afford it? Probably. I don't want to get to the point where I'm living in the gym, replacing my personality with a 12-hour exercise regime. But it is nice to swan around for the day, feeling like this is totally normal. 
And, if ever possible, I would like to recruit Hugo's crew of tight ladies as my own personal team of life gurus.
More on VICE:
I Scammed My Way Into London's Private Member's Clubs
Remembering Capital VIP: the Private School Orgy Disguised as a Nightclub