Ten weeks on from the Grenfell Tower fire in which at least 80 people died, the official response is still a farce. On Wednesday night a meeting of the Grenfell Response Team with the local community at the Al Manaar Muslim cultural centre showed local residents' ongoing frustration with what one called "this absolute disaster of a response".
Grenfell Response is a combination of the council, the police and Public Health England. It has held regular meetings since the fire, and Wednesday saw the sixth. They are a show of face, and the face they show is that of a manager who can't manage – bureaucratic and inhumane and useless.
"I haven't seen one tear drop from one of your eyes in any of these meetings. People pour their souls out to you and you sit there like dead people," said local resident, Niles Hailstones, to applause.
This week, the police tenuously linked heroin seizures in far away boroughs to Carnival in a familiar pattern of framing the event as one associated with crime. While Carnival organisers are dedicating the event to the memory of the victims, there have also been fears of the potential for troublemakers and gawkers around the event. At the meeting, meanwhile, people were more concerned about the effects the policing would have on survivors, and warned that it was the authorities that have stoked tensions. "We've preached peace, love and unity from day one at these meetings, and if anything happens at Carnival for you lot to provoke anything, it's down to you," said Niles.
Funnily enough, one of the very first items of the meeting had been the introduction of new police officers, which some community members had asked for. Stood in a line to the right of the meeting hall they introduced themselves one by one.
More police? Sure. Housing? Other services? Tricky. The council got plaudits from the Evening Standard for its belated decision to spend tens of millions of pounds on buying property near Grenfell Tower to rehouse the victims, but council leader Elizabeth Campbell told the room that, of the people who lost family in the fire, a grand total of three have accepted new permanent housing. A "joke", came a shout from the floor.
Sucks to be Elizabeth Campbell, heckled at every turn, but I guess that's what happens when somebody who has never been in a tower block takes over an infamously aloof council. An early intervention was from a guy who had been due to meet her the previous day, but the meeting had been cancelled at short notice. Why? She didn't know. Virtually everything the beleaguered leader said was met with rolled eyes and mutterings of "does she know anything?" All too often, she didn't.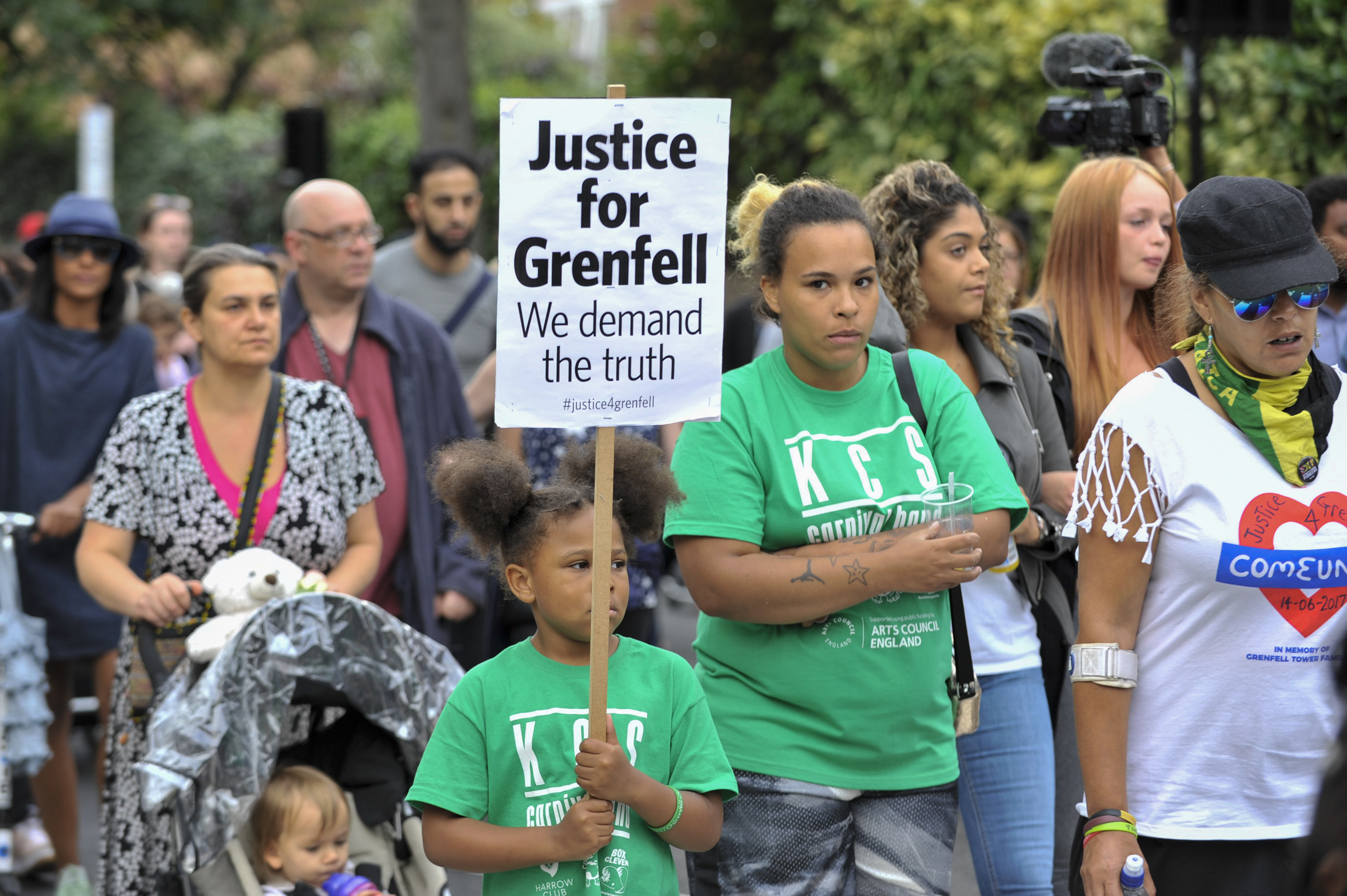 The council officials and police remain tone deaf in the face of grief. They kept repeating what a "privilege" it is to serve the community, but their language was corporate and euphemistic. Liz Campbell spoke of survivors making their "preferences" for re-housing known, as if they were redecorating the living room. Barry Quirk, the council's interim chief executive, spoke of "generating" more housing for victims, AKA buying some. It's a change from a few weeks ago, when Jeremy Corbyn said the property of the rich should be "requisitioned if necessary". The stock of housing for Grenfell survivors currently stands at 105.
"They're great at compulsory purchase when it suits them, for a land grab," one local observed to me.
News that KCTMO, the much maligned arms-length management company, will at last be relieved of responsibility for the Lancaster West Estate was met with mixed reactions. "Gold Command", the government taskforce that runs key functions, will take over for now. Its mention elicited moans. "Are we expecting a platinum command next, or maybe cobalt command on top of that? Because it seems that this is all you guys do; you bring in another layer of management," said one resident.
Ultimately, while the Grenfell Response may talk in terms of progress being made and point to what they have provided, the residents are all too aware of what they haven't. A young woman with PTSD said, "I called the number for one mental health support thing on the leaflet 23 days ago, I haven't heard anything… They do not understand. We are struggling, help us." The head of the local health trust insisted there were pop-up mental health clinics, but didn't know where and had to ask a junior colleague.
It was a frustrating exchange that seemed to sum up the evening. "They think that they can speak to people in meetings like this, silence them and that people are stupid," Cathy Cross from the Justice for Grenfell campaign told me. During the meeting she had made an impassioned speech, asking the council, "When is this council going to stop treating people with utter contempt, coming to these meetings and not having answers to questions… When are you going to up your game?"
Asked what the wider plan is, Elizabeth Campbell said the council wants to "consult with people and do a proper improvement on the estate".
"Isn't that what you did with Grenfell?" someone heckled, "made it look pretty?"
If you were being forgiving you could say that the poor council can't do anything right in the eyes of the community. And that's exactly it: they can't.