Okay look, east London is over now. Don't shoot the messenger, this isn't coming from us – it's being suggested by the relocation of some of the summer's festivals, from their usual spots at east London's Victoria Park. This year, new green spaces will be primed and ready for hosting some of the best British and international acts while being trampled under Nike Air Maxes and boohoo.com heels, as Field Day moves to south London's Brockwell Park and both Lovebox and Citadel festivals go west to Acton's Gunnersbury Park.
Good news for people who love music more than obsessing about postcodes: this year's Lovebox line-up is fire. An initial announcement shared today reveals Skepta, Childish Gambino and actual N.E.R.D with actual SZA as some of the top-billed names due to play on Friday 13 July and Saturday 14 July when summer thankfully kicks in this year. Among the other acts confirmed so far are –*deep breath* – Mabel, Diplo Ms Banks, Mike Skinner, Dave, Vince Staples, The Blaze and Anderson .Paak & the Free Nationals on Friday as well as The Internet, Kali Uchis, CASisDEAD, Preditah, Belly and Action Bronson among others on Saturday. As ever, we'll be down with a stage of our own (remember the majesty of last year?), details of which we'll share with you soon.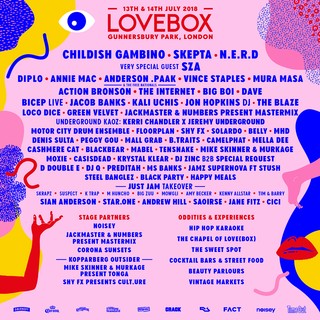 Lots is made of festival line-ups during the relative news lull that follows the Grammys at the start of the year. When it comes to which genres are represented, things can quickly get heated. After all, nothing says 'really celebrating the end of dry Jan' quite like popping off a few tweets about how it is 'UNREAL that [guitar band that peaked in 2008] isn't on this year's Reading & Leeds line-up' and so on. Lovebox don't really have that problem, though. They've always booked a big variety of acts, across genres, from London and beyond – clustering around a particular style hasn't been their way. That's the point and benefit to having various stages, after all, from which people can dip in and out, trying new musicians they wouldn't normally stumble across in their regular listening. This initial list of names hints at a great festival, even if it has flung itself across the biggest city in the country. Don't worry about all that though – London's more than just east anyway, eh?

Lovebox festival is on 13 and 14 July in west London's Gunnersbury Park. Not Victoria Park. Find out more and get tickets on their site.
You can find Noisey on Twitter.