Welcome to Angus Take House – a weekly column in which I will be pitting two of the wildest takes the world's great thinkers have rustled up against each other. This is your one-stop shop for the meatiest verdicts and saltiest angles on the world's happenings. Go and grab a napkin – these juicy hot takes are fresh from the griddle.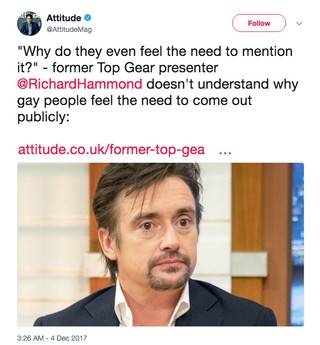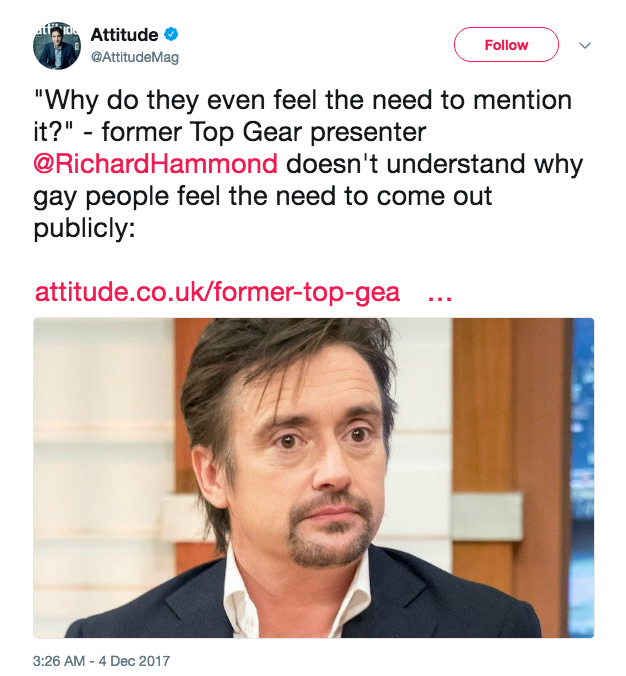 What's the story? People coming out publicly in the media.
Reasonable Take: Is good.
Pork Chops with Gravy and Frozen Peas: Look, I really honestly genuinely literally don't mind if you're gay. I just don't really see why you feel the need to bang on about it so much!
Cast your mind back to January, 2017: an episode of Amazon Prime's seminal motoring show The Grand Tour made headlines when Richard Hammond – a 47-year-old adult man – said he didn't eat ice cream because he thought it was a bit gay. Thrilling stuff.
Anyway, in an interview in the Times this week the little man made an attempt to clear up his remarks, saying, "Look, anyone who knows me knows I wasn't being serious, that I'm not homophobic. Love is love, whatever the sex of the two people in love." He went on to add: "It may be because I live in a hideously safe and contained middle-class world, where a person's sexuality is not an issue. But when I hear of people in the media coming out, I think, why do they even feel the need to mention it?"
Firstly, good to see the Hamster opening with the classic "just ask my mates" line. "Honestly, we've got loads of gay friends… there's Paul who used to live down the road eight years ago, or was it Pete? And anyway, I'm pretty sure the lad who works in the Co-op is gay. He's got a little earring."
Better still, however, is his use of the vintage "I don't mind but I don't see why you need to mention it" approach. As Attitude magazine pointed out, a Stonewall school report released this week found that almost half of LGBT young people are still bullied at school, obviously meaning that high-profile figures making their sexuality known is still a very significant gesture. It's almost as if taking piss the out of gay people on your car programme is… dare I say it… part of the exact reason why people coming out publicly is still a thing.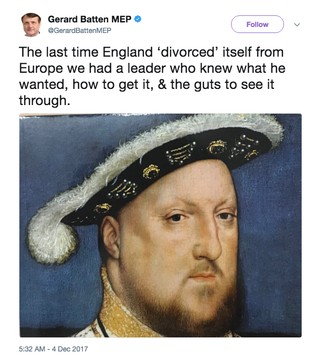 What's the story? The wonderful, excellent, lovely Brexit negotiations.
Reasonable take: This is not going well.
Turkey Leg: This is not going well… but maybe it would be going better if Henry VIII was leading them?
As everyone who uses it does, I regularly tell myself I'm going to sack Twitter off. That it's a waste of time, that it affects my self-esteem, that being plugged into a constantly updating torrent of opinions isn't natural. Then something like this happens. There are tweets, and then there are tweets.
Basically, Gerard Batten MEP reckons Brexit would be going a lot better if the biggest of all the big men, King Henry the motherfucking VIII, was in charge of the negotiations. Gerard Batten is a UKIP MEP, by the way, funnily enough.
Obviously this suggestion is flawed in a number of ways. As many people have pointed out on Twitter, international relations weren't necessarily Henry VIII's strong point. He nearly bankrupted England by pursuing a series of misjudged foreign conquests, most notably repeated attempts to conquer parts of France, suggesting he might not smash the hard/soft Irish border debate.
Yet, that hasn't stopped Gerard Batten's David Starkey-inspired wet dream from taking shape. It's the sort of bizarre fantasy that could only come from the Anglo-Fantasia of the UKIP imagination. Their undying desire to solve the complexity of the modern world with airbrushed solutions from England's past. Quite simply: Henry VIII, the fat bastard himself: tearing turkey legs to pieces on the Eurostar, quaffing tankards of mead with Farage, putting Alastair Campbell in the stocks and throwing bits of old cabbage at him.
Actually, that sounds mint. You know what, Gerard? You have very quickly turned this around. I agree with you. Brexit would be better if Henry VIII – a legend – was leading them.
Prime cut: The object of this article is to decide which take is the worst, and seeing as Gerard Batten's take is actually the best, Richard Hammond wins. Well done Hamster!