Kyle MacLachlan's Web Series About His Dogs Is Weirder Than 'Twin Peaks'
If you like subversive television, you'll love "Mookie and Sam".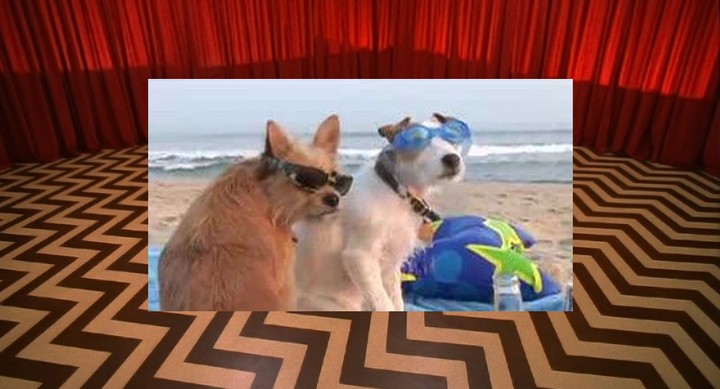 This article originally appeared in VICE Australia

For decades now, Twin Peaks has been an entry level hipster commodity. You know those people who self-identify as "weird" and "awkward" and "alternative" but actually have great social skills and a million friends and also happen to be super hot? Twin Peaks is their favourite show. Which doesn't mean it isn't good or fun to watch.
Something that I do truly appreciate about Twin Peaks, although it pains me to watch the reboot because I think 90s nostalgia is at best boring and at worst deeply dangerous, is Kyle MacLachlan. He is the guy who plays mystery-solving Dale "Damn Fine Cup of Coffee" Cooper in the original show, and several twisted versions of that former self in the reboot.
Where do I begin, with Kyle? The man is a treasure. He has smashed every one of his acting roles out of the park, especially that of Charlotte's erection-challenged husband on Sex and the City. He's also the mayor of Portland on Portlandia, which is such a gloriously self-aware career move that you can't help but applaud it. He has his own winery, which takes its name from a line in Shakespeare's A Winter's Tale. And he once made a YouTube series, Mookie and Sam, starring his two pet dogs Mookie and Sam. He and his wife Desiree Gruber voice the dogs.
This one:
Yes. I hear the latest episode of Twin Peaks was super ground-breakingly strange, really head-scratching, really out there. Well, I raise you this. I raise you this series YouTube clips in which a well-known television actor painstakingly stitches together a series of oblique narratives starring two small canines on Windows Movie Maker.
The greatest tragedy, the philosophical centrepiece of the series, is that neither Mookie nor Sam realises that he or she is a dog. Both believe themselves to be humans. And really, don't we all?
I feel the same way about David Lynch as I do Wes Anderson. Their films look fantastic, and their scores and soundtracks are mesmerising, too. It's just the other stuff that bores me. You know—the characters, the dialogue, the narrative. You know what isn't boring? You know what's truly deserving of some analysis? These two dogs on a holiday to the Hamptons. A jack russell and, from what I can tell, some kind of Scottish terrier, driving a Bentley to the seaside
Is this a comment? On celebrity, on decadence, on modern love? On dog ownership? It's difficult to know. MacLachlan, like many indie directors before him, is opaque in his meaning.
Yeah, Japanese dubs. Japanese dubs! Take that, David. If you want to watch something truly Lynchian—something actually weird and challenging, something that subverts everything that mainstream entertainment espouses, something that could only have been made by someone with absolutely no concern for marketability or commercial success or their "brand" something completely averse to hot takes, then Mookie and Sam is the YouTube series to start with. All the videos are here. There's also a bunch of stuff on the same channel about Project Runway.

Play some Angelo Badalamenti in the background to really hammer the point home that you're an intellectual and you wouldn't be caught dead watching HBO.
Follow Kat on Twitter