London Rental Opportunity of the Week: An Adult Bunk Bed in Hackney
Pretty sure the bed is load-bearing, if that helps.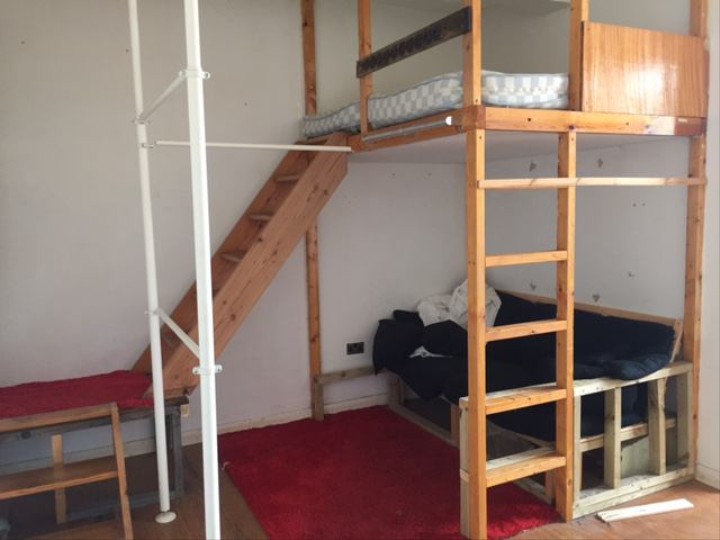 What is it? Sort of like what would happen if a climbing frame fucked a bed. And then that resulting monster fucked just a pile of old, splintered wood. God, why are all of my analogies about monsters fucking each other? I need to talk to someone. I've been putting it off for too long. I need to just— I need to have words, with someone
Where is it? In the Bermuda Triangle between Stoke Newington, Dalston and Clapton known as 'Rectory Road', home to a two-platform station, exactly one decent coffee shop, and then just desolate rolling pavements and concrete, and large upright brown blocks of flats, and roads that lead to nowhere, and there are no boundaries, here, in Rectory Road, no idea where Rectory Road begins and where it ends, but there are like two to three shops where you can buy a big bottle of water and a £1 bowl of tomatoes.
What is there to do locally? I tried to do something once in Rectory Road once and I kept accidentally wandering outside of the boundaries of it and into Stoke Newington (like if a Godzilla made of middle class mums fucked a Mothra made of local shop owners of 35 years until they finally submitted and shuttered their family butcher so they can do another Franco Manca in there instead), then wobbling back towards Dalston (King Kong made of million-pound flat owners who are all mad that a Gamera made of chicken shops exists, and use complex council processes to fuck them to death) and then Clapton (Guilala of under-25s living in flat shares fucking a Kraken made of brunch). So in answer to the question 'what is there to do locally': just scream and scream and scream and scream and
Alright, how much are they asking? £950 pcm
I think everyone secretly dreams of living alone, don't they? Some of us not, maybe. Some of us would go mad with the solitude. Three days, alone in a flat, itching at the windows. Doing warm-up vocal exercises to no one just so you get a chance to use your voice that day. Just staring and staring, alone, into the mirror. Hold your fingers and pull beneath your eyes. Are they real? Are you real? Is your reflection real? You could die here and nobody would know. Nobody would know for days. Yell and hear it echo off the walls. They'd only find you when you seep out through the ceiling into the flat below.
But for the rest of us, I think, secretly: quite fantasise about living alone.
What about this place, then? It's in Rectory Road, and you have to live alone there because imagine subjecting another human to this, imagine, imagine it, you can't, and: yeah. Nine-hunner fifty bones per calendar month and all this could be yours: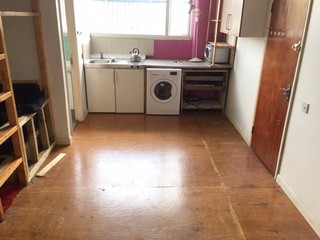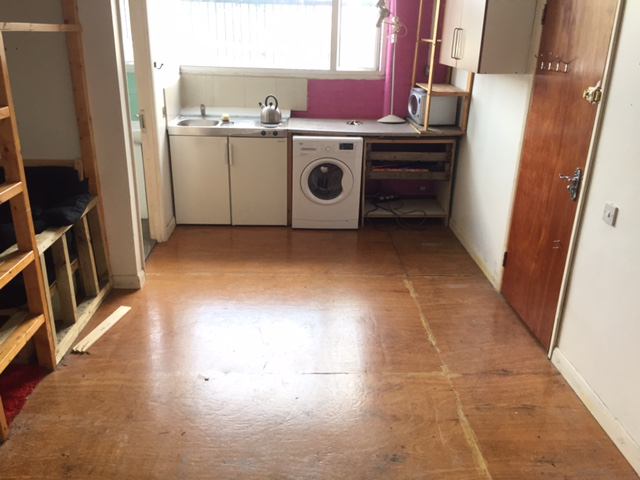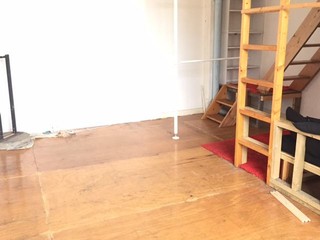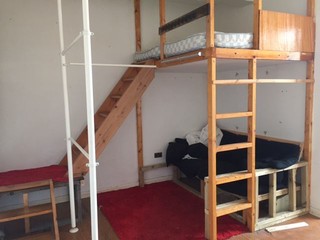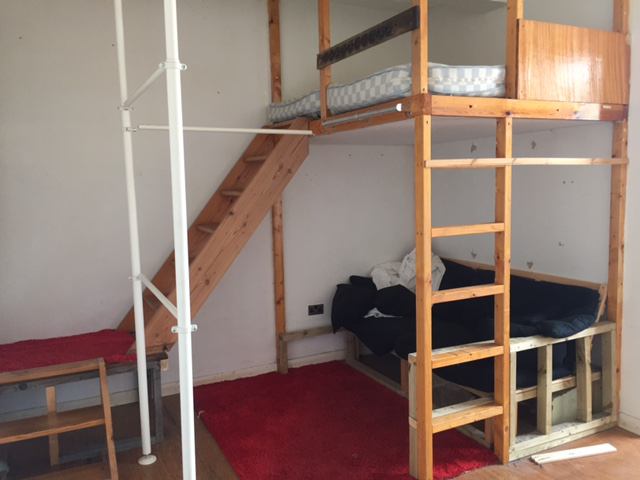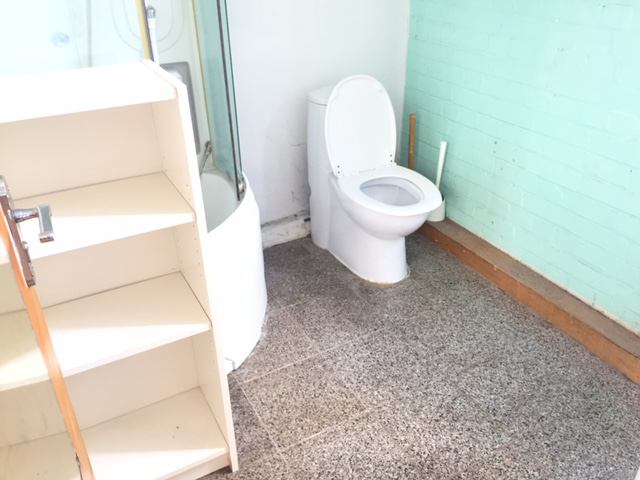 Suppose we may as well go thru this in order:
1. IS THAT A FUCKING BUNKBED
Remember bunkbeds? They were good, when you were a kid, weren't they. Always used to squabble over who would claim the top bunk at sleepovers and the like. For a while, they felt like this cosy little den, a secret sleeping space made only for you: just you, nose to the ceiling (the ceiling, when you were a child, was dotted with those stars and moons that promised to be luminescent, to absorb sunlight during the day and spit it out again as a soothing glow at night, but had long since lost the effect and just gone yellow and old, but nobody would bother to unpick them from the ceiling until your mum redecorated your bedroom six months after you went to uni). Just you and your row of teddies and your soft, pissed-on duvet. Sleeping in a bunk bed felt as electrical as sleeping in a bed, or a blanket fort: subverting the boring, grown-up trope of a bed, instead elevating it to something more, something magical. Then puberty hit you like a truck and your balls or tits came in and it never really was the same, was it. But now…
… what if you slept in a bunkbed, now?
2. MY DUDE DID YOU MAKE THIS BUNKBED EXCLUSIVELY OUT OF WOOD YOU FOUND IN A SKIP AND LADDERS YOU TOOK FROM CONDEMNED FACTORIES OR
I want to flag that this is not, like, an actual bunkbed. Like: someone who has to adhere to safety standards did not make this. This is made from mis-matched wood and a large section that appears to be reclaimed plumbing pipe. It has, for some reason, like eight different ladders attached to it. I suppose if you were designing a fun climbing frame/jungle gym for a hamster, this would be a good layout for it to have. If you are designing a way for an adult human to sleep in big, big 2017, in Rectory Road, for £950, a month: maybe not
3. THE CAGE DOESN'T ACTUALLY SAVE ANY SPACE. IT ACTIVELY TAKES IT UP SPACE. THE HELL CAGE IS IMPRACTICAL IN EVERY POSSIBLE WAY.
Whoever made this cage, out of debris, over a series of months, has actively fucked up. The point of a bunkbed is to reclaim precious floor space taken up by a bed, and instead raise said bed into the air so activity can go on beneath it. So like yes: there is a dreary-looking futon hidden in there. But there are also a series of structural-looking planks, ladders and tubing. Like if you move the wrong way slightly an entire bed is coming down on you. And floorspace wise, you have actually taken up more floorspace than an actual bed would take up just so you have room for a red shit rug
4. PLANKS ARE ACTIVELY FALLING OFF THE BED SPACE AND THE PERSON TAKING THE PHOTOS DID NOT EVEN HIDE THAT AT ALL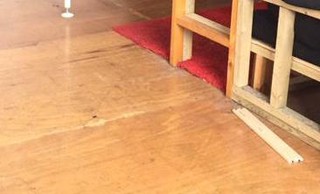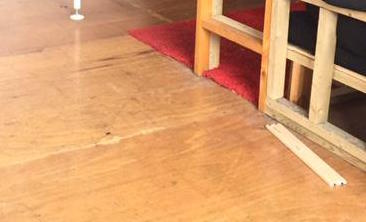 I often talk about how property agents and landlords and etc. are all carcasses awaiting hell, and that shooting them directly in the head should not – in my opinion! – be classed as a federal crime, so useless are they, those piles of vacant-minded meat, but still: whoever took this photo of this shithole could not even be bothered for one second to replace the plank that is already falling off the BedBeast™ to better sell the flat, which gentle reminder they are asking £950 per calendar month for—
5. ONE SINGLE WALL OF THE BATHROOM HAS BEEN PAINTED A CHEERFUL MINT GREEN TO DISTRACT FROM THE FACT THAT YOU ESSENTIALLY SLEEP IN A GALLOWS
For some reason the microwave is built into its own wooden cage, too. The floor is just a large varnished piece of wood I would not be surprised to learn was once just the side of someone else's wardrobe.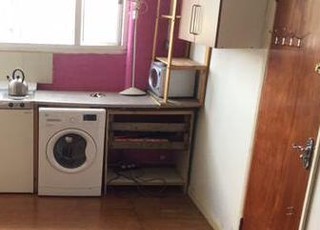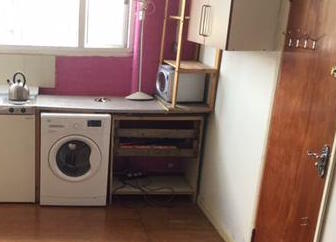 Dip your little finger into this marinara of the London rental market, bring it to your lips and taste it. Not great, is it? Not a great dab of sauce, this one. Consider that this costs Nine-hundred and fifty pounds, to live here, for one month. Consider that "24/7 access" to your own flat is listed as a pro. That it is part of a secure gated estate, in case anyone wants to break into your flat – your flat, remember, is a small room made entirely of bin-wood, making it more a doghouse than anything else – to steal what little you have left after rent day. The agency and administrators want £175, each, in process fees to hand you the keys to this hell. Consider that this is in Rectory Road. Consider how insane you would go, confined to this hard- and ply-wood prison, for anything more than one day. I dunno, man. I dunno. Just really is starting to feel that London is a doomed city, now.
@joelgolby (h/t @abrightfar)
MORE FROM THIS DREADFUL SERIES: