What is it? It is an article that is hooked to a news story that defies the very structure of "London Rental Opportunity of the Week", but because that's the only thing that is sensible, must also be crushed into the format of "London Rental Opportunity of the Week", like a not-quite-deflated-yet bouncy castle into the back of a Transit;
Where is it? It's– I mean. For fuck's sake. It's here, on VICE dot com. An article. Here. In front of you. You're reading it.
What is there to do locally? Why did I think, all those months ago when I started this column, that sticking so rigidly to a question-answer format would be so vital? And why, though even if I wanted to free write I could, don't I? One, I suppose, of life's great mysteries.
Alright, how much are they asking? £36,000 is the figure of money we are talking about but that does not answer the question as neatly as I would like it to. I'd really like to move on from this bit.
To Hackney now, buzzing Hackney, lovely Hackney. Hackney, home to everything that aspirational chummy London could offer: a city farm! A vegan fried chicken shop! Some estates! An entire district of artists! A canal! It has everything a city could want, from the high thru the low to the pretentious, and also a big Aldi and two train stations that are inexplicably linked together by a really long corridor. It is also home to some not-exactly-generous government funding to solve the housing crisis:
Hackney Council has been given £36,000 – 5 per cent of the cost of a single house – to solve the borough's housing crisis.
The "laughable" government allocation has since been slammed by Hackney South and Shoreditch MP Meg Hillier.
Whitehall's Community Housing Fund aims to create more housing in areas where the impact of second homes is crowding out first-time buyers.
The south west has shared £20million of the £60m pot, which has been raised from higher rates of stamp duty on second home purchases.
But the MP said the community fund championed by housing minister Gavin Barwell would have absolutely no benefits for Hackney.
"Average prices in the borough are well over half a million pounds," she said. "Rent is soaring, with overcrowding and demand for social housing the highest seen in 20 years.
"What is the minister's response? To allocate Hackney £36,740.
"This is a laughable amount. In contribution to Hackney's housing problems this won't do anything."
— Hackney Gazette, 17 January 17
As the Gazette has already rightly pointed out, £36,740 isn't enough to even get a mortgage on the average Hackney home (£732,500, according to Rightmove: up 13 percent on last month *1). But what could it get you? Finally, freed from the shackles of this format, I can tell you. Here are five things you could get in Hackney – right now! – with thirty-six thousand of your hard-earned pounds:
ALMOST AN ENTIRE GARAGE!
Here's a garage in Stoke Newington – although, having haunted the streets and endless brunch places of Stoke Newington for nigh on four years now I can tell you that this is not, actually, in Stoke Newington, because it's on the road and back a bit towards Finsbury Park, so yes it is technically near to the station (which itself is more in Stamford Hill, bafflingly) but isn't what I would call "Stoke Newington" proper, i.e. if you lived in Stoke Newington (proper) and parked your car in Stoke Newington (technically) then you'd still have a good 10 to 15 minute walk to get to it from your house. What I'm saying is this is a garage in a fucking shithole and it's still more than you, with your £36,000, can afford.

HALF OF A SHOP? ALMOST?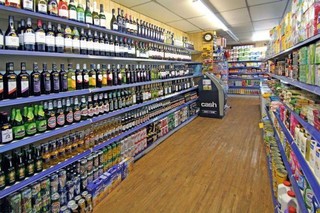 Do you ever think of the economies of newsagents and corner shops when you are in them? I think of it every time I buy a single Snickers bar or maybe one flat-looking bottle of tonic water, which I guess is every single day of my life. Right, because: what's the markup on a Snickers bar? It can't be much. Same for beans, and promotional ticket Digestives, and toilet roll, and those little sewing kits they always have hanging up on a big blue sheet of card. A bottle of lime cordial. So, right: to make any money at all, you have to sell hundreds of those a day. Hundreds and hundreds and hundreds. So they offer side-hustles. Do the newsagents make any money from the Lottery, for example? For Oyster card top-ups? How about Click & Collect? I cannot see how they are making money. Every time I go in there and spend, like, 70p, I think: how is this place still open? How are three dudes working here right now? Anyway, I guess you can find out for yourself if you and someone else who has £36,000 go halvsies on this. There's even the most "come into my lair, sweetness, and let me savage your body with mine" sort of bedroom out back there, too. What more could you want.

ABOUT SIX MONTHS OF THIS PATRICK BATEMAN FUCK PALACE
Pretty sure this is actually the set for "the British F•R•I•E•N•D•S" show Coupling, jazzed up and pumped out for £1,250 a week, but… I mean, yeah. It's nice. I can imagine having a nice, peaceful six months here, occasionally offering my home up for them to film a Flash commercial in, and then… I dunno, back to the hovel once the money runs out, I guess?
FIVE AND A HALF YEARS OF THE MOST MISERABLE PLACE IN EXISTENCE!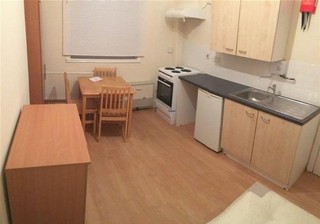 Honestly, if you last five-and-a-half years in this place without flipping then you deserve, like… well, I was going to say "a million pounds", but that will be about the average Hackney house price in the five-and-a-half years it will take you to earn it, won't it. Mad how the biggest amount of money I could possibly imagine when I was 12 years old is now just about enough to buy one nice house with. Good. Good, this country. Good. Glad to be a part of it.

ALMOST – REALLY, REALLY ALMOST – ALMOST AN ENTIRE HOUSEBOAT!


Have we not all pondered along a canal path in the blazing heat of the summer and seen a houseboat float by, with trendy young persons sitting atop it and laughing, BBQ smoke pouring from the back, all of them wearing trendy denim jackets, the young people and look closer now: the young people, they are all eating singed sausages on sticks loaded with fresh red ketchup, and they are clinking ice-cold bottles of Magners together, and tilting their heads so far back when they laugh (they laugh often, the young people) that you can see their teeth? And have you ever thought, looking at them: hey, I would like to live on a houseboat, and live this life. I could spend my time reading for pleasure, instead of using that infernal internet. I could see different aspects of London from various different moorings. I could tie a bicycle to the top of it with bungee cords and live a humble life, a boat life.

No. Have you ever actually been on one? The toilet on those things is essentially a potty. You have to have a permanent mooring (all taken up by limpet-like boat people who have been living on the canals for decades) or move your boat every two weeks. The only internet access you have is via a dongle. During winter you freeze, to death. You clonk your head on every single surface of the boat, every single day. That could be you, almost, in Hackney! If you found another two grand or so and got really used to slushing your solids out into a bag and depositing the whole sorry mess in a dog bin!
I hate writing this column so much!
More! Of this! Living! Hell!
A 'Luxury' Apartment Filled with Shit Coffee Tables for You to Try and Afford
Shall We Just Sack Off London and Live in a £15k Flat in Glasgow?
A Fucking Shed in Cheam! CHEAM!
*1: I double-checked this figure because I couldn't actually believe it – they missed a decimal point out, right, they meant 1.3 percent, surely, just a normal market bounceback after a slow Christmas? – but lol, no. As per the Rightmove House Price Index, the average price of a property coming to market in Hackney in December of 2016 (i.e. last month) was £646,350. The average price of a property coming to market in Hackney in January of 2017 (and, again, that is this month: I am only specifying these incredibly obvious facts to make the resulting figures ultra clear) was £732,573, up 13.3 percent. In a month. In 31 days. So if you were at the start of Christmas like, 'Hmm: I fancy buying a home in Hackney, but… eh, let's wait until after Christmas. I want to spend my money on turkey and gifts for the kids,' that decision just cost you £86,223, or 2.3x the amount Hackney Council just got handed by the government to solve the housing crisis. Obviously, in this context, the stats are taken from homes being newly bought to the market, and therefore isn't exactly indicative of average house prices on the whole, but I think the main takeaway from this here is still: we're fucked. Fucked. We're fucked fucked fucked. I am stunned by this figure. The housing crisis in London is absolutely insurmountable. Fucked. Fucked fucked fucked fucked fucked.